Abstract
Cardiomyopathy encompasses a diverse yet often overlapping spectrum of pathologies and phenotypes. This chapter reviews and discusses the clinical applications of the cardiac imaging modalities to the assessment, diagnosis, and management of cardiomyopathy. Cardiac imaging has a fundamental and established role in providing accurate diagnosis and enhancing identification of those at increased risk of sudden cardiac death, as well as monitoring and guiding therapeutic interventions. While echocardiography remains the cornerstone for initial detection and follow-up of patients with suspected or confirmed cardiomyopathy, other imaging modalities, especially CMR, have gained a central role in the assessment of cardiomyopathy. In this chapter, the contribution of imaging to each diagnosis is discussed separately.
Keywords
Cardiomyopathy, Imaging, Echocardiography, CMR.

13.3
Non-compaction cardiomyopathy
Left ventricular non-compaction (LVNC) is recognised as a distinct cardiomyopathic entity characterised by hypertrabeculation ( Figure 13.2 ) of the left ventricular myocardium resulting from failure or arrested compaction of the myocardium in utero. Consequently the myocardium has a spongy appearance with characteristically excessive trabeculation and deep intra-trabecular recesses [ ]. This structure predisposes to thrombus formation as well as to ventricular arrhythmia. In progressive disease, this may cause significant systolic impairment. Although hypertrabeculation may also be evident in the right ventricle, it is typically the LV apex and lateral wall where the features of LVNC are most commonly seen. The relatively thin noncompacted layers often display hypokinesia. Diagnosis is heavily reliant on advanced imaging with echocardiography or CMR. The superior ability of CMR to clearly visualise the apical myocardium is of potential advantage in assessing this condition, although diagnosis is frequently made by echocardiography. There is discrepancy between echo and CMR criteria for non-compaction cardiomyopathy as published by Jenni et al. [ ] and Petersen et al. [ ], respectively. It is likely that these will be revised in the near future. Diagnosis by echocardiography requires a ratio of non-compacted to compacted myocardium of greater than 2.0 in systole compared to a ratio of > 2.3 at end-diastole by CMR. It is also problematic that features of non-compaction are often seen when there is marked LV dilatation, which can make distinguishing primary non-compaction cardiomyopathy from the appearance of non-compaction due to LV dilatation difficult. Whilst LVNC may represent a previously under-recognised cause of heart failure, it may be that diagnostic features lack sufficient specificity. Kohli et al. [ ] suggest that diagnostic echocardiographic criteria for LVNC may be too sensitive, most notably in Black patients. The use of an appropriate contrast agent is helpful in the identification of ventricular thrombi regardless of technique. Observed to have a largely autosomal dominant inheritance, a genetic basis underlying this condition has been well defined, with mutations defined in three sarcomeric genes [ ].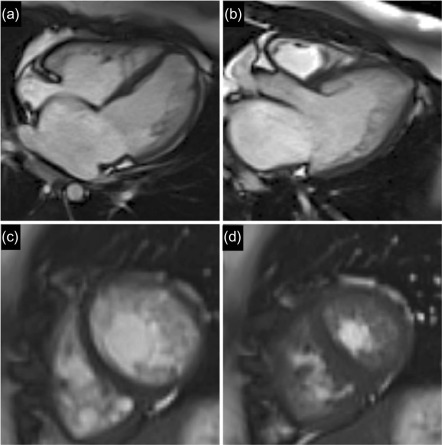 Premium Wordpress Themes by UFO Themes
WordPress theme by UFO themes