▪ RADIOGRAPHIC TECHNIQUES
▪ ULTRASONOGRAPHY
Renal Sonography
There are a variety of uses for renal ultrasound. It is especially valuable in children and pregnant women where exposure to ionizing radiation should be minimized. Because image display is immediate, it is often used as a guidance technique for a variety of invasive procedures, including antegrade pyelography, percutaneous nephrostomy, percutaneous abscess drainage, percutaneous renal biopsy, and tumor ablation.
Limitations to renal sonography include obese patients, those with abdominal dressings, and those with a large amount of intraabdominal air, who may be difficult to examine. The quality of the examination varies tremendously with the experience of the sonographer. Finally, with the exception of assessment of flow velocity by Doppler examination, renal ultrasound remains a morphologic, rather than a functional, technique.
The kidneys are usually examined with the patient in the supine or supine oblique position. Anterior or anterolateral transducer positions enable the right kidney to be well visualized through the liver and the left kidney through the spleen. Deep inspiration may move the kidneys inferiorly for improved visualization; occasionally, an intercostal transducer position may be useful. The prone position is rarely used, but may occasionally provide reasonable visualization of the kidneys.
Transducer frequency should be chosen to match the patient's habitus: the frequency should be as high as possible, but still permit detailed visualization of renal structures. Static images should document all aspects of both kidneys in the axial and transverse planes. If the reason for examination requires visualization of particular features, these should be documented, even if normal.
Ultrasound contrast agents may help overcome some of the inherent limitations of sonography by increasing the sensitivity of the technique to changes in blood flow and by increasing the inherent contrast of small renal masses. Most agents are based on microbubble technology and are thus highly echogenic. Although these agents have been approved in Europe, none is currently approved in the United States for routine use.
Intraoperative ultrasound may be used to localize nonpalpable intrarenal lesions in the operating room. This is a particularly useful technique with today's nephron-sparing surgical procedures.
Doppler Sonography
Three types of Doppler ultrasound instruments are available: continuous wave devices, which are seldom used in radiologic practices; pulsed duplex; and color flow instruments. Pulsed-duplex devices allow the display of flow in a small area on a corresponding gray-scale image as a continuous time-velocity wave-form (
Fig. 3.8
). With a color flow device, a color-encoded Doppler signal is superimposed on a gray-scale image, in which red is used to indicate flow toward the transducer (
Fig. 3.9
) and blue to indicate flow away from the transducer; paler and deeper hues represent higher and lower velocities, respectively. A color flow device can display the flow over a larger area of the image, unlike the pulsed-duplex device. A modification of standard color Doppler ultrasound, called "power Doppler," offers extended dynamic range (albeit at the loss of directional information) and can demonstrate tissue perfusion that a standard color Doppler image might not visualize.
Applications of Doppler imaging in uroradiology include the evaluation of renal transplants; the search for perfusing vessels in space-occupying renal lesions; the detection of arteriovenous fistulae; the assessment of renal artery stenosis and occlusion; the detection of renal vein thrombosis; the evaluation of suspected scrotal lesions such as torsion, tumors, inflammation, and varicoceles; and the evaluation of ureteral obstruction by assessing intravesical ureteral jets (
Fig. 3.10
).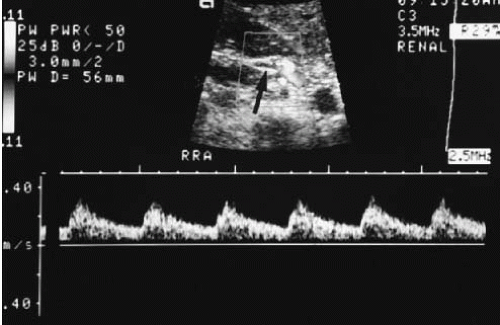 FIGURE 3.8.
Pulsed duplex ultrasound. The Doppler gate is positioned over the renal artery
(arrow)
. The resulting waveform is displayed below the gray-scale image.
Bladder Sonography
The bladder should be filled for optimal examination; this can usually be accomplished with oral fluids and voiding restriction, but may require bladder filling through a catheter in anuric patients. The transducer is placed in the suprapubic region and angled appropriately for representative axial and transverse views of the bladder. The gain control should be adjusted to make urine anechoic.
Bladder ultrasound may detect bladder stones, foreign bodies, and diverticula, and may be used to assess prostate size. Bladder tumors may also be identified, but ultrasound is not sufficiently sensitive in detecting small flat tumors to exclude a bladder neoplasm. Extravesical fluid collections and masses may also be demonstrated. The bladder volume may be reasonably well approximated from width, length, and depth measurements using the following formula: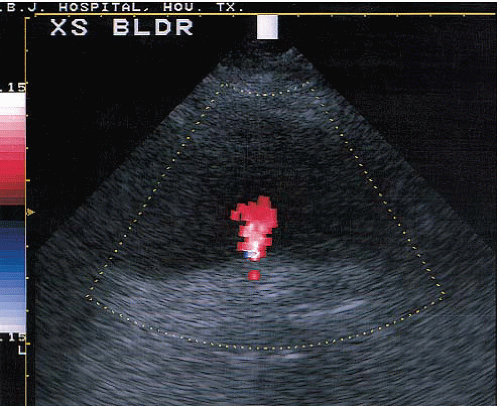 FIGURE 3.10.
Ureteral jet. A transverse image of the bladder showing a jet of urine
(red)
from the ureteral orifice.
Bladder volume = 0.7 (
W
×
H
×
D
)
Such estimation of bladder volume is accurate within approximately 20%, which is considered acceptable; it is most often used to estimate postvoid residual volumes.
▪ PROSTATE SONOGRAPHY
Ultrasound of the prostate is most frequently used as a biopsy guide for patients in whom digital rectal examination or prostatespecific antigen (PSA) levels suggest prostate carcinoma. It is no longer used as a purely diagnostic modality and has not been found to be sufficiently sensitive or specific to screen for prostate cancer. As a biopsy guide, it is used both to guide the biopsy device into specific sections of the prostate whose ultrasound appearance suggests tumor and to assure that random biopsies sample tissue from multiple separate areas of the gland. It is useful to detect seminal vesicle masses and cysts. It can also be used to diagnose less common prostate conditions, such as abscesses, cysts, and utricular abnormalities.
Prostate ultrasound is performed with an intrarectal probe. Transducers are high frequency (often 7 MHz) and should be able to provide both transverse and longitudinal images from the same probe. A series of transverse images that extend from the base of the prostate and seminal vesicles inferiorly to the apex are obtained. Sagittal and angled sagittal images should also be acquired to display the gland in longitudinal views.
The focal abnormalities, which may represent prostate carcinoma and which are biopsied using transrectal ultrasound guidance, are usually in the peripheral zone of the prostate, where most prostate cancers arise, and are usually relatively hypoechoic with respect to surrounding tissue.
Gynecologic Sonography
Gynecologic ultrasound may be performed either transabdominally or transvaginally. Transperineal and rectal probes have been used for special circumstances, but are not routine procedures.
In each case, the patient is examined supine. Occasionally, slight elevation of the upper body improves pelvic visualization if there is ascitic fluid that may pool in the pelvis. The legs are comfortably straight for transabdominal examinations and in a lithotomytype position for transvaginal scans. The bladder should be filled to act as an acoustic window for transabdominal examinations, and empty to reduce discomfort for transvaginal sonography.
For most adults, transabdominal examinations are best begun with a 3.5-MHz probe; for relatively small patients and superficial structures, higher frequencies may be used. Transvaginal probes usually operate within the 5- to 7.5-MHz range.
Multiple views are required for complete gynecologic examination. Variations in body habitus, uterine orientation, and ovarian location and mass size determine the best combination of transducer locations, imaging plane directions, and orientations. For transabdominal ultrasound, sagittal, parasagittal, and angled sagittal views are often useful to demonstrate the uterus along its main axis. Transverse and angled transverse views depict the uterus in various sections across its main axis; clearly, transducer location and direction and uterine position and flexion offer a large variety of combinations for longitudinal and axial views of the uterus. The adnexal regions are often seen best in transverse views; the transducer may be rotated for angled or sagittal views that include adnexal structures once they have been identified. If masses originating in the pelvis extend cephalad to any degree, the transducer must be moved along the abdominal surface to construct views of the entire structure.
During transvaginal ultrasonography, sagittal views are often useful to demonstrate the uterus along its longitudinal axis. Positioning the transducer head in the vaginal fornix often permits visualization of the uterine fundus and body; withdrawing the transducer head slightly may permit better visualization of the lower uterine segment and cervix. The position of the uterus and adjacent structures may be changed by abdominal palpation to move them into a better position for transvaginal depiction. As the transducer is rotated 90° to produce a coronal or angled coronal view, the adnexal regions may be scanned more easily; the ovaries can often be detected by angling the stem of the transducer to each side and by angling the coronal imaging plane so that it sweeps anteriorly to posteriorly and scans through the entire adnexal region.