Head, Neck, and Craniofacial Pathology
LEARNING OBJECTIVES
1.
Distinguish between periorbital and orbital cellulitis.
2.
Identify retinoblastoma on CT or MR.
3.
Identify features of acute, chronic, and fungal sinusitis on CT.
4.
Generate a differential diagnosis for congenital midline nasal masses.
5.
Identify juvenile nasal angiofibroma on contrast-enhanced CT or MR.
6.
Generate a differential diagnosis for cervical cystic lesions.
7.
List at least two clinical or imaging features distinguishing thyroglossal duct cysts from branchial cleft cysts.
8.
Describe the two most common types of branchial cleft cysts.
9.
List the two most common pediatric cervical tumors.
10.
Identify sagittal craniosynostosis on CT.
INTRODUCTION
There are a large variety of congenital, inflammatory, and neoplastic disorders that arise in the head and neck. There is similarly complex anatomy and embryology for each of the compartments. An exhaustive discussion covering all of these topics is beyond the scope of this textbook. Instead, we will present an overview of the pathologies that are most common or specific to children. Crosssectional imaging is typically required for disease characterization.
SINONASAL PATHOLOGY
Choanal atresia
Choanal atresia is the most common congenital abnormality of the nasal cavity. It represents obstruction of the posterior opening of the nasal cavity. It is caused by bony obstruction in 30% of patients and a mixed bony-membranous anomaly in the remaining 70%. It is unilateral in about half of cases. Neonates with choanal atresia are identified after inability to pass a nasogastric tube. Noncontrast CT is the modality of choice, which shows medial bowing and thickening of the lateral nasal walls and thickening of the posterior vomer (
Fig. 35.6
). The condition is treated with surgical repair.
18
,
19
Sinusitis
Acute bacterial sinusitis is a common complication of viral upper respiratory tract infections. Bacterial sinusitis is clinically suspected when a child has persistent nasal discharge or cough lasting
longer than 10 days, a worsening course, or severe onset such as a high fever. Uncomplicated bacterial sinusitis is typically a clinical diagnosis, and imaging is not recommended. Contrast-enhanced CT or MR is reserved for when orbital or CNS complication such as abscess is suspected.
20
Noncontrast CT examinations are also performed to screen for sinusitis in immunosuppressed children with fever of unknown origin.

FIG. 35.5 • Orbital metastases from neuroblastoma in an 8-month-old female.
Anterior and right lateral planar images from a Tc-99m bone scan exhibit bilateral diffuse tracer deposition around the orbits, known as the scintigraphic "raccoon eyes" sign.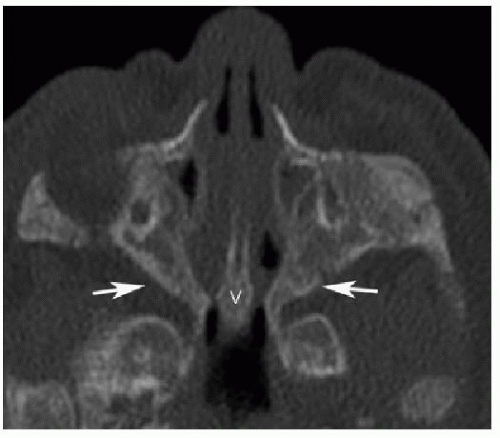 FIG. 35.6 • Choanal atresia in a female neonate.
Axial CT image illustrates medial bowing and thickening of the lateral nasal walls (
arrows
) and thickening of the posterior vomer (V).
Acute sinusitis on imaging may manifest as air-fluid levels or frothy fluid within one or more paranasal sinuses (
Fig. 35.7
). It should be noted, however, that sinus fluid and mucosal abnormalities are very common in asymptomatic young children, and therefore, clinical correlation is required. In chronic sinusitis, the sinus walls may be become thickened and sclerotic along with mucosal thickening (
Fig. 35.8
). In allergic sinusitis, the sinus becomes expanded with high-density contents, and polyps may be present.
The treatment of acute bacterial sinusitis generally consists of oral antibiotics for 10 to 14 days.
20
Chronic sinusitis may be addressed with a longer course of antibiotics, nasal irrigation, decongestants, and intranasal or oral corticosteroids.
21

FIG. 35.7 • Acute sinusitis in a 12-year-old female.
Axial
(A)
and coronal
(B)
noncontrast CT images show fluid throughout the paranasal sinuses. Note the frothy contents in the maxillary sinuses.
Congenital midline nasal masses
The differential diagnosis of congenital midline nasal masses includes three conditions: nasal dermoid, nasal glioma (cerebral heterotopia), and encephalocele. They result from a persistent dural reflection through the embryologic foramen cecum, located between the nasal bones and developing nasal cartilage. They present as dimples or soft tissue masses anywhere from the tip of the nose to the glabella, the region between the eyebrows (
Fig. 35.9
). MRI is preferred to assess for intracranial extension. CT better shows the relationship between the lesion and the nasal bones.
22
,
23
Sixty percent of such lesions are nasal dermoids. A dermoid forms when the dural projection adheres to the skin and forms a dimple, with an underlying dermal sinus tract that may track all the way back to the cranial vault at the foramen cecum (
Fig. 35.10
). Dermoids may be located anywhere along this sinus tract. Hair protruding from a skin dimple is a pathognomonic clinical sign. Nasal dermoids may become infected but are
Full access? Get Clinical Tree
Get Clinical Tree app for offline access