Fig. 5.1
Brain shift. Preoperative FLAIR image (
a
) shows a hyperintense lesion in the right frontal lobe. Intraoperative FLAIR image (
b
) shows partial resection of the lesion and a change in the overall morphology of the surrounding right frontal lobe parenchyma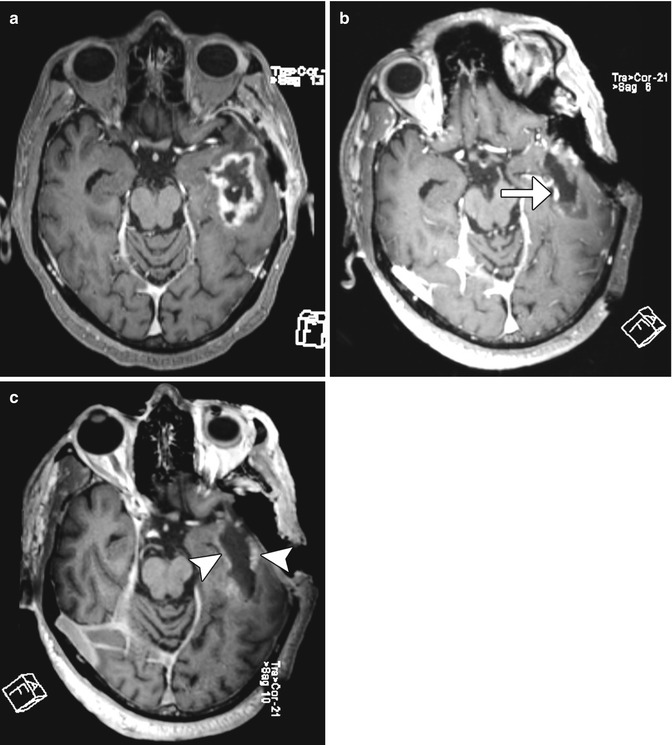 Fig. 5.2
Enhancing tumor resection and contrast leakage. Initial axial post-contrast T1-weighted image (
a
) shows a peripherally enhancing left temporal lobe glioblastoma. Axial post-contrast T1-weigthted MRI (
b
) obtained after the first resection attempt shows a punctate focus of nodular enhancement in the medial resection bed (
arrow
), which represented residual tumor. Axial post-contrast T1-weigthted MRI (
c
) obtained after further resection shows that there are no longer residual enhancing tumor components. Faint enhancement along the margins of the resection cavity represents contrast leakage (
arrowheads
)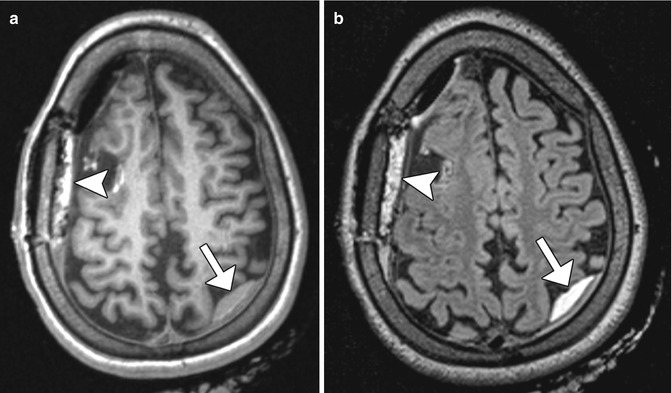 Fig. 5.3
Hyperacute hemorrhage and hemostatic material. Axial T1- (
a
) and T2-FLAIR (
b
) intraoperative MR images obtained at the end of right frontal lobe tumor resection show a small left parietal convexity subdural hematoma with intermediate T1 and high T2 signal (
arrows
). The hemostatic agent in the extradural space along the right frontal convexity surgical bed displays high T1 and T2 signal (
arrowheads
)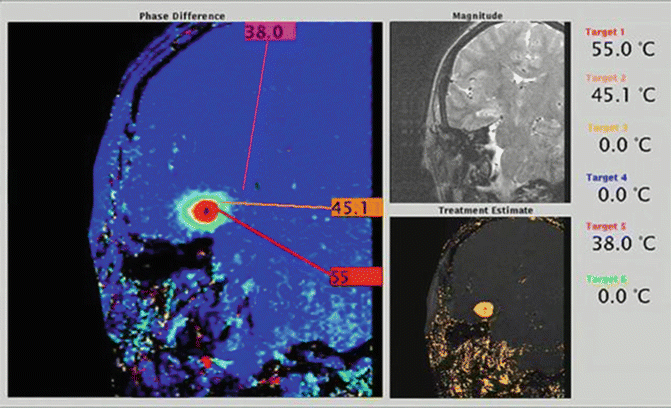 Fig. 5.4
Laser ablation. MR thermography performed during ablation of the right hippocampus shows real-time temperature monitoring and irreversible damage model (Courtesy of Amy Schneider, Medtronic)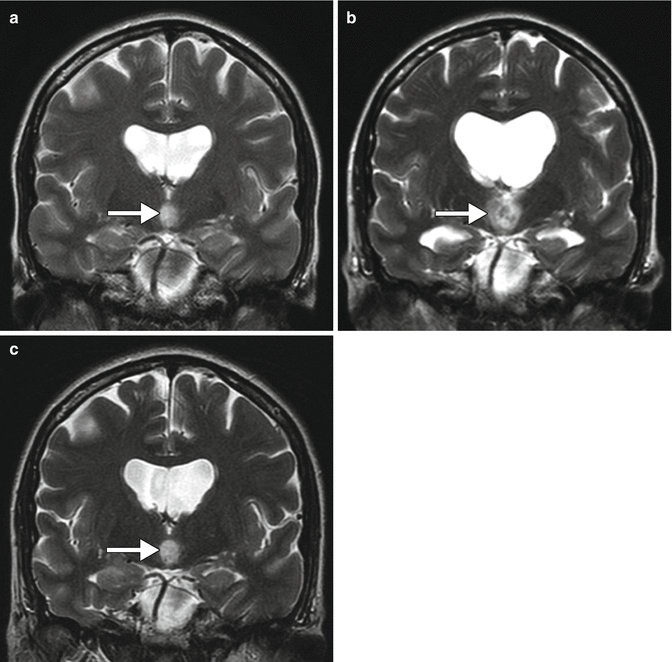 Fig. 5.5
Transient tumor swelling after laser ablation. Preoperative coronal T2-weighted MRI (
a
) shows a hyperintense hypothalamic tumor, which proved to be a pilocytic astrocytoma (
arrow
). The coronal T2-weighted MRI (
b
) obtained 1 week after laser ablation of the tumor when the patient developed memory formation difficulties shows increase in size of the tumor (
arrows
) and lateral ventricles. Follow-up coronal T2-weighted MRI (
c
) after steroid taper shows interval decrease in size of the tumor (
arrow
) and lateral ventricles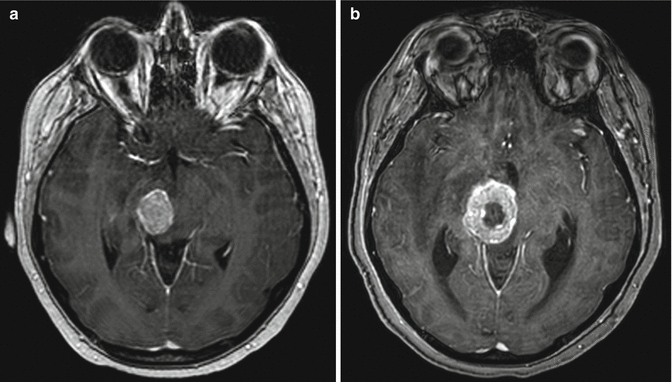 Fig. 5.6
Tumor progression after laser ablation. Preoperative axial T1-weighted MRI (
a
) shows a homogeneously enhancing right midbrain tumor. Axial T1-weighted MRI (
b
) obtained over 1 month after laser ablation shows central necrosis, but overall increase in size of the enhancing tumor
5.2

Brain Tumor Surgery and Treatment Accessories
5.3

Neurodegenerative, Neuropsychiatric, and Epilepsy Surgery
5.3.1

Prefrontal Lobotomy
5.3.1.1

Discussion

Prefrontal lobotomy (leucotomy) is a now obsolete procedure that was introduced in 1935 as a treatment option for psychiatric illnesses, such as schizophrenia. The procedure essentially consists of ablating the frontal lobe white matter tracts using a probe-like device known as the leukotome via a transorbital or transcranial approach. This produces the appearance of band-like cavitary lesions in the frontal lobe white matter (Fig.

5.31

). On MRI, FLAIR sequences show a hyperintense rim of gliosis surrounding the cavitary defects. Focal atrophy of the frontal lobe and corpus callosum is common and often pronounced. High-attenuation foci on CT and susceptibility effects on MRI can be observed along the lobotomy margins, which correspond to residual Pantopaque used for visualization of the lobotomy plane during the operation.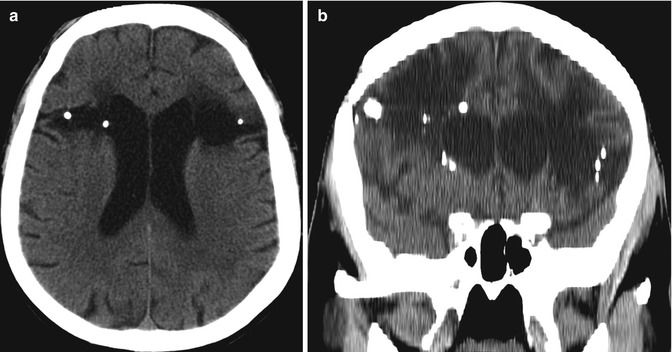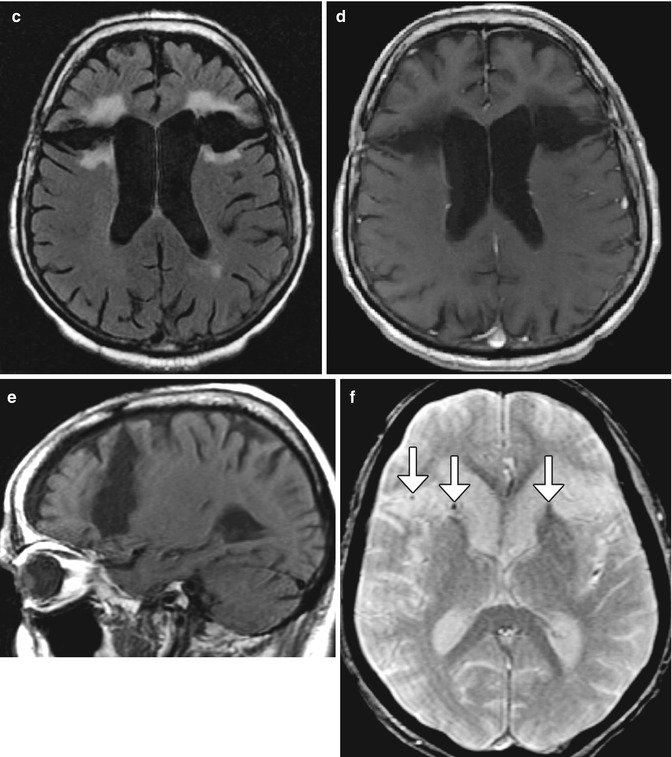 Fig. 5.31
Bilateral prefrontal lobotomy. The patient has a history of schizophrenia treated with bifrontal lobotomy many years before. Axial (
a
) and coronal (
b
) CT images show low-attenuation defects in the bilateral frontal lobe white matter. There are scattered punctate hyperattenuating foci in the surgical defects bilaterally, consistent with Pantopaque. There is also disproportionate enlargement of the bilateral frontal lobe sulci. Axial FLAIR (
c
), axial T1-weighted (
d
), and sagittal T1-weighted (
e
) MR images demonstrate linear cystic defects in the bilateral frontal lobes with surrounding white matter signal abnormality, consistent with gliosis. Axial GRE (
f
) shows small foci of susceptibility, which correspond to residual deposits of Pantopaque (
arrows
)
5.3.2

Pallidotomy
5.3.2.1

Discussion

Pallidotomy is a procedure that can be performed in Parkinson's disease patients who do not experience adequate symptom relief from medical therapy. The surgery consists of introducing probes via frontal burr holes for ablation of the posteroventral portion of the globus pallidus interna (Fig.

5.32

). The goal of the procedure is to interrupt excessive inhibitory output from the basal ganglia. On CT, the pallidotomy lesions appear as hypoattenuating foci of encephalomalacia that become more pronounced over time. On MRI, acute pallidotomy lesions are usually hyperintense centrally on T1 and hypointense centrally on T2 due to hemorrhage surrounded by a rim of T2 hyperintensity and hypointensity on T1 and GRE, which represents edema. Restricted diffusion due to focal cytotoxic edema can also be encountered. Eventually, the lesion-edema complex evolves into a smaller focus of low T1 signal and high T2 signal. Lesion sizes can be variable depending upon technique implemented.

Fig. 5.32
Pallidotomy. The patient has a history of Parkinson's disease and underwent pallidotomy approximately 1 year prior to imaging on the left side and several days earlier on the right side. Axial CT image (
a
) shows hypoattenuating foci in the bilateral globus pallidi. The lesion on the right is more recent and slightly less hypoattenuating than the lesion on the left. Axial T2-weighted (
b
) and axial T1-weighted (
c
) images show subacute blood products within the right pallidotomy lesion surrounded by edema and fluid within the chronic left pallidotomy lesion
5.3.3

Cingulotomy
5.3.3.1

Discussion

Cingulotomy is a form of psychosurgery that is used to treat conditions, such as intractable obsessive-compulsive disorder. The procedure can be performed in a minimally invasive manner via thermal ablation. This process results in necrosis of the surrounding brain tissue, which appears as concentric rings of signal abnormality (Fig.

5.33

). There can be T1 hyperintensity due to petechial hemorrhage, as well as T2 hyperintensity from edema and restricted diffusion due to ischemia during the early postoperative period, which then evolves over time. Diffusion tensor imaging is also useful for confirming interruption of the cingulum. In particular, the dorsolateral region of the cingulotomy lesion is associated with improved behavior.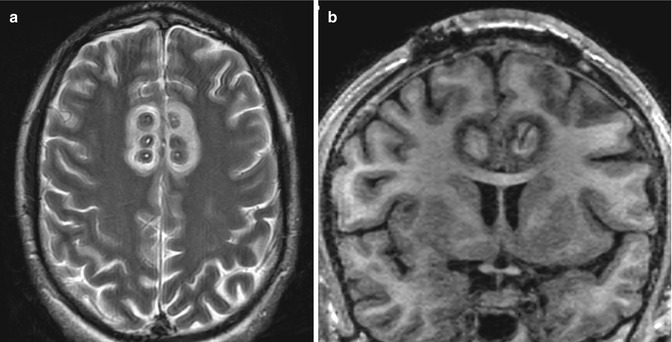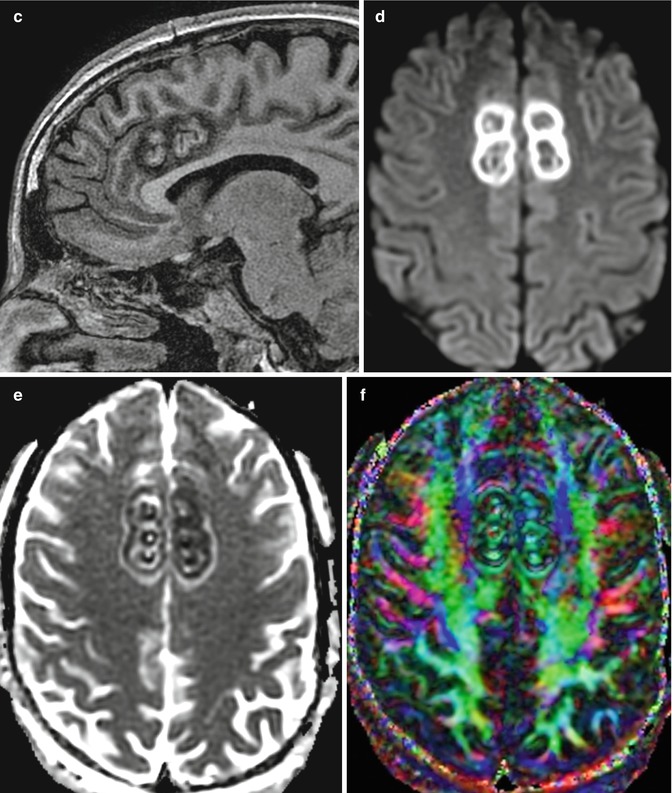 Fig. 5.33
Bilateral anterior cingulotomy. The patient has a history of medically intractable obsessive-compulsive disorder treated with bilateral stereotactic microelectrode-guided anterior dorsal cingulotomy. Axial T2-weighted (
a
) and coronal (
b
) and sagittal (
c
) T1-weighted MR images show concentric rings of signal changes at each microelectrode insertion site in the bilateral anterior cingulate gyri. The diffusion-weighted image (
d
) and ADC map (
e
) show circular zones of restricted diffusion consistent with ischemia. The color fractional anisotropy map (
f
) shows interruption of the bilateral anterior cingulate fiber tracts
Full access? Get Clinical Tree
Get Clinical Tree app for offline access