Today, imagers are presented with more options than ever before for imaging vascular structures throughout the body. This is in part due to the evolution of magnetic resonance angiography (MRA), which has benefitted from advances in sequence design, scanner technology, and contrast development to evolve as a powerful clinical tool. The purpose of this chapter is to provide an overview of noncontrast and contrast-enhanced (CE) MRA techniques.
Before doing so, however, some of the relative strengths and weaknesses of MRA in comparison with its main noninvasive counterpart, computed tomography angiography (CTA), should be considered. MRA, unlike CTA, is performed without ionizing radiation, an increasingly important advantage given the growing movement to reduce medical radiation exposure. An additional advantage of MRA over CTA is that gadolinium-based contrast materials (GBCMs) are not nephrotoxic and thus are suitable for patients with borderline or at-risk renal function. Patients with severe chronic renal dysfunction (glomerular filtration rate <30), as well as all patients with acute renal failure, should not be given GBCMs because of the risk of nephrogenic systemic fibrosis (NSF), a life-threatening disease resulting in fibrosis of the skin, joints, eyes, and internal organs. In patients who have severe renal dysfunction requiring dialysis, CTA with iodinated contrast material is a better choice than MRA with gadolinium contrast. From an image quality standpoint, MRA provides high contrast resolution. Although the spatial resolution of MRA with extracellular GBCMs is typically lower than that of CTA, newer blood pool contrast materials allow for acquisition of higher–spatial resolution sequences with isotropic voxels that can be reconstructed in an infinite number of planes. Some additional limitations of MRA include longer acquisition times, poor suitability for patients with claustrophobia, and incompatibility with certain implanted medical devices.
Noncontrast Magnetic Resonance Angiography
Although noncontrast MRA techniques have long been available, they were largely relegated to second-line status after the introduction of CE MRA in the mid-1990s. In more recent years, however, interest in noncontrast MRA has been renewed, mainly because of the identification of the relationship between GBCMs and NSF. Fortunately, this increased need has also been met with advances in scanner and sequence design that have resulted in improvements in existing noncontrast MRA techniques, as well as the development of several newer and promising techniques. The following is a discussion of the many available noncontrast techniques used clinically in MRA. The techniques can be simplistically divided into sequences that create bright-blood signal resulting from inflow and those that exploit the lack of signal associated with flow voids.
Bright-Blood Noncontrast Magnetic Resonance Angiography
Bright-blood MRA techniques are all similar in that they produce images in which the signal of the blood is bright relative to background signal. Several of these methods, such as time of flight (TOF) and phase contrast (PC) MRA, rely on the motion of protons in blood to induce signal relative to stationary protons of background tissues. Although other techniques are not directly reliant on flow, they exploit the differential signal of blood during systole and diastole to create angiographic images, as is done in electrocardiogram (ECG)-gated fast spin echo (FSE) MRA. Yet further removed from reliance on flow, balanced steady-state free precession (bSSFP) sequences display bright-blood pool signal solely as a result of its fluid nature. Finally, quiescent interval single shot (QISS) MRA relies on a combination of gating and the fluid nature of blood to create a robust and novel approach to noncontrast MRA.
Dark-Blood Imaging Techniques
Although they are not used to produce angiographic images, dark-blood (or black-blood) imaging techniques are often helpful in the assessment of intraluminal or intramural vascular abnormalities. Unlike bright-blood techniques, in which the goal is to increase signal within the lumen, dark-blood techniques aim to eliminate it. In most spin echo sequences, the lumina of vessels with flowing blood are dark. This is because flowing protons are exposed only to the 90-degree excitation pulse, not to the refocusing pulse, as they flow out of the imaging slice before it occurs. Consequently, they have no signal, and a flow void image is produced with the vessel. This flow void phenomenon can be used in image interpretation to determine vessel patency. Vessels that are occluded or have very slow flow do not produce flow voids and thus appear bright. Care must be taken when evaluating tortuous vessels, because in-plane flow does not always produce flow voids. Moreover, the flow void on spin echo sequences does not always result in complete intraluminal signal loss. For example, sections of the vessel imaged during diastole may have some bright signal as a result of slow flow or entry-exit phenomena. One possible solution for decreasing the intraluminal signal on a spin echo sequence is to increase the TE and thereby allow additional time for protons to exit the imaged section. Thinner slices can also be used to create a shorter path for blood protons to exit the slice. Another option is to use an upstream saturation band to eliminate further signal from blood flowing into the section.
Double inversion recovery is an additional technique that can be used to further decrease intraluminal signal in dark-blood images. In double inversion recovery technique, two consecutive 180-degree pulses are applied. The first pulse is nonselective and is applied to the entire imaging volume, thus inverting all spins. The second pulse is slice selective and returns all stationary spins in the slice to their equilibrium positions. Blood flowing into the imaging slice experiences only the first nonselective inversion pulse and subsequently reaccumulates its longitudinal magnetization according to its T1 relaxation time. The imaging data are then acquired during diastole, which is timed to coincide with the inversion time of blood (~650 msec), at which point the blood has no signal. Because double inversion recovery technique is an ECG-gated, sequential slice sequence, it is not particularly time efficient, although useful anatomic coverage can be acquired in one breath hold by using an appropriate slice thickness.
Dark-blood imaging, particularly with double inversion recovery techniques, has important applications in vascular imaging, especially of the aorta. Luminal abnormalities such as dissection flaps can often be identified on dark-blood sequences, although they are usually better depicted on either postcontrast gradient echo or noncontrast bSSFP sequences. In the setting of dissection, however, dark-blood sequences have an important role in detecting slow or absent flow within the false lumen. The most important benefit of dark-blood sequences in imaging of the aorta is for evaluation of intramural hematoma, which appears as smooth crescentic increased signal along the affected wall of the vessel. With gadolinium-enhanced images, the intramural hematoma may blend with signal in the lumen, thereby potentially limiting detection ( Fig. 8-6 ).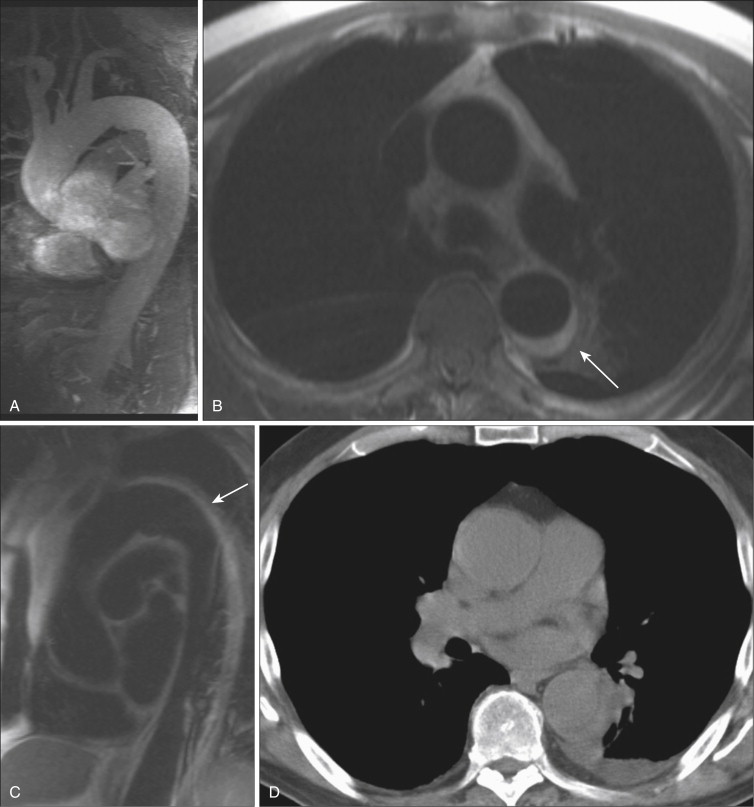 Contrast-Enhanced Magnetic Resonance Angiography
Despite the many advances and growing clinical utility of noncontrast MRA techniques, CE MRA is a superior method and should be considered a first-line imaging technique in suitable patients. CE MRA is faster, flow independent, and does not suffer from many of the artifacts seen with noncontrast MRA techniques. CE MRA provides for an excellent contrast-to-noise ratio and renders angiographic images that both radiologists and clinicians are comfortable interpreting. Furthermore, with technical advances in sequence design, scanners, coils, and contrast agents, CE MRA can be optimized for high–spatial and temporal resolution imaging. In the subsequent sections, the contrast materials, sequences, acquisition techniques, and postprocessing methods used in CE MRA are discussed.
Gadolinium-Based Contrast Materials
Extracellular Materials
Whereas noncontrast MRA techniques rely on blood motion and fluid composition to differentiate vascular signal from background, CE MRA uses the injection of a paramagnetic gadolinium chelate as a contrast material to shorten the T1 and T2 relaxation times of blood by disrupting spin lattice and spin spin interactions, respectively. These effects make the T1 significantly less than that of fat, which is the brightest surrounding tissue. Blood can then be imaged directly with a T1-weighted sequence, independent of the direction of flow and with decreased sensitivity to turbulent flow. As a result, CE MRA sequences can be acquired with only a few slices oriented to capture the longitudinal course of the vessel of interest, thus allowing for larger anatomic coverage in a shorter time.
Extracellular GBCMs are chelates of the gadolinium ion (Gd 3+ ) with other ligands (e.g., DTPA in gadobenate dimeglumine; Multihance, Bracco Diagnostic, Inc., Milan, Italy) that form small-molecular-weight contrast materials. After injection, extracellular GBCMs have an intravascular residence of a few minutes (intravascular half-lives of ~100 seconds), and this property allows for imaging in multiple vascular phases. Because extracellular agents diffuse into the interstitial tissues and equilibrate among the intravascular, extravascular, and extracellular compartments fairly rapidly, MRA sequences using extracellular agents must be relatively fast to provide an adequate contrast-to-background ratio.
In comparison with iodinated contrast agents, gadolinium chelates have a lower rate of adverse events and no nephrotoxicity at clinically used doses. Therefore, these agents are a good choice in patients with borderline or at-risk renal function. As stated earlier, patients with severe chronic renal dysfunction (glomerular filtration rate <30), as well as all patients with acute renal failure, should not be given GBCMs because of the risk of nephrogenic systemic fibrosis (NSF). Because no proven treatment exists for NSF, prevention of this disease is paramount. Therefore, all patients presenting for CE MRI of any kind should have a serum creatinine measured before the examination.
Blood Pool Materials
Whereas extracellular GBCMs diffuse out of the intravascular space and allow only a few minutes for CE MRA to be performed, blood pool agents are larger molecules designed to have an extended intravascular residence. At present, the only blood pool agent that is approved by the U.S. Food and Drug Administration and available in the United States is gadofosveset trisodium (Ablavar). Gadofosveset trisodium has a lipophilic side chain, which results in reversible transient noncovalent binding to albumin. This interaction leads to the formation of a larger molecule with slower tumbling, a property that enhances the paramagnetic effectiveness of gadolinium. This feature, in turn, increases T1 relaxivity by four to five times compared with standard extracellular agents at 1.5 T. The results of improved T1 relaxivity are greater achievable contrast-to-noise ratios and hence lower recommended contrast doses with gadofosveset trisodium (0.03 mmol/kg) than with standard extracellular GBCMs (0.1 mmol/kg). Gadopentate dimeglumine, an extracellular GCBM, also exhibits some in vivo protein binding that results in increased signal for CE MRA, but this interaction is weak, and gadopentate dimeglumine is not considered a true blood pool agent.
The noncovalent binding of gadofosveset trisodium to albumin also results in prolonged intravascular residence, with an intravascular half-life of approximately 28 minutes. This property allows for imaging in the "steady state," during which contrast enhancement of the arteries and veins is relatively equal. The steady state can last for up to 60 minutes, thus permitting the use of longer sequences with higher spatial resolution and isotropic voxels. Steady-state imaging can also be exploited for examinations requiring multiple or provocative patient positions such as MRA for thoracic outlet or popliteal artery entrapment syndrome ( Fig. 8-7 ). Additional vascular territories can also be imaged during the steady state; for example, the pelvic and proximal lower extremity veins can be imaged for deep venous thrombosis after CE MRA sequences of the pulmonary vasculature are obtained to evaluate for pulmonary embolism. Finally, the longer window afforded by steady-state imaging yields greater forgiveness for common problems encountered during MRA examinations, such as patient motion, missed contrast bolus, or an inadequate field of view (FOV).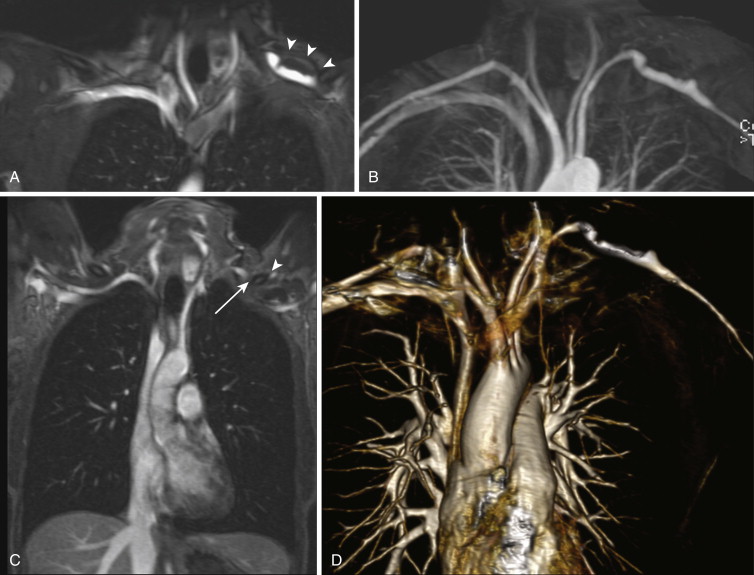 Contrast-Enhanced Magnetic Resonance Angiography Sequences
Sequences used for CE MRA must have several important characteristics to produce angiographic-quality images with a high contrast-to-noise ratio. First, the sequence must be fast. Speed is essential when imaging the chest and upper abdomen, in which the entire sequence must be acquired in one breath hold and thus is typically less than 25 seconds, preferably less than 15 seconds. The sequence also must be fast enough such that in a multistation examination, all stations can be acquired during the arterial phase (i.e., fast enough to chase the bolus). If the sequence is too long, venous contamination can make vessel interpretation difficult, particularly in the extremities. In addition, the sequence must have one center of k-space for the entire volume of data, thus allowing for the arrival of the peak of the contrast bolus to be timed to coincide with the center of k-space. In addition to speed and timing issues, a CE MRA sequence must be heavily T1 weighted to take advantage of the induced T1 relaxivity of the blood and maximize the contrast-to-noise ratio. The background signal of angiographic sequences can also be suppressed, further increasing the contrast-to-noise ratio. Finally, within the limitations of sequence duration, spatial resolution should be maximized.
k-Space
Before any discussion of technique, the importance of central k-space to the concept of CE MRA must be mentioned. Unlike CTA, which obtains data in a slice-by-slice manner, the three-dimensional gradient recalled echo (3-D GRE) sequences used in CE MRA acquire a full 3-D volume in the frequency domain before Fourier transform reconstruction. This difference may be advantageous in that slight motion is distributed throughout the entire volume of data in 3-D MRA sequences, thus limiting its effects. The converse is also true; severe motion occurring during a short portion of the 3-D MRA volume is distributed throughout the entire image set.
Acquisition of the full 3-D volume in the frequency domain before image reconstruction also has implications for bolus timing. To begin to understand bolus timing in CE MRA, one must recognize that the periphery of k-space determines spatial resolution and edge detail, whereas the center of k-space dominates image contrast. Consequently, for CE MRA, the acquisition of the center of k-space must be timed with the peak contrast bolus. If the center of k-space is acquired far too early, the worst case situation will result, in which the vessel will contain no contrast material. If the center of k-space is acquired during the edges of the bolus geometry in the vessel of interest (i.e., early during rapid upslope or late during rapid downslope), ringing or banding artifact will occur in the vessels. Finally, if the center of k-space is acquired too late, contamination from venous structures will occur, and this is unwanted for pure arterial phase images.
Another essential factor to understand for proper timing of CE MRA is the phase encoding order of the 3-D GRE sequence. Two phase encoding orders for data acquisition in CE MRA are widely available. Linear or sequential k-space filling is the standard acquisition. With linear phase encoding, the center of k-space occurs near the midpoint of data acquisition. Consequently, bolus timing must be calculated so the peak bolus coincides with one half the sequence duration (or time to center of k space). Unlike linear k space encoding, with centric encoding, the center of k-space is acquired at the beginning of the scan. Centric encoding can be performed as an elliptical variant with two phase encoding directions. In elliptical phase ordering, the acquisition of the center of k-space is concentrated into a shorter time at the beginning of the scan. Although centric and elliptically ordered sequences allow for simpler timing and are less prone to artifacts from incomplete breath holds, timing must be precise because these sequences are more prone to artifacts related to rapid changes in the concentration of gadolinium during the early acquisition of the center of k-space.
Three-Dimensional Spoiled Gradient Recalled Echo Sequences
Aside from imaging small parts and small vascular malformations, most angiographic imaging requires multistation examinations and depiction of several vascular territories. Three-dimensional GRE sequences are commonly used for MRA because they provide a well-balanced combination of speed, signal-to-noise, background suppression, and spatial resolution. TR (usually <5 msec) and TE (usually <3 msec) are kept at a minimum, and flip angles typically range from 25 to 45 degrees. Because of the low TR and TE, 3-D GRE sequences are inherently T1 weighted. Background suppression is added in the form of RF spoiling, in which repeated RF pulses are applied to the tissue. If the flip angle is large enough, background tissues do not have time to recover their longitudinal magnetization sufficiently and thus become saturated; this situation, in turn, increases the vessel contrast-to-noise ratio. Additional techniques for background suppression can be applied to improve the contrast-to-noise ratio further, including fat suppression and magnetization transfer. Fat suppression is particularly useful in abdominal and pelvic CE MRA to most clearly distinguish vessels and organs from surrounding background fat.
In certain instances, particularly when imaging the chest, abdomen, and pelvis, increased background signal is desirable, to allow evaluation of the organs or surrounding tissues. The volume-interpolated breath-hold examination (VIBE) represents a modification of the 3-D GRE sequence to meet these needs. By reducing the flip angle to 10 to 15 degrees and changing to a symmetric readout in the KY direction, background tissue signal is increased. With its excellent depiction of both vessel and background anatomy, the VIBE sequence has become commonly used for dynamic postcontrast chest, abdominal, and pelvic MRI examinations. VIBE sequences are particularly useful in angiographic applications when a question of mural enhancement or enhancement of intraluminal tumor thrombus exists ( Fig. 8-8 ). High-resolution VIBE images may also be useful in depicting anatomy of vascular malformations, as an adjunct to traditional GRE sequences, particularly when blood pool GBCMs are used.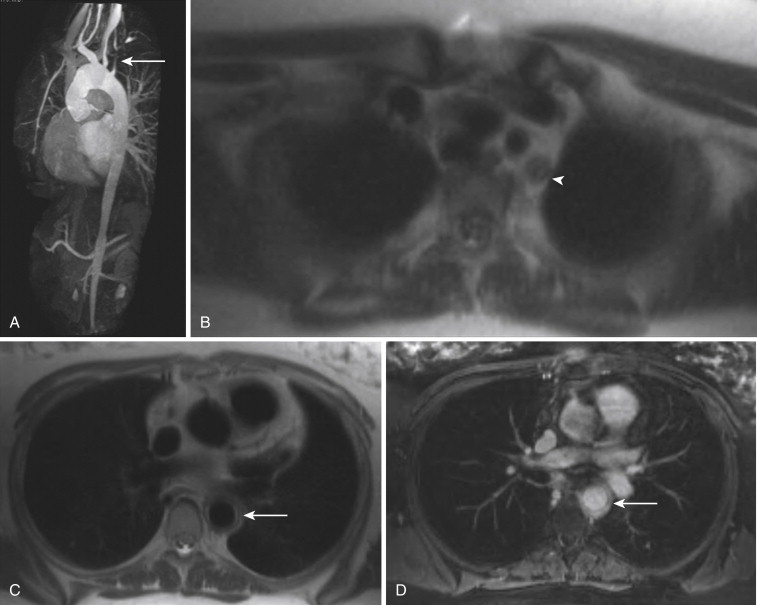 Premium Wordpress Themes by UFO Themes
WordPress theme by UFO themes