The scope of clinically relevant myocardial ischemic disease renders it one of the most important problems facing modern medicine. Risk stratification, diagnosis, management, and monitoring of patients with suspected or known ischemic disease heavily depend on imaging. Broadly speaking, the goals of imaging in ischemic heart disease can be categorized as anatomic or functional evaluation. Coronary computed tomography (CT) angiography has repeatedly been shown to have excellent diagnostic capabilities in the anatomic assessment of ischemic heart disease, specifically the detection of coronary artery atherosclerosis and stenosis. The physiologic relevance of coronary artery disease, however, is generally considered more important in establishing prognosis and management plans. Although myocardial morphology provides diagnostic clues in ischemic disease, dedicated myocardial evaluations generally focus on functional assessments, with specific goals depending on the clinical situation.
The diagnosis of acute and chronic ischemia can be made with myocardial functional imaging; more important, differentiation of viable from nonviable tissue is available and extremely important in guiding clinical management. Several strategies are used to determine tissue viability, depending on the clinical scenario; however, most of these rely on time-resolved imaging, myocardial perfusion imaging, delayed enhancement imaging, or a combination thereof. Therefore, CT has lagged behind other modalities in dedicated myocardial analyses. Temporal resolution and contrast resolution are inferior to those of other modalities, and the inevitable exposure to iodinated contrast material and ionizing radiation poses risks to the patient not associated with some techniques. However, the rapidly increasing rate of CT scans encompassing the heart, whether in a dedicated cardiac protocol or otherwise, necessitates knowledge of typical CT imaging findings in ischemic disease; furthermore, emerging techniques are showing progress in expanding the role of CT in physiologic assessments. Future refinement of these techniques could lead to a single-modality integrative evaluation of cardiac structure and function, the ultimate goal of cardiac imaging.
This chapter reviews the spectrum of imaging findings of myocardial ischemic disease in established CT applications, including routine thorax CT and dedicated cardiac CT angiography studies. In addition, technical considerations, imaging findings, and potential applications of experimental and emerging techniques are explored.
Noncardiac Computed Tomography Examinations
Although the value of non–electrocardiogram (ECG)-gated CT studies in assessing ischemic heart disease is limited, the sheer volume of such studies combined with the prevalence of the disease in current society necessitates knowledge of the possible imaging manifestations of acute and chronic ischemic disease. In addition, advances in scanner technology have decreased scan acquisition times sufficiently to allow assessment of the myocardium on some non–ECG-gated studies. All examinations that encompass the heart should be assessed for image quality and motion artifacts, and the myocardium should not be ignored when adequate assessment is possible.
Suggestions of acute myocardial infarction on nongated CT studies are mainly found outside the myocardium itself. Pulmonary vascular congestion suggests acute left ventricular dysfunction. Assessment of cardiac chamber size is inaccurate, but a grossly enlarged left atrium in severe acute left ventricular failure may be apparent. Similarly, right ventricular failure from an isolated right ventricular myocardial infarction is rare, but a dilated right ventricular chamber, right atrial chamber, or systemic veins may be apparent, and contrast reflux deep into the hepatic or azygos veins may be present. Contrast-enhanced studies may display subendocardial attenuation deficits in normal-thickness myocardium, findings suggestive of acute infarction if the contrast medium bolus is timed correctly and motion artifacts are not severe; however, quantifying the size or severity of defects is difficult.
Major structural complications of myocardial infarction may also be apparent on non–ECG-gated scans. Left ventricular aneurysms or pseudoaneurysms may be seen as nonspecific morphologic abnormalities on unenhanced scans, whereas most contrast-enhanced studies should allow one to diagnose but not fully characterize wall deformities. Left ventricular free wall rupture or septal wall rupture may also be apparent on contrast-enhanced studies, but again this varies depending on image quality and the nature of the abnormality.
Manifestations of chronic myocardial infarction are also apparent on many noncardiac CT protocols of the thorax. Left ventricular dilation should be noted, along with other signs of remodeling and functional inadequacy, such as an enlarged left atrial chamber, pulmonary venous hypertension, enlarged hilar lymph nodes, thickening of the pulmonary interlobular septa, bronchovascular bundle thickening, or ground glass opacities in dependent portions of the lungs. Again, depending on image quality, assessment of the myocardium itself may be possible. The interpreting physician should look for and comment on focal subendocardial fatty metaplasia, linear myocardial calcifications, and myocardial thinning, all of which are especially suggestive of remote infarction if they are present in a specific vascular territory ( Fig. 30-1 ).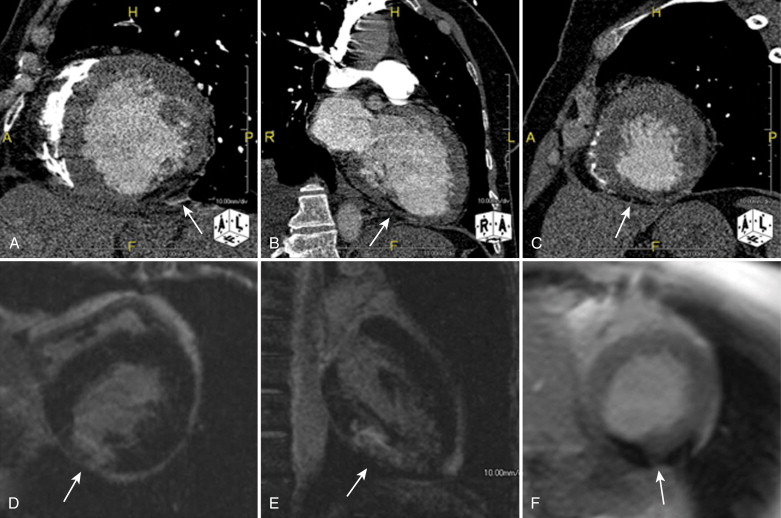 Cardiac Computed Tomography
The rapid rise of cardiac CT largely sprang from concomitant advances in the underlying technology, namely, decreased image acquisition times and increased detector coverage, the combination of which provided dramatic improvements in temporal resolution and isotropic submillimeter spatial resolution. These advances allow robust assessment of the coronary arteries, with diagnostic accuracy for the detection of stenoses that approaches that of the gold standard, invasive coronary angiography. Furthermore, the technique has other inherent advantages that make it attractive in the diagnostic workup of cardiac disease. In contrast to invasive angiography, extraluminal coronary artery morphology, such as wall remodeling, is visualized. In addition, valuable information on the myocardium itself is available, both morphologic and, to a limited extent, functional.
Premium Wordpress Themes by UFO Themes
WordPress theme by UFO themes