The use of magnetic resonance imaging (MRI) in cardiac diseases has been advancing rapidly, and this technique has become the gold standard for diagnosing many of the pathologic conditions encountered in clinical practice. MRI is an indispensable tool to aid in clinical decision making. Although traditional modalities such as single photon emission computed tomography (SPECT) and echocardiography continue to be the mainstays of cardiac imaging, MRI can provide data that are both complementary and uniquely distinct, thus allowing for insights into the disease process that until recently were not possible.
This chapter focuses on the ability of cardiac magnetic resonance (CMR) to aid in the management of both ischemic and nonischemic cardiomyopathies. Although much of this discussion highlights the ability of CMR to diagnose various myopathies, it also reviews the role of CMR as an important tool in various decision-making processes encountered on a daily basis by the clinician. Such instances include deciding whether to pursue revascularization in ischemic cardiomyopathies and determining when it is appropriate to recommend implantation of an implantable cardioverter-defibrillator (ICD) in the myopathic heart.
A clinical vignette is offered as an introduction to each topic discussed. The hope is that such a format will highlight the practical implications of the current data available on the use of CMR in a particular pathologic process. Although the amount and quality of supportive data may vary for each clinical instance, the data reflect the "real world" challenges that clinicians face when treating patients.
Hypertrophic Cardiomyopathy
Case 3
A 24-year-old white male patient without any significant medical history presents after a syncopal episode while food shopping. He lost consciousness, fell on his forehead, and required eight stitches to close a laceration. The patient has no recollection of the event. He has never had syncope or near syncope in the past and was active in high school sports. He has had "a few" palpitations once in a while that have lasted for seconds but has not thought anything of it. This patient is not taking any medications and has never used illegal drugs. He has no family history of sudden cardiac death. Physical examination is unremarkable, without any murmurs; laboratory study results are normal. An ECG shows sinus rhythm with nonspecific T-wave abnormalities. An echocardiogram shows normal biventricular size and function without significant valvular abnormalities. The interventricular septum is measured at 12 mm, as compared with 9 mm in other parts of the left ventricle. An exercise stress test is unremarkable; the patient exercises for 12 minutes of Bruce protocol with a normal blood pressure response and no ECG changes. A 24-hour Holter monitor shows rare PVCs.
The patient's cardiologist is concerned about the mild septal hypertrophy and brings up the possibility of HCM. The patient himself wonders whether this could have been his first episode of vasovagal syncope. The cardiologist refers him to an electrophysiologist and asks whether an electrophysiology study would help. The electrophysiologist decides to order a cardiac MRI. Is this reasonable?
Traditional Methods for Risk Stratification of Sudden Cardiac Death
The diagnosis of HCM can sometimes be challenging, especially in patients who are high-endurance athletes. Once the diagnosis is entertained, the concern for sudden cardiac death must be considered, and the patient must be assessed appropriately. The mechanism of sudden cardiac death in these patients has been shown to be mainly VT or ventricular fibrillation. Many patients present with sudden cardiac death, especially during an episode of exertion. At present, risk stratification of sudden cardiac death includes a family history of sudden death, a history of syncope, nonsustained VT (NSVT) on Holter monitoring, abnormal blood pressure response during exercise stress testing, and LV hypertrophy of 30 mm or greater. However, data suggest that many patients experience an event with only one risk factor. Long-term follow-up in a large cohort suggested that appropriate ICD discharges are just as likely in patients with one risk factor as they are in those with three or more risk factors. As a result, recommendations about prophylactic implantation of a defibrillator are difficult in patients who may have only one such risk factor. A careful assessment must be made on an individual basis.
Cardiac Magnetic Resonance and Delayed Enhancement in Hypertrophic Obstructive Cardiomyopathy
The pattern of scarring in HCM that has been detected with CMR usually does not occur in the territory of the epicardial coronary arteries. Instead, typical patterns of fibrosis are seen on CMR. Unlike ischemic scars, which are always subendocardial with varying degrees of transmurality, the fibrosis in HCM is typically midmyocardial and shows sparing of the subendocardial myocardium. The patches of fibrosis are not confined to a coronary artery territory. Several studies have reported that fibrosis of the myocardium at the insertion sites of the right ventricle into the ventricular septum is characteristic of HCM ( Fig. 21-3 ). Studies have also shown that the presence of scar and fibrosis in patients can be reliably detected using CMR, with good histologic correlation of the scar with areas of delayed enhancement. More important, the use of this imaging modality may have prognostic significance in these patients.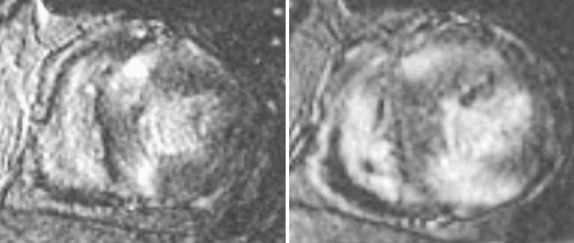 Premium Wordpress Themes by UFO Themes
WordPress theme by UFO themes