Fig. 62.1
MR sequences used during core needle biopsy. Following localizing images (
a
), axial and sagittal, pre- (
b
) and postcontrast sequences (
c
,
d
) are obtained to identify the target (
long arrows
). After placement of the obturator, axial and sagittal sequences are obtained to confirm proper depth and location prior to the biopsy (
short arrows
) (
e
,
f
). Further images are performed after the biopsy to confirm the deployment and location of the marker clip (
thick arrows
) (
g
,
h
)
Radiologic-Histologic Correlation
Malignancy rates ranging from 16 to 37 % have been reported in the MRI-guided core biopsy literature [
4
,
7
,
10
–
12
]. Radiologists who perform biopsies should review images to determine whether the target lesion was adequately sampled. For high-risk and discordant lesions, surgical excision is recommended. Reported imaging-histologic discordance rate is approximately 7–9 % [
4
,
13
]. Benign concordant histologic results may warrant short-term (6-month) follow-up MRI to confirm stability, depending on confidence of the radiologist regarding adequacy of tissue sampling. Higher rates of imaging-histologic discordance and underestimation of atypical ductal hyperplasia (ADH) and ductal carcinoma in situ (DCIS) are reported with MRI-guided biopsies than with mammography stereotactic-guided biopsies [
13
–
15
].
MRI may depict additional findings occult by mammography and sonography and may result in follow-up and biopsy recommendations as well as mastectomies. However, clinical judgment should be exercised, and the planned management should not be changed based on MRI findings alone without initial biopsy confirmation. MRI-detected, clinically occult disease in a patient with newly diagnosed breast cancer is frequent (Fig.
62.2
). Multifocality, the finding of a separate site of cancer within the same quadrant, has been reported in 9–28 % of women. Multicentric tumor in different quadrants or beyond 5 cm from the index tumor occurs in approximately 7–10 % of cases [
16
–
18
]. Additional research is needed with regard to the impact of MRI on the outcome of breast cancer patients [
2
].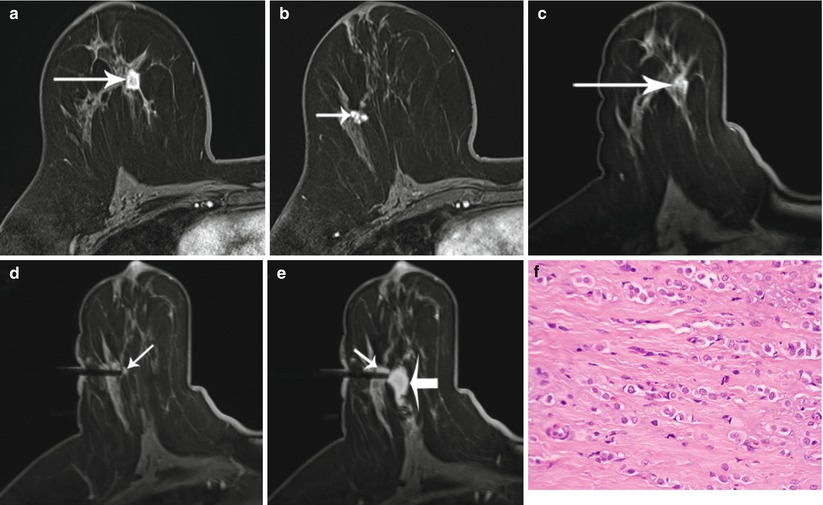 Fig. 62.2
A 51-year-old woman with recently diagnosed right breast 1.5 cm invasive lobular cancer. Breast MRI performed for extent of disease showing the known cancer at approximately 12 o'clock position (
long arrow
) (
a
) as well as a second suspicious, irregular, ill-defined enhancing mass measuring 1.1 cm in the lower outer breast (
short arrow
) (
b
). The second mass was occult by mammography and sonography, and an MRI-guided biopsy was recommended. Images obtained during MR-guided biopsy show again the index cancer (
long arrow
) within the slightly compressed breast (
c
) as well as the introducer at the targeted second mass (
short arrow
) (
d
). Partial imaging of the breast is performed at the time of biopsy to decrease image acquisition time. Corresponding post-biopsy MR image (
e
) shows less visibility of the targeted mass (
short arrow
) and area of hematoma (
thick arrow
) medial to the mass. All MR images above were performed in axial plane after contrast administration using a T1-weighted fat-saturated 3D spoiled gradient-echo sequence. Histopathology of core biopsy (
f
) revealed invasive carcinoma with predominantly lobular features, moderately differentiated (modified Bloom-Richardson grade II/III), ER/PR positive, and HER2/neu negative (hematoxylin-eosin stain; original magnification ×200). Subsequent mastectomy confirmed presence of multicentric invasive cancer
MRI-Guided Breast Wire Localization
When amenable, performing a percutaneous needle biopsy is advantageous compared to performing a wire-localized (WL) biopsy, as it may save the patient from unnecessary surgery and reduce cost [
7
]. Needle localization is performed in patients whose extent of disease is not considered evident by conventional imaging modalities and when the patient prefers surgical removal or refuses core biopsy.
Equipment and Technique
The positioning and localization procedure for needle localization is the same as that for needle biopsy. Once the lesion is localized, an MR-compatible guide needle is introduced to the appropriate depth. After imaging confirms appropriate location and depth, a guide wire is deployed through the needle. The needle is similar in design to the Kopans needle. The MR-compatible hook wire is somewhat softer than non-MR-compatible localization wires; thus there is a propensity to break during surgery [
19
], and deployment in hard fibrous tissue may be occasionally difficult. After the localization procedure, a two-view mammogram is usually obtained so that the surgeon can see the location of the wire and relationship to the nipple and breast tissue.
Radiologic-Histologic Correlation
MR imaging of an excised breast specimen is, at this time, not useful for lesion detection, since current methods are predicated on the wash-in/wash-out characteristics of contrast agent. Gross examination and specimen radiography do not identify most of the malignancies in MRI-localized procedures. For that reason, the only reliable method to identify all malignant lesions in MRI-guided excisions is to examine all of the tissue microscopically, and optimal pathology processing requires microscopic examination of the entire specimen [
20
].
MRI-Guided BCS
Intraoperative (Non-MR-Guided) Adjuvant and Competitive Guidance Modalities for Lumpectomy
MRI-Guided Tumor Ablation of the Breast
As a natural extension of breast biopsy and its attending image-guided targeting techniques, therapeutic probes can be percutaneously placed in the lesion to deliver cooling (cryoablation) or heating energy (radio-frequency ablation, laser interstitial thermal therapy) intended to cause cell death. Such ablative techniques represent an emerging trend in minimally invasive approaches which, when applied to the breast, offer an alternative to lumpectomy and should prove to be less disruptive to the contour of the breast, carry less risk of infection, do not require general anesthesia, and should require less recovery time. Taking this trend to the limit, high-intensity focused ultrasound delivers thermal energy without piecing the skin.
The aim of thermal therapies is to treat the lesions and a surrounding margin while sparing normal tissue. The role of imaging is to aid the clinician in planning the probe placement for optimal coverage, targeting the lesion, and monitoring the deposition of energy. The advantages of MRI guidance in these tasks are 3D visualization via multiplanar, multi-slice acquisition, high sensitivity and delineation for breast lesions, and tissue thermal sensitivity.
If image-guided minimally invasive tumor ablation is to be competitive with the current standard of care in the treatment of breast cancer, these emerging treatments must be as effective in completely destroying cancerous tissue as the established breast-conserving treatment – surgery followed by whole-breast radiation. There are many caveats, discussed later in the chapter, which should be well understood before widely adopting ablative approaches. Careful inclusion/exclusion criteria and control measures are critical elements of proper study design if in situ ablative methods are to become a viable alternative treatment to lumpectomy for patients with early-stage breast cancer. Ablative techniques may also have value in palliative care of patients with stage 4 breast cancer [
117
] and recurrent disease or for patients who refuse surgery [
118
].
Breast Cryoablation and Cryolumpectomy
MRI Temperature Mapping in the Breast
A tool common to the ablative techniques that use elevated temperature is noninvasive MRI temperature mapping, based on temperature-sensitive MR parameters such as the proton resonance frequency (PRF), the diffusion coefficient (
D
), T1 and T2 relaxation times, magnetization transfer, the proton density, as well as temperature-sensitive contrast agents [
147
]. Thermal dose can be extracted from time-temperature curves, and through empirical experimentation cell death can be correlated with thermal dose [
148
]. Proton resonance frequency shift (PRFS) can be exploited to measure temperature in aqueous tissue; however, chemical shift in fat is nearly constant over the temperatures used in thermal ablation. The T1 temperature dependence can be exploited in fat [
149
,
150
].
In supine positioning, without breast fixation, imaging techniques to compensate for motion must be applied [
151
,
152
]. An additional complication in the breast comes from heat-induced changes in susceptibility. The changes in susceptibility for the water signal are negligible, but the change in susceptibility of fat is much larger. Thus, even with fat suppression methods, the changes in the susceptibility must be taken into consideration [
153
].
Breast Radio-Frequency Ablation (RFA)