Fig. 21.1
(
a
) Three-dimensional surface-rendering ultrasound of the fetal face shows cleft lip, a large polyp protruding through the right nostril, two nasal dorsal polyps, and a left cheek skin tag. (
b
) Same view as in (
a
) with open mouth for a better depiction of the median upper lip cleft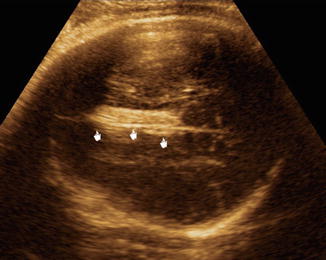 Fig. 21.2
Axial two-dimensional ultrasound image of the fetal head shows an echogenic mass in the interhemispheric fissure representing a lipoma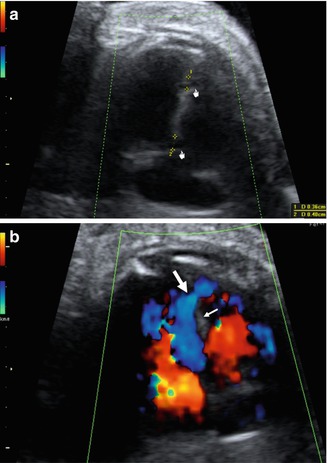 Fig. 21.3
(
a
) Four-chamber view in B-mode depicts two small ventricular septal defects (denoted by
calipers
). (
b
) Color Doppler ultrasound shows flow through the muscular ventricular septal defect (
arrow
).
Small arrow
denotes the septum
Given the fetal phenotypic features, the diagnosis of Pai syndrome was made and confirmed after birth (Fig.
21.4a
). The newborn infant had no major neonatal complications. Initial feeding problems were managed with a palatal obturator. Postnatal karyotype was reported as normal. Repair of the cleft lip and excision of the polyp were performed during the neonatal period. In a subsequent operation, the palate was surgically reconstructed. The small ventricular septal defects spontaneously closed during the first year of age. Figure
21.4b
shows the postoperative results at the age of 3 years. The infant is currently 5 years of age and her neurodevelopmental assessment has been reported as normal.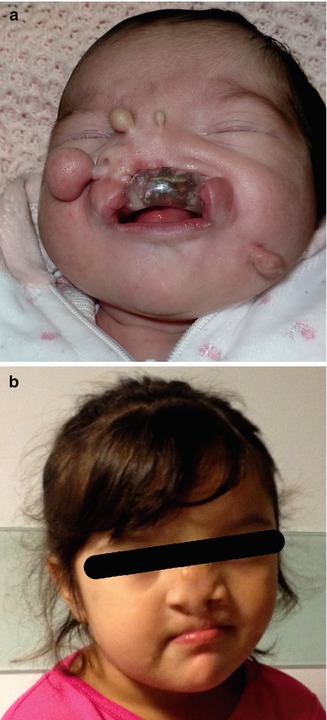 Fig. 21.4
(
a
) Photograph of the newborn infant shows the facial features of Pai syndrome. The nasal polyp protruding from the right nostril and the skin tags are clearly seen. The palate obturator, used for feeding purposes, prevents full view of the cleft lip and palate. (
b
) Follow-up at 3 years of age shows the postoperative results (
a
,
b
published with permission from the parents)
21.3

Discussion
Full access? Get Clinical Tree