Fig. 7.1
Three-dimensional ultrasound with post-processing rendering using HDLive™ shows a midtrimester fetus with micrognathia and low-set ears (Courtesy of Dr. G. Grisolia)
After the sixth gestational week, mandibular development begins with fusion of ectoderm of the branchial arches and neural crest cells from the dorsal neural tube [
3
]. This complex process is influenced by both environmental and genetic factors. Micrognathia is the result of hypoplasia of the neural crest cell population and can occur in isolation as in primary mandibular disorders or, more frquently, associated with other conditions such as chromosomal aberrations (particularly triploidy, trisomy 18, and trisomy 9) (Fig.
7.2
), genetic syndromes, and other structural anomalies (Fig.
7.3
) [
4
,
5
].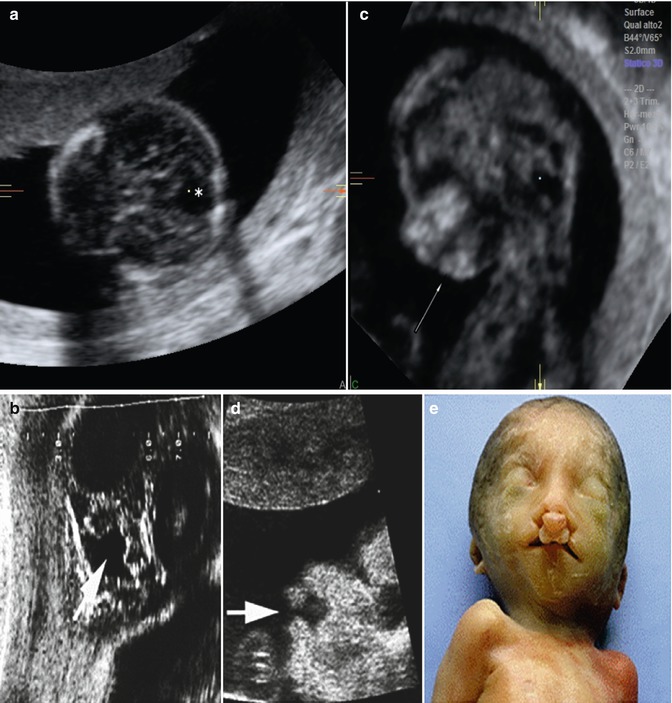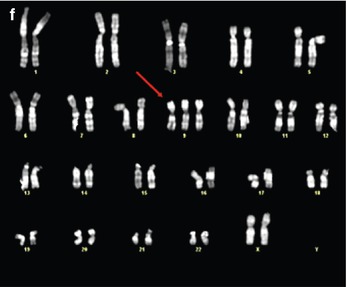 Fig. 7.2
Midtrimester fetus with (
a
,
b
) cerebellar vermian defect (
arrow
), (
c
) micrognathia (
arrow
), and (
d
) cleft lip and palate (
arrow
). (
e
) Postmortem examination confirmed bilateral cleft lip and palate. (
f
) This infant had trisomy 9 (From Tonni et al. [
75
])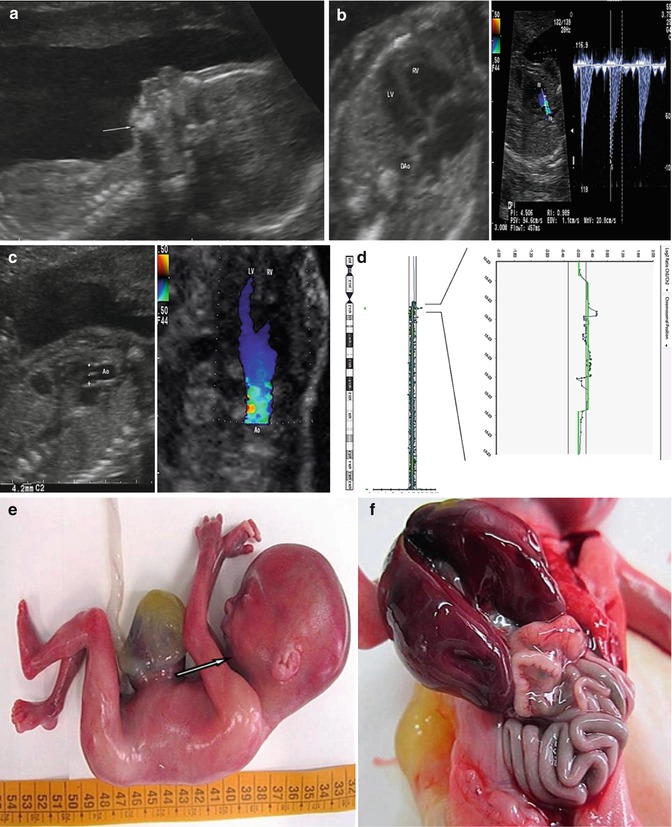 Fig. 7.3
Micrognathia detected by two-dimensional ultrasound in a midtrimester fetus with normal karyotype (
a
) with associated tetralogy of Fallot (
b
,
c
) and exomphalos. Array-CGH demonstrated a 15q.11 microduplication (
d
), with the father as a carrier. Autopsy findings (
e
,
f
) confirm micrognathia (
arrow
) and exomphalos (From Tonni et al. [
76
])
Using the technology available in the current era of prenatal diagnosis, three-dimensional (3D) and four-dimensional (4D) ultrasound can visualize the mandible as early as 10 weeks of gestation and permit its detailed evaluation using indices, ratios, and facial angles, as well as mandibular growth charts [
6
,
7
]. However, the diagnosis of a mandibular abnormality and its relationship with multiple malformations when present in complex syndromes remains challenging.
Although ultrasound is the established standard for fetal bone visualization, magnetic resonance imaging (MRI) may be a useful adjunct after 18 weeks of gestation by potentially providing additional details of the mandibular anatomy as well as of other abnormalities that may be present [
8
]. Despite these tools, assessing the severity of micrognathia is still a challenge for perinatologists. Nevertheless, prenatal evaluation of the fetal facial anatomy is necessary to optimize intrapartum management.
7.2

Genetic Syndromes Associated with Micrognathia