Multicystic Renal Disease
LEARNING OBJECTIVES
1.
Identify multicystic dysplastic kidney on ultrasound.
2.
Recognize the evolving renal imaging findings of autosomal dominant polycystic kidney disease.
3.
Identify autosomal recessive polycystic kidney disease on ultrasound.
4.
Discuss the nonrenal findings of both autosomal dominant and recessive polycystic disease.
INTRODUCTION
In this chapter, we present the most common causes of multicystic renal disease in children. These include multicystic dysplastic kidney (MCDK) and both autosomal dominant and recessive polycystic kidney disease. Additional multisystem disorders incorporating renal cysts include Von Hippel-Lindau syndrome, tuberous sclerosis, and Meckel-Gruber syndrome.
The sonographic appearance of a simple renal cyst is a round well-defined, anechoic structure with increased through-transmission. Increased vascularity within or around the cyst, internal echoes, and associated soft tissue or calcification are absent. Simple renal cysts are much less common in children than in adults. The incidence in pediatric patients has been cited as less than 1% in the absence of underlying disease. However, the majority of simple cysts remain stable in size and have no impact on renal function. They are felt to be an incidental finding and do not necessarily warrant further workup for polycystic renal disease.
1
,
2
,
3
and
4
MULTICYSTIC DYSPLASTIC KIDNEY
MCDK is the most common congenital cystic renal dysplasia, with an incidence of about 1 in 4,000 births.
4
,
5
and
6
The exact pathophysiology of this disorder is not entirely understood but is believed to result from severe early in utero obstruction of the upper urinary tract, with subsequent disorganized renal development.
7
There are two types of MCDK: pelvoinfundibular (more common) and hydronephrotic. The majority of cases are sporadic, though there is a 3% to 5% rate of familial recurrence that suggests a genetic influence.
4
Most cases of MCDK are unilateral with a normal contralateral kidney. But the contralateral kidney is at increased risk for reflux and having UPJ obstruction.
4
,
5
,
7
MCDK may involve a portion of either a duplicated collecting system (usually the upper moiety) or a fusion anomaly such as horseshoe kidney.
7
Imaging of MCDK is usually performed with US, though the appearance is similar on CT and MR. MCDK usually manifests as multiple renal cysts of various sizes that do not communicate (
Figs. 21.1
,
21.2
and
21.3
). There is no normal intervening renal parenchyma— it is abnormally echogenic and lacks normal corticomedullary
differentiation on US. The less common hydronephrotic type of MCDK may feature communicating cysts that mimic hydronephrosis, but lacks normal renal parenchyma. Renal size and contour are variable and depend on stage of involution. Diuretic renal scintigraphy or MR urography may be performed to confirm this diagnosis. On both exams, there is lack of any excretory function in the affected kidney (
Fig. 21.4
). VCUG may show VUR into a blind-ending ureter on the side of MCDK.
3
,
4
,
5
,
6
,
7
,
8
,
9
and
10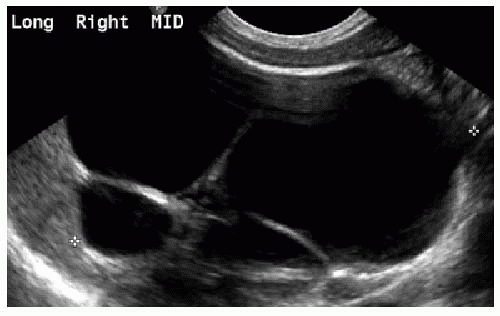 FIG. 21.2 • Multicystic dysplastic kidney in a 2-week-old female.
Longitudinal US image of the right kidney shows several large noncommunicating cysts without normal renal parenchyma.
The majority of MCDKs involute during the first decade of life. Previously, MCDK was managed with nephrectomy to prevent potential development of proteinuria, hypertension, and degeneration into Wilms tumor. Several large studies have since shown these risks to be extremely low if present at all.
5
,
9
,
10
,
11
and
12
Conservative management with serial ultrasounds is now standard practice for MCDK. While exact imaging protocols vary, renal US is often performed every 3 to 6 months in the first 2 years and annually after that.
9
,
10
These serial exams should also assess for any abnormalities of the ipsilateral internal genitalia, such as seminal vesicle cysts in boys, which occur in up to 15% of children with MCDK.
6
Dysplastic kidneys often involute to the point where they are no longer discernible by ultrasound. Nephrectomy is only reserved for cases where the large size of the kidney is problematic.
7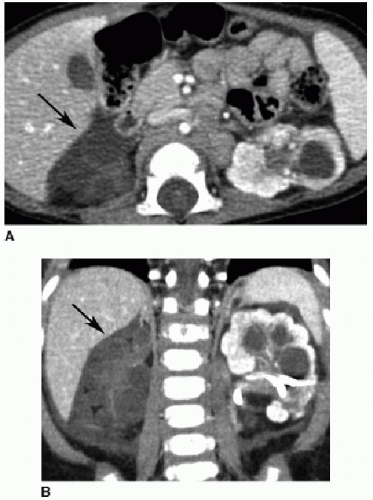 FIG. 21.3 • Multicystic dysplastic kidney on CT in a 1-year-old male.
Axial
(A)
and coronal
(B)
images from a contrast-enhanced CT show no enhancement and multiple cysts within a dysplastic right kidney (
arrows
in both
A
and
B
). The normally enhancing left kidney is affected by hydronephrosis, treated with a nephrostomy tube.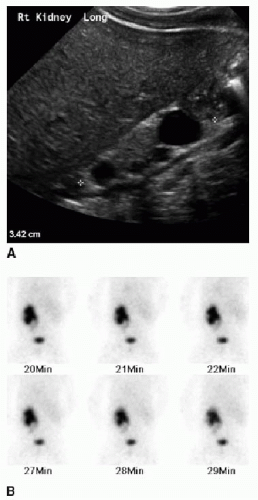 FIG. 21.4 • Multicystic dysplastic kidney in a 3-month-old male. A:
US demonstrates a small right kidney with noncommunicating cysts and echogenic parenchyma.
B:
Premium Wordpress Themes by UFO Themes
WordPress theme by UFO themes