Musculoskeletal Constitutional Disorders
LEARNING OBJECTIVES
1.
Name an ossification center that is useful in determining likelihood of a neonate being full term.
2.
Describe the curvature morphology that distinguishes these types of scoliosis: idiopathic, congenital, and neuromuscular.
3.
List a common condition associated with coxa valga.
4.
Indicate the primary objective of radiographic evaluation of the toddler presenting with genu varus.
5.
Recognize hindfoot malalignment likely to be associated with tarsal coalition.
6.
Identify the two joints most commonly involved in tarsal coalition, and name an associated radiographic finding for each.
7.
Describe one typical radiographic feature of the skull, the spine, the pelvis, and the extremity for each of the following three skeletal dysplasias: achondroplasia, mucopolysaccharidosis, and osteogenesis imperfecta.
INTRODUCTION
Growth of the pediatric skeleton is a complex topic that encompasses neurologic, muscular, and bone abnormalities arising from genetic anomalies, fetal growth disturbances, nutritional deficiencies, and other acquired insults such as trauma and cancer therapies. An in-depth understanding of musculoskeletal development and disease is beyond the scope of this chapter. However, the general radiologist encountering an abnormal pediatric musculoskeletal imaging study requires an essential understanding of skeletal growth, commonly seen alignment disorders, skeletal dysplasias. These categories of skeletal health will be discussed within this chapter, focusing on radiographic diagnosis and appropriate guidance of further workup and therapies.
SKELETAL MINERALIZATION
Bone mineralization involves complex physiology.
10
,
11
Osteoblasts are the cells that produce a bone matrix, called osteoid that must be subsequently mineralized by hydroxyapatite crystals. Osteoclasts are the cells that reabsorb bone and return calcium and phosphate to the bloodstream. Mineralization requires normally functioning enzymes, vitamins, and normal circulating serum levels of calcium and phosphate. Bone mineralization is continually being modified for repair and growth and for maintenance of circulating calcium levels.
10
,
11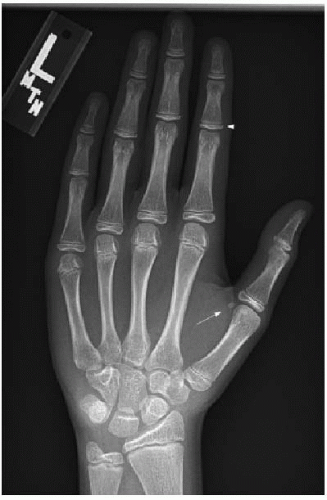 FIG. 28.2 • Bone age example.
PA radiograph of a 12-year-5-month-old female with normal bone age exhibits a sesamoid bone in the thumb (
arrow
), which normally appears around age 10 years in girls and around 13 years in boys. Note maturation of epiphyses in middle phalanges (
arrowhead
), typical of this age.
A subjective assessment of bone mineralization can offer clues to disease processes. Seeing a number of healthy children imaged radiographically for acute processes such as fracture is the best method of training the eye for recognition of poorly mineralized bones. Features to assess include the overall density of the bones, abnormal prominence of the trabeculae that implies demineralization, and thickness of the cortices. Differentiating between
osteoporosis,
wherein calcium and other minerals have been pulled from the bone and transferred to the vascular circulation, and
osteomalacia,
a disorder of abnormal bone matrix/osteoid formation, is not always possible. In these cases, the term
osteopenia
may be used. One example of osteoporosis in the child is seen in the context of immobilization of a limb for the treatment of fracture. When non-weight bearing, osteoclastic activity increases, and calcium content within the affected bones lowers substantially enough that the intramedullary bony trabeculae appear prominent and the subcortical bone becomes more lucent (
Fig. 28.3
).
12
,
13
Contrast that appearance with osteomalacia, exemplified by rickets in children. Rickets is a complex disorder of the growth plate and of enchondral ossification, resulting in deficient mineralization and overgrowth of cartilage.
11
It is most commonly caused by nutritional vitamin D deficiency.
14
Rickets can be recognized radiographically by overall poor mineralization of the skeleton, widening of the growth plates, and irregularity or fraying of the metaphyses. Because these changes are best seen in fast-growing long bones, radiographs of the wrist and knee are most helpful (
Fig. 28.4A
). Anterior rib metaphyseal widening may be suspected clinically in profoundly affected children by the described "rachitic rosary," referring to the beadlike palpable nodularity of the chest wall, also apparent radiographically as expansion of the
costochondral junctions (
Fig. 28.4B
). Typical therapy for rickets is nutritional replacement of vitamin D (
Fig. 28.4C
).
FIG. 28.3 • Disuse osteoporosis.
Oblique radiographs of the right foot in a 16-year-old presenting acutely after fracture (
black arrowhead
) of proximal fifth metatarsal
(A)
and subsequently following casting
(B)
demonstrate demineralization of bones occurring after non-weight bearing. Note subcortical lucency (
white arrow
) reflecting osteoclastic activity and removal of calcium from bone.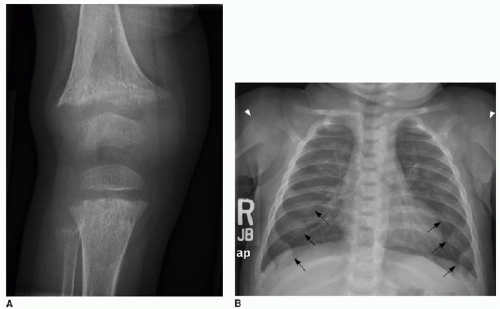 FIG. 28.4 • Rickets. A:
AP view of the right knee in a 22-month-old female with rickets shows findings typical of osteomalacia. Metaphyseal flaring with a frayed appearance, physeal widening, and bone demineralization are present. AP
(B)
and lateral
(C)
chest radiographs of an 8-month-old with rickets show typical anterior rib flaring and expansion of the costochondral junctions (
black arrows
) creating the "rachitic rosary" sign. Note also absence of zones of proliferative calcification in the proximal humerus (
white arrowhead
).
D:
AP view of the lower extremity in a 19-month-old child with treated rickets and genu varus shows typical cortical thickening along the medial tibia (
arrowheads
) and metaphyseal density (
arrow
).
Formal bone mineralization evaluation by dual x-ray absorptiometry (DEXA) scanning, a subject beyond the scope of this chapter, is indicated for the following conditions: systemic longterm steroids, chronic inflammatory disorders, hypogonadism, prolonged immobilization, osteogenesis imperfecta, idiopathic juvenile osteoporosis, recurrent low-trauma fractures, and apparent osteopenia on radiographs.
15
,
16
SKELETAL ALIGNMENT DISORDERS
Premium Wordpress Themes by UFO Themes
WordPress theme by UFO themes