, Ahmad Elkhodary2 and Abdelhamid H. Elgazzar3

(1)
Oncology Center of Excellence, International Medical Center, 2172, Jeddah, 21451, Saudi Arabia
(2)
Department of Medical Oncology, National Cancer Institute, Cairo University, Cairo, Egypt
(3)
Department of Nuclear Medicine, Faculty of Medicine, Kuwait University, Kuwait City, Kuwait
During the past century, there has been a gigantic evolution in our understanding of the perplexing concepts of the biology of human tumors. This chapter is intended to address only the knowledge that has had the most significant impact in this field. Owing to the constraints of space, this chapter is not to be considered all inclusive. We will deal with the pathological basis of tumorigenesis and the basic principles of pathological classification of tumors.
11.1

Tumor Pathology

The classification and typing of tumors depends mainly on the histopathological diagnosis, which is made on the basis of gross and microscopic examination of tissues. The surgical pathologist's task is to provide a specific and comprehensive diagnosis to enable the clinician to develop an optimal plan of treatment and help him or her to predict prognosis.

Tumor classification is based on histogenesis, degree of cellular differentiation (i.e., well or poorly differentiated), and biological behavior (benign versus malignant). All tumors, whether benign or malignant, have two components: (1) proliferating neoplastic cells and (2) supportive stroma, which is host derived and made up of connective tissue and blood vessels. While the neoplastic cells determine the nature of the tumors, tumor growth and evolution depend on the stroma [

1

].

In the past, the general concept was that neoplasms of certain phenotypes arise from their normal cell counterpart. However, evidence that accumulated over the years has proven the inaccuracy of this histogenetic assumption. It is now believed that most tumors arise from immature cells that can transform and acquire phenotypic features similar to those of one or more normal cell types. For example, rhabdomyosarcomas are tumors that show rhabdomyoblastic differentiation rather than tumors that arise from striated muscle cells [

2

]. In some instances, the immature cells can undergo divergent differentiation into two cell types, as in the case of mixed tumors of the salivary gland (Fig.

11.1

), or they have the capacity to differentiate into any adult cell type, as in teratoma.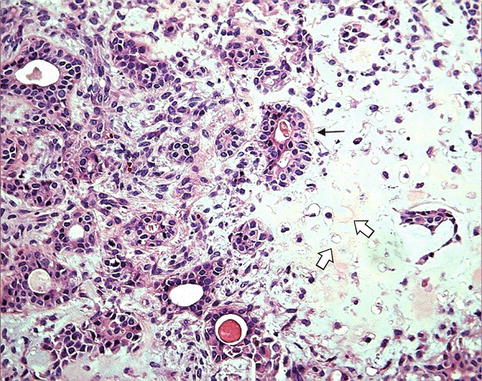 Fig. 11.1
Benign mixed tumor of the salivary gland (pleomorphic adenoma). The tumor consists of an epithelial component "glands" (
arrow
) and a mesenchymal component "cartilage" (
open arrows
)
11.1.1

Biological Behavior

The categorization of tumors into benign and malignant is an oversimplification of the wide behavioral range of neoplasms. There are tumors that exhibit intermediate behavior. This has led to the introduction of a third category designated as "borderline or undetermined," which represents low-grade malignant tumors that can mostly be managed by conservative therapeutic approach. The best examples are borderline tumors of the ovary and uterine smooth muscle of low malignant potential [

3

–

5

]. Currently, the malignant category is restricted to tumors that have metastatic properties.
11.1.1.1

Benign Tumors

In general, the addition of the suffix -oma to the cell of origin describes benign tumors; for example, adenoma indicates a benign tumor of epithelial cell origin. Tumors that arise from mesenchymal tissues are designated according to their putative cell of origin (e.g., fibroma, chondroma, lipoma, and leiomyoma). Benign tumors can also be classified on the basis of their macroscopic pattern; for example, papillomas are benign epithelial tumors with certain growth characteristics, such as exophytic or finger-like projections. In general, a benign tumor is composed of well-differentiated cells that resemble their normal counterpart. A tumor is considered benign when its gross and microscopic characteristics are relatively innocent, implying that it will remain localized and cannot spread to other sites. However, it should be noted that benign tumors can produce more than a localized mass and sometimes cause serious disease.
11.1.1.2

Malignant Tumors

The classification of malignant tumors essentially follows that of benign tumors, with some exceptions. Malignant neoplasms arising from epithelial cells are termed carcinomas. Carcinomas are further classified on the basis of the type of epithelium, for example, squamous as squamous carcinoma (Fig.

11.2

), glandular as adenocarcinoma (Fig.

11.3

), and transitional as transitional cell carcinoma. Malignant epithelial tumors that have not extended through the underlying basement membrane are described as in situ carcinoma. Malignant tumors arising from mesenchymal tissue are broadly designated as sarcomas. These are further subclassified on a histogenetic basis according to the normal tissue they resemble or its embryonal counterparts, for example, fibrosarcoma, chondrosarcoma, leiomyosarcoma, and rhabdomyosarcoma. Lymphomas are tumors of lymphatic system cells, while myelomas are those of plasma cells.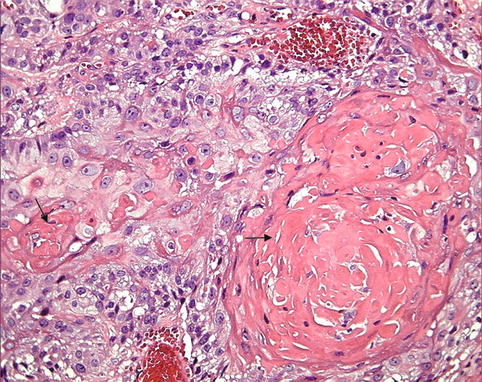 Fig. 11.2
Squamous cell carcinoma. The tumor consists of well-differentiated squamous cells forming keratin pearls (
arrow
)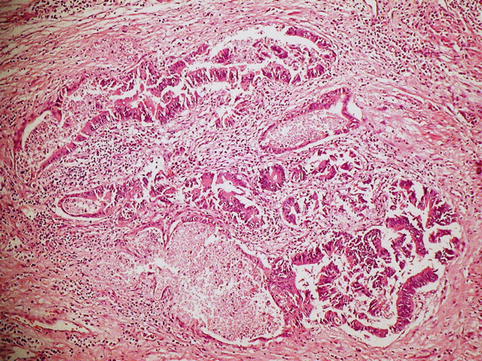 Fig. 11.3
Adenocarcinoma. Note the glandular formation of the malignant cells (
arrows
)
There are tumors that do not follow any classification scheme, and they have been identified by trivial names, such as seminoma and melanoma. Other tumors carry eponyms, such as Hodgkin's disease and Ewing's sarcoma.
Tumors within a single organ or single type of epithelium are further subclassified into different types; each has its own characteristics, prognosis, and response to therapy. A comprehensive and detailed histological classification of tumors of various organ systems is presented in several reviews and monographs [
6
,
7
]. Malignant tumors are neoplasms that extend into surrounding tissue without respecting normal tissue boundaries, are capable of invading lymphatics and blood vessels, and can be transported to distant sites. Several salient abnormalities are helpful to the pathologist in making the morphological diagnosis of such tumors, and they are expressed in two ways: first, there are abnormalities that affect individual cells in the form of cytological features and increased mitotic activity. Cytological features of malignancy include cell enlargement, increased ratio of nuclear to cytoplasmic area, pleomorphism (variation in size and shape), and chromatin clumping.
The tumor consists of well-differentiated squamous cells forming keratin pearls of nuclear chromatin and big nucleoli (Fig.
11.4
). Second, there are abnormalities that affect intercellular relationship, i.e., altered orientation of neoplastic cells and stroma leading to disorganization [
8
].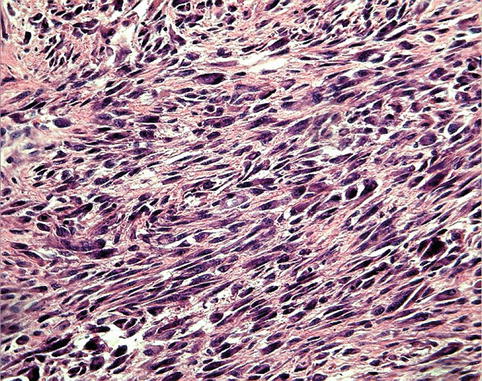 Fig. 11.4
Soft tissue sarcoma consisting of pleomorphic spindle cells, illustrating the features of malignancy as variable cell size and shapes and increased nuclear/cytoplasmic ratio
11.1.2

Grading

Grading is a scheme that attempts to determine the degree of malignancy and is based on the evaluation of certain parameters that vary according to the system used. These broadly include the following: degree of tumor cellularity, resemblance of tumor cells to their normal forbears morphologically and functionally, cellular pleomorphism or anaplasia, mitotic activity (number and abnormality), and necrosis [

9

]. In general, a three-grade system has proven to be the most reproducible; well, moderately, and poorly or undifferentiated, or grades I, II, and III, where grade III represents the least-differentiated tumor. Certain tumor types are defined as high grade, for example, rhabdomyosarcoma, Ewing's sarcoma, and synovial sarcoma. Nonetheless, tumor grading has a few shortcomings: first, grading is subjective and depends on the pathologist's judgement. Second, tumors are heterogeneous, and accurate grading requires microscopic examination of representative tissue. In these cases, the least-differentiated area of the tumor should determine the grade. Thus, the tumor grade is a qualitative assessment of the differentiation of the tumor expressed as the extent to which a tumor resembles the normal tissue at that site, expressed in numerical grades from most differentiated to least differentiated.
11.1.3

Tumor Staging

Staging of cancer depends on the size of the primary neoplasm, its extent to regional lymph nodes, and the presence or absence of metastasis. Cancer care is a cooperative, multidisciplinary endeavor; therefore, if the medical disciplines involved in cancer care are to work well together, they must be able to communicate with precision. The TNM system has been developed by the American (American Joint Committee on Cancer, AJCC) and European (Union International Contre le Cancer, UICC) commissions on cancer to allow systematic categorization and description of cancer patients. In this fashion, disease progression patterns natural history, and treatment outcome can be more reliably documented when applied to the individual patient.

The AJCC classification is based on the premise that cancers of similar histological type or site of origin share similar patterns of growth and extension. Obviously, cancers exhibit a variety of growth and extension patterns based upon unique features of either the host or the tumor. A classification scheme must therefore encompass all potential manifestations of both the tumor and its host. The objectives of a staging system can be briefly summarized as follows: (a) to aid the clinician in planning treatment, (b) to give some indication of prognosis, (c) to assist the evaluation of end results, (d) to facilitate the exchange of information between treatment centers, and (e) to assist in the continuing investigation of cancer. To meet the stated objectives, a system of classification is needed that has basic principles applicable to all anatomical sites regardless of treatment and in which clinical appraisal can be supplemented by later information from surgery, histopathology, and/or other technologies. The TNM system meets these requirements. It is an expression of the anatomical extent of disease and is based on the assessment of three components:





T – the extent of primary tumor






N – the absence or presence and extent of regional lymph node metastases






M – the absence or presence of distant metastases
Temporal variables are defined in the TNM classification scheme to allow an update to occur after certain data have been obtained: TNM clinical–diagnostic staging allows for pretreatment characterization via clinical examination and specific diagnostic studies. TNM surgical–evaluative staging is applied following a major surgical exploration or biopsy. TNM postsurgical treatment–pathological staging characterizes the extent of the cancer following thorough examination of the resected surgical specimen. TNM retreatment staging is applied in instances where the initial therapy has failed and additional treatment decisions are being considered. TNM autopsy staging is the final staging, done after the postmortem study.
11.1.4

Rate of Growth

Most benign neoplasms grow slowly, and most malignant neoplasms grow much faster. There are many exceptions to this generalization, however, and some benign neoplasms grow more rapidly than some cancers. For example, uterine leiomyomas (benign smooth muscle tumors) may increase rapidly in size during pregnancy (hormonal effect). The rate of growth of malignant tumors correlates in general with their level of differentiation. Rapidly growing malignant neoplasm often contains central areas of ischemic necrosis because the tumor blood supply, derived from the host, fails to keep pace with the oxygen needs of the expanding mass of cells [

1

].
11.2

Tumor Biology

Developing cancer cells must acquire a variety of characteristics not generally found in nontransformed cells. The cancer cell represents the culmination of a complex process of developing capacity for largely unregulated growth.

The main characteristics that differentiate the cancer cell from the precancerous or noncancerous cell are capabilities of self-sufficiency in growth signals, insensitivity to antigrowth signals, evasion of apoptosis, limitless replicative potential, sustained angiogenesis, and a potential for tissue invasion and metastasis. In addition, the enabling characteristic of genetic instability was noted as a driving force for acquiring these cell characteristics.