Invasive vascular imaging is based on the technique described by Sven Ivar Seldinger in 1953 ( Fig. 7.1 ). This elegant innovation, now known by Seldinger's name, eliminated the need for surgical exposure of a blood vessel before catheterization, thus allowing the transfer of angiography from the operating room to the radiology department. Virtually all vascular invasive procedures and devices use this technique.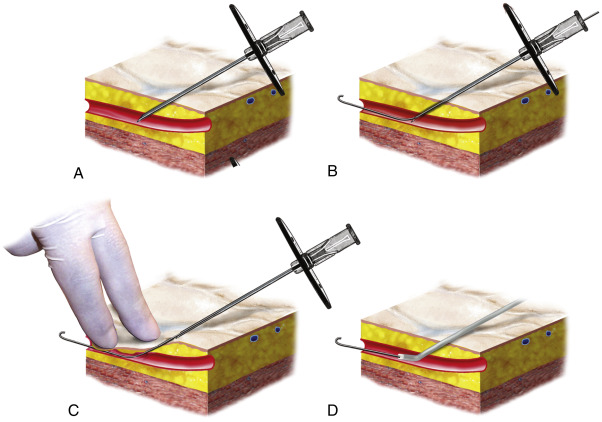 Preprocedural Patient Evaluation and Management
Every invasive procedure begins with a patient evaluation, determination of the appropriateness of the examination, and formulation of a procedural plan. In most cases the angiographer performing the procedure will have seen the patient previously in consultation and assumed primary responsibility for management of the disease to be diagnosed. A brief directed history should be obtained, with attention to the symptoms or signs that precipitated the study. Essential historical areas to cover include prior surgical procedures (especially vascular); evidence of atherosclerotic disease in "index" vascular beds, such as prior myocardial infarction or stroke; diabetes, with attention to medications; status of renal function; allergies; and known previous exposure to iodinated contrast agents. Office records or the patient's chart should be reviewed for similar information. Special attention should be applied to operative notes and reports from previous angiograms because these provide valuable information that may alter the entire approach to the procedure. Most importantly, personal review of old angiograms or correlative imaging is essential before embarking on an invasive procedure.
The preprocedural physical examination is focused on the status of the vascular system and selection of a vascular access site. The person who will perform the procedure should conduct this examination. The quality of the pulses and the presence of an aneurysm (as suggested by a broad prominent pulse) should be recorded using a consistent system. Suspected integumentary infection, fresh surgical incisions, a large abdominal pannus, or a scar over the vessel all impact selection of an access site. Pulses distal to the anticipated access site must be evaluated because one of the potential complications of angiography is distal embolization. Furthermore, if an intervention is performed, this baseline information is important to help determine procedural endpoints. The physical examination should include both right and left sides of the patient so that a different access site can be used during the procedure if necessary. When an upper extremity approach is anticipated, the brachial blood pressure in both arms must be obtained.
Patients should be well hydrated before the procedure. Outpatients should not be instructed to fast after midnight but encouraged to drink clear liquids until 2 hours before their scheduled appointment. In the preprocedural area, an intravenous infusion of 5% dextrose in 0.5% normal saline should be begun at 100 mL/h in normal patients. Fluid rates and characteristics should be adjusted in diabetic patients, patients on dialysis, and patients with congestive heart failure. Inpatients should have an established intravenous infusion in place before arriving in the angiographic suite. Most hospitals have established guidelines for oral intake before invasive procedures that must be followed, but remember that these are generally not designed for patients about to receive large doses of nephrotoxic contrast materials.
There are no laboratory studies that are absolutely necessary before starting an invasive vascular procedure; most problems that can be predicted from abnormal laboratory studies occur after the catheter is removed (e.g., bleeding, renal failure). A low platelet count is the single most important predictor of postprocedural bleeding complications. The commonly acquired minimal laboratory studies are coagulation (international normalized ratio [INR], prothrombin time, activated partial thromboplastin time, and platelet count) and serum creatinine value. Patients with renal failure undergoing central venous procedures that might entail intracardiac manipulation (e.g., central line placement) may require measurement of serum potassium concentration.
When the prothrombin time or INR is abnormal, fresh frozen plasma given the day or night before is useless or even dangerous because an INR drawn just after the plasma has been infused may be normal, but by the time the procedure is performed, the effect may dissipate. Fresh frozen plasma infused shortly before and during the procedure provides maximal correction when it is needed most. An abnormal activated partial thromboplastin time is usually due to administration of unfractionated heparin, which can be turned off when the patient arrives in the angiography suite. Because the half-life of unfractionated heparin is about 90 minutes, most patients will correct sufficiently for manual compression by the end of the procedure. Perhaps more importantly, platelet transfusion to restore a count to more than 50,000/μL is an empirical cutoff used in many departments for patients having an arterial access.
In the presence of an abnormal serum creatinine value, the risk of postprocedural renal failure should be weighed against the benefits of the procedure. Every hospital and practice should have guidelines for contrast administration to patients with abnormal renal function. Regardless of the renal protective strategy, the patient should be well hydrated before and after the examination. Renal protective strategies should be followed to maximize renal protection.
Basic Safety Considerations
Operator precautions against exposure to body fluids should be applied to all situations, even for patients with no known risk factors. Masks, face shields or other protective eyewear, sterile gloves, and impermeable gowns are the minimal measures. Closed flush and contrast systems decrease the risk of splash exposures. All materials used during the case should be disposed of in waste containers designed and labeled for biological waste.
Sharp devices (e.g., needles, scalpels) should be carefully stored on the work surface in a red sharps container or removed immediately after use. Recapping needles is not advised owing to the puncture risk. The best sharps containers contain a foam block into which the point of the sharp device can be safely imbedded. At the end of the case, the angiographer can dispose of the sharps in one of the ubiquitous hard red plastic sharps receptacles. Puncture wounds from contaminated needles or scalpels are not only painful but also potentially life-altering events. If an accidental splash, puncture, or any other exposure occurs, immediate consultation with a physician experienced in management of exposure to occupational biohazards is essential.
Radiation exposure to the patient and staff should be kept to a minimum. Use fluoroscopy only when needed to move catheters or guidewires. Prolonged fluoroscopy at high magnification with the x-ray tube in one position has been associated with radiation burns to the patient. Exposure can be reduced during long cases by use of pulsed fluoroscopy modes. The typical pulse rate of 15 pulses per second can be decreased by 50% or more with only a minor degradation in image quality.
Accumulative radiation exposure to the angiographer can be substantial. Angiographers should wear wraparound lead, thyroid shields, leaded glasses, and radiation badges. Careful coning of the x-ray beam during the case can reduce scatter. The operator's hands should never be seen on the fluoroscope during the case. When the angiographer must remain in the procedure room during filming, portable leaded shields should be positioned between the x-ray source and the physician.
Ergonomic considerations are important during invasive vascular imaging. Many angiographers develop degenerative spine disease in the neck and back. Careful attention to the design of angiographic suites, especially the positioning of controls and monitors, can reduce twisting and bending. Similarly, patients should be positioned on the procedural table to minimize contortions on the part of the operator. The patient's comfort also requires careful consideration. For long procedures, careful padding of pressure points, especially when the patient is under general anesthesia, is important.
Get Clinical Tree app for offline access