Group
T
N
M
PSA
Gleason
I
T1a–c
N0
M0
PSA <10
Gleason ≤6
T2a
N0
M0
PSA < 0
Gleason ≤ 6
T1–2a
N0
M0
PSA X
Gleason X
IIA
T1a–c
N0
M0
PSA <20
Gleason 7
T1a–c
N0
M0
PSA ≥10–<20
Gleason ≤6
T2a
N0
M0
PSA <20
Gleason ≤7
T2b
N0
M0
PSA <20
Gleason ≤7
T2b
N0
M0
PSA X
Gleason X
IIB
T2c
N0
M0
PSA any
Gleason any
T1–2
N0
M0
PSA ≥20
Gleason any
T1–2
N0
M0
PSA any
Gleason ≥8
III
T3a–b
N0
M0
PSA any
Gleason any
IV
T4
N0
M0
PSA any
Gleason any
T any
N1
M0
PSA any
Gleason any
T any
N any
M any
PSA any
Gleason any
General Treatment Strategies
Imaging Correlations with Emphasis on Image Fusion Guidance
Only recently has imaging played a significant role in the diagnosis and staging of localized prostate cancer. Historically, bone scans and CT scans were used to assess for pelvic nodal metastases and distant metastatic disease, but there was little role for imaging to evaluate the primary tumor. However, with the influx of modern technologies, such as high-resolution ultrasound and multiparametric MRI, the primary tumor site can be anatomically and oncologically well characterized, leading to better staging and risk stratification of patients and refining the intraoperative interventional management of these patients. Accurate definition of the location of the tumor in the prostate gland improves the staging of prostate cancer and advises the patient's management team regarding decisions such as whether LDR or HDR brachytherapy may be a superior approach for a given patient or if supplemental treatments like external beam radiation therapy or androgen deprivation therapy should be recommended for a given patient.
Techniques
Brachytherapy of the prostate can be performed with a high-dose rate technique or a low-dose rate technique. LDR brachytherapy is an outpatient, minimally invasive, interventional procedure with a rapid recovery and ability to return to normal activities in a short period of time. In LDR prostate brachytherapy, permanent radioactive sources are placed in the prostate gland which deliver a certain amount of radiation before becoming nonradioactive. HDR brachytherapy is similar but may require a short inpatient stay and is performed with a temporary insertion of a high-dose radioactive source. Modern PPB techniques using ultrasound guidance and template-based placement of applicator needles were developed over 25 years ago and are widely still in use [
30
,
31
].
Various interventional approaches regarding brachytherapy have been published with small differences in technique. There is not a uniformly accepted best defined approach nor a medicolegally defined standard for LDR or HDR brachytherapy. The standard approach for LDR seed implantation is to utilize a transperineal approach under TRUS guidance. Template guidance is used for needle placement. Figure
14.2
demonstrated the TRUS-guided transperineal approach with needle template in place. Some institutions use a preplanned approach, where a preoperative TRUS study is done to identify applicator needle and seed placement which is then later recreated in actual operative procedure. However, many centers are moving to an intraoperative approach, where needles are placed real time in the operative room with source placement finalized during the procedure after applicator needles have been placed. The intraoperative approach allows for a dynamic, real-time application of brachytherapy sources and obviates the challenging requirement to recreate the same patient and applicator anatomy used in the preplanning session.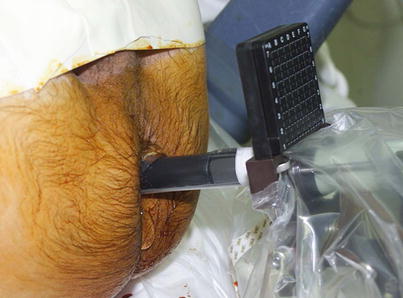 Fig. 14.2
Transrectal ultrasound-guided approach with needle delivery template used for prostate brachytherapy
The TRUS system used for implantation should be capable biplanar imaging and provide high-resolution ultrasonic frequencies between 5 and 12 MHz [
5
]. The system should be capable of displaying an electronic grid that is calibrated and synchronized with the transperineal template docked to the ultrasound probe. Dedicated FDA-approved brachytherapy planning software should be used for the planning portion of the brachytherapy procedure. There have been multiple reports for the use of intraoperative fluoroscopy to complement ultrasound imaging [
32
] and for intraoperative dose computation [
33
], although this fluoroscopy is neither standard nor necessary for LDR interstitial brachytherapy. Similarly, there have been reports of intraoperative cone beam CT imaging (CBCT) for interventional guidance and for dose planning purposes.
During the procedure itself, the patient is anesthetized and placed in the dorsal lithotomy position. The perineum is sterilized and draped and the testicles are retracted away from the perineum. The ultrasound probe is placed into the rectum transanally, and adequate visualization of the prostate in the axial and longitudinal axes is confirmed. Applicator needles are placed into the prostate to facilitate delivery of the radioactive sources, as demonstrated in Fig.
14.3
. Once applicator needles are placed, imaging is captured in the treatment planning system (Fig.
14.4
), and a spatial reconstruction of the prostate, urethra, rectum, and other adjacent organs of risk is performed. A seed-loading pattern is either then generated with real-time planning or attempts are made to recreate the spatial arrangement of a preplan. Multiple effective strategies to source placement have been reported, including the use of a Mick applicator to place loose seeds individually [
34
] (Fig.
14.5
), the use of preloaded needles where all the sources in a given needle are prearranged and deployed in a single motion [
35
], and the use of afterloading techniques [
36
]. During placement of sources, a "modified peripheral" loading pattern is generally recommended, in which most seeds are placed at the periphery. The radioactive sources can be "loose" and placed one at a time or can be "stranded," where all the seeds in a given needle are linked via a bioresorbable polymer. The potential advantages and disadvantages of each approach have been reported, especially for loose seed migration with loose seed placement [
37
–
46
], but all approaches have been found to be safe and effective as long as appropriate dosimetric end points are ultimately met.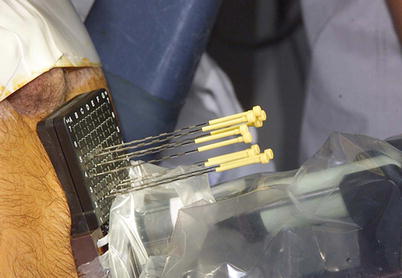 Fig. 14.3
Interstitial needles used for low-dose rate brachytherapy seed placement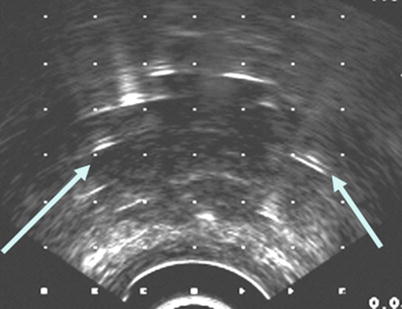 Fig. 14.4
Interstitial delivery needles on transrectal ultrasound-guided image
Fig. 14.5
Mick applicator with seed cartridge for delivery of loose, low-dose rate brachytherapy seeds
Generally recommended dose prescriptions for the planning target volume have been published by the ABS and are delineated in Table
14.3
[
5
]. Figure
14.6
demonstrates representative isodose lines from the intraoperative treatment planning system. In general, compliance with the American Association of Physics and Medicine Task Group's 43 and 137 reports is highly recommended, which give specific guidelines for treatment planning and dosimetric evaluation. There have been no prospective randomized trials to identify the optional dose and dosimetric evaluation of a prostate implant. Stock first reported the concept of D90 (the isodose encompassing 90% of the prostate) and its relationship to treatment outcome [
47
]. Numerous authors have also reported the predictive value of the V100, or the percentage volume of the prostate receiving 100 % of the prescribed dose [
48
]. To minimize the risk of urethral toxicity, it is recommended that significant portions of the urethra do not receive greater that 150 % of the prescribed dose [
49
]. The rectal volume receiving the prescription dose should be <1–2 cc [
50
Full access? Get Clinical Tree