, Marc H. Schiffman1 and Thomas A. Sos1

(1)
Division of Interventional Radiology, Department of Radiology, New York Presbyterian Hospital/Weill Cornell Medical College, New York, NY, USA
Keywords
Renal artery stenosis
Renovascular hypertension
Atherosclerosis
Fibromuscular dysplasia
Renal artery angioplasty
Renal artery stenting
CORAL
Embolic protection devices
Renal artery stenosis, resulting in renovascular hypertension, is a major cause of secondary hypertension [
1
]. When both kidneys are affected, ischemic nephropathy with diminished renal function also results. The most common cause of renal artery stenosis is atherosclerotic, usually ostial, narrowing of the renal artery. The second most common cause of renal artery stenosis is fibromuscular dysplasia. In most cases, aRAS is treated with stent placement and FMD with angioplasty alone. Nonrandomized single-center series for revascularization for both atherosclerotic Renal Artery Stenosis (aRAS) and fibromuscular dysplasia (FMD) have reported excellent outcomes [
2
,
3
]. In recent years, however, large prospective randomized trials have disputed these previously reported outcomes in the management of aRAS [
4
,
5
]. Despite many flaws in these trials, the importance of proper patient selection and performance of appropriate endovascular technique by skilled operators has been emphasized. In this chapter, the authors review patient selection factors, describe standard techniques for renal revascularization, and provide technical "tips" that can be utilized during intervention. In addition, the authors will review reported outcomes, in particular, from several large retrospective studies including the primarily US-based "Cardiovascular Outcomes in Renal Atherosclerotic Lesions" (CORAL) trial.
Renal artery stenosis (RAS) refers to a fixed narrowing of the renal artery which can lead to renin-mediated renovascular hypertension (RVH) and ischemic nephropathy (IN). It is the most common cause of secondary hypertension and accounts for 1–4 % of all patients with hypertension [
6
].
Renal artery stenosis secondary to atherosclerosis (aRAS) accounts for 90 % of patients with RVH, with fibromuscular dysplasia (FMD) accounting for the second most common cause [
6
]. Angiographically, most aRAS lesions occur within the ostium or the first centimeter of the renal artery and are due to plaque within the aorta engulfing the ostium of the renal artery resulting in the stenosis [
3
]. The narrowing within FMD usually occurs in the mid to distal third of the renal artery and medial fibroplasia, with a "string of beads" appearance, which accounts for most cases [
4
].
Indications for treatment with renal artery catheter-based interventions must include renal artery stenosis documented to be
hemodynamically significant
, particularly when associated with renal dysfunction, poorly controlled hypertension, or recurrent pulmonary edema [
7
]. Renal revascularization certainly has a significant role in the management of aRAS patients; however, careful selection is necessary to identify patients who will benefit the most from intervention. Treatment for aRAS has been renal revascularization with renal artery angioplasty and stenting; however, this has been controversial secondary to several large-scale retrospective studies in recent years [
4
,
5
]. Treatment for FMD with renal angioplasty has been shown to be widely accepted and efficacious.
Techniques
Summary: Algorithms for Treatment
After clinical suspicion of renovascular hypertension or renal insufficiency is raised and a screening diagnostic exam is positive for renal artery stenosis, the anatomic and hemodynamic significance of stenosis must be confirmed by pressure gradient, and the patients should be treated. Finally, safe and reasonable anatomic and medical conditions for access and therapy should be present. A summary of the algorithm for workup and management in patients with suspected renovascular hypertension and renal insufficiency is shown in Fig.
23.3
.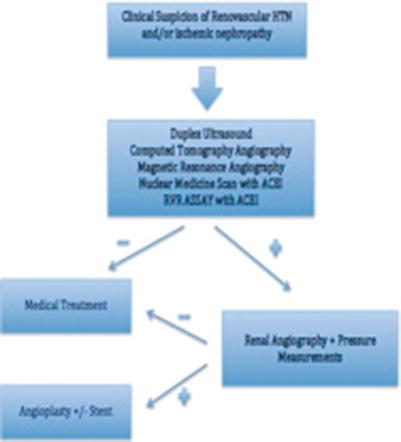 Fig. 23.3
Algorithm for the management of patients with renovascular hypertension secondary to suspected renal artery stenosis
Absolute contraindications to treatment include a hemodynamically insignificant stenosis and a medically severely unstable patient. Relative contraindications include a long-segment occlusion, an atrophic kidney, and a severely diseased aorta predisposing to increased risk of embolization of atheroma. Newer catheters and techniques performed by skilled operators, however, allow interventionalists to proceed despite these relative contraindications [
7
] (Fig.
23.4
).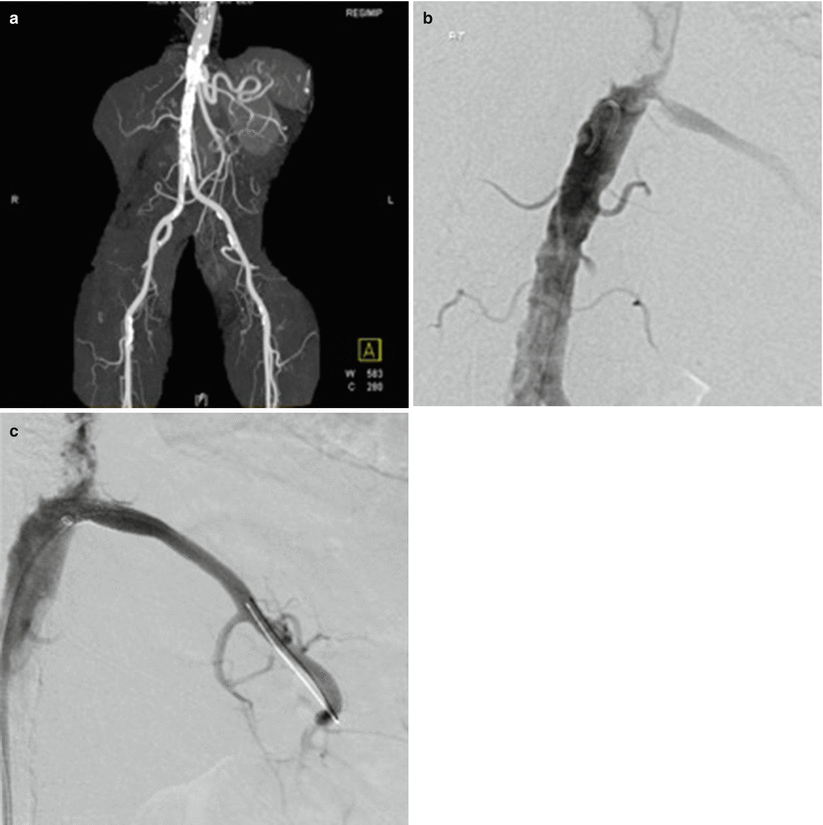 Fig. 23.4
An 82-year-old female with refractory hypertension and imaging findings of left renal artery stenosis, right renal artery occlusion, and severe atheromatous aorta (
a
). Angiography and pressure measurements confirmed left renal artery stenosis with a trans-stenotic mean arterial pressure gradient of 22 mmHg and severe suprarenal aortic plaque (
b
). Successful stent placement across left renal artery stenosis (
c
)
Diagnostic Catheter-Based Aortography
Initial puncture is usually made through the common femoral artery. Interventional cardiologists are increasingly using the radial artery, and vascular surgeons are increasingly using the brachial artery [
34
]. Specific anatomic considerations, which may affect the puncture selection, have to be taken into account during pre-procedure planning and include the obliquity of the renal arteries at their origin from the aorta (see section "
Tips
").
After puncture, a standard 10 cm 5 Fr vascular sheath is placed, and a flush catheter, such as a 4 Fr Omniflush
TM
(Angiodynamics, Queensbury, NY) catheter, is used for standard aortography. The advantage of using the OmniFlush
TM
catheter is its ability to deliver a more concentrated bolus to the area of interest because its side holes and end hole are directed laterally and caudally [
7
]. The catheter is positioned at the T12–L1 interspace since the renal arteries usually originate at the upper endplate of the L1 vertebral body. After aortography, the renal artery should be selected with a soft atraumatic wire, such as a Bentson wire, and a recurved catheter such as the Sos Omni
TM
selective (Angiodynamics, Queensbury, NY). Hydrophilic guidewires should be avoided as much as possible given their propensity to result in vascular perforation; however, if they are used to cross difficult stenosis, whenever possible, they should be exchanged for a non-hydrophilic wire. Multiple visceral recurved diagnostic catheters can be used for selecting the renal arteries including a Simmons, Sidewinder, Shepherd's crook, and Sos Omni Selective
Tm
or the nonrecurve Cobra Tips for selecting the renal artery is discussed in greater detail below within the section "
Tips
."
Pressure Gradient Measurements
After successfully crossing a lesion with a soft atraumatic wire and a recurved catheter, the transtenotic pressure gradient should be measured, ideally with a 0.014″ pressure-sensing wire [
35
]. This translesional gradient should then be compared to a simultaneous aortic pressure measured, ideally, with a multichannel monitor. Serial alternating pressures can be compared if a multichannel monitor is not available. If a pressure-sensing wire is not available, pressure measurements can be obtained through a 4 Fr catheter; however, it should be noted, and this catheter contributes to the existing stenosis [
7
]. Since visual assessment of anatomic stenosis is very unreliable, even in seemingly very severe stenosis, pressure gradients must always be measured.
Angioplasty
Percutaneous transluminal renal angioplasty (PRTA) is a nonsurgical method of restoring blood flow within RAS. Balloons vary tremendously in length, diameter, shape, compliance, and material. Choosing a balloon depends on several factors, which include the length and severity of stenosis, diameter of the non-stenotic portion of the renal artery, tortuosity, and branching pattern. PTRA alone has been found to be more successful in non-ostial (1 cm from the origin) lesions and is indicated in stenosis due to either atherosclerosis or fibromuscular dysplasia. In aRAS ostial lesions, PTRA alone fails in up 75 % of cases [
36
]; primary stenting is the preferred treatment. Complications from PTRA and stenting include distal embolization, cholesterol embolization, renal artery injury, and access site hematoma [
7
].
Initially diagnostic aortography and selective renal artery catheterization with trans-stenotic pressure measurements are performed, as previously described. When PTRA is planned, careful selection of the size of the balloon diameter should be made. Generally, a balloon diameter that is 10 % larger than the estimated "normal" diameter of the vessel based on the arteriogram is recommended. Sub 4 Fr balloon systems are used with 0.014″–0.018″ guidewires or a 5 Fr balloon system over a 0.035″ guidewire if necessary [
7
]. A soft-tipped but relatively stiff shaft wire is used to select and cross the stenosis, and patients are systemically heparinized once the lesions are crossed. The diagnostic catheter used to cross the stenosis is then exchanged for a longer sheath/guide system or directly for the balloon catheter; alternatively, the sheath can be introduced initially and all maneuvers performed through it. After placing the balloon markers across the lesion, the balloon is slowly inflated until the balloon is fully inflated or has reached its rated maximum pressure. In long-segment FMD, overlapping inflations may be necessary, starting distally and proceed centrally. After removing the balloon catheter, a "post-" PTRA angiogram is performed, ideally utilizing a technique that preserves wire position across the lesion. In addition a post-PTRA pressure gradient is performed to ensure that the gradient has been resolved. This is the strongest indicator for posttreatment success rates [
28
].
Stenting
Renal artery stenting improves the efficacy of PTRA by offsetting the recoil force of arteries and atherosclerotic plaque, especially at the ostium [
7
]. Almost all aRAS stenoses at the ostium require a stent. After diagnostic angiography, the renal artery and stenosis are crossed, as described previously in the renal angioplasty section (Fig.
23.5
). Multiple techniques exist for proper stent deployment, in particular for renal ostial lesions. With renal artery stenting, a guiding catheter/sheath system is almost always used for stent deployment. The sheath or guiding catheter typically acts as support or "backbone" to help with crossing tight renal artery stenosis. In addition, it allows for contrast injections, while equipment including balloons, wires, and stents are in place [
37
]. A stent and dilating balloon, which will adequately cover the lesion, extend a few millimeters into the aorta and match the normal vessel diameter that is used.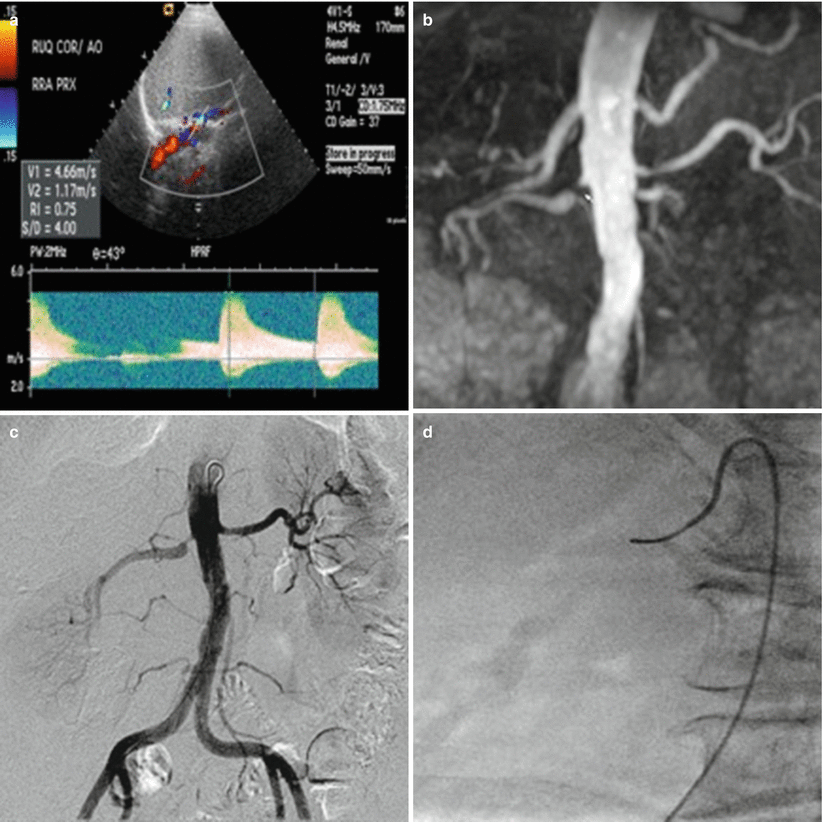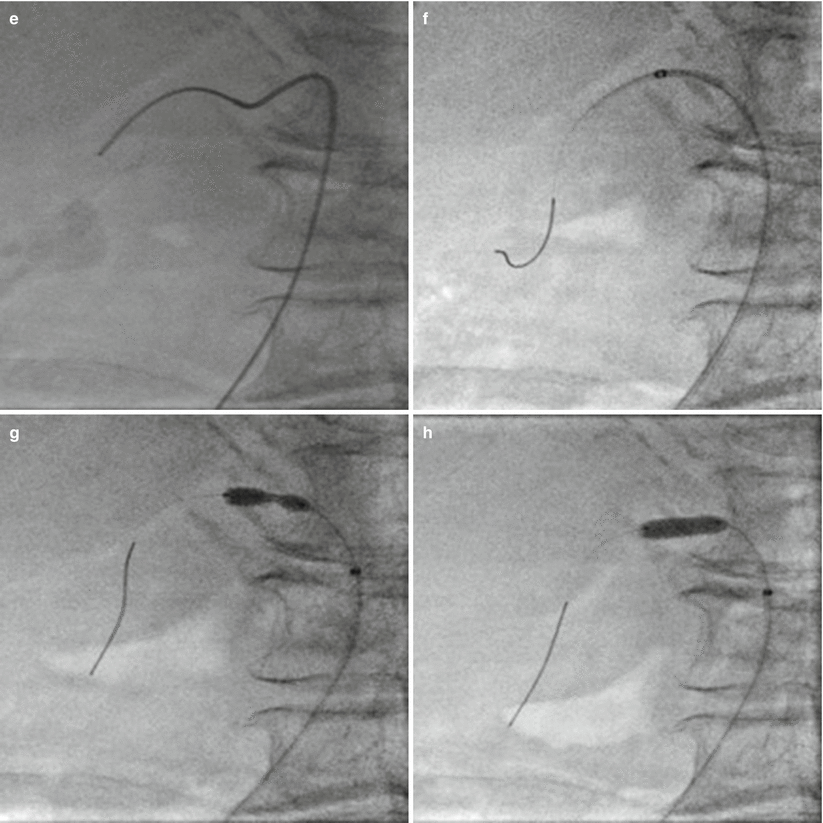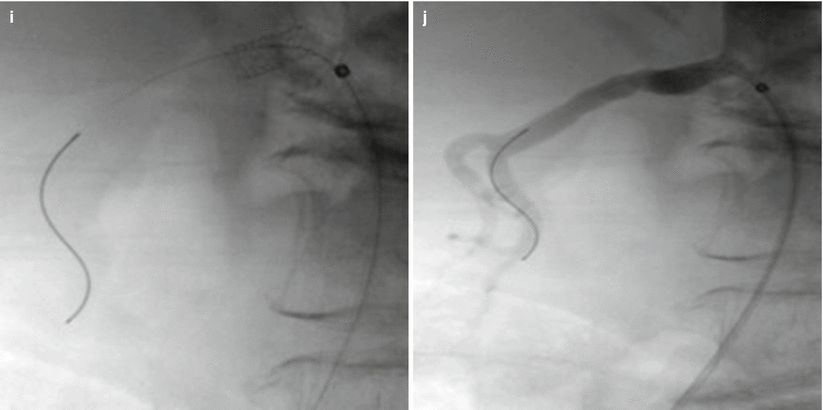 Fig. 23.5
A 77-year-old female with refractory hypertension on ACEI and two additional antihypertensives with elevated plasma renin activity. (
a
) Ultrasound demonstrates elevated peak systolic velocity and elevated arterial resistive indices suggestive of renal artery stenosis. (
b
) MRA demonstrates severe stenosis at origin of right renal artery with post-stenotic dilatation. (
c
–
j
) A 4 French Sos Omni 2 catheter and a Bentson wire were used to select the right renal artery. Pressure measurements demonstrated a 49 mmHg mean arterial trans-stenotic pressure gradient. The Bentson was exchanged for a 0.018″ Ironman, and the Sos Omni 2 Catheter and sheath were exchanged for a long 5 French Ansel Sheath. A 5 mm × 15 mm Express Tm SD Renal and Biliary Pre-mounted (Monorail) Stent System (Boston Scientific, Marlborough, MA) was successfully placed in the proximal right renal artery
A 0.018 or 0.014 in. atraumatic wire and a diagnostic catheter are utilized to cross the lesion, and the wire tip is positioned in the distal main renal artery or a proximal first or second order branch. The stent is pre-mounted on a balloon catheter and is delivered through a 5 Fr or 6 Fr guide sheath or catheter. In cases of severe stenosis, the 5 Fr sheath may be advanced through the stenosis to ascertain stent passage and then slowly withdrawn leaving the balloon/stent combination over the guidewire in the stenosis [
38
]. For low-profile pre-mounted Monorail balloon-expandable stents, after a stiff guidewire is placed across a lesion, the stent is positioned across the lesion with about 2 mm extending into the aorta. Accurate positioning is confirmed by injecting contrast through the sidearm of the sheath, the balloon is then inflated, and the stent is deployed. To achieve long-term patency, it is mandatory for the stent to cover the stenosis extending from the ostium into the aorta and a few mm distal to the stenosis. Completion arteriography is performed through injection of the sidearm of the sheath after it is withdrawn into the proximal stent or aorta. Overlapping stents reduce patency; if they are necessary, approximately 2 mm of stent overlap is recommended. Gaps within a series of stents may promote intimal hyperplasia. Once completed, repeated angiograms through the sheath and pressure measurements should be taken to evaluate positioning, residual stenosis, or residual abnormal pressure gradients.
Specific Situations
Bilateral Renal Artery Stenosis and/or Occluded Renal Artery
Treatment of bilateral renal artery stenosis should be performed during the same session, if possible. If both sides have lesions thought to be hemodynamically significant, the technically easier side, which is often that with the larger kidney, should be attempted first; if the first procedure is successful and both the operator and patient are still fresh, the second more difficult side can be attempted but rescheduled or postponed if significant difficulties are encountered.
If the technically more difficult and functionally less important side were attempted first and resulted in a complication or were unsuccessful, a tired operator and patient may have to perform/undergo the second "rescue" procedure which probably would have been successful if it had been performed initially, but now under adverse conditions, it is less likely to succeed. If for any reason, the technically more challenging cannot be treated, the patient has the benefit of at least one side being treated.
In cases of renal artery occlusion, recanalization should only be attempted if the patient is anatomically or physiologically uninephric or after the contralateral kidney is successfully treated. Criteria for intervention of a completely occluded renal artery include clinical significance and adequate kidney size, if a clear stump is seen on angiography and if there is increased renin production [
39
]. Pre-procedure planning with CTA or MRA will assist in determining the anatomy of the occlusion. A straight hydrophilic guidewire can be used to cross the occluded segment through a catheter which can pull/push the wire and catheter through the occlusion. Typically a stiff one piece 5 F AngiOptic Sos Omni™ or similar recurve selective catheter is used; however, great care should be taken given the significant risk of vessel or collecting system perforation with the stiffer hydrophilic guidewire [
40
]. As soon as the occlusion is crossed, a control arteriogram through the sheath must be performed to ascertain that the wire tip is in the distal lumen. If the recanalization resulted in extravascular passage, the procedure should be stopped and the vessel observed for bleeding for at least an hour and even embolized if necessary. If the recanalization was successful, the hydrophilic guidewire should be immediately exchanged with a non-hydrophilic soft platinum-tipped stiffer shaft wire and stenting continued.
Transplant Renal Artery Stenosis
Transplant renal artery stenosis is the most frequent vascular complication in patients with post renal transplantation. The most common time period in which transplant renal artery stenosis presents is at between 3 months and 2 years [
41
]. Renal revascularization is the treatment after medication regimen has failed and there is suspicion of renal artery stenosis based on a screening exam such as duplex ultrasound and/or magnetic resonance angiogram (Fig.
23.6
). In cases with recurrent stenoses or an ostial stenosis, such as at an end-to-side renal to iliac artery anastomosis, stenting is recommended. Angioplasty, alone, usually in an end-to-end renal to hypogastric artery anastomosis – a procedure now rarely performed – has a reported success rate of greater than 80 % [
42
]. Stent placement has also been reported to have high clinical success, including significant early improvement of hypertension and creatinine, with minimal complications [
43
]. Eighty-eight to one hundred percent clinical success rates have been reported based on clinical outcome such as hypertension control, reduction in antihypertensive drugs, and graft function and preservation [
44
,
45
Full access? Get Clinical Tree
Get Clinical Tree app for offline access