Fig. 60.1
Published data on image-guided liver surgery and arranged by nature of end points (technical, clinical) vs. objectivity (qualitative and quantitative)
While demonstrating efficacy on a technical level can be achieved with rather small patient collectives, statistically valid improvements of clinical end points typically require large randomized and controlled trials. As can be seen in Fig.
60.1
, to date no data is available that can
objectively
demonstrate clinical efficacy of image guidance technology when applied to open liver surgery. So far, available studies have demonstrated that technical accuracy is at a level where its application becomes serviceable to the surgeon [
8
–
11
]. Furthermore, surgeons who have been using those systems report information that is telling on a qualitative level, namely, that stress levels in the OR can be reduced due to improved planning and more precise in situ orientation [
8
,
9
,
11
]. Nevertheless, apart from a few individual cases that were reported as benefiting directly from the application of a CALS system [
3
] and one study that identified a slightly improved R1 resection rate when using instrument guidance [
12
], the clinical benefits of image guidance systems for open liver surgery need to be substantiated in the future with quantitative clinical data.
Instrument Guidance for Open Surgical Resection and Ablation
Registration and Soft Tissue Tracking
In contrast to other surgical domains, such as orthopedic, neuro-, and ENT surgery, computer assistance in the domain of the soft tissues has to cope with an inherently unstable anatomical situation due to the elasticity and mobility of the target organ. Thus, the fundamental challenge in image guidance in open liver surgery is the registration of preoperatively acquired image data (3D/4D contrast-enhanced CT or MRI) with the intraoperative situation. This section discusses the different approaches that have been proposed by various groups and gives an overview of the current research towards registration methods that address the intrinsic challenges of open liver surgery.
Landmark-Based Registration
The use of corresponding landmarks between the patient and the image data sets has been transferred from other surgical domains to liver surgery. The major points that can be identified on the liver surface include vessel entrance points, the
ligamentum falciforme
and its fissure, prominent points on the edges of the liver, as well as tumors lying close to the organ surface. A first attempt in using such landmarks is reported in [
16
] and is later refined in a combined landmark-surface registration approach [
17
]. A clinical evaluation of the achievable accuracy and the intraoperative time requirements shows that landmark-based registration leads to a median target landmark registration error of 6.3 mm with a median time requirement of 1.5 min per registration update [
11
].
Surface-Based Registration
The acquisition of the entire organ surface leads to a significant increase of position data when compared to the single landmarks on the organ surface. However, the challenges of such approaches lie in efficiently acquiring the organ surface and in establishing correspondence. The use of laser surface scanning devices [
1
] leads to dense organ surface measurements but results in a large number of measurements from surrounding structures, which need to be removed manually. Due to non-unique point correspondences on a smooth, curved surface such as the liver, surface scans are used in combination with a set of corresponding landmarks [
17
].
Ultrasound-Based Registration
Intraoperative ultrasound imaging provides highly accurate real-time information on the position of internal structures of the liver. It is therefore expected that ultrasound-based registration will lead to a significant increase in registration accuracy compared to registration approaches based on surface data. The challenges in ultrasound-based registration lie in (a) the large variability of image quality during the acquisition and in (b) the extraction of relevant information when using such images for registration. Large variations in the resulting data quality are caused by imaging settings, correlation between sound propagation parameters and tissue density, and user-dependent imaging protocols in the case of free-hand ultrasound. This last effect can be minimized by guiding the user during the scanning process as illustrated in Fig.
60.7
or through the use of 3D imaging equipment [
12
].

Fig. 60.7
Interactive recording of an ultrasound sweep in an initially rigidly registered situation.
Left:
The user places the probe as desired and triggers the recording of a set of images within a defined geometric frame (
yellow bounding box
) and within a certain amount of time.
Right:
The circle clock visualizes the state of completion of the recording. A 3D ultrasound volume is then reconstructed and used to refine the initial registration
Once an intraoperative ultrasound data set is acquired and found to be of good quality, correspondence between ultrasound measurements and structures in the preoperative image data sets needs to be established. The most prominent structures that can be detected in both image data sets are the different liver vessel systems. The following three paragraphs describe approaches for using vessels detected in ultrasound images to improve the registration process.
Landmark-Based:
Vessel bifurcations are used for orientation references in conventional liver surgery and can be localized with a high degree of accuracy in both ultrasound and CT/MRI data sets. Automatic detection of such points is explored in [
18
] but has not led to a clinical application. The use of manually selected vessel landmarks is illustrated in Fig.
60.8
. A systematic evaluation of such an approach, i.e., with rigid and nonrigid registration, shows a mean accuracy of 2.6–4.9 mm with a time overhead of 5–10 min per registration update [
19
].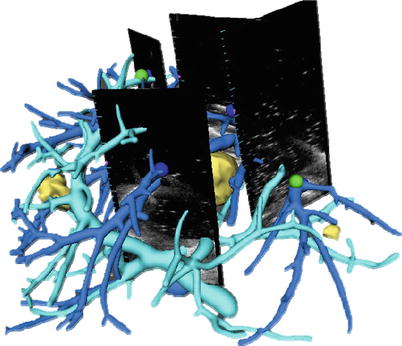 Fig. 60.8
Rigid registration using vessel-based landmarks
Contour-Based:
When compared to landmark-based approaches, the automatic extraction of vessel contours from ultrasound images [
20
] provides additional information about the diameter. Based on this parametric vessel representation, a registration algorithm using vessel diameter and centerline information increases the registration robustness by checking possible corresponding landmarks for distance and vessel diameter constrains [
21
]. Initial results (Fig.
60.9
) show an improvement in registration accuracy when compared to landmark-based registration using surface points.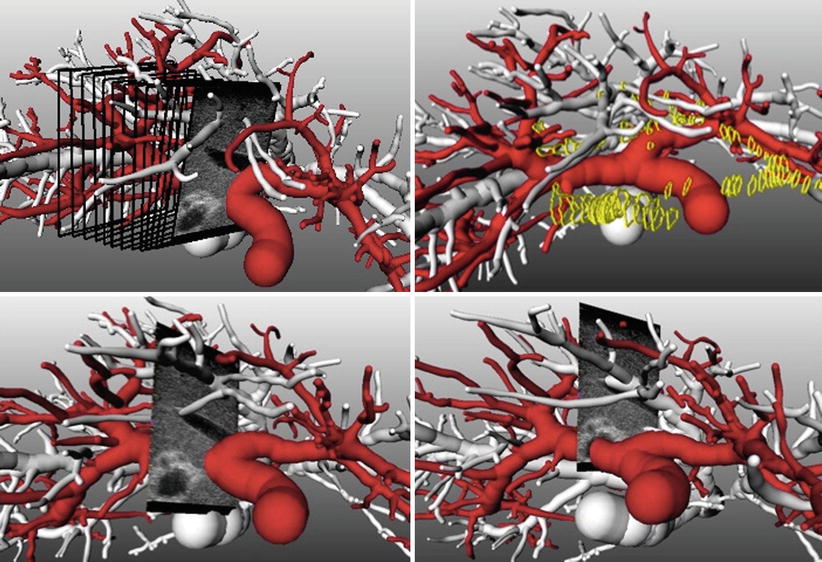 Premium Wordpress Themes by UFO Themes
WordPress theme by UFO themes