Outline






Fetal Cardiovascular Physiology, 372






Ultrasound Equipment, 372






First and Early Second Trimester Fetal Cardiac Evaluation, 372








Second Trimester Fetal Cardiac Evaluation, 378








3D and 4D Fetal Cardiac Evaluation, 396








Fetal Cardiovascular Disease, 401




Summary of Key Points



•




Prenatal diagnosis of congenital heart disease (CHD) can reduce morbidity and mortality rates by means of delivery and intervention planning.




•




With the proper technology and skill, some forms of fetal cardiac disease can be detected using first trimester and early second trimester sonography.




•




The addition of outflow tracts to the four-chamber view in the standard midtrimester screening examination greatly improves the detection of fetal cardiac disease and is recommended.




•




Use of standard scan planes and systematic assessment of the fetal cardiovascular system is useful in evaluating for cardiac disease.




•




Ventricular septal defects (VSDs) are the most common CHD, and their size and location determine the clinical course and management.




•




Conotruncal defects may be difficult to differentiate and are associated with widely variable outcomes, so accurate diagnosis is important. For these lesions, the key to diagnosis is determining the source of pulmonary blood flow.




•




There are varying patterns of left-sided heart hypoplasia. In evolving hypoplastic left heart syndrome (HLHS) due to aortic stenosis, the four-chamber view may initially appear normal in early gestation; the key to early detection is to assess for left-sided heart growth as pregnancy advances and for the development of left ventricular dysfunction and endocardial fibroelastosis.




•




Fetal heart failure is a common pathway for both primary and secondary cardiovascular disorders. Careful assessment of signs of cardiac failure can help determine prognosis and possible need for intervention.
A major purpose of fetal sonographic evaluation is detection of cardiovascular disease to optimize counseling and care of the fetus. This noninvasive approach has been used to evaluate the fetal heart since the 1970s, and in the current era, with advances in imaging technology, up to 95% of major CHD can be prenatally detected by detailed fetal echocardiography. However, in population studies, the rate of prenatal diagnosis of major congenital heart lesions by screening methodology is much lower and highly variable by practice and region. This lower rate is likely due to a combination of factors, including limitations in access to prenatal care, equipment, and experience of the sonographer or medical care provider; time constraints; and certain patient factors, such as poor acoustic windows.
A large portion of fetal cardiovascular disease is composed of CHD. CHD is associated with significant morbidity and mortality risks; in fact, CHD is the primary contributor to birth defect–related infant fatality, accounting for nearly one quarter of infant deaths from birth defects. Approximately 18 per 10,000 live births have critical congenital heart defects, defined as defects requiring surgery or catheter intervention in the first year of life. Outcomes are highly variable by lesion and coexisting conditions. For example, isolated VSD has nearly 100% infant survival rate, HLHS has 70% to 80% infant survival rate, but HLHS with Turner syndrome has less than 10% survival rate. Fetal cardiovascular disease also consists of fetal arrhythmia, cardiac dysfunction and high output heart failure, pericardial effusions, and cardiac and extracardiac thoracic masses.
Prenatal diagnosis of CHD or arrhythmia allows for many potential benefits for the family and fetus. These benefits include emotional preparation for the parents, fetal therapy when indicated, and parental choice of the hospital that will provide postnatal care and intervention. Parents can plan delivery at an institution with considerable expertise and experience to provide the best postnatal care for the infant. Prenatal diagnosis, by conferring these benefits to families, is associated with improved presurgical status of the infant with CHD, as well as lower morbidity and mortality rates in infants with complex CHD. Prenatal detection of CHD also allows time for families to accept and understand the diagnosis prior to the birth of the infant. Although prenatal diagnosis has been shown to increase stress during pregnancy, families overwhelmingly state they would prefer to have this knowledge sooner than to learn of CHD after birth.
In this chapter, we review normal fetal cardiovascular anatomy and physiology, recommended approaches for prenatal cardiac screening and detailed evaluation, ultrasound findings associated with common types of CHD, and specific imaging tools for common fetal heart diseases.
Fetal Cardiovascular Physiology
Our fundamental understanding of the human fetal circulation and changes attributable to CHD was originally extrapolated from early work with fetal lambs. The introduction of fetal ultrasound imaging and more recently the use of fetal cardiac magnetic resonance imaging (MRI) have refined our understanding of fetal cardiac physiology. Unlike the postnatal heart, in which blood flow is in series, the right and left fetal ventricular outputs are parallel circuits ( Fig. 13-1A ). Starting from the placenta, maternal oxygenated blood courses through the umbilical vein and enters the inferior vena cava via the ductus venosus (DV). This oxygenated blood accounts for approximately 50% of blood returning to the right atrium (RA) ( Fig. 13-2 ). Oxygenated blood enters the RA, but instead of predominantly then flowing to the right ventricle (RV), oxygen-rich blood is directed across the fetal foramen ovale to the left atrium (LA) by the eustachian valve. Most fetal left-sided blood flow is provided in this manner (~63% per MRI estimates ). Blood then courses from the LA across the mitral valve to the left ventricle (LV) and is ejected across the aortic valve into the ascending aorta. Blood flow is then directed to the brain and upper extremities (73% of aortic outflow) while the rest is ejected to the inferior portion of the fetal body (28% of aortic output, 11% of combined cardiac output [CCO]) and joins blood from the ductus arteriosus (72% of pulmonary output, 41% of CCO) in the descending aorta.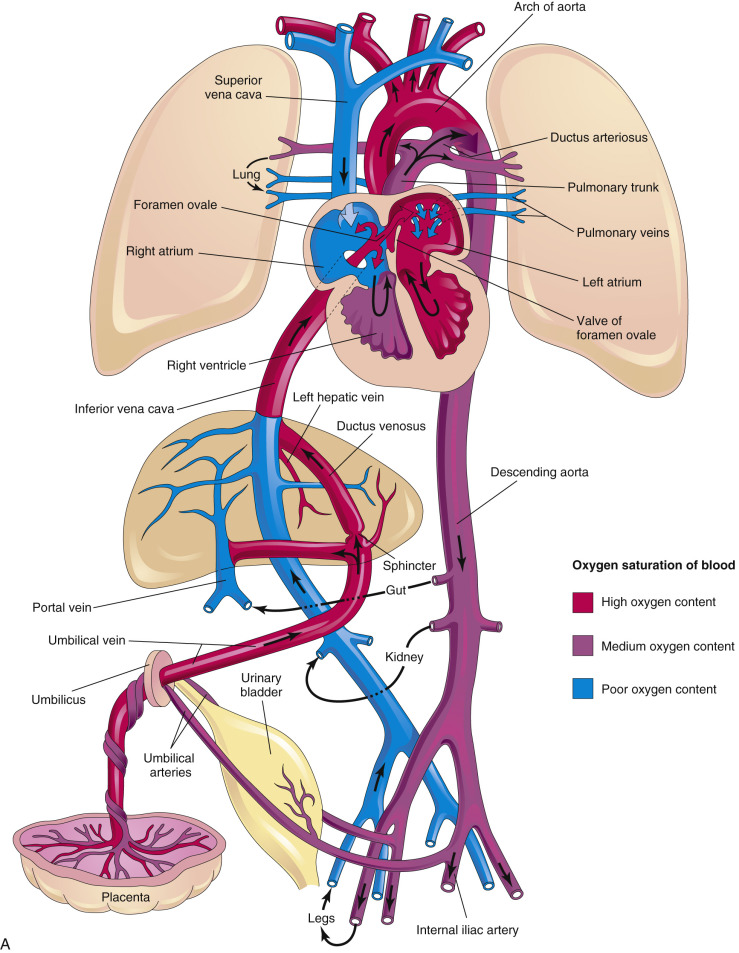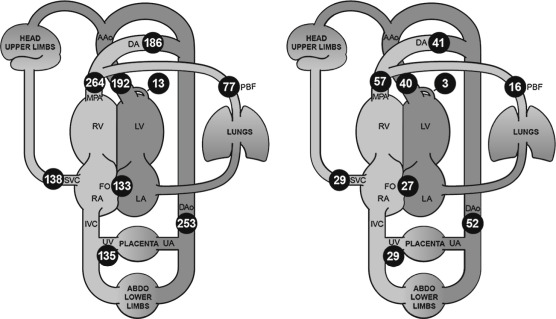 Some of the blood that was delivered to the head, arms, and lower extremity organs and muscles eventually returns deoxygenated to the heart via the superior vena cava and inferior vena cava (52% of CCO), while some is returned to the placenta via the umbilical artery (approximately 29% of CCO). Deoxygenated blood with lower glucose levels returning through the fetal systemic veins courses through the RA, RV, and across the pulmonary valve into the pulmonary artery, and primarily traverses the ductus arteriosus into the descending aorta. A small proportion of blood in fetal life is directed into the branch pulmonary arteries into the lungs (approximately 28% of pulmonary flow, 16% of CCO) and returns to the LA via the pulmonary veins. Three percent of cardiac output supplies the coronary artery system. This normal fetal circulation essentially allows the most oxygen-rich, glucose-rich blood to reach the fetal brain, and may be significantly altered when CHD is present.
At the time of birth, when placental blood flow ceases, oxygen-rich umbilical venous blood is no longer directed into the fetal heart (see Fig. 13-1B ). However, at the same time, the newborn infant has started to breathe, and much of the blood flow from the pulmonary artery that was directed across the ductus arteriosus in fetal life is now redirected to the pulmonary arteries to perfuse the newly expanded lungs. This blood becomes oxygenated and returns to the LA via the pulmonary veins. During this transition, the ductus arteriosus closes and in most infants the foramen ovale also closes. Blood flow to the left side of the heart transitions from being supplied via the foramen ovale to being supplied by the pulmonary veins. Failure of the foramen ovale or the ductus arteriosus to close results in patency of these structures; these defects are considered CHD (patent foramen ovale [PFO] and patent ductus arteriosus [PDA]).
Ultrasound Equipment
Contemporary two-dimensional (2D) ultrasound systems for fetal cardiac screening provide gray-scale and Doppler ultrasound capabilities. Broadband ultrasound transducers are designed to minimize ergonomic stress with a small scanning footprint that can be angled or maneuvered between fetal ribs for satisfactory views of the heart. Higher frequency transducers provide greater resolution, but at the expense of decreased penetration. Harmonic imaging, speckle reduction, and write priority for balancing color Doppler with gray-scale ultrasound images are commonly available. Optimal cardiac studies will be achieved while using high frame rates because temporal resolution should adequately capture movement of anatomic structures throughout the cardiac cycle. Digital video clips are recommended to document fetal cardiac findings.
First and Early Second Trimester Fetal Cardiac Evaluation
Our ability to identify heart defects in the prenatal period is limited by the following factors: (1) early or late gestational age; (2) structural complexity of the fetal heart, particularly in the abnormal heart; (3) the extensive training required to become proficient in, and maintain expertise in, fetal cardiac sonography; (4) frequent fetal and maternal motion; (5) maternal obesity; (6) limited or excessive amniotic fluid volume; (7) fetal position; and (8) maternal abdominal scar tissue. Limitations are especially present in early pregnancy, when small fetal structures are most difficult to image.
Cardiac Examination
The American Institute of Ultrasound in Medicine (AIUM) recommends routine documentation for the presence or absence of cardiac activity with a 2D video clip or M-mode imaging when a standard viability first trimester ultrasound examination is performed. However, additional cardiac evaluation may be performed when indicated, as discussed later.
High-frequency, high-resolution transvaginal and transabdominal probes, with improvements in magnification imaging and signal processing, have increased the visualization of the fetal heart during the first and early second trimesters of pregnancy. The standard fetal cardiac screening 2D views (details in next section) typically performed in second and third trimester cardiac screening can also be performed in the first trimester and early second trimester, usually no earlier than 11 weeks' gestation. Visualization of these sonographic planes can be facilitated by using color Doppler imaging.
Early gestation views in the four-chamber plane are depicted in Figure 13-3A . Color flow mapping helps in the evaluation of the four-chamber view to delineate the flow into both ventricles and gives an approximate estimation of the ventricular size ( Fig. 13-3B ).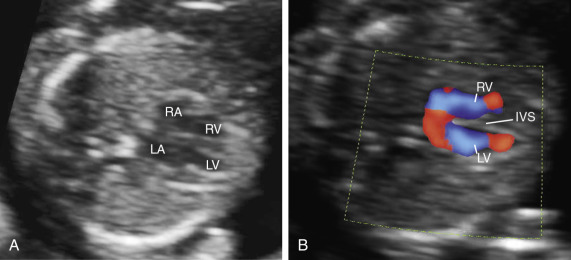 Early gestation imaging in the left ventricular outflow tract (LVOT) view can be performed and may be better visualized with color Doppler early in pregnancy ( Fig. 13-4 ). In the three-vessel and trachea (3VT) view ( Fig. 13-5A ), color flow mapping is useful in delineating the great arteries and the confluence of the ductus arteriosus and the aortic arch (V sign) ( Fig. 13-5B ). Color and spectral Doppler evaluation can also help in the identification of valvar regurgitation. For the spectral Doppler evaluation of tricuspid regurgitation, a sample gate of 2 mm to 3 mm is recommended, which should be positioned above the tricuspid valve in an apical four-chamber view with an angle of insonation of less than 20 degrees. The diagnosis of tricuspid regurgitation can be made with the demonstration of a spectral Doppler waveform that involves at least half of systole and a velocity of more than 80 cm/second ( Fig. 13-6 ). In cases of severe tricuspid regurgitation such as in Ebstein anomaly this can be visualized by color Doppler in the first trimester of pregnancy ( Fig. 13-7 ).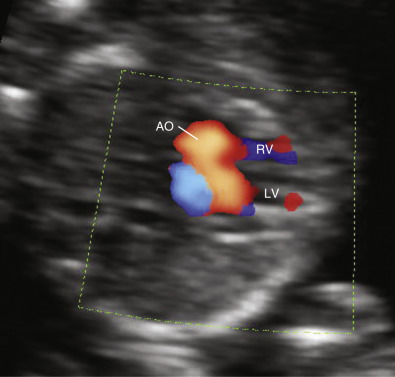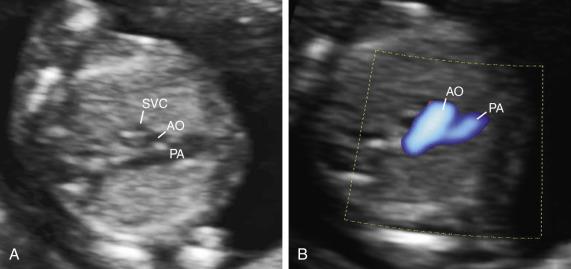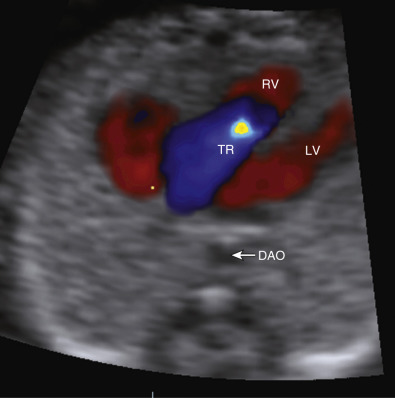 If normality of situs and cardiac connections, atrioventricular (AV) connections, right- and left-sided symmetry, and ventriculoarterial connections can confidently be demonstrated, most major structural malformations can be excluded. However, septal defects and developmental lesions may be overlooked; thus, there is a need for follow-up in the second trimester of pregnancy. The additional use of color flow mapping to assess intracardiac flow velocities will enhance detection of valvar lesions, such as aortic and pulmonary stenosis, which may progress to critical stenosis during the third trimester. Methods have been described to optimize prenatal detection of CHD using adjunctive evaluation of the fetus in early pregnancy, including assessment of nuchal translucency (NT), fetal Doppler waveforms, aberrant right subclavian artery, and cardiac axis.
Mounting evidence supports the association of increased NT between 11 and 14 weeks of gestation and an increased risk for CHDs in both high-risk and low-risk populations. Among fetuses with increased NT measurements, the higher the NT measurement, the higher the prevalence of CHDs. However, increased NT measurement is only modestly predictive of CHD. In a large meta-analysis involving more than 58,000 fetuses, the detection rate of an increased NT measurement was only 31%, for a false positive rate of 1%. Thus, other approaches had been used to evaluate the risk for CDH in the first trimester of pregnancy, including a combination of increased NT measurement, tricuspid regurgitation, and abnormal spectral flow waveforms in the DV ( Fig. 13-8 ).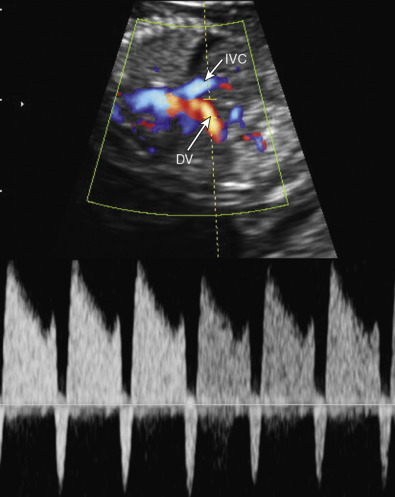 Abnormal DV waveforms, including negative/reversed a wave and increased pulsatility index for the veins (PIV), have been associated with structural cardiac abnormalities in euploid first trimester fetuses. The sensitivity and specificity of abnormal DV waveforms in the identification of CHDs are 80% and 83% in fetuses with increased NT, whereas the respective values in fetuses regardless of their NT measurement are 50% and 93%.
Other findings during the first trimester scan associated with CHD include abnormal cardiac axis ( Fig. 13-9 ) and aberrant subclavian artery. Sinkovskaya and associates measured the cardiac axis on the four-chamber view in a prospective study between 11 and 14 weeks' gestation. The authors reported that the mean value for the cardiac axis in fetuses without cardiac anomalies was 47 degrees with limits of normality between 35 degrees and 60 degrees. An abnormal axis was seen in four of the six cases with CHD (of which three showed a structurally abnormal four-chamber view): one with HLHS, two with atrioventricular septal defects (AVSDs, one unbalanced, one associated with isomerism), and one with tetralogy of Fallot (TOF). The authors concluded that this approach may help to identify pregnancies at risk of CHD. Of note, women with a body mass index (BMI) of 30 or higher were excluded from the study, and nearly one in five cases required a combined transabdominal and transvaginal approach. Thus, for CHD screening purposes, this strategy may be applicable only in facilities with availability and expertise in transvaginal sonography.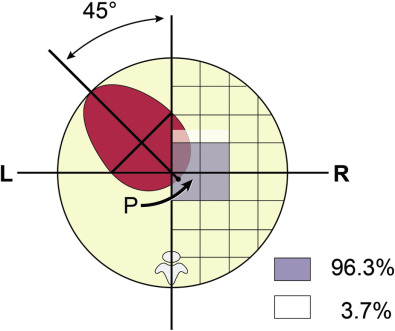 Effectiveness of Early Gestation Cardiovascular Evaluation
A study using transvaginal sonography reported that the success rate of visualization of the four-chamber view, LVOT view, pulmonary trunk with three-vessel view (3VV) and crossover of the great arteries increased with gestational age, from 20% in week 11 to 92% in week 13. In a study among women undergoing chorionic villus sampling between 11 and 13 weeks of gestation, the authors reported a 93.1% accuracy in the identification of CHDs using a high-frequency linear transducer. In another study in high-risk women, using a combination of transabdominal and transvaginal sonography, the authors reported a 70% sensitivity and a 98% specificity in the identification of CHDs before 16 weeks' gestation. In a large low-risk population, the authors reported that in 29 of the 39 cases of CHDs the heart defect was suspected in the first trimester. Of note, in the latter study all examinations were performed using transabdominal sonography; however, in 7.3% of the cases a transvaginal scan was also required.
In a more recent study, Zidere and coworkers performed a comparison of fetal echocardiography findings at less than 15 weeks of gestation in 1200 patients and a follow-up scan at least 6 weeks later. The authors reported a high degree of accuracy in the identification of CHD by early fetal echocardiography (sensitivity 84.8%, 95% confidence interval [CI] 75.0-91.9; specificity 95.3%, 95% CI 93.9-96.4). Discordance between the two scans was found in 85 patients. In 50 of them, there was mild tricuspid regurgitation ( n = 44), mild mitral regurgitation ( n = 3), or both ( n = 3) at the early scan and no abnormal findings at the second scan. In three cases, CHD was suspected at the first scan but was not confirmed at the second scan (false positive diagnoses), and in four cases, less complex CHD than originally suspected at the first scan was found at the second scan. In 29 fetuses, an abnormality was found at the second scan that had not been detected at, or that had changed in severity since, the early study. The discordance was considered significant in 15 of the 29 cases. The authors suggested that in 10 cases of the latter group the significant differences between the early and later scans represented true progression of findings between the early and later scans, rather than missed or incorrect diagnoses. The authors concluded that early fetal echocardiography between 12 and 14 completed weeks' gestation is highly specific for the detection of CHD. However, the identification of every case of TOF and mild AV canal variants presents particular diagnostic challenges in early fetal echocardiography. Changes in severity appear to occur particularly in obstructive lesions at the aortic and pulmonary valves and in the aortic arch, and there are limitations on accuracy with more subtle malformations. In an accompanying editorial the author cautioned that in the study of Zidere and coworkers, if fetuses with resolving mild functional abnormality are removed from the denominator, 7/81 (9%) had a false positive diagnosis of CHD. A further 15/81 (18.5%) had important discordant findings at the second trimester scan, with 10/15 thought to be due to progression of disease that led to an alteration in counseling. Thus, even in expert hands, over 27% of important fetal structural CHD were missed or the parents were counseled inappropriately for the eventual outcome. The author proposed that concerns about the quality of information that can be obtained from the early human heart in euploid fetuses should make us pause to reconsider echocardiography in the first trimester and perhaps defer it until later in pregnancy.
Second Trimester Fetal Cardiac Evaluation
Rationale and Effectiveness
Given that CHD is the most common birth defect, one of the major goals of the standard second trimester ultrasound examination is to evaluate for cardiac disease. Of highest priority is the identification of fetuses at risk for ductal dependency and hypoxemia after birth ( Table 13-1 ). The examination is typically performed at 18 to 22 weeks' gestation. Of note, a prospective randomized study of second trimester fetal cardiac screening suggests that unselected pregnant women are less likely to require an additional scan at 20 to 22 weeks' gestation than at 18 weeks' gestation.
TABLE 13-1




Lesion


Prevalence *


Hypoxemia


Ductus Arteriosus Dependent




Outflow Tract Defects



Tetralogy of Fallot


6.1


Most


Uncommon



D-transposition of the great arteries


4.0


All


Uncomon



Double-outlet right ventricle


1.7


Some


Some



Truncus arteriosus


1.0


All


None



TAPVC


1.2


All


None



Ebstein anomaly


0.6


Some


Some



Right Obstructive Defects



Tricuspid atresia


0.5


All


Some



Pulmonary atresia, intact septum


0.8


All


All



Pulmonary stenosis, atresia


6.3


Some


Some



Left Obstructive Defects



Hypoplastic left heart


3.3


All


All



Coarctation of the aorta


4.7


Some


Some



Aortic arch atresia or hypoplasia


1.0


Some


All



Aortic valve stenosis (critical)


1.6


Uncommon


Some



Other major heart defects


12.4


Some


Some
* Per 10,000 livebirths. Data are derived from the Metropolitan Atlanta Congenital Defects Program.
Earlier practice guidelines for fetal cardiac screening encouraged visualization of the four-chamber view or "basic scan" with inclusion of the cardiac outflow tracts as part of an "extended basic scan" only if technically feasible. However, additional assessment of both ventricular outflow tracts can improve the cardiac anomaly detection rate to approximately 80%. A large retrospective review of over 18,000 midtrimester screening examinations with normal four-chamber views were examined at a single institution to determine how often outflow tracts could be obtained during a routine scan. In 7.0% of 1308 scans, the main pulmonary artery, aortic outflow tract, or both were poorly visualized. In 778 scans (4.2%), poor visualization of the aorta only was noted. In 297 scans (1.6%), poor visualization of the pulmonary artery only was noted. In 233 scans (1.3%), neither ventricular outflow tract could be visualized. Given the significantly improved detection of CHD, and the low rate of poor visualization of the outflow tracts, recent guidelines now consider visualization of both arterial outflow tracts to be an integral part of the midtrimester fetal cardiac screening examination.
The effectiveness of routine midtrimester fetal cardiac evaluation was reported in a large screening study of over 30,000 pregnancies in a nonselected Norwegian population. This study was performed at a single institution where 98% of pregnancies received routine midtrimester screening scans at approximately 18 weeks' gestation that included a four-chamber view with visualization of the great arteries. Over one half (57%) of the 97 CHD cases with major cardiac defects were detected prenatally. Their findings underscored the importance of examiner experience for the effective detection of major CHD.
Cardiac Screening
The cardiac screening examination is optimally performed between 18 and 22 weeks' gestation, typically as part of a routine fetal anatomic survey. Standardized transverse scanning planes are used to screen fetuses for CHD using basic principles that have been based on a sequential segmental approach to describing sonographic findings. Cardiac ultrasound images are typically optimized by adjusting image display depth, modifying acoustic focus for the heart, and maintaining low frame persistence. A relatively narrow scan angle will permit satisfactory temporal resolution.
3D and 4D Fetal Cardiac Evaluation
3D sonography can be used evaluate the anatomy of the heart, but does not incorporate time. 4D technology has been developed that allows 3D evaluation of the fetal heart plus the aspect of time as the fourth dimension. Spatiotemporal image correlation (STIC) is a feature of 4D sonography that allows the acquisition of volume datasets akin to blocks of pathologic specimens, in which all the anatomic information is contained in the block and the information displayed depends on the level at which the block is cut. STIC has the additional advantages that these planes can be assessed in a virtual beating heart, that fetal electrocardiographic triggering is not needed, and that rendering techniques can be used to gain additional insight into the structure and function of the fetal heart.
With the use of STIC, volume datasets from fetal heart are acquired with a single automated sweep of the transducer, and spatial and temporal information is combined to display images that can be extracted from volume datasets. Thus, standardized planes for fetal echocardiography can be obtained from the volume datasets at the time of the sonographic examination or afterward; moreover, novel planes to examine the fetal heart can also be obtained including coronal views. In addition to this anatomic information, functional information of the fetal heart can be obtained including the direction of blood flow if the volume dataset was obtained with color Doppler or high definition (HD) power Doppler.
Several studies suggest that 4D sonography facilitates examination of the fetal heart. Thus, 4D fetal echocardiography has the potential to reduce the operator dependency of 2D sonography. Prenatal diagnosis of CHDs is challenging because of the complexity of the fetal heart and the expertise required in performing fetal echocardiography. In addition, fetal and maternal motion, maternal body mass index, gestational age, adequacy of the amniotic fluid volume, and fetal position are important factors that can affect image quality. This section of the chapter reviews some technical aspects of 4D sonography including volume acquisition and rendering, displays modalities in 4D sonography, and summarizes the evidence evaluating the accuracy and reproducibility of 4D sonography in the prenatal diagnosis of CHDs.
Fetal Cardiovascular Disease
Overview
Epidemiology.
Fetal cardiovascular disease most commonly consists of structural heart disease, fetal arrhythmias, or secondary heart disease, but also includes fetal myocarditis and cardiomyopathy, pericardial effusions, and cardiac tumors. The prevalence of fetal cardiovascular disease is unknown and difficult to ascertain. Given that some fetuses with CHD do not survive to term, it is suspected that the prevalence of CHD in the fetus is significantly higher than the liveborn estimate of 6 to 10/1000, although this topic has not been extensively studied.
Etiology.
The cause of CHD is unknown in most cases, but is clearly multifactorial. Maternal exposures that have been associated with CHD include environmental (dioxins, polychlorinated biphenyls, pesticides), ingested (alcohol, isotretinoin, thalidomide), and infectious (rubella). Maternal fever alone, regardless of the cause, has also been implicated in CHD, as has the increasingly prevalent health conditions of obesity and diabetes.
There are genetic influences on development of CHD, both inherited and sporadic. A large number of syndromic disorders are associated with CHD, and genetic disorders have also been shown to be associated with isolated CHD ( Table 13-5 ). Genetic disease with CHD may be due to aneuploidies, such as Down syndrome or Turner syndrome; may result from chromosomal deletions, such as chromosome 22q11.2 deletion; or may be secondary to a single DNA base mutation that causes abnormal protein transcription, such as Alagille syndrome due to a JAG1 mutation. Given the frequent associations between CHD and genetic disorders, many advocate that genetic evaluation should be performed in any fetus or child with CHD.
TABLE 13-5




Condition


Cardiovascular Findings




Turner syndrome (monosomy X)


Left-sided disease: hypoplastic left heart syndrome, bicuspid aortic valves, coarctation of the aorta
Systemic venous anomalies: absence of the ductus venosus, left superior vena cava
Pulmonary venous anomalies: partial anomalous pulmonary venous return



Down syndrome (trisomy 21)


Atrioventricular canal defect
Atrioventricular canal defect with tetralogy of Fallot
Isolated ventricular septal defect



22q11.2 deletion


Tetralogy of Fallot
Truncus arteriosus
Double-outlet right ventricle
Pulmonary atresia with ventricular septal defect
Right aortic arch
Aberrant right or left subclavian artery
Double aortic arch



Edwards syndrome (trisomy 18)


Atrial septal defect
Ventricular septal defect
Polyvalvar disease



Patau syndrome (trisomy 13)


Atrial septal defect
Ventricular septal defect
Polyvalvar disease



Williams syndrome ( ELN mutation)


Supravalvar aortic stenosis, branch pulmonary artery stenosis, mitral valve and aortic valve disorders



Alagille syndrome ( JAG1 mutation)


Tetralogy of Fallot
Branch pulmonary artery stenosis



CHARGE syndrome


Atrial septal defect
Ventricular septal defect
Tetralogy of Fallot
Of note, however, at this time only a minority of CHDs can be attributed to a recognized genetic condition. The majority of infants born with CHD are born to parents with no identifiable risk factors. Therefore, despite discovered risk factors, the most important tool for detection of prenatal CHD is a high-quality second trimester ultrasound examination.
Neurodevelopmental Outcomes.
Over the last 30 years, there have been significant advances in understanding neurodevelopment sequelae in children with CHD. Although the vast majority of nonsyndromic children with CHD do not have severe neurodevelopmental impairments, children who have undergone cardiac surgery are more likely to have neurodevelopmental abnormalities than children without cardiac disease. A 23% incidence of structural brain abnormalities has been identified by fetal MRI in children with complex forms of CHD as compared to normal control subjects (<2%). Owen and colleagues have also reported impaired brain volume growth before cardiac surgery in infants with CHD. Given that prenatal diagnosis has been shown to improve the preoperative status of newborns with critical CHD, prenatal coordinated multidisciplinary care and possibly early interventions may result in improved neurodevelopmental outcomes.
Congenital Heart Lesions
This section highlights the anatomy and imaging pearls of the most common CHDs. Detection of these lesions can most easily be accomplished by use of sweeps through the heart that are centered on the key views listed earlier.
Premium Wordpress Themes by UFO Themes
WordPress theme by UFO themes