During the last three decades, cardiovascular magnetic resonance (CMR) has developed into an important diagnostic clinical tool in cardiology. Not only the anatomy of the heart but also its function, metabolism, and perfusion, as well as the coronary arteries, can be evaluated with CMR. There are advantages of CMR over other diagnostic imaging methods: first, CMR does not use ionizing radiation; second, the radiofrequency (RF) radiation penetrates bony and air-filled structures without attenuation; third, CMR gives additional diagnostic information about tissue characteristics; and, finally, CMR provides three-dimensional (3D) images or images of arbitrarily oriented slices.
However, when performing CMR, particular precautions must be taken. Because CMR operates with high static and gradient magnetic fields, special safety regulations must be taken into account and certain contraindications must be considered. This chapter reviews the safety, electrocardiographic (ECG) setup, patient monitoring, and contraindications to CMR; in particular, the issue of devices (pacemakers, implantable cardioverter defibrillators [ICDs]) as well as coronary stents and prosthetic heart valves, is addressed.
Patient Monitoring and Electrocardiographic Setup
Patient monitoring during CMR poses problems that will not be familiar to users of other technologies, such as echocardiography. Ferrous metal, which is present in most monitoring equipment, can distort the magnetic field, and such an item has the potential to become a projectile. In addition, monitoring wires that are attached to the patient, leaving the scanner, and passing to another room may act as an antenna for stray RF signals. Electrical equipment in the scanner room also can act as a source of RF noise. All of these disturbances may result in image degradation. Therefore, specific solutions to these problems have been designed.
Commercially available CMR-compatible monitoring equipment, including that used to measure ECG, blood pressure, and chest wall movements, as well as for general anesthesia, has been tested in several studies. Satisfactory monitoring can be obtained and images obtained during its use can be evaluated adequately. For some monitoring, simple solutions work, such as that reported by Roth and associates, who measured arterial blood pressure outside the CMR scanner by lengthening the rubber tubing connected to a blood pressure cuff. The newest monitoring equipment eliminates the need for wires and tubes to leave the scanning room by using a microwave transmitter communicating with a slave display unit in the operating room.
The CMR procedure depends on a high-quality ECG signal for routine imaging, and each manufacturer has developed its own solution to the problems posed. Fiberoptic transmission of ECG signals for gating is now common, and this significantly reduces RF pulse artifacts in the ECG. Felblinger and coworkers showed that this type of system could yield signals almost free from interference, during both conventional and high gradient activity sequences, such as during echo planar imaging. From this signal, the authors also developed a method for respiration monitoring during MR sequences. Third-party ECG solutions are also now being incorporated into the latest generation of scanners, and these come with specific ECG recommendations for lead placement. Carbon fiber electrodes are required to eliminate the risk of burning that has been reported with standard metallic ECG electrodes. Typical lead placement is the result of compromise. A better signal results from widely spaced electrodes, but this results in more artifact from the gradients. In general, therefore, the leads are kept relatively close together, and on the left side, which reduces the magnetohydrodynamic effect (the effect of systolic aortic flow causing surface potentials on the ECG that distort the ST segment; Fig. 10.3 ). A typical lead placement that is commonly adopted is shown in Fig. 10.4 . Some centers have found ECG gating using electrodes on the back to be successful, but this is not widely used. The ECG leads should not be allowed to form loops, which could present a burning hazard, and they should be braided together and brought out of the magnet while aligned parallel to the bore to reduce electrical interference. Keeping the electrical cables short is helpful, and fiberoptic conversion modules are therefore often very close to the patient's chest. Switching between the ECG traces sometimes allows flexibility to reduce gating errors from tall T-waves or electrical interference. One thing is certain, however, and that is that time spent ensuring that the ECG is stable and working correctly at the start of the scan is time very well spent.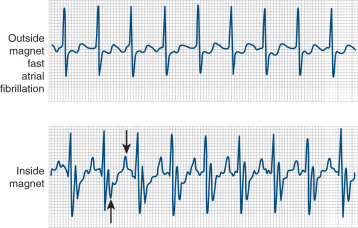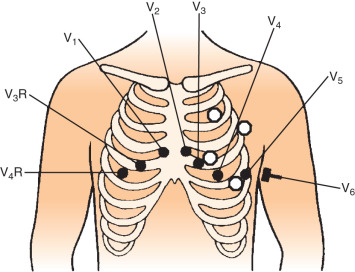 An alternative technique to routine surface ECG recording has been described by Fischer and colleagues using vectorcardiography, and has been widely implemented. The system examines the 3D orientation of the ECG signal and uses the calculated vector of the QRS complex as a filter mechanism to ignore electrical signals, which are of similar timing and similar magnitude in the cardiac cycle, but a different vector. The system as reported identified the QRS complex correctly in 100% of cases, with 0.2% false-positive findings. In a subsequent study in normal individuals and patients with supraventricular extrasystoles, the same authors showed that vector cardiography-based triggering provided nearly 100% triggering performance during CMR examinations. This system represents a significant improvement for CMR in stabilizing this important gating signal.
Should interpretation prove impossible for technical reasons, a standard vascular Doppler can be used to monitor heart rate during CMR. The Doppler and telemetric ECG do not contain enough ferromagnetic material to cause visible image degradation. Jorgensen and associates evaluated whether patients could be monitored during CMR with 1.5 T machines in a manner that complies with monitoring standards.
The high magnetic field can interfere with normal functioning of equipment, not only monitoring equipment but also smaller items such as infusion pumps used for stress testing. In general, the influence of the CMR scanner on nearby equipment depends on several factors, such as the strength of the CMR magnetic field, the proximity of the equipment to the scanner, the amount of ferromagnetic material in the equipment, and the design of the electrical circuitry.
Finally, simple devices, such as closed-circuit television and a two-way intercommunication system, also aid in monitoring by allowing a constant view of the patient and easy communication if the patient is in discomfort. However, the latter may be impaired during imaging as a result of the noise of the gradients. Because sequences are now commonly being reduced in duration to a breath-hold, however, this limitation is becoming much less important.