Fig. 8.1
Overdetection of insignificant prostate cancer
TRUS-guided biopsies miss clinically significant cancers.
They have an estimated false-negative rate of 30–45 % [
13
,
14
]. TRUS biopsy's systematic error leads to significant cancer being missed as several parts of the prostate is systematically undersampled. First, the anterior part of the gland is missed as a result of its greater distance from the rectum (Fig.
8.2a
). Second, areas in the midline are undersampled due to efforts to avoid the urethra. Third, the prostate apex is often inaccessible by the transrectal route [
15
–
18
].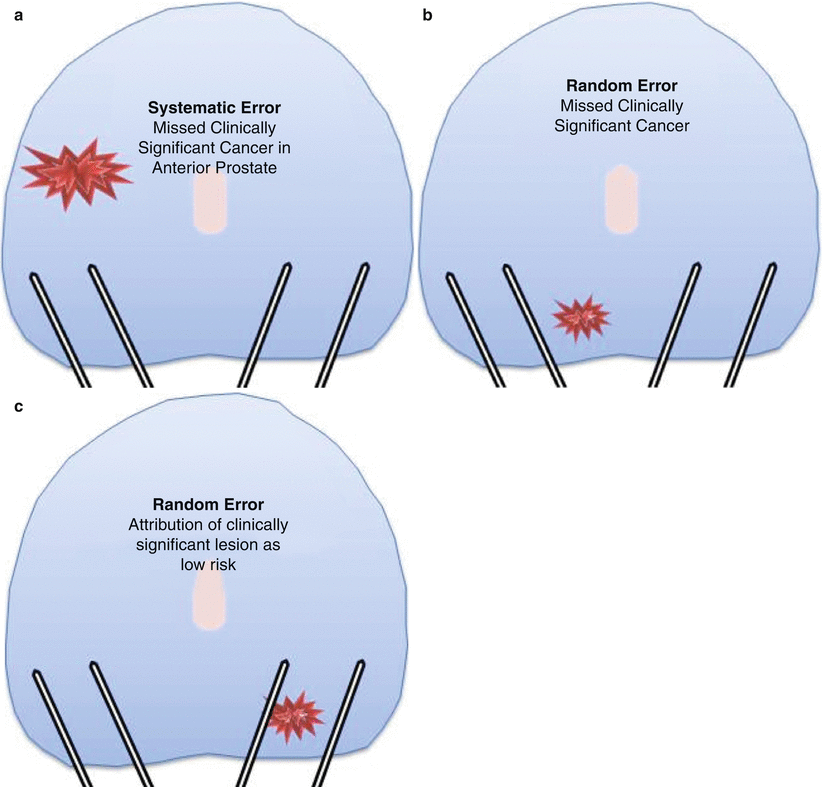 Fig. 8.2
TRUS biopsies underdiagnose clinically significant prostate cancer. (
a
) Random error. (
b
,
c
) Systematic error
TRUS-guided biopsies can be unrepresentative of the true burden of cancer.
The random sampling error (Fig.
8.2 (b,c)
) can mean that a biopsy does not hit the cancer lesion through its greatest diameter leading to either or both the size and the grade of cancer being underestimated [
19
] (Fig.
8.2c
). Up to half of men deemed low risk on TRUS-guided biopsies can have higher burden or grade, or both, when a more accurate biopsy test is applied [
16
–
18
,
20
–
22
]. As a result of the poor risk attribution, many men may not be able to receive the most suitable management in relation to their risk stratification.
TRUS-guided biopsy offers poor disease localization.
As tissue preservative or focal therapy for prostate cancer depends on destroying the diseased tissue with minimal damage to healthy tissue, it is imperative to localize the diseased area in the prostate accurately to avoid undertreatment and recurrence on one hand and overtreatment and unnecessary increased morbidity on the other. TRUS biopsy is not able to provide such spatial information about the diseased area. And due to all above, the area diagnosed may not be the only area harboring clinically significant disease in the prostate.
Template transperineal prostate mapping
(TPM) biopsies
were conceived [
23
] to avoid the above issues and provide accurate risk assessment and location attribution of disease and have since gained increasing popularity and acceptance as a highly accurate diagnostic test [
17
,
18
,
20
,
21
,
24
].
Template Mapping Biopsies: Technique
The Diagnostic Performance of Template Mapping Biopsies
Template mapping biopsies demonstrate a high diagnostic yield (Table
8.1
). This has been demonstrated by several publications. In a case series of 191 consecutive biopsy naive patients, Bittner et al. documented 73.3 % positive diagnoses with 24.3 % of these cancers in areas not typically sampled in a TRUS biopsy [
30
]. Symons et al. reported a series of 409 patients and showed an overall detection rate of 56.7 %. When stratified between those having a primary TPM and those having a repeat biopsy (after a previous negative biopsy), the detection rates were 64.4 % and 35.6 %, respectively, with significantly higher detection rates in prostates <50 mL in volume compared to larger prostates (65.2 vs. 38.3 %) [
31
].
Table 8.1
Variations in biopsy protocols and definitions of significance between publications



















Study






Size






Age






PSA






Design






No. of cores






Technique






Definition






Measure






Results






Further info.












57






63a






5.8a






Bx naive






19a










GS≥7 or >3 cores positive










53 %






87 % of 53 % significant







103








9.6a






negative TRUS






24a














36 %






81 % significant











17






–






5.6a






TPM/RP




Validation






Density: no. of cores/volume




a1.26










GS ≥ 7 or >50 %/core or >25 %




Total/quadrant






Sensitivity and specificity






86 % and 83 %













50






67b






8b






Bx naive had TRUS then limited TPM






36 cores per patient










Any cancer






CDR






60 % positive,




32 % positive on both






No positive




TRUS only. 28 % negative TRUS/+ve TPM











226






64a






7.6a






Mixed cohort.






Bx naive: 22 coresa




Repeat biopsy: 32 coresa










Any cancer






CDR anterior zone






11.8 %




8.8 %









Klatte et al. (2013) [

43

]






50






57.5b






7.3b






Prior negative TRUS biopsy






24 cores per patient










Epstein criteria






CDR






48 %






25 % were insignificant











634






63a






7.66a






Mixed cohort






Volume:




<30 mL = 24 cores




>50 mL = 38 cores










Any cancer










Bx naive: 54 %




Prior TRUS: 36 %

Full access? Get Clinical Tree

Get Clinical Tree app for offline access