Case presentation
A 7-month-old male with a history of prematurity (27 weeks' gestation) presents with a gastrostomy button that fell out approximately 3 hours prior to arrival. The child has had the gastrostomy button for 3 months. The mother tells you that the button "slipped out" during the child's feeding. She attempted to replace the button but was unsuccessful. The child was seen at an outside facility, who attempted to replace the button through the existing stoma. This was done with great difficulty and there was a small amount of bleeding noted postinsertion. There are no other symptoms or concerns.
The child's physical examination is unremarkable and his vital signs are appropriate for his age. There is a stoma noted, which has some minimal granulation tissue but no erythema, edema, discharge, or bleeding. There is no abdominal distention or apparent tenderness.
Imaging considerations
Imaging may be used to confirm the position of a gastrostomy button that has been replaced in the emergent or urgent setting. Improper placement of a gastrostomy tube (G-tube) can result in gastric perforation, false tract formation, and peritonitis. However, complication rates following gastrostomy tube replacement in the emergency department are low and are often associated with replacing the tube through an immature tract or changing from one tube type to another. According to the literature, a confirmatory contrast study of a replaced gastrostomy button may not be routinely indicated; however, at the author's institution, we do routinely perform such a test, using water-soluble contrast injection and plain radiography, according to institution protocol. If the button was difficult to place or there is any concern about button position following placement, then confirmatory radiography should be obtained. Higher confirmatory imaging rates are found in patients undergoing gastrostomy replacement who had significantly higher rates of immature tracts, difficult G-tube replacement, and stomal stenosis. Clinical signs of proper placement include aspiration of gastric contents through the G-tube (although this is not always considered reliable). , ,
Plain radiography



This modality has been traditionally utilized to confirm proper placement of a gastrostomy button. Water-soluble contrast is instilled through the gastrostomy button and several images are taken to document the passage of contrast into the stomach and exclude contrast leakage outside of the stomach, and the examination usually shows contrast emptying into the small intestine.




Sample protocol for gastrotomy tube placement confirmation a




a Protocol courtesy of Gael Lonergan, MD (Pediatric Radiology, Dell Children's Medical Center of Central Texas, Austin, TX).

:




1.




A gastrotomy tube is placed.




2.




Two views of the abdomen are obtained (anteroposterior [AP] supine and left lateral decubitus views). Images are shown to the radiologist to confirm that it is okay to instill contrast.




3.




Then 10 mL of water-soluble contrast is injected into the gastrotomy tube, followed by 10 mL of sterile normal saline (at our institution, we use 10 mL of Omnipaque 240 [GE Healthcare, Marlborough, MA, USA], but other water-soluble contrast agents can be used).




4.




Two views of the abdomen are obtained after water-soluble contrast injection (AP supine and lateral views).
Ultrasound (US)
Replacing a dislodged gastrostomy button in a pediatric patient using point-of-care US (POCUS) guidance has been described. , The transducer is placed in a transverse orientation below the stoma with the probe marker toward the operator's left and the stoma at approximately the midpoint of the transducer, taking care to identify the stomach and surrounding landmarks prior to tube insertion. Confirmatory contrast abdominal radiography follows, demonstrating proper tube placement. US has the advantage of lack of ionizing radiation, portability, and rapidity of placement; however, the use of radiography to confirm placement does include radiation exposure. While the number of reported cases using US for gastrostomy button placement is not large, POCUS may have a place in gastrostomy tube replacement procedures.
Computed tomography (CT)
CT has been shown to be useful to help guide placement of gastrotomy tubes. This has been demonstrated in general populations and is often utilized in patients that have complex anatomic conditions or when placement by endoscopy or fluoroscopy has been either unsuccessful or is clinically contraindicated. This imaging modality allows for detailed visualization of the surrounding anatomy and can detect complications from gastrotomy tube placement that may not be evident from plain radiography or contrast studies. CT may show pneumoperitoneum and peritonitis caused by intraperitoneal leakage, or gastric or colonic perforation. CT can demonstrate an aberrant gastrostomy tube course, such as a tube traversing the colon between the stomach and abdominal wall. However, routine use of CT imaging after gastrostomy tube replacement is not indicated.
Imaging findings
The decision was made to obtain plain abdominal radiography with water-soluble contrast injection to confirm the position of the gastrostomy button, since there was reported difficulty in placing the tube. Precontrast images of the abdomen show the gastrostomy tube in the left upper quadrant in the expected vicinity of the stomach ( Fig. 14.1 ). However, after injection of contrast through the button, two additional views of the abdomen showed contrast in the peritoneal cavity outlining bowel loops, and no contrast was seen within the stomach lumen or intestine. This is consistent with the extraluminal location of the gastrostomy tube with contrast spilling into the peritoneal cavity ( Fig. 14.2 ).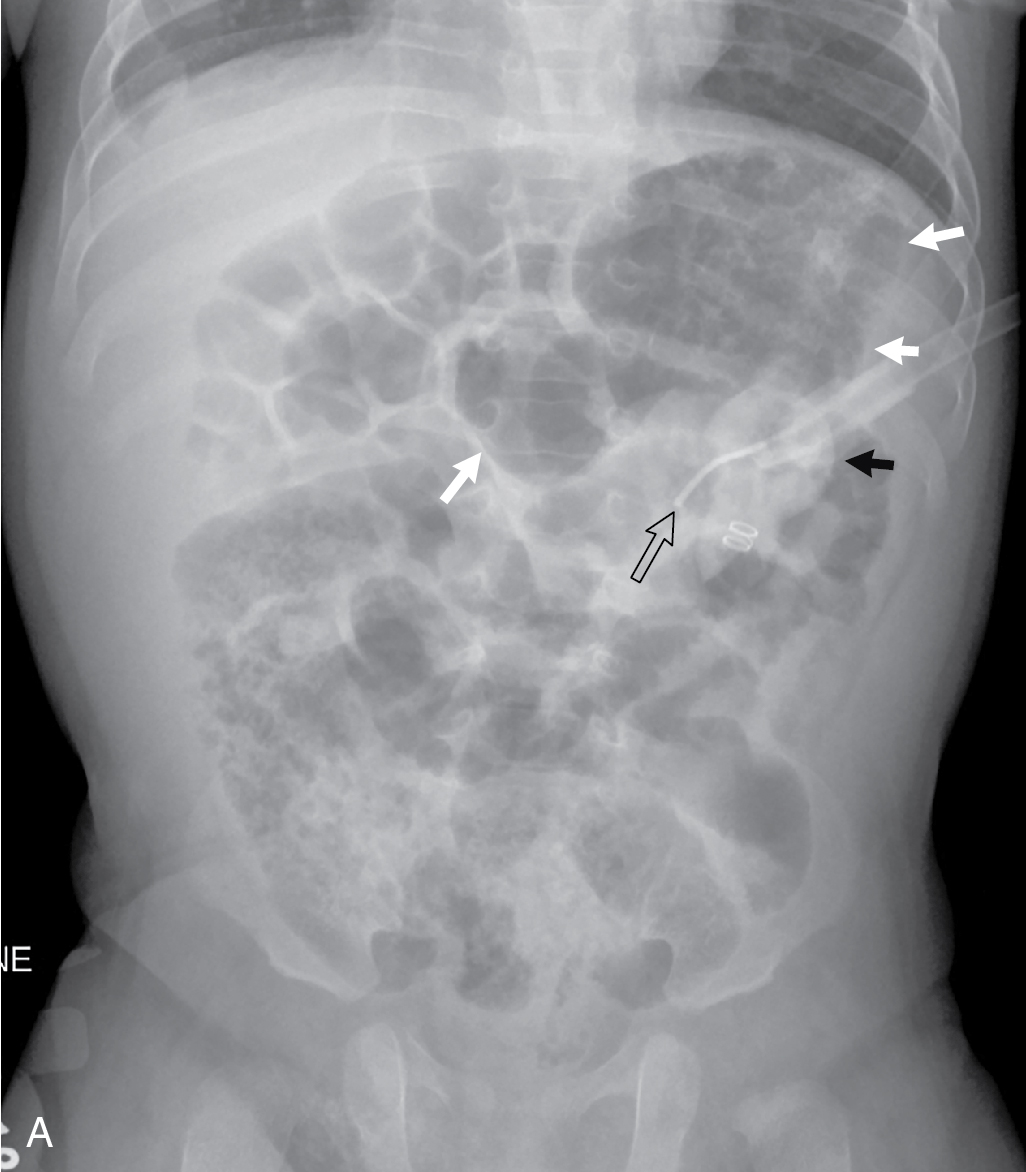 Premium Wordpress Themes by UFO Themes
WordPress theme by UFO themes