Case presentation
A 12-year-old male presents to the emergency department with left ankle pain. Two hours ago, he was jumping on a trampoline when he "landed wrong, twisting" the ankle. He cannot remember in which direction the ankle twisted but he states he developed swelling to the ankle and had difficulty ambulating due to pain. He denies neck pain, back pain, numbness, and weakness, and there is no other injury. His examination reveals a pleasant patient with vital signs that are appropriate for his age. There is swelling and tenderness to the left lateral malleolus. He has diminished range of motion secondary to pain and does not want to bear weight. He has good dorsalis pedis and posterior tibial pulses with brisk capillary refill. He is neurologically intact. The rest of the extremity has no signs of injury.
Imaging considerations
Plain radiography
Plain radiography is the imaging modality of choice to evaluate suspected bony injuries. For suspected Tillaux and triplane fractures, plain radiography is the recommended initial imaging modality. The modality is widely available and relatively inexpensive, and ionizing radiation exposure is minimal compare to other modalities. Tillaux fractures demonstrate a distinct pattern: an anterior lateral physeal separation with fracture extension through the epiphysis into the joint. , Lack of fracture involvement of the metaphysis in the coronal plane distinguishes this fracture from a triplane fracture. ,
Computed tomography (CT)
CT is usually not a first-line imaging modality in the evaluation of fractures in general. However, CT may be indicated to better define an injury when the clinical picture is not clear or the fracture appears particularly complex. CT has been shown to accurately identify the anatomic characteristics of a fracture and is advocated by some authors to assist in planning appropriate fracture management. , CT has been shown to impact fracture classification and management decisions in patients with intraarticular fractures (especially of the partially closed distal tibial physis) who initially underwent plain radiography. CT scanning has also been shown to be accurate in the estimation of intraarticular displacement in Tillaux fractures. Some authors suggest obtaining CT imaging only if there is less than 2 mm of displacement of fracture fragments on radiography, voicing concerns that plain radiography may underestimate the amount of displacement, and other authors promulgate routine use of CT with these injuries. However, another study found that additional imaging with CT scanning did not significantly change fracture impression or management when compared to plain radiography.
CT has been shown to impact management in patients with triplane fractures as well. As with Tillaux fractures, this is a matter of debate, and some studies have indicated that the additional use of CT did not change the management of such fractures as much as previously thought. CT use does involve greater exposure to ionizing radiation. However, after consultation with an orthopedic specialist, it is reasonable to obtain a CT scan.
Magnetic resonance imaging (MRI)
While usually not a first-line imaging modality, MRI can be utilized as a follow-up study. MRI is excellent at detecting ligamentous injuries and osteochondral fractures. Consultation with an orthopedic specialist is appropriate if consideration is given to emergent MRI imaging.
Imaging findings
Plain radiography was obtained. These images demonstrate a Salter-Harris type IV fracture of the distal tibia ( Figs. 68.1–68.3 ).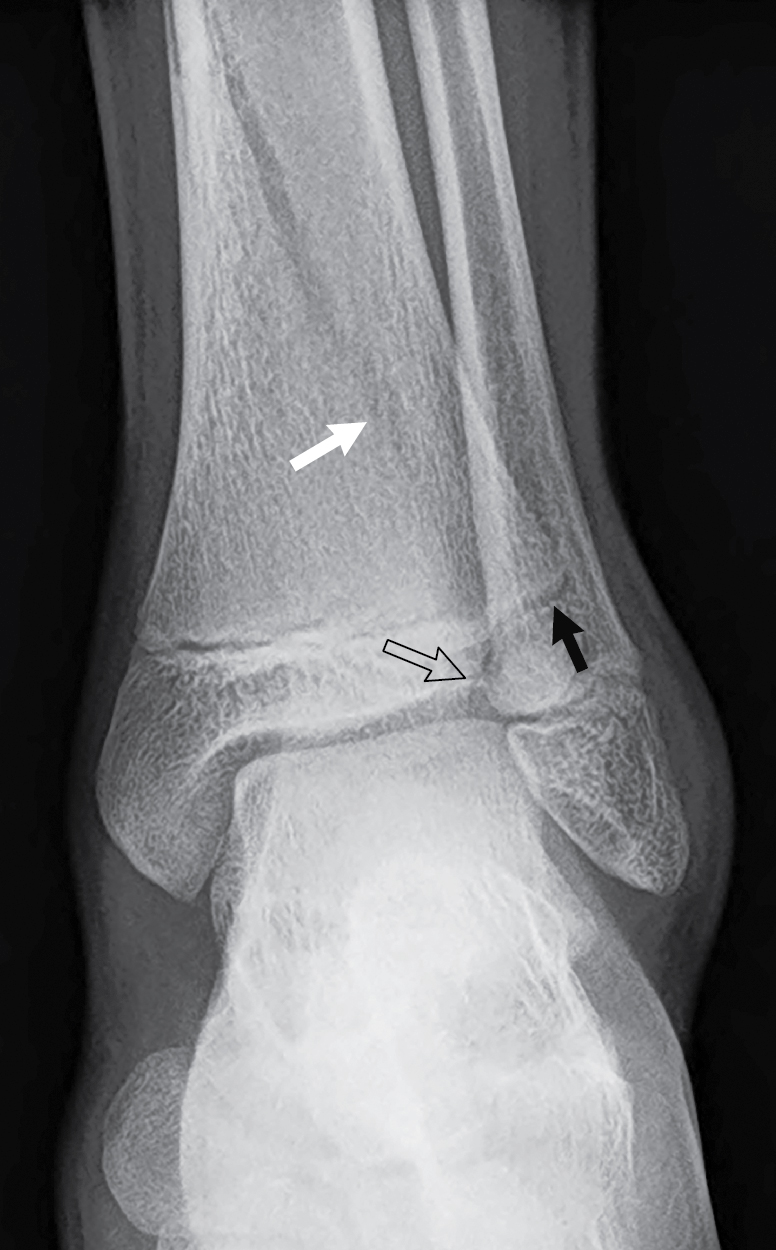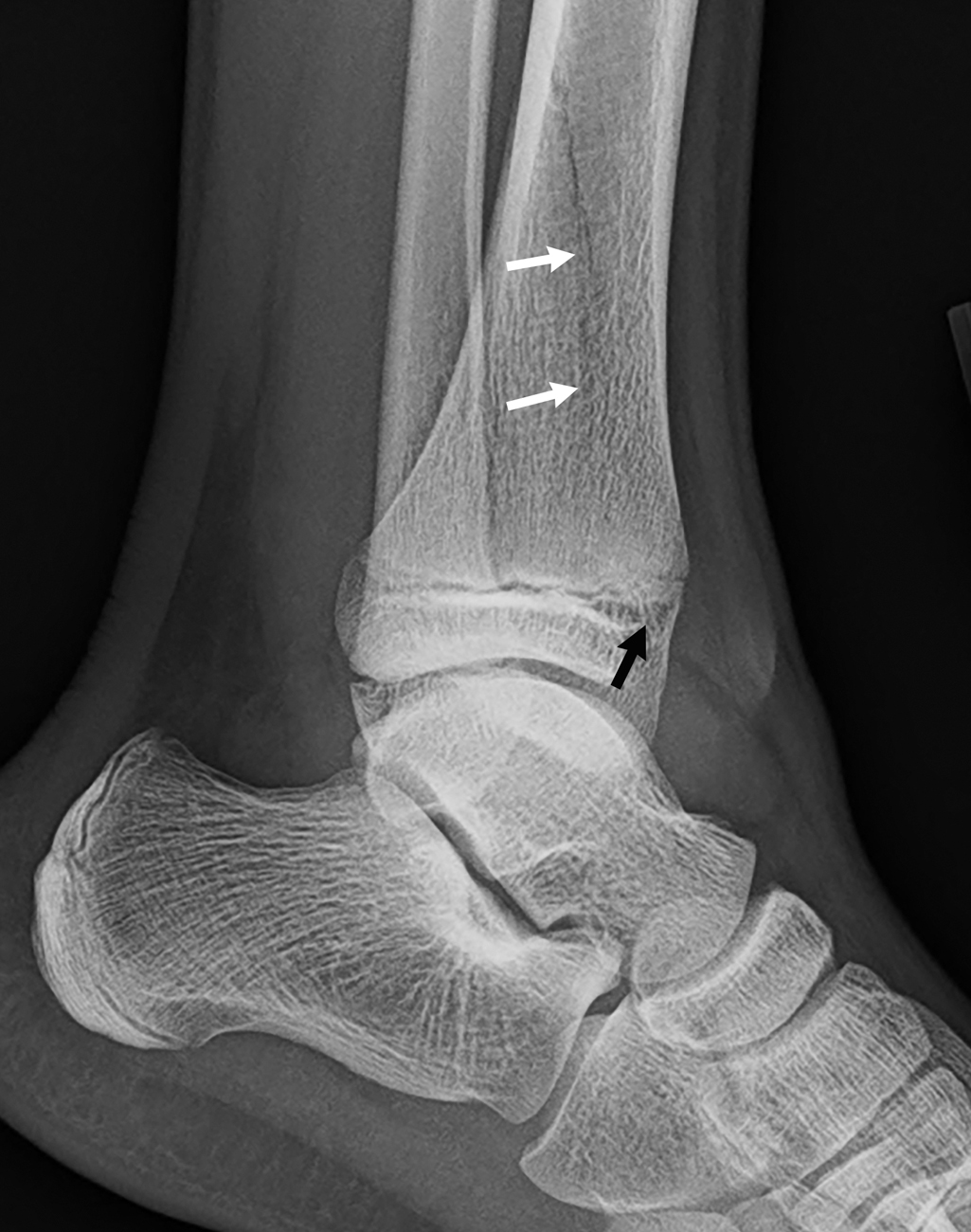 Get Clinical Tree app for offline access