•




Cardiovascular magnetic resonance (CMR) can identify valvular lesions, assess their severities, and determine the consequences of the valve lesion on left ventricular function.




•




CMR makes highly accurate and reproducible measurements of ventricular size, mass, and systolic function.




•




CMR can provide additional clinical information in patients who have poor echocardiographic windows.




•




CMR can evaluate for associated vascular abnormalities, such as the thoracic aorta, during the same evaluation.




•




Accurate measurements of regurgitant volumes is performed with phase contrast CMR.




•




One strength of CMR is evaluation of myocardial viability or infarction, which may contribute to the severity of valvular disease.




•




Velocity-encoded phase contrast CMR can accurately estimate intracardiac shunts (Qp : Qs).




•




A comprehensive CMR evaluation is not limited by ionizing radiation or nephrotoxic iodinated contrast agents and is well suited for serial assessments to determine optimal time for intervention.
This is a case of a 40-year-old woman with Turner's syndrome, hypertension, and poor echocardiographic windows ( Figure 7-1 ).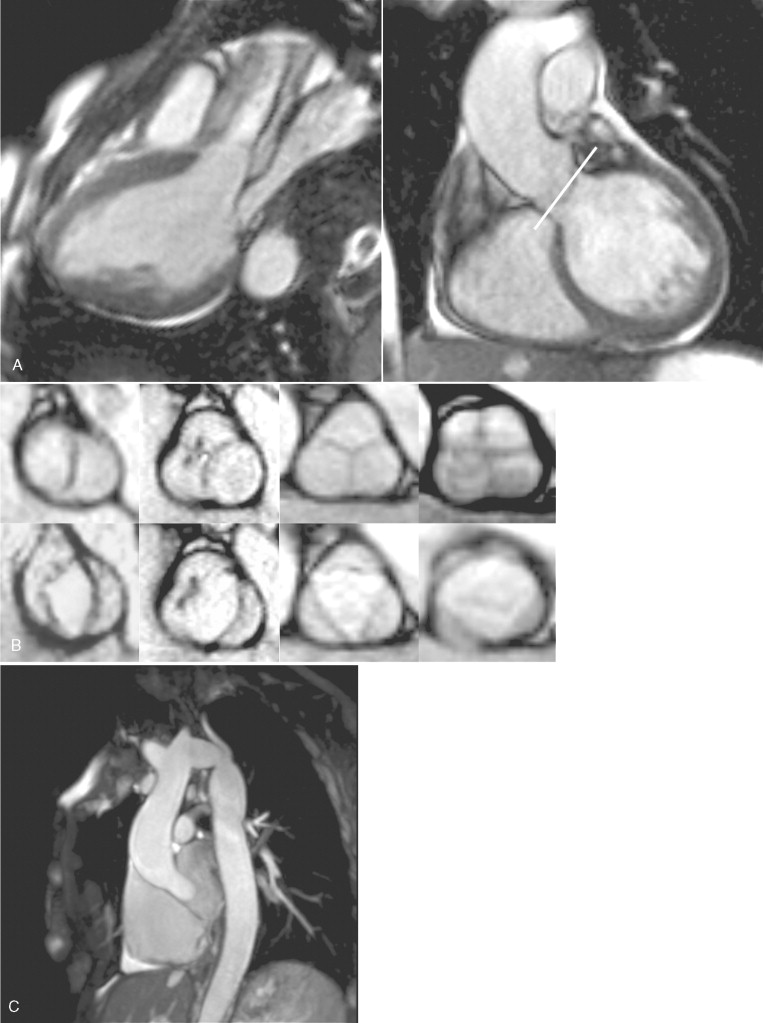 Comments
Bicuspid aortic valve is the most common congenital cardiac abnormality, occurring in approximately 1% to 2% of the population. Bicuspid aortic valves are frequently associated with diseases of the aorta, including coarctation, dilation, or dissection. Turner's syndrome is associated with a higher incidence of both congenital bicuspid aortic valves and vascular abnormalities. In functionally bicuspid aortic valves, three commissures are present but one is fused. The fused commissure or raphe can be visualized at end-diastole and the valve appears tricuspid; however, during systole, the orifice is elliptical shaped. Additional clues for a functionally bicuspid aortic valve are an unequal size of the leaflets or eccentric position. In this case example, the truly bicuspid aortic valve has two cusps symmetrically bisecting the aortic root and no raphe at end-diastole. Quadricuspid aortic valves are an uncommon congenital cardiac anomaly found incidentally in approximately 0.013% of echocardiograms. Although quadricuspid aortic valves are a rare finding, they are associated with aortic valve dysfunction.
Most valvular abnormalities visualized by echocardiography can be assessed by CMR. CMR is useful in patients with poor echocardiographic windows. CMR can also provide additional clinical information such as left ventricular volumes, regurgitant fraction, and myocardial fibrosis or viability. High-quality angiographic assessment of the thoracic aorta can also be done without intravenous contrast during the same examination.
This is a case involving a 50-year-old male with asymptomatic severe aortic regurgitation ( Figure 7-2 ).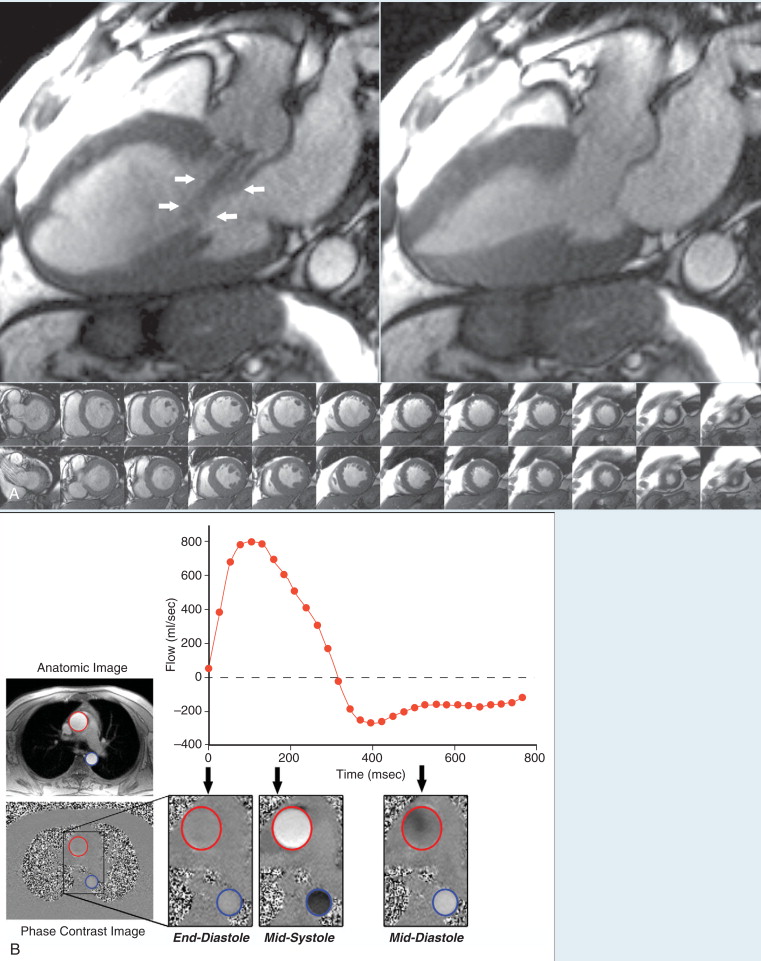 Premium Wordpress Themes by UFO Themes
WordPress theme by UFO themes