Diseases of the vascular system encompass a wide range of pathologic conditions with myriad clinical presentations. Appropriate diagnosis and management of these disorders require accurate depiction of the vascular anatomy, its variants, and pathologic abnormalities. Precise assessment of the vascular anatomy has been facilitated by an array of imaging techniques that provide accurate and excellent illustration of the arterial and venous structures. Technologic advances in noninvasive imaging techniques such as multidetector computed tomography (MDCT) and magnetic resonance imaging have opened new paradigms in vascular imaging and have limited the need for invasive catheter angiography. A sound knowledge of vascular anatomy and its variants is crucial for successful practice of vascular imaging. Although detailed description of vascular anatomy and its variants is beyond the scope of this chapter, this discussion describes the salient aspects of vascular anatomy and their variants.
Thorax
Arterial System
The major arterial structures within the thorax are the aorta and the pulmonary arteries.
Aorta
The intrathoracic portion of the aorta includes the ascending aorta, the arch of aorta, and the descending aorta up to the aortic hiatus in the diaphragm, beyond which it continues as the abdominal aorta.
Ascending Aorta
The ascending aorta begins at the upper part of the left ventricle at the ventricular outflow tract, and its origin is termed the aortic root. The aortic root is situated to the right and posterior relative to the subpulmonary infundibulum. The ascending aorta at its origin has three bulbous dilatations called the aortic sinuses that correspond to the segments of the aortic valve. It then ascends for a short distance and continues as the arch of the aorta. The branches of the ascending aorta include the right and left coronary arteries, which arise in the region of the aortic sinuses.
Aortic Arch
The aortic arch curves backward and to the left to continue as the descending thoracic aorta. The three principal branches of the arch of aorta are the brachiocephalic trunk, the left CCA, and the left subclavian artery ( Fig. 15-11 ). The brachiocephalic trunk is the largest branch and divides into the right CCA and the right subclavian artery.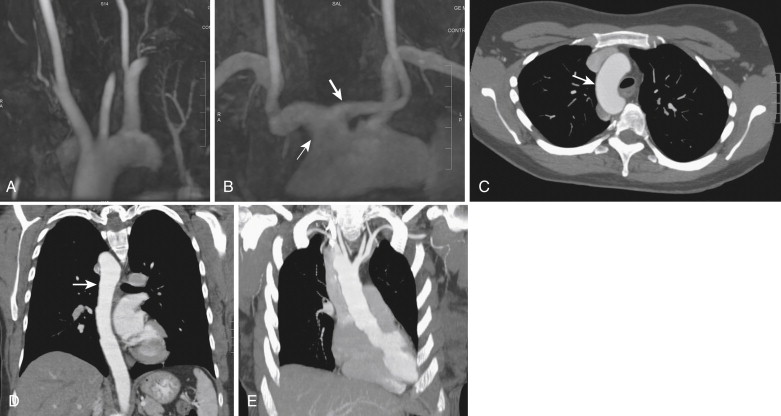 Premium Wordpress Themes by UFO Themes
WordPress theme by UFO themes