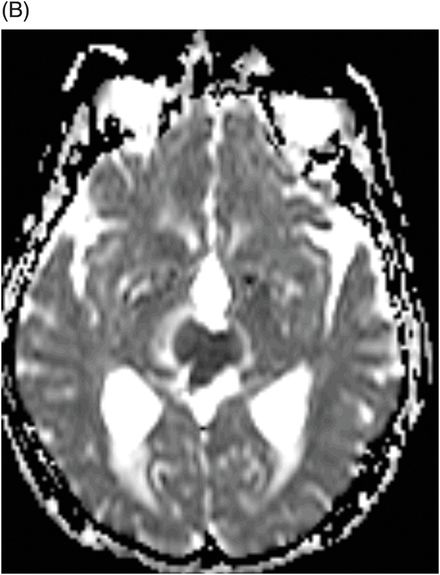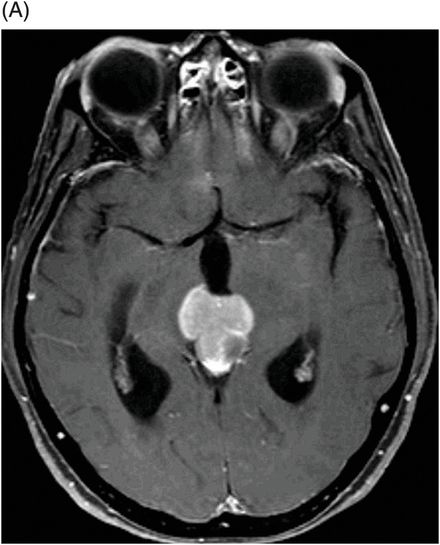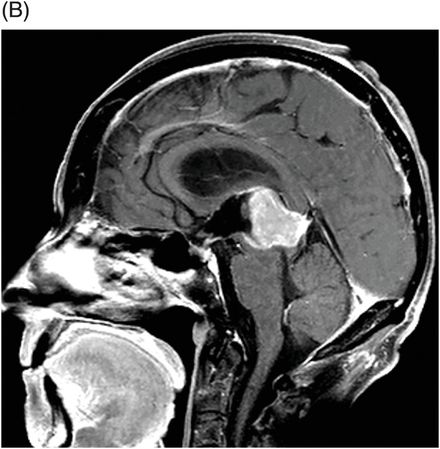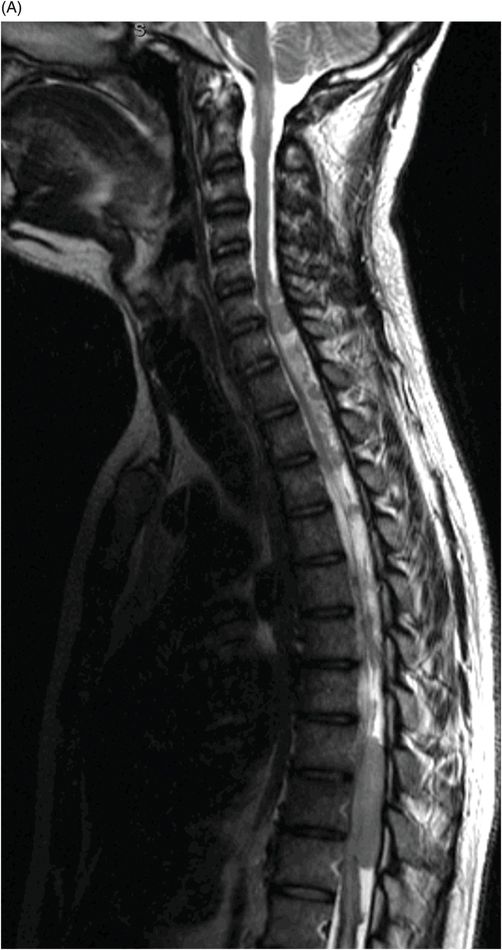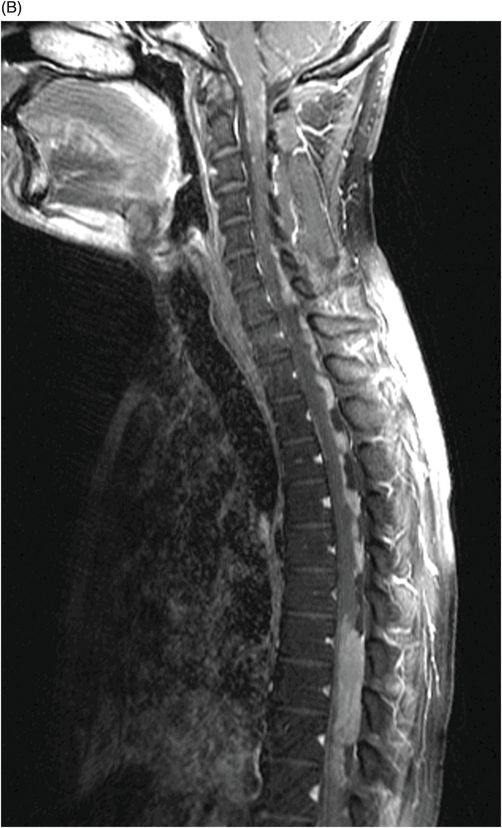 Pineoblastoma with
Drop

Metastasis
Primary Diagnosis
Pineoblastoma with drop metastasis
Imaging Findings
Fig. 106.1: (A) Axial DWI and (B) Axial ADC map of the brain showed a mass-effect lesion in the pineal region, with restricted diffusion. Fig. 106.2: (A) Axial and (B) Sagittal T1WI postcontrast showed marked lesion enhancement, compression in the aqueduct of Sylvius, and hydrocephalus. Fig. 106.3: (A) Sagittal T2-weighted image of the cervicothoracic region and (B–C) postcontrast sagittal T1WI images with fat suppression of the cervicothoracic region and lumbar regions showed CSF drop metastasis in the spinal canal.
Discussion
Pineoblastomas (PBs) are the most primitive and malignant neoplasm (WHO grade IV) of all pineal parenchymal tumors (PPTs), accounting for approximately 40% of PPTs. Decidedly more prevalent in children, most PBs present in the first two decades of life with no gender predilection. Symptoms include signs of elevated intracranial pressure, Parinaud syndrome, and obstructive hydrocephalus. Pineoblastomas are generally large, heterogeneous tumors that frequently demonstrate necrosis and intratumoral hemorrhage, as well as infiltration into adjacent structures with CSF dissemination. Typically, PBs are hyperattenuating masses on CT, have low ADCs and restricted diffusion on DWI. On MR images, their appearance reflects their highly cellular histologic features, in addition to heterogeneous, avid postcontrast enhancement. Imaging findings including demonstrated compression of the aqueduct of Sylvius, hydrocephalus, and intradural extramedullary spinal metastases in a patient with history of headache and extremity numbness/weakness are strongly suggestive of PB with drop metastasis.
Multiple lesion types should be excluded when confirming the diagnosis of a pineal region mass. Although the literature suggests that pineal region tumors lack pathognomonic imaging patterns, an extensive knowledge of the patient's age, gender, and imaging findings combined with a comprehensive familiarity of pineal lesions and their clinical features can narrow the differential diagnosis for more accurate and rational therapeutic planning.
Germ cell tumors (GCTs) are the most frequently encountered type of tumor in the pineal region. Their diagnosis is usually made by the second decade of life and they are more common in males than females. They tend to disseminate along CSF pathways with drop metastases to the spine. Metastases are often found in the suprasellar cistern, although synchronous tumors may also independently arise in this region. The most common subtype of GCT is a germinoma. It usually presents as a homogeneous, hyperdense mass with typical, but not always present, engulfed central calcifications on CT, a signal intensity similar to that of gray matter on both T1- and T2-weighted MR sequences, and with postcontrast enhancement. In contrast, teratomas are multilocular heterogeneous masses with mixed signal, that include areas of high signal intensity on T1-weighted sequence due to the presence of fat or lipid components and areas of low signal from calcification that can show enhancement of the soft tissue component in postcontrast MR images. It is extremely important that individuals with a pineal region mass should have levels of serum or CSF alpha-fetoprotein and beta-HCG (human chorionic gonadotropin), and placental alkaline phosphatase measured. If these markers are elevated, the presence of a GCT can be presumed.
Pineal parenchymal tumors are less common than GCT lesions and usually are either pineocytomas or PBs, since the other two entities of this group, pineal parenchymal tumor of intermediate differentiation (PPTID) and papillary tumor of the pineal region (PTPR), are very rare. These more common entities classically result in preexisting pineal calcifications dispersing to the periphery of the lesion (explosion) – differentiating them from other cell type tumors, such as germinomas. Pineocytoma is the most differentiated tumor of the group and is usually diagnosed during adulthood rather than childhood, like PB. Characteristic imaging findings of a pineocytoma demonstrate a well-defined, round, homogeneous mass with uniform homogeneous contrast enhancement.
Astrocytomas found in the pineal region, most commonly pilocytic subtypes, typically arise from the neighboring tectal plate or thalamus (rarely from the pineal gland itself) and have a similar appearance on CT and MRI as when encountered elsewhere in the brain.
Typically affecting females between the fifth and seventh decades of life, meningomas have a similar appearance in the pineal region as elsewhere in the brain, and usually arise from the tentorium cerebelli and falx. The dural tail attached to the tentorium is a distinctive feature, but not always present.
Pineal metastasis is very uncommon. Although a variety of tumors can metastasize to the pineal gland, the most frequent pineal metastasis is lung cancer. Leptomeningeal seeding is a common finding with pineal metastases, occurring in 67% of patients. Patients with pineal lesions who present with a known malignancy should raise the suspicion of metastatic involvement.