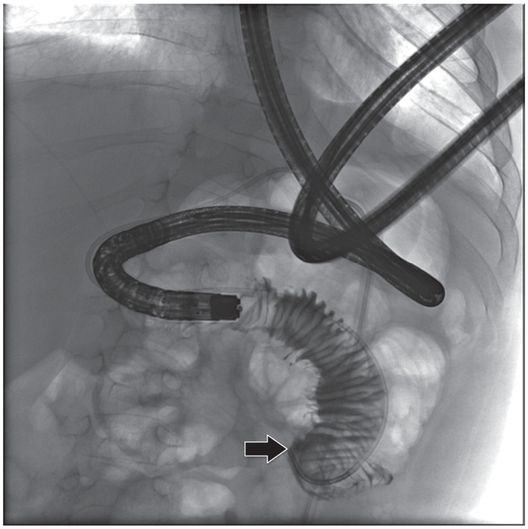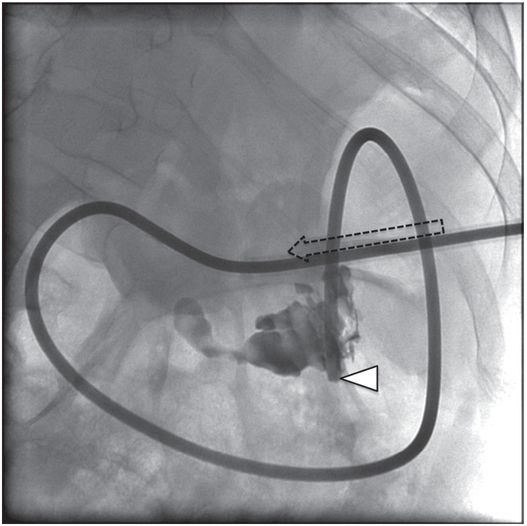 The gastrostomy button (GB), a simple, skin-level, non-refluxing gastrostomy device, was also introduced in the early 1980s as a substitute for conventional gastrostomy tubes. The intended use was for replacement of gastrostomy tubes in patients with established tracts that had been inserted surgically or endoscopically. Shortly after its introduction, other reports appeared supporting the use of the GB and stressing the positive features of the device and the high level of patient satisfaction. Since that time, the use of GBs for long-term nutritional support has grown tremendously and the GB is now the most commonly used feeding device for individuals who require prolonged assisted feeding.
As a result of the widespread acceptance of the GB, there has been increasing interest in using it as a primary device, thereby avoiding the initial step of gastrostomy tube insertion. The one-step insertion has been advocated as an efficient approach to feeding and avoiding the need for a second procedure and its attendant risks and costs. Several series have been presented demonstrating the safety and effectiveness of this method. Today, placement of a primary GB is most often performed using the laparoscopic approach.
When a primary gastrostomy or gastrojejunostomy has been performed, exchange for a low-profile device can be performed as a second procedure at a later date (usually six to twelve weeks later). In 1994, Towbin developed a button jejunostomy. Subsequently, a button gastrojejunostomy became available. Both devices are useful in patients with GER. It is likely that the area of percutaneous feeding will continue to evolve with minimally invasive techniques replacing open surgery whenever possible.
Enterostomy care
In some settings, such as home care and chronic care facilities, ostomy care may be episodic, with complications or tube dysfunction requiring trips to emergency departments or tertiary facilities with varying experience in the management of ostomy catheters and stomas. In some hospitals, ostomy care may be provided by an advanced practice nurse or ostomy nurse, while in others a pediatrician surgeon, gastroenterologist, or interventional radiologist may direct care of these patients. In facilities where primary insertion of gastrostomy catheters is performed, this care tends to be distributed under the auspices of multiple services, medical, surgical, and interventional, with varying degrees of coordination between services. For example, primary insertion may be performed by gastroenterologists or surgeons, but diagnosis and management of catheter-related complications falls to the radiologist, ostomy and skin care or ostomy nurses, and nutritional management to dieticians, with limited communication between providers.
Where experienced pediatric interventionalists are available, over time there is a tendency for ostomy care to centralize under the supervision of the interventional service, from primary insertion to continuing care. This may even take the form of a multidisciplinary enterostomy team, with highly coordinated care provided by those services already mentioned as well as admission and discharge planners, occupational therapists, educational nurses, and other providers. Such a team can offer a single point of contact for patient and parent education, referral, assessment, and prioritization of enterostomy patients, as well as for information management, quality assurance, and outcome analysis related to these patients. An organized approach to management of this large patient group remains an opportunity to improve patient care and decrease costs (Table 4.1).
To improve outcome and quality assurance analysis, it may be helpful to record the following information for each abdominopelvic procedure:


– Demographic information (patient name, unique identification number, date and time of procedure, age, sex, weight, date of birth, etc.)

– Primary diagnosis (underlying disease), patient acuity, comorbid illness, ASA class, competence of patient or primary caregiver

– Any contraindicating or complicating factors

Infection, immunodeficiency, nutritional status, cardiorespiratory compromise

Skin or mucosal abnormality (e.g., cellulitis, epidermolysis bullosa)

Limitation to access (e.g., micrognathia, microgastria, intervening vital structure or mass)

– Reason (indication) for procedure; referring service and provider; inpatient or outpatient status

– Primary provider responsible for procedure (interventionalist, gastroenterologist, surgeon, etc.)

– Collaborating provider(s)

– Procedure location (interventional suite, operating room, ICU, bedside, etc.)

– Provider(s) responsible for anesthesia/sedation (interventionalist, intensivist, anesthesiologist, nurse, etc.)

– Preprocedural evaluation (e.g., coagulation profile, creatinine, amylase, etc.)

– Preprocedural interventions (e.g., antibiotics, blood products, imaging, endoscopy)

– Initial access

Guidance (anatomic landmarks, US, fluoroscopy, CT, MRI, PET fusion, endoscopy, etc.)

Operative site or pathway (e.g., percutaneous (location), transoral, transrectal)

Number of attempts/passes

Reason for deferral, discontinuation or failure, if procedure not completed

– Access device and position

Manufacturer, type, diameter, length, other pertinent characteristics

– Equipment and supplies used

– Procedure time, fluoroscopy time, or estimated radiation dose

– Type and adequacy of anesthesia/sedation/analgesia

– Procedural complications (e.g., pneumothorax, unintended gastrointestinal perforation or rupture, bleeding) and management

– Adjunctive procedures (e.g., bowel decompression, intracavitary sclerotherapy, tract embolization)

– Complications (major or minor), including

Procedure-related discomfort (include dates)

– Management (e.g., NSAIDs, narcotics)

Gastrointestinal catheter complications (include dates)

– Type (e.g., transcolonic puncture, lumen perforation or rupture, peritonitis, granulation tissue, intussusception)

– Management (e.g., observation, intervention, surgery)

Bleeding or vascular injury (include dates)

– Type (e.g., hemorrhage, AV fistula or pseudoaneurysm, thrombosis)

– Method of diagnosis (e.g., hemoglobin, US, CT scan, arteriogram)

– Management (e.g., observation, transfusion, embolization, thrombolysis)

Dislodgment or malposition (include dates)

– Method of diagnosis or documentation

– Other procedure-related complications or interventions

– Complications, additional details

Major

– Admission to hospital for therapy

– Unplanned increase in level of care

– Prolonged hospitalization

– Permanent adverse sequelae

Minor

– Short hospital stay (for observation)

Procedurally related (within 24 hours)

– Removal or replacement (reason and date; endpoint achieved?)

– Outcome at follow-up (method and date; endpoint achieved?)

Postprocedural lab studies (e.g., fluid pH, culture or biopsy findings)

Response (e.g., reduction in fever, dyspnea, debilitation, discomfort)

Results (e.g., daily volume of fluid drained, radiographic evidence of resolution, hospital days)

Treatment failure (e.g., recurrent abscess, gastroesophageal reflux, dysphagia)
Indications
Since the introduction of the percutaneous approach to placement of feeding tubes, there has been a steady increase in the number of indications in the pediatric population (Table 4.2). At this time, it can be said that any child with a need for medium- to long-term nutritional support who has a functioning GI tract is a candidate for PG. It can be broadly stated that the indications are failure to thrive, inability to take adequate calories and essential nutrients by mouth, need for chronic gastric decompression or drainage, and rarely for associated procedures such as esophageal dilation. Common underlying conditions in candidates for percutaneous feeding include neurologic disorders (e.g., cerebral palsy), cystic fibrosis, and underlying malignancies. With increasing complexity and acuity of patients, and improved survival of patients with severe metabolic, congenital cardiac, and other diseases as well as solid organ and bone marrow transplantation, there is a continually growing population of candidates for placement of either a PG or PGJ.
Percutaneous gastrostomy
Neurologic disorders
Progressive encephalopathy
Bronchopulmonary dysplasia (severe)
Chronic pulmonary disease (severe)
Head and neck
Swallowing and chewing disorders
Macroglossia secondary to amyloid or other condition
Gastrointestinal
Inflammatory bowel disease
Miscellaneous
Pre or post liver transplantation
Anorexia and cachexia (e.g., cystic fibrosis)
Severe congenital heart disease
Metabolic stress (e.g., trauma, burns)
Connective tissue diseases
Percutaneous gastrojejunostomy
– Children at risk for aspiration
– Children with proven GER
– Superior mesenteric artery syndrome
– Small intestinal motility disorder
– Partial obstruction of the stomach or duodenum
– Static or progressive encephalopathy
– Need to simultaneously vent the stomach and feed
– Abnormal gastric function
Few contraindications to PG exist; however, an uncorrectable coagulopathy, instability of vital signs, and inaccessible anatomy may make placement of a PG unwise. Addressable coagulopathies and bleeding abnormalities should be corrected prior to gastrostomy insertion (see Chapter 1). Cardiorespiratory abnormalities that limit deep sedation or general anesthesia may require local anesthesia augmented by careful use of intravenous or inhalational sedation, usually with the assistance of cardiac anesthesiologists.
Specific maneuvers (described under "Technical variations," below) or time may adequately resolve anatomic barriers to safe access such as dilated loops of bowel. In a small number of children, abnormalities such as severe scoliosis, high horizontal orientation of the stomach, an incompetent pylorus (preventing adequate gastric insufflation), abdominal masses or organomegaly may represent fixed obstacles to successful percutaneous access and mitigate for surgical or endoscopic alternatives. While coexistence of a ventriculoperitoneal (VP) shunt is not in itself a contraindication to gastrostomy insertion, an access site should be chosen well away from the shunt to minimize the chance for shunt infection. In addition, elective percutaneous transgastric procedures should not be performed within 30 days of VP shunt placement or revision, as this is the most vulnerable period for development of a VP shunt infection. In our experience, children with VP shunts, peritoneal dialysis, or Crohn's disease may otherwise safely receive a PG. To encourage effective maturation of the tract, dialysate or ascitic fluid should be drained prior to the procedure.
The antegrade (pull) gastrostomy cannot be safely performed if the esophagus is too small in diameter to permit atraumatic passage of the device, or if there is an esophageal obstruction or a pathologic process such as epidermolysis bullosa that makes passage of a tube through the esophagus dangerous or unwise. Of course, with the exception of a small esophageal diameter in infants <5 to 7 kg, these problems rarely occur in children and in many cases can be circumvented by using the retrograde, push–pull, or the antegrade approach using a retention device with a smaller diameter.
Surgical anti-reflux procedures have failure and complication rates in the range of 8 to 12% and approaching 20%, respectively. These problems are especially prominent in children with neurologic problems and those with repaired esophageal atresia with or without tracheoesophageal fistula. There have been discussions and disagreements over the issue of whether GER contraindicates placement of a PG in favor of an SG. In children with severe encephalopathy and GER, or those with the propensity to develop GER, it is better to insert a PGJ than to perform an SG and fundoplication in most instances. Percutaneous gastrojejunostomy has the advantages of a lower major complication rate, shorter hospitalization, and a less costly procedure. The cost differential is about 5:1, with the SG and fundoplication averaging about US$25,000 per patient and the PGJ about US$5,000, at the time of writing. An initial PGJ appears to be a good strategy since most children tolerate feedings and gain weight. In our experience, only a small percentage of children (<8%) have problems that require subsequent fundoplication.
Technique
Controversies/issues
Since its introduction, there has been rapid and widespread acceptance of the gastrostomy button for use in both children and adults requiring long-term nutritional support. Several authors have explored the potential for insertion of a gastrostomy button as a single-step procedure. These authors suggest that the single-step insertion technique has the advantages of avoiding a second procedure and any associated risk and cost. A number of studies have shown that this procedure can be performed safely.
The technique initially described employed endoscopy for button insertion with sedation and local anesthesia. In an alternative approach to single-step button placement the gastrostomy button is delivered transorally, coaxially fitted to a tapered silastic tube. More recently, retrograde single-step insertion has been performed radiographically by advancing the button and measured tube through a telescoping sheath that is removed once the gastrostomy has been delivered. Other technical modifications for one-step button insertion have also been described.
In all cases, accurate measurement of the prospective tract is an essential component of the insertion procedure. There are tract-measuring devices, or a balloon catheter can be advanced coaxially over a guide wire through the fresh tract, and the balloon inflated within the gastric lumen. The balloon is pulled back until it is in contact with the anterior gastric wall and the balloon catheter is marked at the skin exit. The balloon is deflated and removed, then reinflated. The distance from the proximal end of the balloon to the mark is the tract length. In most cases the button selected has a catheter length 0.5 cm longer than the measured tract length.
The one-step approach, while a potentially attractive alternative, suffers from several potential problems. The complication rate is higher than percutaneous endoscopic or fluoroscopic gastrostomy techniques. The complication rate ranges from 3 to 30% for PEGs and 5 to 15% for fluoroscopically inserted tubes. The complication rate with the one-step button may be as high as 17 to 29%. The most common complication is peristomal wound infection, occurring in 5 to 30% of PEG insertions and less than 5% using the fluoroscopic method. The advantages of a low-profile device and significantly decreased risk of accidental dislodgment or tube clogging can be obtained through conversion from a tube gastrostomy to a button placement after the tract has matured, with negligible delay. Nevertheless, primary insertion of the low-profile device remains attractive to many referring providers and caregivers.
Conclusions
Percutaneous feeding techniques have rapidly become established as safe and effective methods. In a relatively short period of time they have become the procedure of choice for placement of feeding tubes in most situations. Today the interventionalist is routinely consulted for placement of PGT, PGJT, gastrostomy buttons, and NJT. These assisted feeding techniques have now become one of the most often performed procedural groups in the pediatric population. It is likely that their frequency will continue to grow in the near future.
Percutaneous cecostomy
Introduction
The number of people, young and old, with loss of bowel control or fecal soiling is quite large. Spina bifida, the most common underlying disorder in children with fecal incontinence, occurs in about 1/1,000 births. Patients with other underlying diagnoses, such as imperforate anus, cloacal abnormalities, sacral agenesis, paraplegia, and cerebral palsy may also be at risk for fecal soiling. There may be as many as 3 million people with fecal incontinence in North America.
Bowel control depends on a normal internal sphincter, normal external sphincter, sensation, peristalsis, a normal ano-rectal angle, psychosocial factors, and the absence of scarring. Normally, stool enters the rectum and results in relaxation of the internal anal sphincter. This is independent of the central nervous system. Voluntary contraction of the external sphincter is needed to contain flatus or feces. When any component of this system fails, or is not normally developed, this may result in "fecal incontinence," or the inability to control bowel function. Treatment of fecal incontinence may include spontaneous defecation, dietary modification, laxatives, manual expression, disimpaction, bowel training, biofeedback, suppositories, electrostimulation, and large volume enemas delivered via a special rectal balloon catheter.
Antegrade colonic enemas have been described as a surgical procedure where the appendix is used to form a cutaneous cecostomy for fluid irrigation (Malone Antegrade Colonic Enema – MACE). Transcolonoscopic extraperitoneal cecostomies have also been described. A percutaneous approach to the placement of a cecostomy catheter was described for colonic decompression in adults, and was adapted for the introduction of antegrade enemas in pediatric fecal incontinence by Chait and Shandling.
Placement of the cecostomy tube involves two different procedures that take place about six weeks apart. In the first, a temporary cecostomy catheter (C-tube) is inserted into the patient's colon through the skin usually in the lower right part of the abdomen, to encourage maturation of a short, straight tract. Approximately six weeks later, a more permanent tube is exchanged over the wire in a brief outpatient procedure. The C-tube insertion procedure is designed to provide a comfortable, convenient way to deliver a small-volume enema to periodically cleanse the colon. By emptying the colon in this regular, predictable way potentially embarrassing accidents are avoided and the patient often gains freedom to pursue activities previously prevented by fear of incontinent episodes. After their C-tube insertion, some patients are able to give their own enemas and thus manage a significant component of self-care for the first time. All of our patients have described almost complete resolution of their fecal incontinence with few unexpected accidents.