Multiple renal arteries are seen in 30% of cases. When multiple renal arteries are present, there is usually a main renal artery arising normally from the aorta at the level of L1 or L2. Before reaching the hilum the main renal artery divides into anterior and posterior branches. Segmental branches of the anterior division supply anterior and polar regions of the kidney. In most cases, the posterior segmental artery is located on the posterior surface of the kidney in its middle to upper half, and supplies the remaining portion of the posterior kidney. The posterior segmental branch is particularly at risk during posterior puncture of an upper pole calyx or infundibulum medial to Brödel's line of relative avascularity.
Normal segmental vessels (or rarely, accessory or aberrant vessels) frequently cross the ureteropelvic junction (UPJ) as they course to the kidney to supply the lower pole. Specific surgical interventions were directed at these "crossing vessels" in the 1950s and 1960s, when they were considered primary candidates in the etiology of UPJ obstruction. It now appears that the likely cause of UPJ obstruction is often a dysplastic, aperistaltic segment of upper ureter, which may either happen to coexist with a crossing vessel or predispose to obstruction at that point. Because crossing vessels supply as much as 50% of the renal parenchyma, sectioning these vessels at surgery or injuring them at endopyelotomy may be a significant source of complication (e.g., new-onset hypertension or hemorrhage) or procedural failure. On the other hand, there has been no conclusive evidence yet shown that crossing vessels should be a contraindication to endourologic interventions for UPJ obstruction. If needed, CT angiography is a useful method for identifying crossing vessels, although we do not advocate this as a necessary part of preprocedural preparation at this time.
Interventional radiology and UPJ obstruction
Accurate etiologic diagnosis of UPJ obstruction, relation of apparent hydronephrosis to long-term functional impairment, and selection of an appropriate intervention remain difficult clinical problems. Compounding this difficulty is the substantial differences in prognosis after interventions in children with congenital (Figure 6.2) versus acquired (Figure 6.3) UPJ obstruction. Patients with UPJ obstruction classically present with infection (UTI is the presenting symptom in 30% of children beyond the neonatal period), pain, calculus, and hematuria, but may be identified during investigation for abdominal mass (Figure 6.4) or anomalies with a strong renal association (e.g., VACTERL). Once UPJ obstruction is diagnosed, prompt treatment is important. Without treatment, high intrapelvic pressure, intrarenal shunting, and urine stasis lead to progressive renal injury, deterioration in renal function, pain, increased risk of infection, development of renal calculi, and hypertension. Infection may accelerate renal injury due to obstruction, and suspicion that the two coexist should be regarded as an interventional emergency. Most renal units affected by UPJ obstruction will preserve function with treatment. Some may regain lost function.
Figure 6.2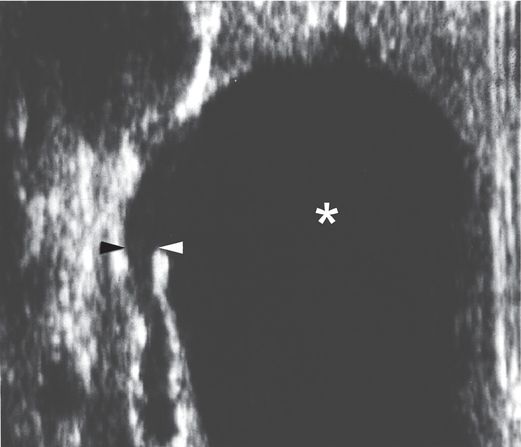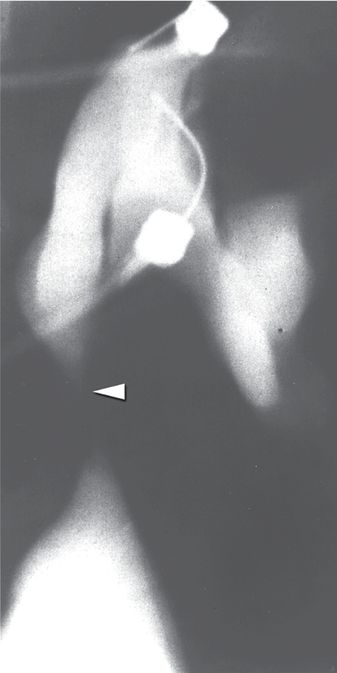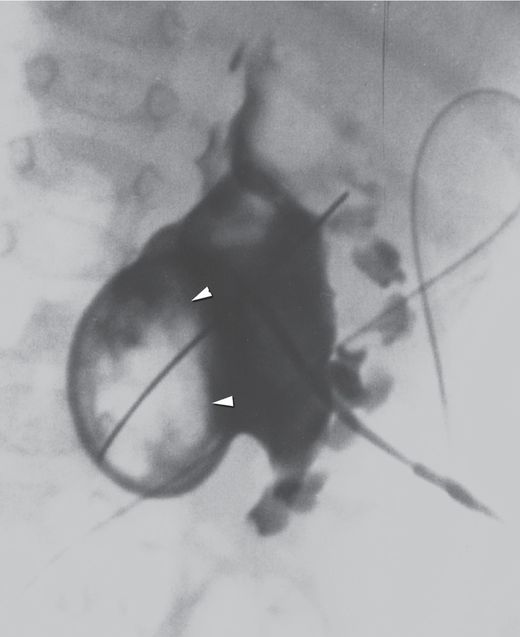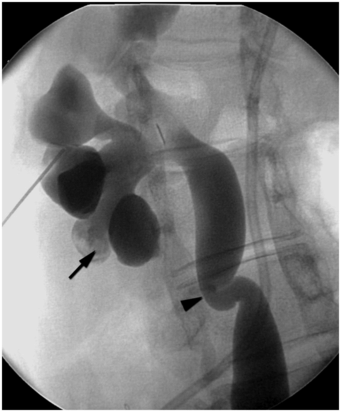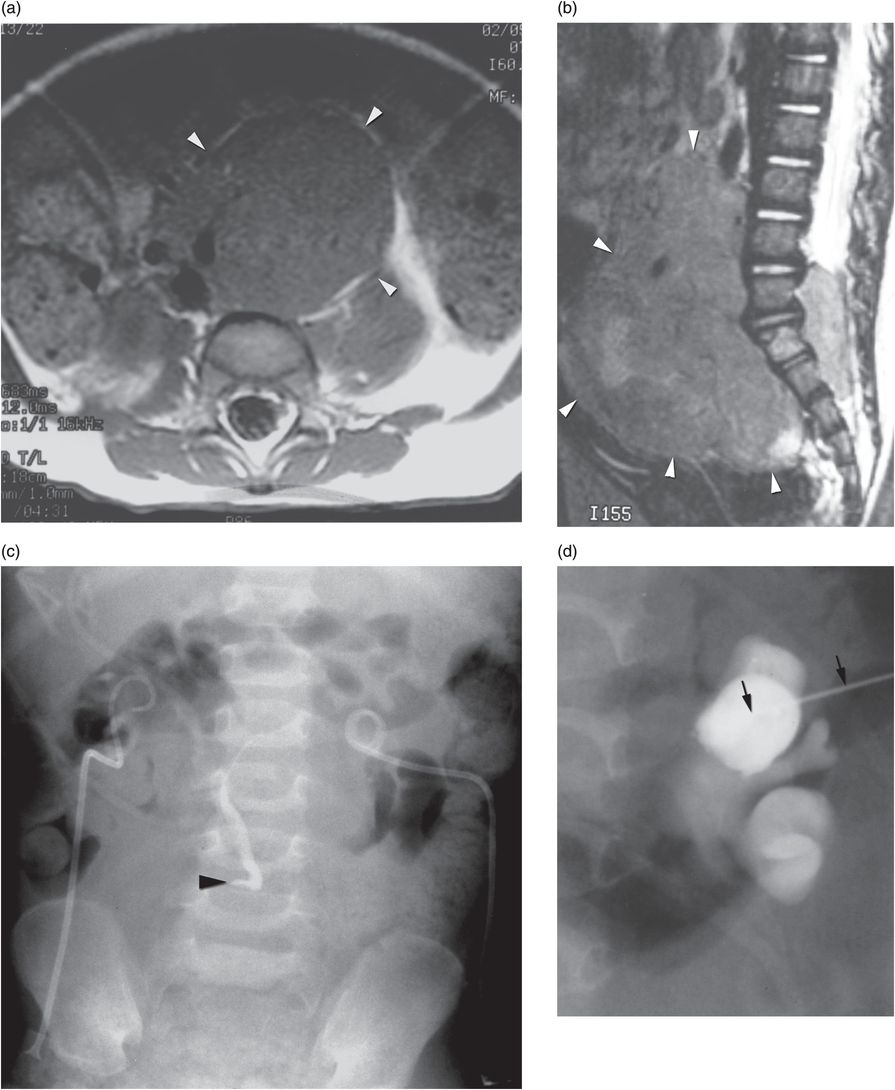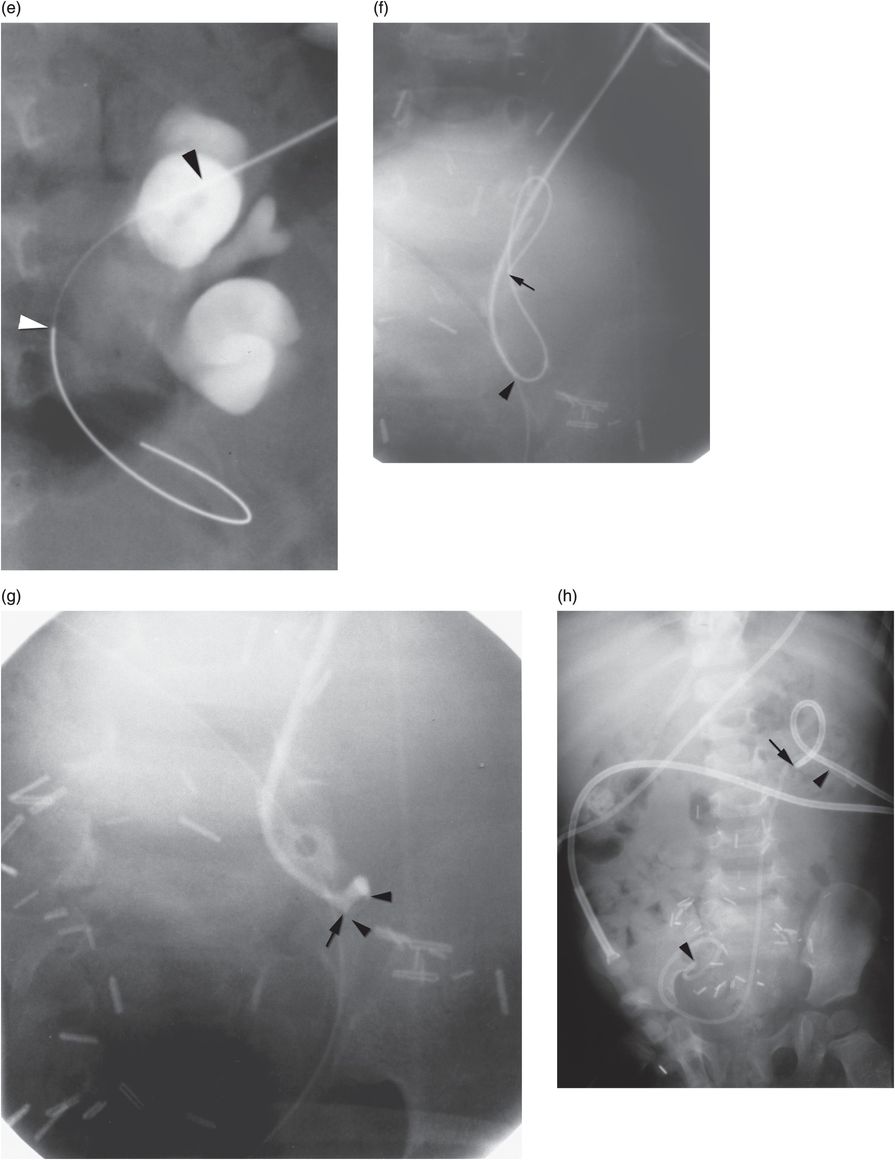 Evaluation of UPJ obstruction for surgical intervention has historically been conducted radiologically with an intravenous urogram (IVU) or more recently by renal sonography. Today, it is more common to find hydronephrosis at antenatal ultrasonography or MRI. While upper urinary tract dilation is present in 1 of 100 pregnancies, only 20% of these represent clinically significant uropathy. With increasing frequency, the clinician must determine appropriate management for asymptomatic congenital hydronephrosis.
While hydronephrosis is not normal, it is also not synonymous with either functional obstruction or renal dysfunction in the long term. However, the implication that hydronephrosis will require surgical intervention has a significant impact on the patient and family, especially in the increasingly common situation where hydronephrosis is detected antenatally. The initial goal of medical imaging is to determine the anatomic site and functional significance of apparent obstruction. There are a number of diagnostic studies for qualitative assessment of obstructive symptoms, such as ultrasound (US), computed tomography (CT), magnetic resonance imaging (MRI), and intravenous urography (IVU), as well as for quantitative analysis of apparent obstruction, including drainage half-time by diuretic renography, resistive indices by US, and measurement of pressure–flow relationships during antegrade nephrostomy infusion (see "Whitaker (pressure–flow) perfusion test," below). Although, like any diagnostic study, each has potential sources of error or misinterpretation, used rationally these tests will yield a correct diagnosis in more than 90% of cases.
Once the diagnosis of UPJ obstruction is made, several factors influence the likely outcome of corrective interventions, including age, primary or secondary obstruction, degree of hydronephrosis, presence of a crossing vessel, and overall and differential renal function. Even though UPJ obstruction is most often congenital, diagnosis clusters around the perinatal period (predominantly due to antenatal detection) and later in life (predominantly due to symptomatic presentation). In other words, neonatal presentation tends to be asymptomatic, and the challenge is to prove that the abnormality has a functional consequence.
Although hydronephrosis in some newborns may have a different natural history from that occurring in older children and adults, intervention for all groups is unequivocally indicated when UPJ obstruction is definitively proven, or when renal function is compromised by involvement of a solitary kidney or by bilateral involvement. Secondary obstruction following open pyeloplasty should probably be treated by endourologic means in all age groups. Due to the increased risk of injury, exposure to ionizing radiation (fluoroscopy), and potential need for multiple procedures under general anesthesia, endourologic interventions for other indications may best be reserved for treatment of older children and adults, especially at facilities with less experience performing interventions in the younger age groups. Neonates and infants should be treated at centers where neonatal caregivers and interventionalists experienced with neonatal procedures are available. The goals of therapeutic intervention include improvement in hydronephrosis and stabilization or improvement in function of the affected renal unit. Open surgical pyeloplasty, although more invasive and requiring more extensive recovery than endourologic alternatives, has an 85% to 98% record of success and remains the gold standard against which alternative interventions must be measured.
While endourologic treatment of preadolescents with UPJ obstruction remains somewhat controversial, we feel it is a reasonable approach if renal function is preserved, hydronephrosis is mild to moderate, and there is no evidence of crossing vessels. For adolescents and adults, endourologic intervention is widely accepted as first-line therapy given the same parameters. Secondary UPJ obstruction is known to respond well to endopyelotomy (EP), with even better results in children (91%) than adults (73%). As interventionalists gain experience, and patient selection gets better, response of primary UPJ obstruction to this approach continues to improve. Massive hydronephrosis (i.e., high-degree obstruction), especially with a concomitant crossing vessel, significantly decreases the success rate for EP.
The coexistence of lower pole crossing vessels with UPJ obstruction may be suggested by IVU, US, retrograde ureterography, or antegrade pyelography. Computed tomography angiography (CTA), magnetic resonance angiography (MRA), and endoluminal US are all sensitive methods for identifying crossing vessels (see "Anatomic considerations," above); however, currently there is no proven ability to predict which crossing vessels are a significant factor in obstruction, or which will impact the success of EP. In the treatment of secondary UPJ obstruction, CTA may indicate the safest place to make the endopyelotomy incision (usually posteromedially). Historically, infant patients with the poorest renal function preoperatively have had the greatest improvement in function following open pyeloplasty, differing from results in adults. Experience with EP in such infants is too limited to give a recommendation at this time. In rare cases where non-function of the involved renal unit is confirmed with radiographic and radionuclide studies, and non-salvageability is confirmed following temporary relief of obstruction, nephrectomy may be the procedure of choice.