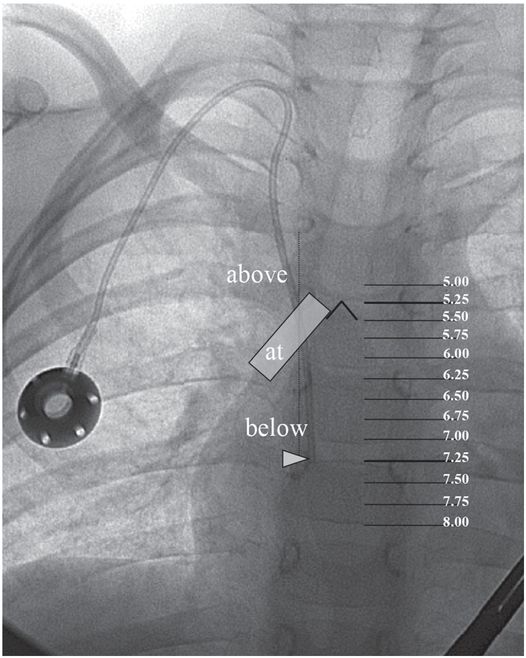 This region corresponds to a point two vertebral bodies below the carina on a posterior–anterior (PA) chest radiograph (Figure 2.1b), and not to the upper margin of the right cardiac silhouette. In fact, CVCs that seem to be located high in the right atrium by chest radiograph are often actually in the superior vena cava (SVC) and pose little risk of cardiac perforation. Catheter tip position in the region of the entrance to the right atrium helps assure that the catheter tip will float freely and more centrally within the vascular lumen, less prone to malposition through respiratory and other patient motion, fixation or occlusion against the lateral wall of the SVC, or vascular injury and perforation, especially for catheters entering from the left side.
Challenges may arise when preferred pathways are not accessible, due to venospasm, venous thrombosis or fibrosis, overlying scar, inflammation, burns, infection, or other factors. Prolonged attempts at a difficult site often show rapidly diminishing returns. In patients without a history of prior access, simply moving to the contralateral side or to an alternate preferred site is usually sufficient for success. This may require changing access devices as well, perhaps selecting jugular CVC insertion when venospasm prevents passage of a PICC, for example. Anticipation of such changes in plan is reflected in preprocedural discussions with referring physicians, patients, and parents, so the child leaves the interventional suite with adequate access despite unforeseen obstacles. In patients with a history of difficult access, more careful pathway planning becomes important.
Magnetic resonance angiography has been suggested for mapping potential pathways for central venous access in patients with a history of chronic deep venous thrombosis (DVT). However, it is in just those most challenging patients with extensive collateralization that MR angiography is least accurate. Ultrasonography (US) performed just prior to access frequently displays patent veins as well as obstacles to access such as intravascular thrombosis and anatomic variation. However, the limited field of view compared to CT or fluoroscopy makes it less useful for demonstrating collateral pathways. Once collaterals are identified, US can be used to guide needle insertion. In patients with a history of difficult access, it is sensible to perform contrast venography at the time vascular access is first obtained, even if initial access is achieved under US control. Even if a direct pathway (i.e., via named vessels) to the right atrium is not available, alternate pathways are often visualized.
These pathways may be quite complex (e.g., jugular → paravertebral → hemizygos → azygos → right atrium; Figure 2.2), and may require unusual methods to navigate as variously described in "Technical variations," below. Procedures for access via some alternative pathways (e.g., translumbar (Figure 2.3) and transhepatic (Figure 2.4)) have been well described. Other alternate pathways, such as retroclavicular brachiocephalic access (Figure 2.5), are not well known and require advanced ultrasound guidance skills but offer very safe and durable access in patients with extensive central venous occlusions. In the end, one must weigh the needs of the patient against the time and cost of pursuing difficult access. For a relatively short course of antibiotics, serial peripheral angiocatheters might provide adequate access. For a line-dependent child, more novel, complex, and higher risk procedures may be warranted.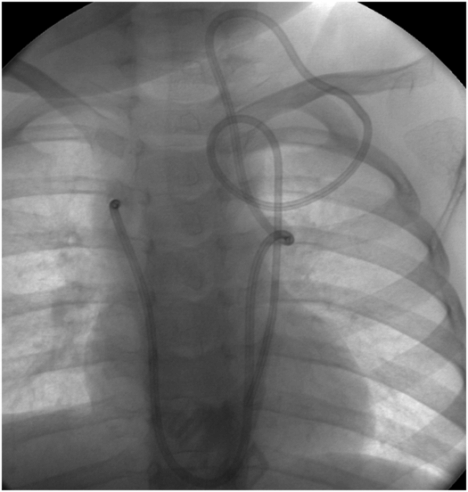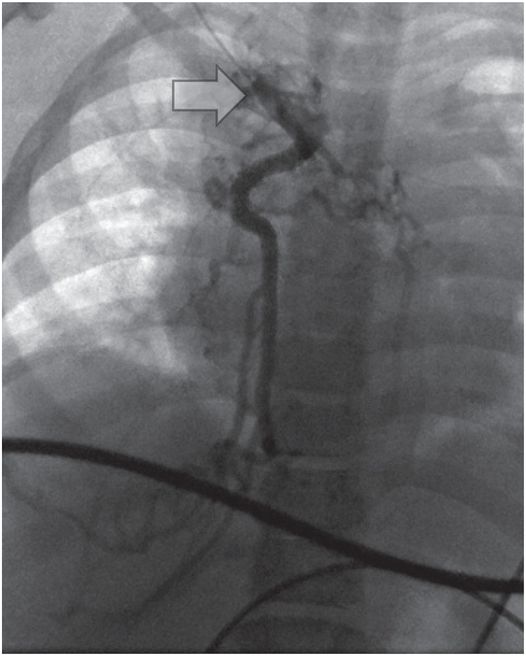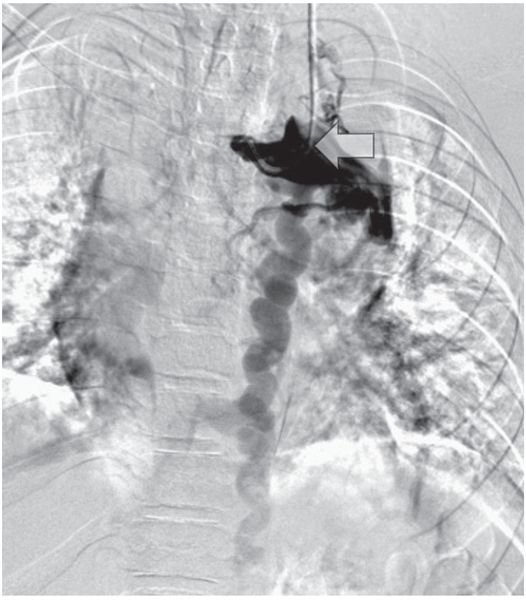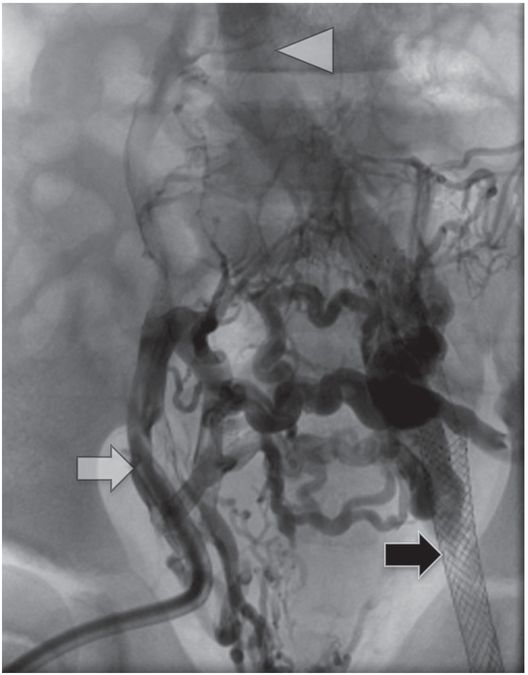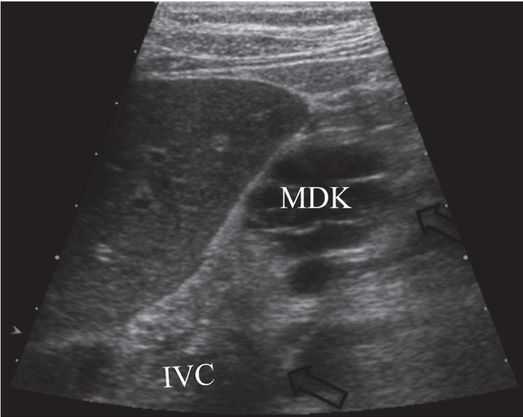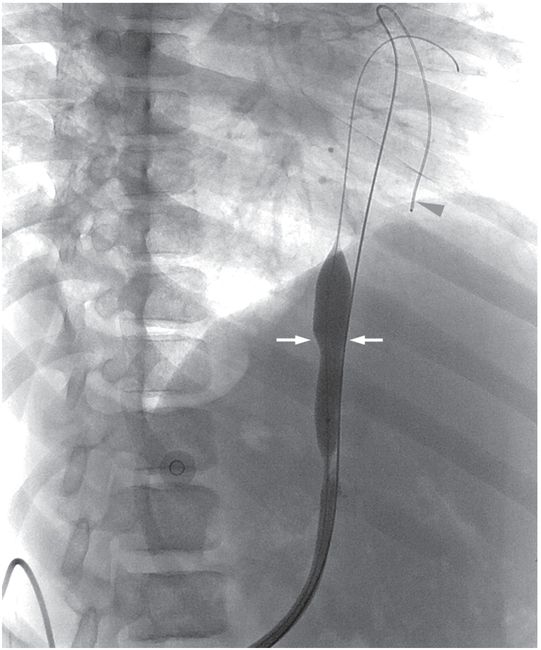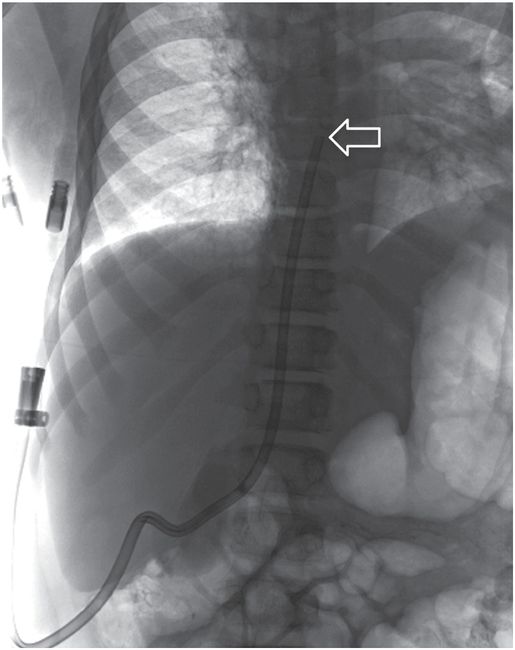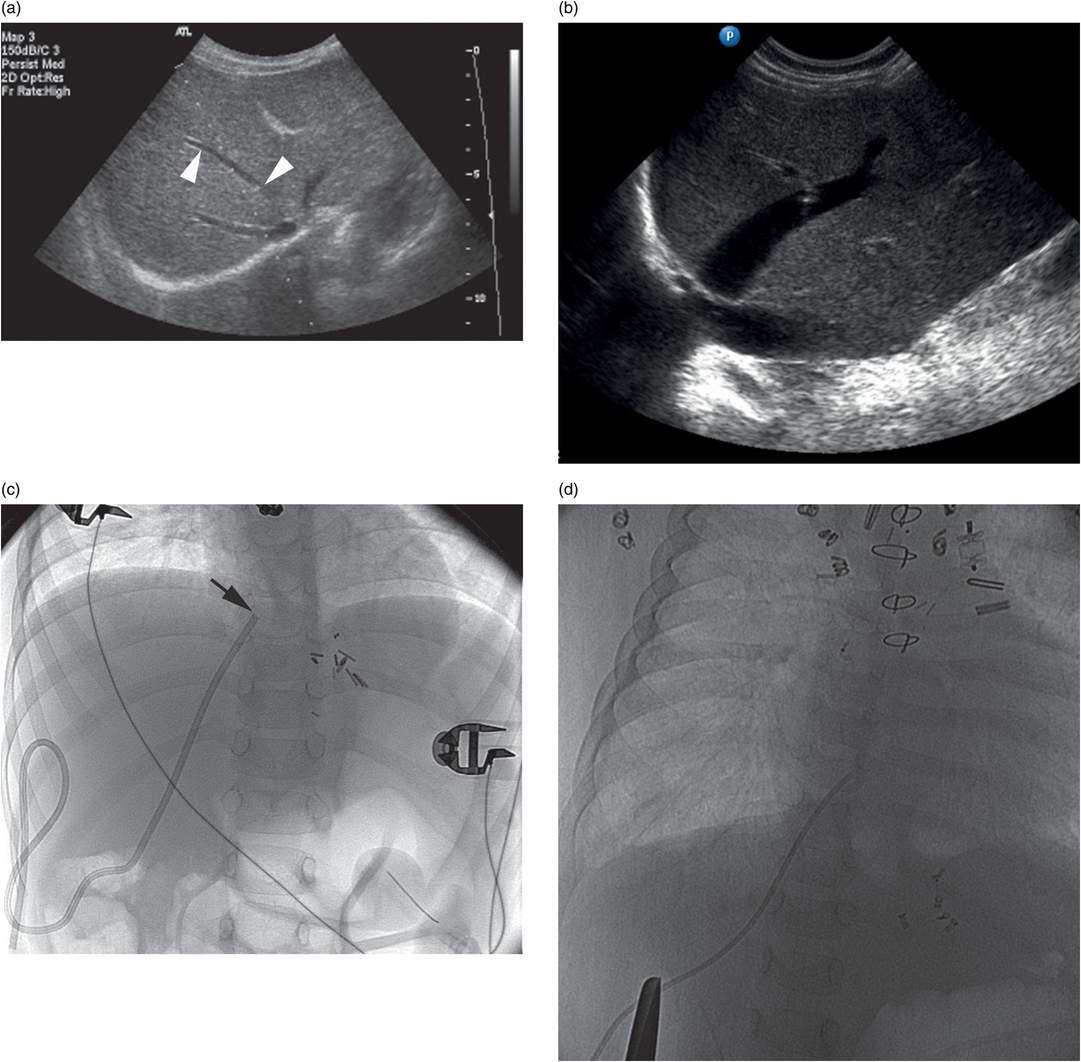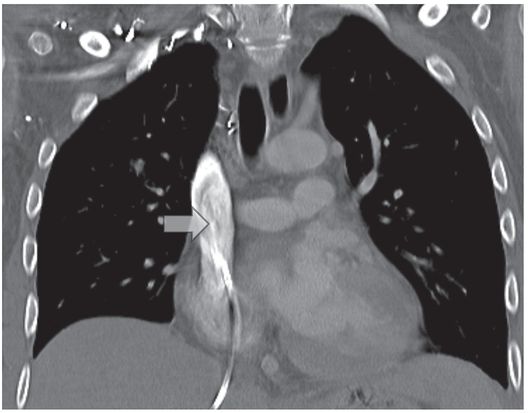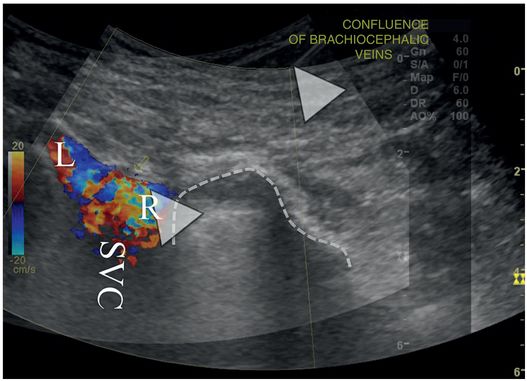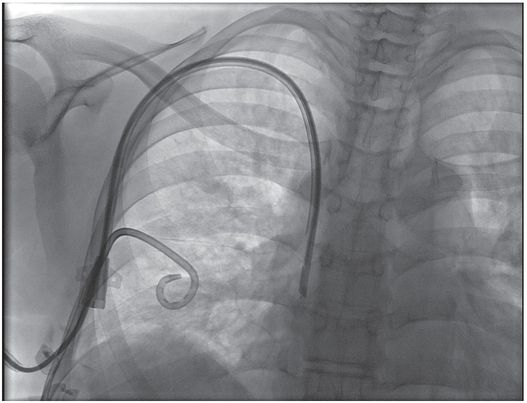 Peripherally inserted central catheter (PICC) insertion
Central venous catheter (CVC) insertion
Introduction
Compared to PICC insertion, placement of CVCs is usually technically easier, faster, and more often successful, particularly in small children. The internal jugular vein (IJV) is the preferred venous entry site. If the IJV is not available, a PICC, femoral CVC, or subclavian vein (SCV) can be used. In the past, the use of the femoral vein for CVC insertion has generally been discouraged due to restriction of patient movement and higher likelihood of infection especially in younger children who wear diapers. However, the use of a tunneled, cuffed CVC has made this route useful especially in young children, children with occluded IJVs, those with complex congenital heart disease, and for emergent indications or temporary access (e.g., CVC, apheresis, hemodialysis). Additional considerations regarding femoral location and device selection in older patients may include cosmetic appearance as well as interference with clothing, sport, sexual relations, and seatbelt use, for example. It is generally accepted that subcutaneous tunneling of long-term CVCs significantly reduces the risk of complications, especially catheter-related infection. There is some evidence that tunneling may also reduce the risk of infection in short-term CVCs, especially transjugular CVCs, although prospective evidence in children is not yet available.
In our opinion, use of the subclavian vein as a primary choice for venous access should be discouraged. If the subclavian vein is used it should be only after all other options have been considered. There are several reasons why the subclavian vein should not be considered as a primary choice for venous access including its strategic position as the inflow vessel from the ipsilateral extremity and the neck, and its higher rate of complications when compared to the IJV.
Indications
Central venous catheters are indicated for treatment of both emergent and chronic conditions. Emergent access for volume replacement, blood sampling, or administration of life-saving medications is probably best achieved by the most expedient method available. Usually, this means "blind" percutaneous insertion using anatomic landmarks, or even intraosseous access, by emergency department, intensive care, or surgical personnel. Image-guided placement is normally best reserved for less urgent indications. In the future there will likely be more US-guided bedside insertion of CVCs by interventionalists and other physician and nurse groups (Table 2.2).
Some of the more common indications for CVC placement in the pediatric population are for chemotherapy in oncology patients; for parenteral nutrition; and for dialysis in nephrology patients. Central catheters are also helpful for blood product replacement in hematology patients; prolonged antibiotic therapy (e.g., in cystic fibrosis and osteomyelitis patients); fluids, electrolytes, and medications in intensive care patients and children with metabolic diseases; and a variety of similar applications.
Few contraindications to placement of CVCs exist. An uncorrectable coagulopathy has traditionally been a contraindication for invasive procedures. However, it is precisely these seriously ill children who require central venous access for therapy. Thus, it has been our practice to take all appropriate measures to correct abnormal laboratory data. In cases where correction of low platelets or prolonged PTT has been attempted without success, we perform the procedure with platelets or fresh frozen plasma infusing to maximize safety. Hemophiliac patients with high titers of inhibitors who require central access for factor and blood product replacement are particularly challenging. Although these patients may benefit from immune tolerance treatment and recombinant factor replacement they are usually best approached in close consultation with a pediatric hematologist. Frankly, if uncontrollable bleeding is observed after US-guided access to a neck vessel, one ought first look for mechanical disruption of the catheter (e.g., perforation by a retention suture) before attributing the bleeding to a coagulopathy.
In these situations, an easily accessible peripheral site for PICC or a large central vein well visualized by US is selected. In the latter case the right internal jugular vein (RIJV) is strongly preferred. The RIJV has the advantage of being the largest and easiest central vein to cannulate with the most direct course to the right atrium. It also facilitates accurate measurement of catheter length, and allows for the shortest procedure time.
In addition, in these instances a temporary CVC (tapered polyurethane CVC) may be inserted (Figure 2.16). Since neither tract dilation nor a peel-away sheath is required procedure time is minimized. Additionally, because the catheter completely fills the tract and venous puncture site, the risk of bleeding is decreased. In both theory and practice cannulation of an IJV has the lowest risk of complications since hemothorax and pneumothorax are less likely to occur. Another significant advantage of the RIJV approach is the ease of achieving postoperative hemostasis and monitoring for delayed bleeding. Placing the patient in a reverse Trendelenburg or semi-upright (sitting) position to lower venous pressure will facilitate hemostasis when the IJV is used.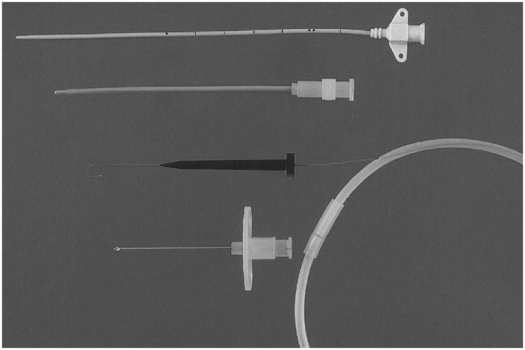 A word of caution when inserting temporary CVCs! These catheters are stiffer than silastic or silicone CVCs and have a tapered tip (Figure 2.17). Thus, it is important to avoid contact with the cardiac wall, floor, or ceiling. If forward pressure is placed on the cardiac wall perforation and tamponade may occur. The IR or diagnostic radiologist should be mindful of the catheter position and the conformation of its path and tip location. If the tapered catheter abuts the wall and is bowed one should be concerned about the potential for injury and have the catheter repositioned as soon as possible.