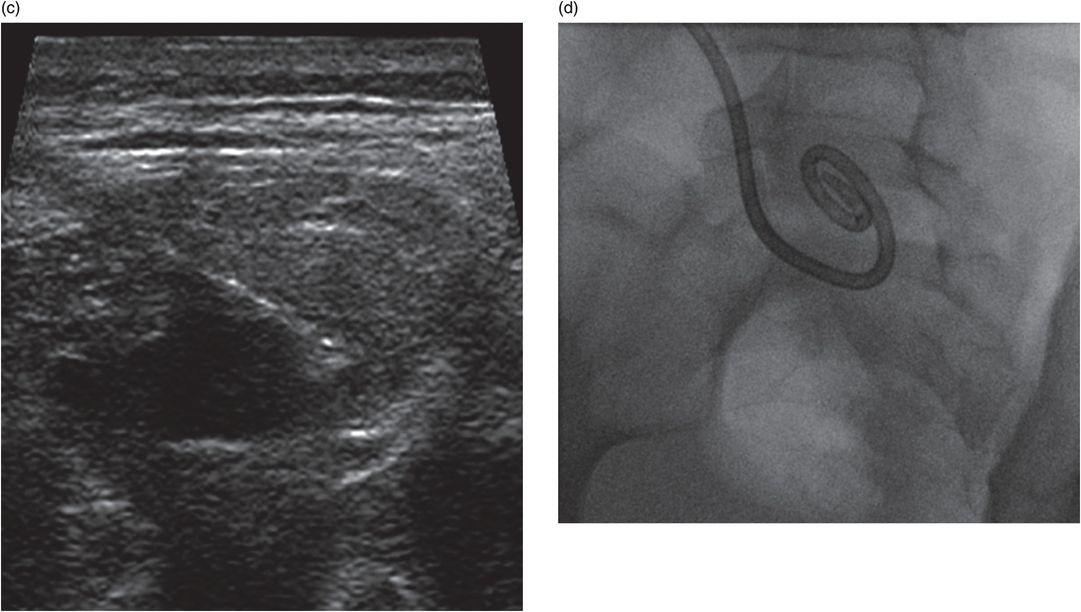 Postprocedure and follow-up care
Following the procedure, longitudinal care of the patient should be provided as described elsewhere in this text (e.g., see Chapter 4: "Catheter fixation and drainage" and "Catheter removal"). As elsewhere, catheter management should be continued, including daily rounds under the supervision of the interventional service, until the process has resolved and the catheter has been discontinued. The interventional service may wish to schedule the patient for a follow-up visit in the outpatient IR clinic two to four weeks after catheter removal to evaluate the outcome and assure appropriate management of any complication or recurrence.
Complications
The main risks related to aspiration and drainage procedures include bleeding, infection, pain, and incomplete treatment with recurrence. Significant complications should very seldom be encountered. If a drain is placed adjacent to a bony structure, consideration should be given to the potential for catheter kinking or compression. Compression of a catheter against periosteum or within a muscle belly can be painful and should be avoided where possible.
Conclusions
The primary advantages of percutaneous aspiration and drainage with imaging guidance in the MSK system and soft tissues are less tissue trauma, shortened recovery time, and reduced cost in comparison to an open surgical procedure designed to accomplish the same objective.
Partial gland ablation and sclerotherapy of ranula
Introduction
Disruption of the delicate ducts draining the salivary glands results in extravasation of serous and mucinous fluids into the periglandular soft tissues. As these fluids accumulate, they cause a local swelling, usually confined to the floor of the mouth, constituting a simple ranula. The simple sublingual ranula is usually treated by transoral surgical excision of the ipsilateral gland and evacuation of the ranula. Surgical alternatives include marsupialization with or without packing, micro-marsupialization, laser cyst, and partial gland ablation. When the accumulation dissects through the mylohyoid muscle, beyond the oral cavity, it becomes a "plunging" ranula, and may present as a swelling in the neck, submandibular, or pre-auricular region. If treated surgically, ranulas located in the neck generally require a transcervical approach with division of the mylohyoid muscle and dissection up to the floor of the mouth. While most ranulas arise from the sublingual glands, they may be related to any salivary gland, major or minor.
Swelling in the neck of a child may be solid or cystic. Since a plunging ranula should not mimic a solid mass, this can be virtually eliminated on the basis of imaging. This leaves infections (necrotic lymphadenopathy, abscess), and cystic lesions. The latter might commonly include branchial cleft cyst, thyroglossal duct cyst, lymphatic malformation, dermoid cyst, and ranula. Dermoid cysts are thin-walled cysts that contain fatty masses and may contain other differentiated ectodermal structures such as hair or nails. Branchial cleft cysts may extend any distance from the skin, usually along the margin of the sternocleidomastoid muscle, as deep as the tonsillar pillars, external auditory canal, or piriform sinus. A thyroglossal duct cyst is characteristically a midline structure between the isthmus of the thyroid and the hyoid bone. Cervicofacial lymphatic malformations are cystic lesions resulting from malformation of normal lymphatics. Most of these may enlarge with upper respiratory infections. They may also enlarge with internal hemorrhage, which may complicate the imaging appearance of these cystic structures. Solid and cystic cervicofacial masses in a child could also represent less common entities, such as teratoma or very rare malignancies such as metastatic squamous cell carcinoma or papillary cystadenocarcinoma, but are seldom confused with a ranula. Still, a fine needle aspirate from a complex fluid collection or a core biopsy of a complex cystic and solid tumor will usually provide adequate diagnostic direction to the clinical team.
An anechoic cystic neck mass can successfully be treated in almost all circumstances via drainage and sclerotherapy using the same techniques described for treatment of lymphatic malformations in Chapter 8. However, if there is any turbidity or granularity in the fluid by US, or if the diagnosis of ranula is seriously considered, then a sample of the fluid should be sent for salivary amylase analysis. Caution should be used if undifferentiated amylase analysis is substituted, as there is a possibility of confusing a foregut duplication cyst, which is a poor candidate for sclerotherapy, with a ranula, where sclerotherapy may contribute to a successful treatment plan.
Indications
Classically, a hypoechoic cystic (or pseudocystic) structure extending from the floor of the mouth, adjacent to a salivary gland, with a turbid or granular appearance on US and which contains a significant level of salivary amylase (>100 mg/dl) is a ranula. (Non-fractionated amylase may be found in other cystic foregut structures; Figure 7.6). As described above, simple ranulas are most easily and effectively treated by surgical excision of the gland and evacuation of the ranula. All other ranulas are candidates for partial ablation of the parent gland and sclerotherapy and drainage of the ranula collection. It is important to understand that testing for salivary amylase will usually require submission of the sample to an outside lab, and that a final result may not be available for one to two weeks.
There is no absolute contraindication to this approach in a properly diagnosed ranula. Relative contraindications would include inability to identify the parent gland and inability to localize and ablate the portion of the parent gland adjacent to the ranula collection without stimulating, and thus risking injury to, the facial or lingual nerve. For a suspected ranula in the midline, it is helpful to document a normal thyroid gland with appropriate imaging to avoid inadvertent ablation of an ectopic thyroid gland. In the event the skin overlying a ranula is infected, a transoral route may be considered, or the procedure can be delayed until the infection is cleared.
Technique
Equipment
The equipment and supplies for sclerotherapy of the ranula collection are similar to that described in the "Sclerotherapy" section in Chapter 8. This includes a 5- to 8.5-French percutaneous drainage catheter, depending upon the location and the size of the collection, suture (e.g., 3–0 Vicryl or 3–0 silk), 1% buffered lidocaine, 3% sodium tetradecyl sulfate, and dehydrated alcohol (Table 7.11). For partial gland ablation, supplies include a 3 ml syringe containing dehydrated alcohol connected either directly or via a short connecting tube to a 27-gauge, 1.5-inch needle. For this procedure, consideration should be given to intraprocedural neurophysiologic testing for proximity to motor branches with a nerve stimulator connected to the 27-gauge needle, especially if planning to treat the parotid gland. Consultation with a neurologist or anesthesiologist may be helpful for this aspect of the procedure.
High-frequency US transducer with small footprint
Micropuncture or Yeuh sheathed needle
5- to 7-French pigtail drain
27-gauge, 1.5-inch needle
Syringes, three-way stopcock
Sodium tetradecyl sulfate
Patient preparation
Preprocedure imaging routinely includes US, and may be supplemented by MRI in cases where the diagnosis or the gland of origin is uncertain. The procedure may be performed under general anesthesia or with procedural sedation. The anesthesia team should be advised that treatment of a lesion in the floor of the mouth may be accompanied by significant swelling that could potentially compromise the airway. If this is a concern, provision for a prolonged period of postprocedure monitoring, or even provisional admission to the intensive care unit, and delay of extubation until the airway is cleared, may be necessary.
Standard technique
Sclerotherapy
The ranula is accessed with an angiocatheter or single-wall needle sized to admit the planned guide wire, under real-time US guidance using a linear transducer with good near-field imaging capability. The pseudocyst fluid is aspirated and the volume noted. A sample is saved for laboratory analysis. A pigtail drainage catheter (5- to 6.3-French with 1 cm pigtail) is inserted into the collection using a standard technique over a 0.018-inch angled Glidewire® or stiff guide wire for 5-French drains or a 0.035-inch angled Glidewire® for 6.3-French drains.
The size and nature of the ranula is evaluated with non-ionic contrast (e.g., Optiray™ 300) injected through the drainage catheter in a volume similar to the aspirated volume. The cystic space is then anesthetized with a half volume (not exceeding 1 ml/kg) of 1% lidocaine for ten minutes, if using local anesthesia only or sedation. Next, sodium tetradecyl sulfate is instilled into the cyst (not exceeding 1 ml/kg) for three to five minutes. Finally, sclerosis is completed with a half-volume (not exceeding 1 ml/kg) of dehydrated alcohol for 15 minutes. Each agent is completely aspirated through the catheter at the end of its dwell time. At the completion of the procedure, the drainage catheter is left to bulb suction drainage. Successful end of therapy is determined by inability to easily inject an appreciable volume of contrast through a 10 ml syringe connected to the drainage catheter. The drain is removed at the end of therapy.
Partial gland ablation
Successful treatment for ranula with sclerotherapy may require several sclerotherapy sessions over several months. Partial gland ablation is usually definitive and significantly reduces the time required to achieve a successful outcome (Table 7.12). However, it makes sense to delay progression to partial gland ablation until the diagnosis is confirmed with salivary amylase determination. When partial gland ablation is performed, the gland of origin is determined by intraprocedural US as the gland adjacent to or nearest in proximity to the cystic space prior to drainage. If there is uncertainty, preprocedural MRI of the region can help to clarify relevant anatomic relationships, especially when the normal architecture of the gland is significantly altered by the ranula collection (Figure 7.7).
Ultrasound examination for route planning
Ultrasound-guided placement of a drainage catheter
Intralesional contrast injection to determine pathologic anatomy
Connect to bulb suction device
Partial gland ablation with dehydrated alcohol
Premium Wordpress Themes by UFO Themes
WordPress theme by UFO themes