Fig. 1
Axial CT (
a
) showing acute subarachnoid hemorrhage caused by rupture of a blister aneurysm. The aneurysm was not diagnosed on preliminary CTA, but subsequent DSA (
b
and
c
) showed a typical "thorn-shaped" dilation of the internal carotid artery on the anterior-superior surface between the posterior communicating and anterior choroidal artery origins (
arrows
)
Sequential angiograms often show the aneurysm to enlarge within days of the presenting subarachnoid hemorrhage, which helps to distinguish them from very small non-blister aneurysms [
6
,
9
] (see Fig.
2
). This transformation into a larger saccular shape on serial DSA is usually interpreted to indicate dissection or mural hemorrhage as the initiating event for aneurysms at sites other than the internal carotid artery. It creates a potential difficulty in classification for future authors, since blister aneurysms are increasingly managed by endovascular treatment and confirmation of the diagnosis by surgical inspection is not available (see Fig.
3
).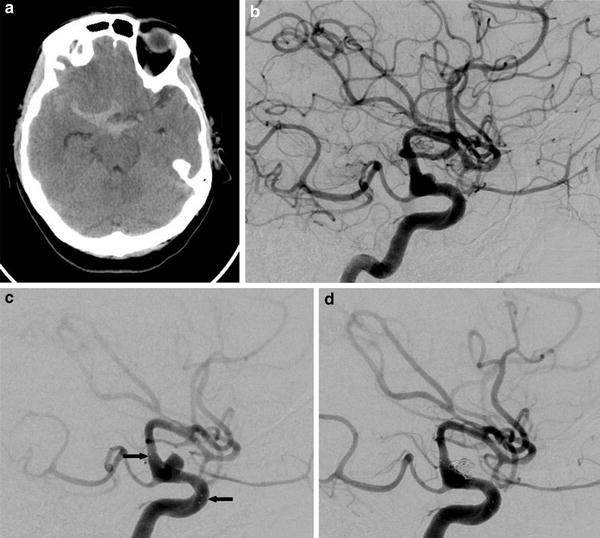 Fig. 2
Axial CT (
a
) and lateral DSA (
b
) at presentation 5 days after spontaneous subarachnoid hemorrhage caused by a blister aneurysm of the right internal carotid artery. The aneurysm was treated with a combination of an endovascular stent and endosaccular coils after the patient suffered repeat subarachnoid hemorrhage 12 days later. Control angiograms after deployment of the stent (
c
) and after insertion of coils (
d
) show how the aneurysm enlarged in the interval between angiograms and developed a more saccular shape. Small markers can be seen at the two ends of the stent (
arrows
)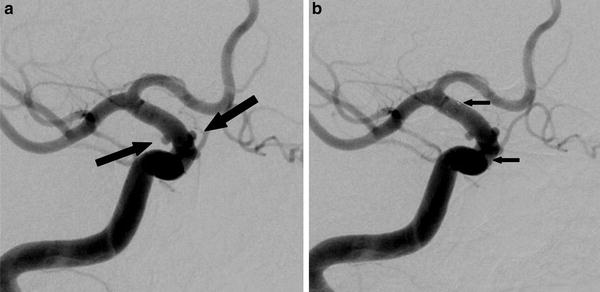 Fig. 3
Unruptured tandem small aneurysms (
large arrows
) of the right internal carotid artery. DSA performed before (
a
) and after (
b
) placing a stent to cover the necks of the aneurysms, which arise from the superior and lateral surface of the artery. Their location is typical of blister aneurysms, but inspection at surgery was not available to confirm the diagnosis. The
small arrows
show the markers at the ends of the stent (Courtesy of Dr. M. Cellerini)
For the time being, it can be argued that the blister aneurysm is a precursor of a saccular aneurysm, which spontaneous subarachnoid hemorrhage brings to medical attention and after rupture is, for a short period of time, in an unstable state. Whether such aneurysms left untreated inevitably evolve to become saccular aneurysms is unknown, but it has been reported that spontaneous complete regression can occur [
14
]. In the future, higher resolution imaging than available on current magnetic resonance imagers may be able to better detect mural hemorrhage and provide noninvasive in vivo confirmation of the postulated etiology and diagnosis at other arterial locations.
Management
Surgical Treatment
Endovascular Treatment
The standard endovascular treatment for ruptured intracranial aneurysm is performed by packing the aneurysm sac with platinum coils (i.e., endosaccular coiling). This approach, however, like standard microsurgical clipping is not optimal for treating blister aneurysms. Attempted endosaccular coiling of these lesions has at best yielded mixed results and is often not possible because of their broad-based shapes and small sizes [
13
,
17
]. Both these features make it difficult for coils to be retained within the aneurysm sac, and treatment of small-sized aneurysms is generally associated with higher rates of periprocedural rupture. Thus endosaccular coil embolization carries a high risk of coil herniation into the parent artery as well as intraoperative aneurysm rupture [
16
]. The wide dome and inherent recurrence tendency of blister aneurysms also prevent balloon remodeling from achieving more permanent aneurysm occlusion [
17
,
40
]. Consequently, most blister aneurysms are unsuitable for endosaccular coiling, and parent artery occlusion has historically been considered the more practical and safer endovascular treatment option [
17
].
However, for the reasons already mentioned, outcomes after parent artery sacrifice are often poor in the acute period after subarachnoid hemorrhage unless supported by bypass surgery [
13
,
15
], even if the native collateral blood flow capacity appeared sufficient when assessed before treatment [
13
]. Parent artery occlusion also carries the inherent risk of occluding important side branch arteries of the internal carotid artery [
15
], and therefore in many centers microsurgical repair remained the primary treatment approach for blister aneurysms until self-expanding endovascular stents for intracranial use became available on the commercial market.
Combining endosaccular coil embolization with stenting has several potential advantages. The most important in the context of blister aneurysms is that stents deployed in the parent artery act to retain coils in the aneurysm sac. Coil and stent treatments are performed either by first placing the stent and then introducing coils through the struts of the stent or by catheterizing the aneurysm sac and then placing the stent over the catheter before introducing endosaccular coils into the aneurysm (so-called "jailing" technique) (see Fig.
2
). Stent-assisted coiling has allowed a significantly larger proportion of blister aneurysms to be treated successfully with an endovascular approach, and good clinical outcomes have been reported in 62–89 % of patients [
16
,
40
–
42
]. A majority of treated patients, however, still had to have more than one procedure, either for placement of a second stent within the first or placement of additional coils after aneurysm regrowth becomes evident on follow-up imaging [
40
,
41
]. Early postoperative or perioperative hemorrhage, most often fatal, has also been reported to occur in 13–28 % of blister aneurysm patients treated using stent and coil techniques [
16
,
41
,
42
]. The results of initial attempts to utilize stents to augment endovascular treatment by endosaccular coiling were mixed.