Case 1 presentation
A 14-year-old male presents with a complaint of acute right hip pain. The patient is an avid soccer player and was kicking a ball "pretty hard." Immediately upon full extension of the right leg, he felt a "pop." Thereafter, he began to experience pain that was radiating to the right upper thigh. He was unable to continue the game. He denies other injury and denies numbness or weakness involving the right leg.
His physical examination reveals appropriate-for-age vital signs. He weighs 59 kg (body mass index of 18.7—normal for his height of 180 cm). He has a completely unremarkable examination, with the exception of his right hip. He has mild tenderness to palpation of the anterior superior iliac spine. While he has full range of motion of the right leg at the hip joint, flexion and extension produce pain. He has no spine tenderness, deformity, or crepitus. He is able to ambulate but does so with a slight limp. There is no lower extremity tenderness, swelling, deformity, or crepitus. He is grossly neurovascularly intact.
Case 2 presentation
Presented here are selected images from a 4-year-old child involved in a high-speed motor vehicle accident. The child was a backseat passenger and was not restrained. She had complaints of abdominal pain and mild tenderness throughout. An initial pelvis x-ray revealed multiple fractures ( Fig. 63.3 ). Due to the apparent complexity of the fractures noted on plain imaging, a CT scan was ordered. Interestingly, no liver, spleen, or apparent bowel injuries were identified and the child had normal AST (aspartate aminotransferase) and ALT (alanine transaminase) values. Selected imaging from the CT is presented here. There is a comminuted fracture of the anterior aspect of the right iliac bone with buckling of the iliac wing and several adjacent small fracture fragments; there is a mildly displaced, minimally comminuted fracture through the anterior aspect of the left iliac wing; there is a mildly displaced fracture through the pubis just to the left of the symphysis extending caudally through the ischiopubic ramus ( Figs. 63.4–63.6 ).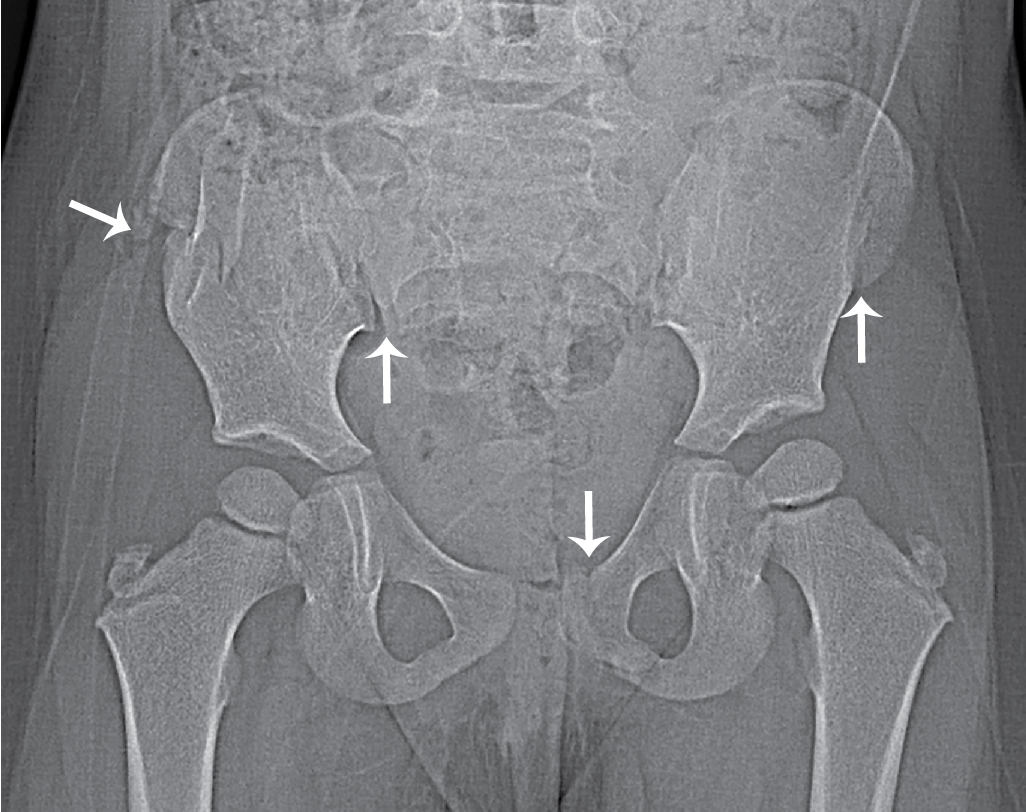 Premium Wordpress Themes by UFO Themes
WordPress theme by UFO themes