Congenital Heart Disease
Congenital heart disease (CHD) occurs in approximately 1% of all live births, or 40,000 births annually in the United States. It remains the leading cause of birth defect–associated death in infancy. Approximately 25% of CHD defects are critical or severe, resulting in symptoms during the first year of life. About 25% of patients with CHD eventually die of their disease, and approximately 25% of CHD-related deaths occur in the first month of life. Survival rates continue to improve. Today 69% to 95% of patients survive to 18 years of age depending on the type of malformation. There is a continually growing population of patients living with corrected CHD, now estimated to be more than 1.5 million individuals in the United States. Patients are living longer due to improved imaging diagnosis as well as medical and surgical treatment. The majority of patients with CHD are diagnosed during fetal assessment or after birth, with echocardiography as the mainstay of initial diagnostic evaluation. Cardiac catheterization has traditionally been the diagnostic gold standard, providing morphologic and functional information including data on pulmonary vascular resistance and oxygen saturation within chambers and vessels. Magnetic resonance imaging (MRI) and computed tomography (CT) now play increasingly important and complementary roles in the delineation of CHD in the preoperative and postoperative periods.
CHD is a complex disease process that occurs during embryologic development of the cardiovascular system. This chapter will review basic cardiac embryology and morphology, and provide an overview of the segmental approach to CHD that is important in understanding and accurately communicating the morphology and physiology of different types of CHD. The classic radiographic findings of CHD that have traditionally been taught to radiologists in training will be reviewed. In addition, this chapter will provide an overview of the anatomy and physiology of common CHDs and emphasize the role of cross-sectional imaging with CT and MRI before and after cardiac surgery.
Common Conditions
Left-to-Right Shunts
Communications between the systemic and pulmonary circuits that do not result in cyanosis include intracardiac left-to-right shunts and large systemic arteriovenous connections. Common examples of the former are VSD, ASD, AVC defect, and PDA. Less common examples are partial anomalous pulmonary venous connection, aortopulmonary window, and coronary-cameral fistula. Examples of peripheral left-to-right shunts are infantile hepatic hemangioendotheliomas and large systemic arteriovenous malformations such as the vein of Galen malformation in the brain and Parkes-Weber syndrome affecting the extremities.
Ventricular Septal Defect
After bicuspid aortic valve, VSD is the second most common congenital intracardiac lesion in children, accounting for 20% to 30% of cases of CHD. Five percent of VSDs are associated with chromosomal abnormalities such as trisomies 13, 18, and 21. Many small VSDs close spontaneously. The classification of VSDs on the basis of location [ Fig. 3.12 ] and size is important in deciding whether medical (expectant) or surgical treatment is indicated.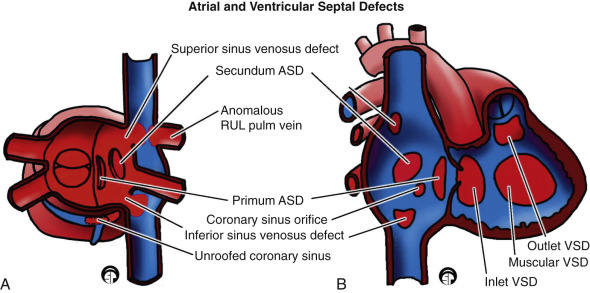 Muscular VSDs are defects in the muscular septum [ Fig. 3.13 ]. They may be classified according to their location in the septum (midmuscular, apical muscular). "Swiss cheese septum" describes multiple muscular VSDs.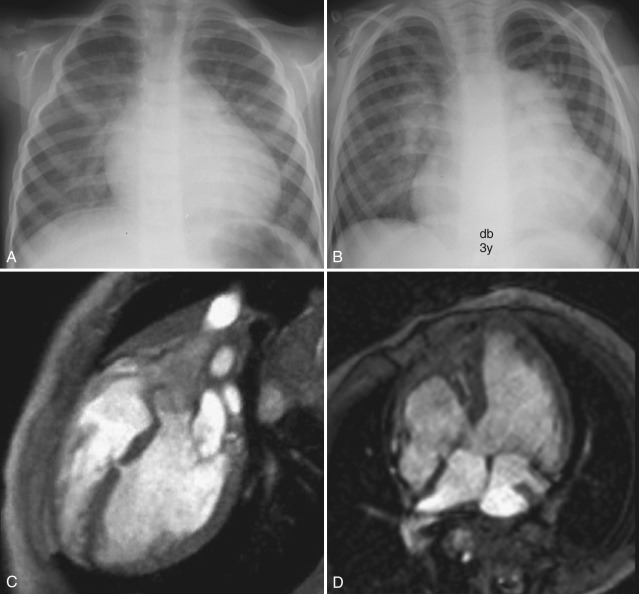 An AVC-type VSD is a defect in the AVC portion of the septum [ Fig. 3.13 ]. Also known as an inlet VSD, this condition is commonly seen in the setting of heterotaxy.
Several different terms are used for outflow tract VSDs or defects in the interventricular septum associated with the outlet or subaortic or subpulmonary region of the heart. Conoventricular VSDs are a form of outlet VSD occurring within or at the junction between the conal septum and the muscular septum. Conoventricular VSDs may be in close proximity to the semilunar valves, and are also referred to as subarterial VSDs. Clinically, it is important to evaluate for associated aortic valve prolapse and aortic regurgitation.
The strictest definition of a membranous VSD is a defect of only the membranous septum, which would result in a relatively small defect. In day-to-day use, the term perimembranous or paramembranous VSD usually implies that the defect includes the region of the membranous septum, but also extends into the muscular septum, conal or outflow tract septum, or AVC septum. Outflow tract VSDs can be associated with malalignment, in which the conal septum of the RV outflow tract is displaced. This may create a substrate for outflow tract obstruction. Anterior malalignment of the conal septum often results in the RV outflow obstruction seen in TOF (described later), and posterior malalignment can lead to a VSD with LV outflow tract obstruction and an arch abnormality such as coarctation or complete arch interruption.
A VSD classically presents with a prominent, blowing, pansystolic murmur heard best at the left lower sternal border. Affected patients may have congestive heart failure (CHF), repeated respiratory infections, or failure to thrive. Presentation is usually after the first month of life when pulmonary vascular resistance normalizes and the degree of shunting increases. In an older child, a large, untreated VSD may lead to elevated pulmonary vascular resistance and pulmonary hypertension, which can resolve if the shunt is closed. In rare cases, pulmonary vascular obstructive disease or irreversible pulmonary hypertension can develop, and may even cause reversal of blood flow. This leads to a right-to-left shunt across the septal defect (formerly known as "Eisenmenger physiology"), and eventually to cyanosis. In most cases, corrective surgery is performed before flow reversal across the shunt occurs.
Conventional chest radiograph findings of a left-to-right shunt are usually evident when the ratio of pulmonary to systemic blood flow is greater than 2 : 1. Pulmonary vascularity is increased, and there is dilatation of the pulmonary arteries and cardiomegaly [ Fig. 3.13 ]. A VSD generally results in volume loading of the LA and LV, which may appear prominent on chest radiographs. When pulmonary vascular resistance normalizes after the first month of life, pulmonary blood flow may further increase, resulting in radiographic signs of pulmonary vascular congestion and edema.
Up to 50% of VSDs close spontaneously. Those that do not may be treated with surgical closure of the defect. VSDs that are difficult to reach surgically can be treated with device closure at cardiac catheterization.
Atrial Septal Defect
ASD is the second most common cardiac anomaly in children, accounting for 10% of all cases of CHD. An ASD is the most common intracardiac shunt that persists into adulthood. It is found six to eight times more commonly in females than in males. ASDs are classified according to location in the atrial septum as follows [ Fig. 3.12 ] :



•




A patent foramen ovale [ Fig. 3.14 ] represents defective apposition of the septum secundum and the septum primum, which normally fuse together after birth.







Figure 3.14



Premium Wordpress Themes by UFO Themes
WordPress theme by UFO themes