Fig. 15.1
Number of performed or ongoing oncological and non-oncological registered clinical trials from 01/2007 to 06/2010 using contrast media, (a) to investigate the CM itself or (b) to diagnose/monitor disease (Source:
clinicaltrials.​gov
; search terms: contrast media)
At
www.​clinicaltrials.​gov
, analysis of registered trials shows the clinical importance of contrast-enhanced imaging with MRI being the most frequently used methodology in comparison to CT and US (Fig.
15.2
). The number of registered clinical contrast media trials is highest in North America between 2007 and 2010 (Fig.
15.3
).
Fig. 15.2
Number of registered clinical trials using contrast media, which are, e.g., compared with existing CM or with native scans in order to investigate the CM itself (Source:
clinicaltrials.​gov
; search terms: contrast media; from 01/2007 to 06/2010)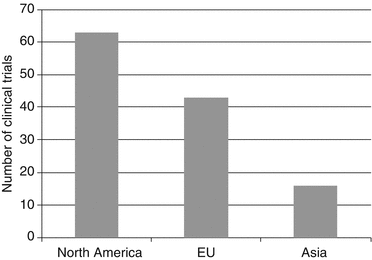 Fig. 15.3
Number of registered clinical trials from 01/2007 to 06/2010 using contrast media sort by region; source:
clinicaltrials.​gov
; search terms: contrast media; (a) to investigate the CM itself or (b) to diagnose/monitor disease (Source:
clinicaltrials.​gov
)
This chapter briefly presents different classes of MR, CT, and US contrast agents available on the market, some with limited labeled indication and therefore still involved in clinical trials to achieve further labeled indications. Mechanisms of action and functionality of various contrast agents will also be reviewed in some detail. The described advantages and drawbacks of different contrast agents allow a better insight into the clinically approved indications and off-label usage. The chapter does not address safety issues of the various contrast media. Finally, we will outline some future scenarios of selected contrast agents in the field of radiology.
Groups of Contrast Agents
Contrast agents are used to enhance image contrast between pathological or anatomical structures of interest and their surrounding tissue or liquid. Intravenously (IV)-injected CM behave differently. First-generation MR contrast agents distribute within the intravascular space and due to its small molecule size diffuse into the interstitial space of extracellular fluid (ECF) and according to the law of equilibrium back into the intravascular compartment. These are often called "unspecific agents" and allow the evaluation of physiological parameters, such as the status or existence of the blood/brain barrier or the renal function. For this class of agents (ECF compounds), there is no intracellular uptake described. CM with intracellular uptake provide tissue-specific characteristics, e.g., they are taken up by lymphatic cells or hepatocytes, e.g., Gd-EOB-DTPA. Some MR contrast media have characteristics of two classes, e.g., the majority of the molecules take an extracellular path being excreted via the kidney and the minor amount presents an intracellular pathway, e.g., liver-specific metallochelates are partially excreted via the biliary system [
6
–
8
].
Iodinated Contrast Media
Negative contrast agents are those which yield a lower X-ray attenuation than the body tissue and hence appear hypodense, e.g., gases such as air or CO2. Positive contrast agents yield higher attenuation in comparison to adjacent structures. The positive contrast agents can be further divided into different groups. Iodine and barium are heavy elements and are comparatively less harmful to body giving excellent contrast. A positive IV or IA contrast agent must have a high concentration of iodine atoms with a comparable osmolality to blood. Since their introduction in the 1950s, organic radiographic iodinated contrast media (ICM) have been among the most commonly prescribed drugs in the history of modern medicine. The phenomenon of present-day radiologic imaging would be lacking without these agents.
Over the years quite a number of different iodinated contrast agents have been developed and are distributed by different manufactures. All agents consist of iodinated benzene ring derivatives. All ionic agents are typically formulated as sodium and/or meglumine salts and can be classified as high-osmolar contrast media (HOCMs, "ionics") and low-osmolar contrast media (LOCMs, "nonionics" and "ionics") (Appendix
15.1
at the end of this chapter).
ICM generally have a good safety record. In this context, nonionic ICM are generally safer than ionic CM, with less idiosyncratic (non-dose-dependent, e.g., allergy-like) adverse reactions [
9
] and are better tolerated if extravasation occurs; therefore, they are used almost exclusively today in clinical routine and trials.
Osmolality
Normal human reference range of osmolality in plasma is about 280–300 milliosmoles per kilogram. The ionic iodinated contrast agents contain three iodine atoms (in a monomer unit) and are having higher osmolality than blood. This means that each ionic monomer will dissociate into two particles due their ionicity, so the ratio is 2:3. These agents belong to the group of high-osmolality contrast medium, short HOCM. Then there are ionic dimers containing 6 iodine atoms (ratio 1:3) and having less osmolality than HOCM. Nonionic iodinated monomers (ratio 1:3) are also of less osmolar than ionic because of fewer particle number in water, i.e., nonionic agents do not require an accompanying cation and therefore have lower osmolality and belong to the group of low-osmolar CM, short LOCM [
10
]. The osmolality depends also on the iodine concentration, which typically ranges from 300 mg I/mL (=670 mOsm/kg H
2
O) to 370 mg I/mL (=800 mOsm/kg H
2
O) (Appendix
15.1
). In the end there are nonionic dimers containing 6 iodine atoms each molecule (ratio 1:6). An iso-osmolar contrast medium (IOCM) is considered to have least toxicity [
9
].
Iodine Content
For nonionic agents, the iodine (I) content is easy to determine because it is written on the label. For example, Omnipaque
®
300 (GE Healthcare, Princeton, NJ, USA) contains 300 mg I/mL of solution. Vascular enhancement is proportional to the number of iodine molecules administered per unit of time [
11
]. Besides increasing the injection flow rate, the iodine concentration of the ICM can be adapted to the clinical need. If an iodine administration rate of, e.g., 1.5 g/s is desired, the injection rate needs to be 5 mL/s with a "standard" concentration (300 mg I/mL) compared with an injection rate of 4.3 mL/s using a higher iodinated compound (350 mg I/mL). The highest available concentration today is 400 mg I/mL reducing the flow rate to 3.8 mL/s in the given example. Due to their higher viscosity (Appendix
15.1
), adequate cannula size and warming up the ICM to body temperature are highly recommended [
12
]. The maximum iodine concentration currently available in the USA is 370 mg I/mL.
Meglumine Versus Sodium Salts
All HOCMs are ionic. They are organic acids consisting of an anion (radiodense iodinated benzoic acid derivative) and cation (sodium or meglumine). Sodium salts result in better renal opacification than meglumine salts. Therefore, e.g., sodium salts are used in diatrizoate meglumine (Urovist®, Bayer HealthCare, Montville, NJ, USA).
Nonionic LOCMs
Nonionic monomers (LOCMs) are currently the IV contrast media of choice. They have a lower incidence of adverse reactions (by a factor of 6 for all reactions and a factor of 9 for severe reactions) due to their lower osmolalities and potentially less chemotoxic than the ionic monomers [
9
]. Nonionic LOCMs are equally effective as contrast agents compared to HOCMs, but they are much higher in cost. The main nonionic agents in the market are listed in Appendix
15.1
. Common nonionic monomers are iohexol (Omnipaque
®
; GE Healthcare, Princeton, NJ, USA), iomeprol (Imeron
®
; Bracco, Princeton, NJ, USA), ioversol (Optiray
®
; Covidien, Mansfield, MA, USA), and iopromide (Ultravist
®
; Bayer HealthCare, Montville, NJ, USA) [
15
].
MR Contrast Media
US Contrast Media
In the past, the potential of echo-enhanced US was underestimated. In addition, it took some years to overcome all development problems. All US contrast media have in common is that they are based on microbubbles restricted in their pharmacokinetics to the intravascular space (Appendix
15.4
at the end of this chapter).
Albunex
®
(Covidien, Mansfield, MA, USA) was the first agent that contained microbubbles coated with sonicated albumin with a mean size of 4 μm (95 % below 10 μm in diameter) with a short plasma half-life time of approx. 1 min [
77
]. Optison™ (GE Healthcare, Princeton, NJ, USA) (introduced by GE Healthcare in 1998) was then developed as a modification of Albunex, i.e., nearly the same microbubbles but instead of air the gas octafluoropropane was used [
78
]. The diameters are 3–4.5 μm (max. 32 μm; 95 % less than 10 μm). Echovist (Bayer HealthCare, Montville, NJ, USA) was developed based on galactose-coated microbubbles filled with air and, therefore, missing transpulmonary stability. Its successor Levovist (Bayer HealthCare, Montville, NJ, USA) (introduced by Schering in 1996) is coated in addition with palmitic acid as a surfactant offering better stability, echo increase is described up to 24 dB and duration of echo enhancement approx. 5 min [
79
]. SonoVue
®
(Bracco, Princeton, NJ, USA) (introduced by Bracco in 2001) is a relatively new echo-contrast agent that is based on sulfur hexafluoride-filled microbubbles coated with phospholipids with a diameter of ca. 2.5 μm (90 % smaller than 8 μm) [
80
]. The stability lasts about 6 h after reconstitution, which allows a longer time window. SonoVue is currently being investigated in a number of clinical trials embracing the fields of cardiac as well as macro- and microvascular imaging in different organs and pathologies. It is already established in the diagnostic work-up of focal liver lesions. Perflutren protein type A microspheres (Definity
®
/Luminity
®
(Lantheus Medical Imaging, N. Billerica, MA, USA) introduced by Bristol-Myers Squibb in 2006) is based on lipid bilayers coating octafluoropropane with a size of 1.1–3.3 μm (98 % less than 10 μm) with a mean scan window is about 90s [
81
]. The shell of Imagent
®
(IMCOR Pharmaceutical, San Diego, CA, USA) (developed by Alliance Pharmaceutical Corporation and Schering AG; FDA approval 2002) is composed by surfactants coating perfluorohexane with a mean bubble diameter of 6 μm. Market approval was given for left ventricle echocardiography.
US Contrast Agents for Liver Imaging
Some US contrast agents have advantages in the liver-specific late phase where bubbles accumulate in normal liver parenchyma beginning approximately 2–5 min after injection when the vascular enhancement has faded, analogous to liver-specific contrast agents used in MRI. Microbubbles known to exhibit this behavior are Levovist and Sonazoid as well as, still under RND, Sonavist (GE Healthcare, Princeton, NJ, USA) and BR14 (Bracco, Princeton, NJ, USA) [
82
]. The mechanism of hepatic accumulation is not completely understood. Several experimental agents such as Sonazoid or BR14 combine the advantage of good enhancement at low MI with strong liver-specific properties. Uptake by the Kupffer cells of the liver has been demonstrated for Sonavist and Sonazoid. Sonazoid™ (Daiichi Sankyo, Parsippany, NJ, USA) (approved in Japan since 2006) is a lipid-stabilized suspension of perfluorocarbon microbubbles with a median diameter of 2.4–2.5 μm. The product is characterized by a prolonged ability to maintain its contrasting attributes with indication to improve differential diagnosis of hepatic lesions. In clinical trials, perflubutane-enhanced ultrasound was shown to have the same diagnostic ability as computed tomography for tumor detection and characterization of hepatic nodules.
Contrast Mechanism
Echo enhancement is managed by several factors. First of all, these gas bubbles, which are less than 10 μm in diameter, are able to enhance the echo strength (up to 25 dB; greater than 100-fold increase) by their compressibility under acoustic waves leading to impedance between the gas bubbles and the surrounding tissue or fluid. Another factor is that these bubbles are able to oscillate, which leads to a better sound energy absorption and reradiation [
83
].
But the most important factor for echo enhancement is the so-called nonlinear oscillation of the microbubbles. In higher acoustic powers, the microbubbles will enlarge more than they are compressed thus leading to reradiation, not only of the frequency with which the bubbles were excited but also containing harmonics [
83
]. SonoVue provides strong and persistent signal enhancement due to its strong harmonic resonance at low (≤0.2) and very low (≤0.1) mechanical index (MI), where minimal or no bubble destruction occurs. Real-time low-MI imaging is a preferred method in many instances, although SonoVue has weaker liver-specific properties than Levovist. Levovist, however, requires high-MI imaging (MI ≥0.7). The disadvantage of high-MI imaging is the highly transient nature of the signals, which persist only for a few frames.
An increase of the acoustic power leads to a destruction of the bubbles. This effect can be used for diagnostic purposes but also for targeted drug therapy.
Outlook