Fig. 7.2
Thyroid agenesis
On the other side,
123
I can be of more difficult availability and of higher costs. It is trapped and organified by the thyroid gland [
5
]. The sensitivity of TS when using
123
I is higher than with
99m
TcO
4
due to the ratio of organ to background activity, ten times higher with
123
I. However, the short half-life of this isotope (about 13 h) and the difficult availability explain why it is not of frequent use at the time of diagnosis. In fact,
123
I is mainly used nowadays for the differential diagnosis of inborn errors of hormonogenesis in children with an in situ gland, at the time of etiological re-evaluation at 2–3 years old [
4
]. In these cases a so-called depletion test can be performed. It consists of an intravenous or oral administration of I
123
which is followed by a baseline scintigraphic measurement obtained 30 min and 2 h after the injection. When the baseline uptake of
123
I is high, a blocker of the organification process, called perchlorate, can be administered immediately after the radioactive iodide. Afterwards, scintigraphic measurements are obtained again 15, 30, 60 and 90 min after the administration of perchlorate. In case of defects in the organification pathway, iodine will be released by the gland after perchlorate. Injectable and oral forms of perchlorate are available. When perchlorate is used, a fall of below 10 % is considered normal, while a fall between 10 and 50 % indicates a mild partial organification defect and a fall between 50 and 90 % indicates a severe partial organification defect. A relative fall of over 90 % indicates a complete organification defect [
6
] (Fig.
7.3
) (Table
7.1
).
Fig. 7.3
Fall of over 90 % at perchlorate test at etiological re-evaluation
Table 7.1
Uses of scintigraphy in CH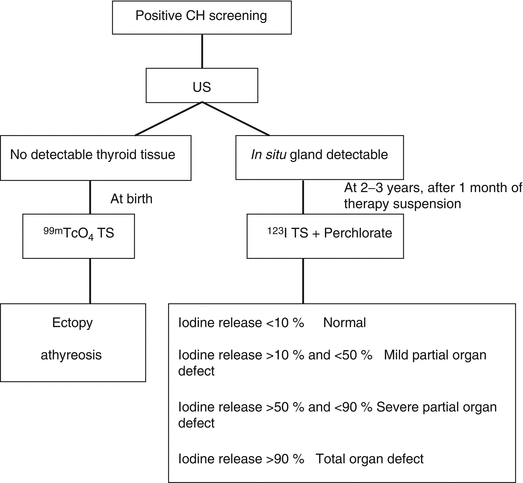 As concerns the dose administered, it is very low with both isotopes. Furthermore, in children with athyrosis, hypoplasia, and defective thyrotropin hormone receptor (RTSH) or sodium/iodide symporter (NIS), the isotopic uptak is very low or absent. The only case where a significant isotopic dose can be described is when the uptake is preserved (ectopic glands, thyroglobulin defect, iodotyrosine dehalogenase defects and in transient forms). However, no reports have been made to describe adverse outcomes in these patients.
Finally, a possible alternative to L-thyroxine withdrawal is to perform a so-called rhTSH test [
7
]. The test can be performed very early in postnatal life. After the administration of a TSH analogue (rhTSH – Thyrogen), serum TSH, free T4, free T3, thyroglobulin levels and anti-thyroglobulin/anti-thyroperoxidase antibody levels are measured. Furthermore, an ultrasound examination and a thyroid scintigraphy with
123
I and a discharge test can be performed. This approach permits to distinguish between permanent and transient forms of CH with an in situ gland, preventing the unnecessary prolongation of replacement treatment in transient CH. However, the diffusion of the test is still limited by the high costs that explain why it is poorly used worldwide.
7.3

Toxic Adenoma

Toxic adenoma is a hyperfunctioning nodule that results in hyperthyroidism [

5

]. Amongst the causes of hyperthyroidism it represents a rare one, in particular if compared to the most frequent one, which is Graves' disease. Toxic adenomas are also referred to as toxic autonomous nodules and Plummer disease and are characterised by an autonomous and continuous production of thyroid hormone that does not respond to the normal hypothalamic-pituitary control mechanisms. Moreover, the excess of thyroid hormone suppresses the further production of hormones in the residual normal gland. Unlike Graves' disease, the mechanism of toxic adenoma is not autoimmunity. In fact, it is thought that the TSH receptors on the surface of the adenoma undergo gene mutation becoming permanently active.

Adenomas can frequently present with forms of subclinical hyperthyroidism: the affected children show suppressed TSH values, elevated T3/T4 values without antibodies against TSH receptor.

Ultrasound imaging represents the first-line screening tool to detect thyroid nodules. It is fundamental in assessing the number of nodules. US imaging shows a mass lesion with variable features. Echogenicity can be diminished or increased and homogeneous or heterogeneous. Normally they are described as hypovascular.

As concerns the scintigraphic findings, children with toxic adenomas will typically show a solitary nodule with a significant radioiodide uptake, also called "hot nodule", while the rest of the gland shows a diminished uptake (Fig.

7.4

). This is due to the negative pituitary feedback on TSH secretion, leading to a decreased or absent tracer uptake.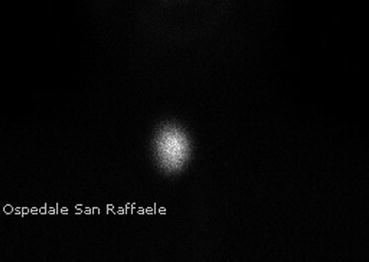 Fig. 7.4
Scintigraphy of a toxic adenoma
These lesions can be treated surgically or with radioiodine. The former is at present the preferred one in childhood, due to the high doses of isotope necessary when using the latter technique.
7.4

Primary Hyperparathyroidism

Ninety percent of hypercalcemia associated to primary hyperparathyroidism cases are due to an adenoma in a single parathyroid. The preoperative localization with ultrasonography and radionuclide scintigraphy allows a selective surgical excision of the hyperfunctionating parathyroid gland [

11

]. In the past, when preoperative imaging was not used, the unguided bilateral surgery failed in 5–10 % of patients, especially in the presence of an ectopic parathyroid or a multiple gland disease. While the advantages of radioguidance – a reduction in conversion to bilateral exploration, operative time, length of stay and total costs – have been well defined in adults, in paediatric patients only few studies have examined the utility of preoperative localization with radionuclide [

12

].
Full access? Get Clinical Tree