Nonneoplastic Lesion of the Ovary
Cysts of Follicular Origin
During prepuberal and reproductive years, the functional follicle cysts and corpus luteum cysts measuring 3–10 cm in diameter are, by definition, benign. These lesions are often completely asymptomatic; most resolve spontaneously but may cause acute abdominal pain secondary to rupture and hemoperitoneum or torsion.
The cysts of follicular origin are solitary and fluid-filled. At microscopy follicular cysts are lined by granulosa cells, with a surrounding layer of theca cells (Fig.
1
); both layers may show luteinization; corpus luteum cysts commonly contain intracystic hemorrhage, show a yellow rim of variable thickness, and are lined by a thick undulating layer of granulosa and theca cells, with prominent luteinization.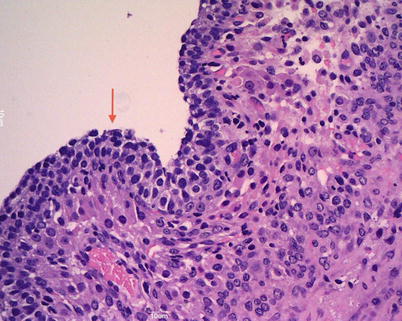 Fig. 1
Follicular cyst is lined by several layers of granulosa cells (
arrow
)
Differential Diagnosis





Cystic granulosa cell tumor






Surface epithelial cystoadenoma
Pregnancy Luteoma
It can mimic an ovarian neoplasia both grossly and microscopically. These tumorlike lesions, more common in black women, are composed of luteinized cells occurring during pregnancy secondary to hormonal stimulations. Macroscopically, pregnancy luteoma presents as one or multiple (30 % are bilateral, 50 % are multiple) solid masses with multiple circumscribed nodules that show a red-brown cut surface. At microscopy, nodules are well-circumscribed and luteinized cells show abundant eosinophilic cytoplasm, central and regular nuclei and prominent nucleoli (Fig.
2
). Mitoses could be up to 7/10 HPFs. Necrotic and degenerative changes may be present. Usually pregnancy luteoma regresses after delivery.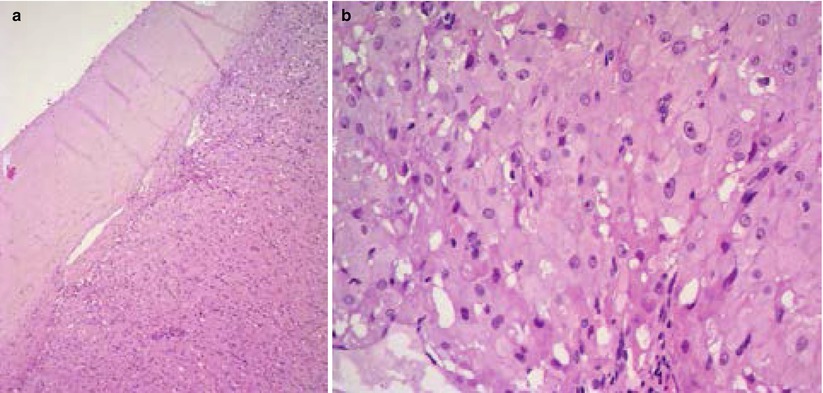 Fig. 2
Pregnancy luteoma is composed of luteinized cells with abundant eosinophilic cytoplasm (
a
); central and regular nuclei and prominent nucleoli are present (
b
)
Differential Diagnosis





Steroid cell tumor






Leydig cell tumor






Thecoma
Endometrioma (Endometriotic Cyst)
Ovarian endometriosis is a common finding and frequently gives to cystic masses (endometriomas): it is often bilateral and usually presents during the reproductive age. The macroscopic appearance is that of a large cystic mass (usually < 15 cm) with a thick wall that often replaces the ovary completely. Frequently, the ovarian surface is covered by dense fibrous adhesions. The intracystic material is dense and brown ("chocolate cyst"). The variable microscopic appearance is due to the different ectopic endometrial glands and stromal response to the hormonal milieu of the menstrual cycle. Endometrial glands surrounded by endometrial-type stroma may show inactive or proliferative, secretory, or atrophic changes (Fig.
3
). Fibrosis and inflammation also interfere with macro- and microscopic features. Often, in non-recent cases, where we cannot find a well-defined glandular or stromal structure, the histological diagnosis is suggested by indirect signs including granulation tissue, macrophages, and siderophages (Fig.
4
). Foci with epithelial atypia are often detected (atypical endometriosis), but they should not be mistaken for malignant transformation. Ancillary immunohistochemical studies may help to detect endometrial stroma and glandular structures.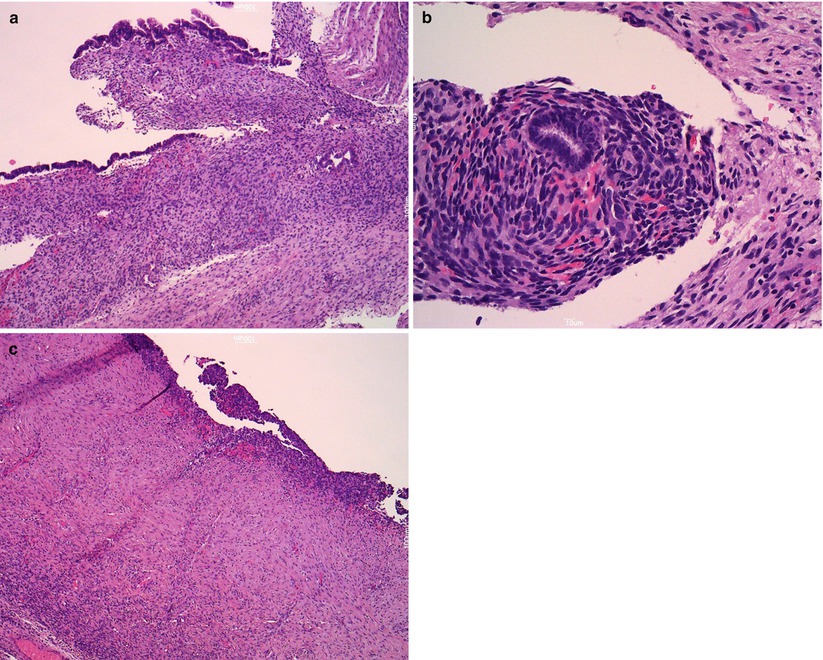 Fig. 3
Endometriosis. Endometriotic cyst is lined by endometrial-type epithelium (
a
); endometrioid gland is surrounded by endometrial-type stroma (
b
); atrophic changes of epithelium (
c
)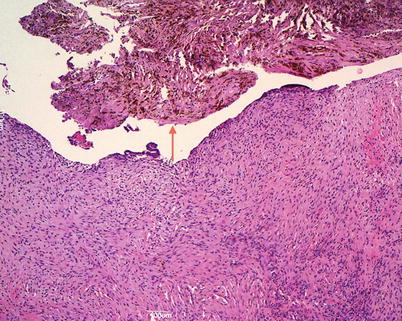 Fig. 4
Granulation tissue macrophages and siderophages (
arrow
) in endometrioma
Differential Diagnosis





Benign hemorrhagic cyst of follicular origin






Chronic tubo-ovarian abscesses






Cystoadenomas






Unilocular granulosa cell tumors






Secondary neoplasm (clear cell or endometrioid carcinoma)
Ovarian Tumors
Ovarian tumors, according to the WHO classification (2003), can be primary or secondary (metastatic). Primary ovarian tumors arise from surface müllerian epithelium or from sex cord-stroma or from germ cells.
Surface Epithelial Tumors of the Ovary
Surface epithelial tumors are the most common neoplasms of the ovary. They may arise from the surface epithelium, from the fallopian tube epithelium, or from preexistent ovarian endometriosis. Surface epithelial tumors are classified into serous (46 %), mucinous (36 %), endometrioid (8 %), clear cells (3 %), transitional (2 %), undifferentiated (2 %), and mixed (3 %) on the basis of their different cell type. Histological features allow us to subclassify these tumors as benign, borderline and malignant. By definition, the borderline tumors lack destructive stromal invasion but show other histological features of malignancy (nuclear atypia, cellular stratification, mitotic activity). Their clinical behavior is mostly benign but, caveat, as far as serous borderline surface tumors are concerned, they are frequently associated with extraovarian disease and present a clinical behavior intermediate between benign tumors and invasive serous carcinomas.
Tumor stage, according to FIGO, is the most important prognostic factor; stage can only be assigned after completion of a proper surgical staging procedure. Tumor grading is done on the basis of architectural and cytologic atypia; mitotic count is another prognostic factor, but its prognostic value and reproducibility remain to be determined.
Premium Wordpress Themes by UFO Themes
WordPress theme by UFO themes