Fig. 1
Transvaginal ultrasound from an ovarian fibroma. A rounded, well-defined, purely solid adnexal mass is seen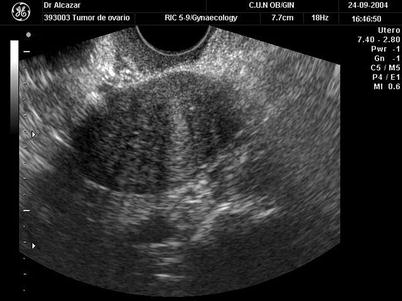 Fig. 2
Transvaginal ultrasound from an ovarian fibroma. As in the previous figure, a rounded, well-defined, purely solid adnexal mass is seen. However, in this case acoustic shadowing is more evident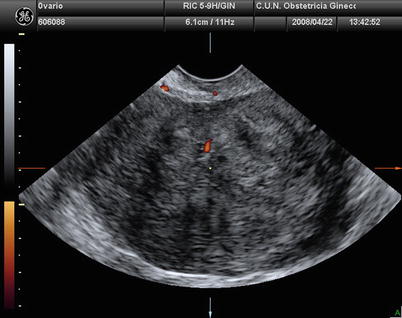 Fig. 3
Transvaginal ultrasound from an ovarian fibroma. With power Doppler examination scanty flow is detected
It is important to make an accurate image diagnosis of ovarian fibromas because they often appear as nonspecific solid masses, thereby mimicking uterine fibroids or malignant neoplasms. There are some features to help differentiate ovarian fibromas from the more common uterine fibroid or ovarian malignancies. Firstly, when the ultrasound scan shows a solid pelvic mass next to but without a clear connection with the uterus, the diagnosis of a subserosal fibroid should be made with caution, and the possibility of an ovarian fibroma should be considered, unless a normal ovary can be clearly seen on the same side. Secondly, the vascular pattern on color flow Doppler assessment has been suggested to be useful in differentiating a uterine fibroid from an ovarian fibroma. A well-vascularized solid pelvic mass with high-speed flow is suggestive of a subserosal fibroid, while a less vascularized tumor with low-speed flow points towards the diagnosis of an ovarian fibroma. Thirdly, a primary ovarian carcinoma is less likely to be a completely solid mass, while a secondary ovarian malignancy is typically a bilateral instead of a unilateral disease. Finally, supplementary computerized tomography and magnetic resonance imaging may help to improve the diagnostic accuracy. Most ovarian fibromas appear as a solid mass with delayed accumulation of contrast medium on computerized tomography scan and show marked T1 and T2 hypointensities on magnetic resonance imaging [
15
,
16
].
Fibrothecomas
Fibrothecoma is the term commonly used to refer to a tumor with features that are intermediate between a fibroma and a thecoma.
Thecomas
Granulosa Cell Tumors
Although granulosa cell tumors are considered as low potential tumors and not strictly as benign tumors, we shall consider the description of these tumors.
Granulosa cell tumors are rare sex cord ovarian tumors that are formed by cells believed to be derived from those that surround the germinal cells in the ovarian follicles. Two major forms of granulosa cell tumors are recognized: the
adult
form, which primarily occurs in middle-aged and older women, and the
juvenile
form, which typically occurs in children and younger women [
10
].
Most adult granulosa cell tumors are partially cystic, with multiple fluid-filled or blood-filled loci and solid areas. They represent approximately 95 % of all granulosa cell tumors. These tumors, the majority of which are unilateral, most often occur in postmenopausal women. Adult granulosa cell tumors are the ovarian tumor type most commonly associated with manifestations that are caused by the overproduction of female sex hormones (estrogenic manifestations). These manifestations include endometrial hyperplasia and endometrial cancer, which are present in 5–25 % of cases. Adult granulosa cell tumors are considered to be tumors of low-grade or low malignant potential. Ninety percent are stage I at diagnosis, with a reported 10-year survival rate of 86–96 %; the corresponding reported survival rate for patients with tumors found at more advanced stages is 26–49 %. Treatment is primarily surgical. Rupture of the tumor during surgery adversely affects prognosis. Recurrences can occur 30 years or more after removal. Juvenile granulosa cell tumors are grossly similar to those of the adult subtype. They account for only 5 % of all granulosa cell tumors. Most are unilateral, and approximately half occur before puberty. Because of their estrogenic hormone production, many of these tumors result in precocious sexual development. Most juvenile granulosa cell tumors are limited to the ovary at the time of diagnosis. Surgical excision is curative in most cases. Recurrences are rare and typically occur within 3 years.
On ultrasound scan these masses appear as multilocular solid (52 %) or purely solid (39 %) masses (Fig.
6
). Vascularization usually is moderated (Fig.
7
). Multilocular solid cysts typically contain large numbers of small locules. The echogenicity of the cyst content was most often mixed or low level. Papillary projections can be found in 17 % of the cases [
25
].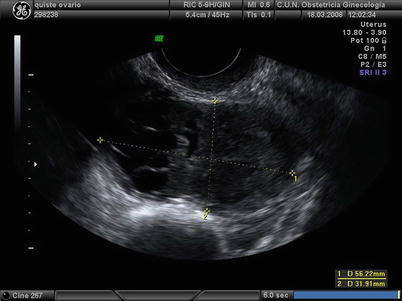 Fig. 6
Transvaginal ultrasound from a granulosa cell tumor. The lesion appears as a cystic-solid mass. Note that the cystic component is multiloculated with small locules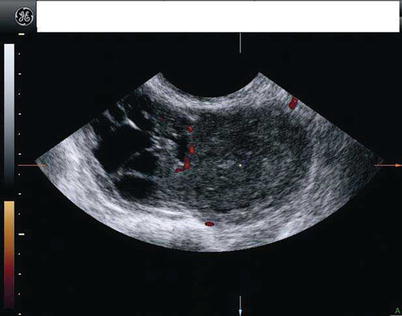 Fig. 7
The same lesion than in previous figure. Power Doppler ultrasound shows a moderate vascularization
Sertoli-Stromal Cell Tumors
Ovarian Sertoli cell tumors and Sertoli-Leydig cell tumors are sometimes called Sertoli-stromal cell tumors, androblastomas, or arrhenoblastomas. They account for less than 1 % of all ovarian tumors and are most common in young patients. Approximately 75 % occur in women under the age of 30 years (mean age at diagnosis 25 years); less than 5 % are encountered in prepubertal girls and slightly over 10 % after the age of 45 years. Almost all cases present at stage I and may have androgenic, estrogenic, or progestagenic manifestations, but many have no endocrine manifestations at all. Prognosis is usually favorable, except for those poorly differentiated or with heterologous elements [
6
,
8
,
26
].
These tumors are composed of Sertoli cells, Leydig cells, and fibroblasts in varying proportions and varying degrees of differentiation [
26
].
Sertoli Cell Tumors
Sertoli-Leydig Cell Tumors