Fig. 1
Synchronous Krukenberg tumours of the ovaries in a 60-year-old woman who presented with abdominal distension. (
a
) Axial contrast-enhanced CT image demonstrates bilateral, bosselated, predominantly solid ovarian masses (
arrows
) with multiple minor cystic components and a heterogeneous enhancement pattern. A small amount of ascites is present (
asterisks
). Axial T1-weighted Volumetric Interpolated Breath-hold Examination (VIBE) images with fat-saturation pre- (
b
), 30 s (
c
) and 180 s (
d
) post-gadolinium injection demonstrate avid early heterogeneous enhancement of the right adnexal tumour, which persists in the delayed phase (
arrows
). The uterus is also seen (
curved arrows
)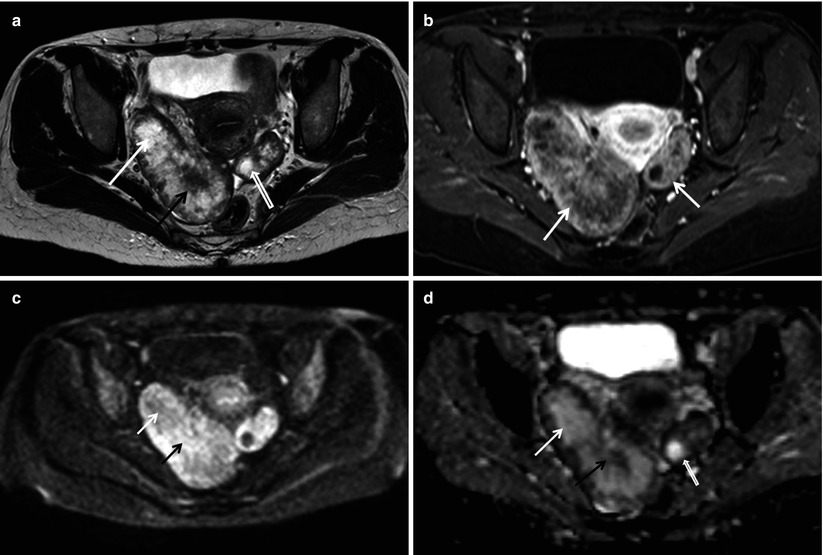 Fig. 2
Synchronous Krukenberg tumours of the ovaries in a 42-year-old woman with no prior history of malignancy, who presented with vaginal bleeding. Upper GI endoscopy, performed after imaging suggested the probability of ovarian metastases, diagnosed primary gastric cancer (diffuse adenocarcinoma with signet-ring cells). (
a
) Axial T2-weighted fast spin echo (FSE) MR image shows bilateral heterogeneous, predominantly solid adnexal masses, surrounding by a thin hypointense capsule, with areas of hyperintensity (
white arrow
), attributed to mucin/oedema, and scattered diffuse or linear relatively hypointense components (
black arrow
), representing fibrosis. A more well-defined intratumoural cyst is noted (
open arrow
). (
b
) Gadolinium-enhanced axial T1-weighted spin echo image with fat suppression demonstrates dense enhancement of the capsule and solid components of the lesions (
arrows
). (
c
) High
b
-value (1,000 smm
−2
) axial diffusion-weighted image (DWI) shows increased signal intensity of the solid components (
black arrow
) and intermediate of the mucinous components (
white arrow
). (
d
) Corresponding mono-exponential apparent diffusion coefficient (ADC) map from
b
-values of 0, 100, 250, 500 and 1,000 smm
−2
confirms restricted diffusion of the solid components (
black arrow
) and intermediate diffusion of the mucinous areas (
white arrow
). The intratumoural cyst shows free diffusion (
open arrow
)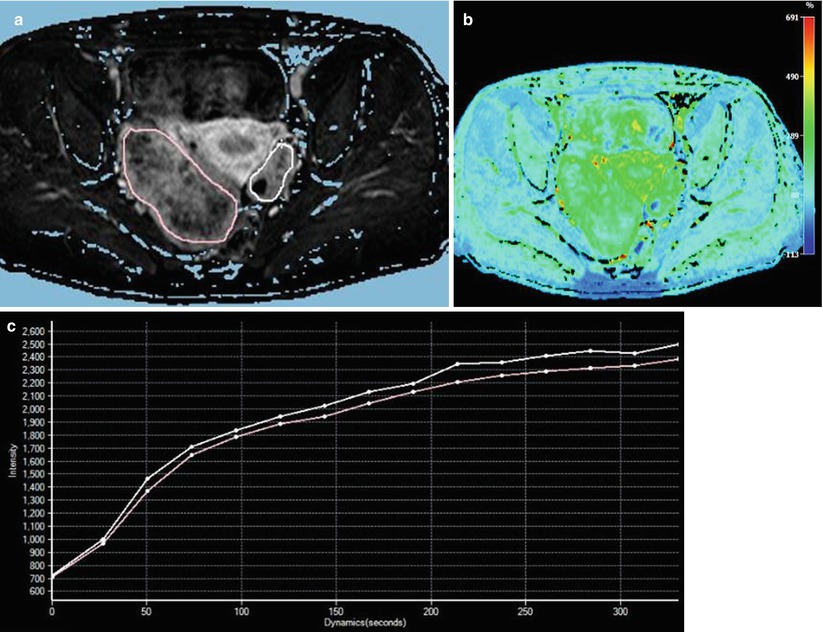 Fig. 3
Perfusion MR study of Krukenberg tumours of the ovaries in a 42-year-old woman with primary gastric adenocarcinoma (same patient as in Fig.
2
). (
a
) Axial T1-weighted High Resolution Isotropic Volume Excitation (THRIVE) image with fat suppression after bolus administration of gadolinium chelate at a dose of 0.2 ml/kg body weight shows manually delineated regions of interest (ROI) encompassing the entire lesion area. Images were obtained sequentially at approximately 25 s for 5 min. (
b
) Colour-coded map of relative enhancement demonstrates moderate enhancement in the solid portions of both tumours. (
c
) Graph shows the signal intensity-time curve, characterised by early onset, high amplitude and delayed persistence of enhancement, indicative of an aggressive tumour behaviour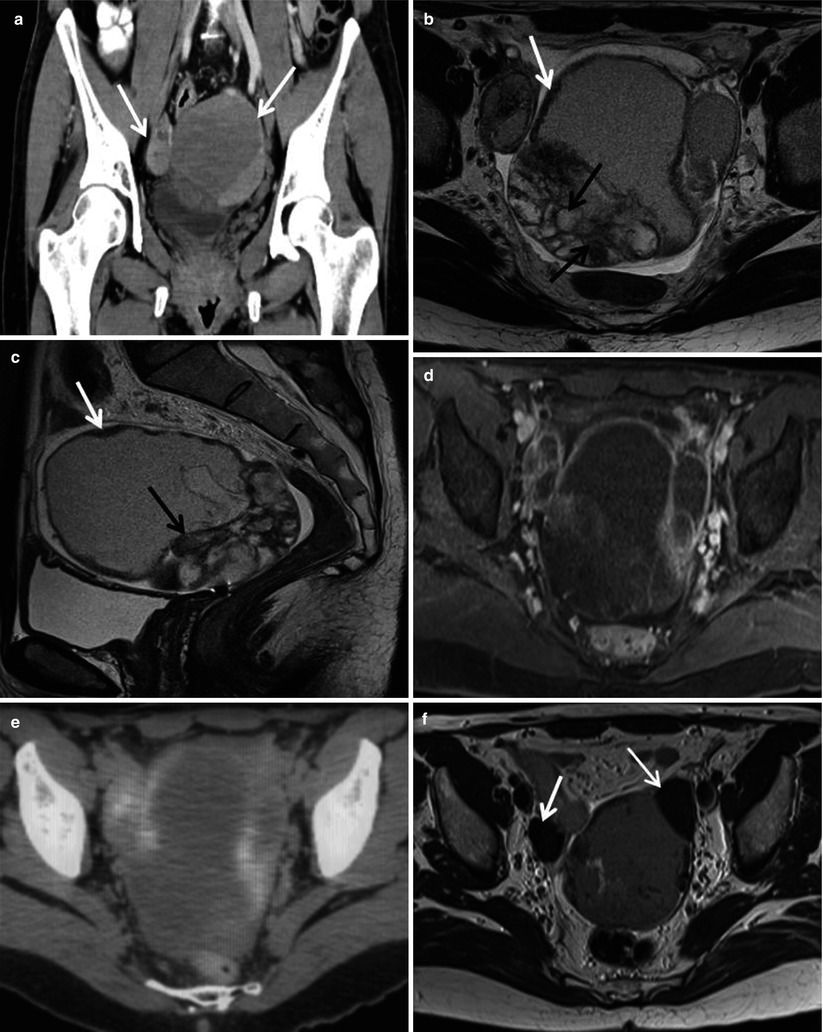 Fig. 4
Synchronous Krukenberg tumours from a moderately differentiated adenocarcinoma of the proximal rectum in a 48-year-old woman. (
a
) Coronal contrast-enhanced CT image demonstrates bilateral complex adnexal masses (
arrows
). On axial (
b
) and sagittal (
c
) T2-weighted FSE images, the bulky left ovarian tumour has dominant well-defined cystic components of varying mucin concentration surrounded by a thin hypointense rim (
white arrows
). In the more solid posterior portion of the tumour, abundant nodular and linear/branching hypointense septa are seen (
black arrows
). (
d
) Axial T1-weighted VIBE fat-saturated image demonstrates irregular and nodular enhancement of septa and rim. (
e
) Fused axial FDG-PET image shows low to moderate, predominantly peripheral metabolic activity. (
f
) Post-chemotherapy axial T2-weighted FSE image demonstrates reduction in size of the adnexal masses and development of new T2-hypointense areas (
arrows
), possibly due to a fibrotic response
Metastatic Mucinous Adenocarcinomas (Non-Krukenberg Type)
Metastatic Endometrial Adenocarcinomas
Metastases from Breast Primary
Lymphoma
Ovarian lymphoma is most commonly encountered in the presence of systemic disease rather than as a primary tumour and is almost exclusively of the non-Hodgkin type (particularly diffuse large B cell and follicular lymphoma) [
142
]. On CT the lesions are typically of large size (mean diameter 7.6–12 cm), bilateral in approximately 60 % of cases, well-defined and homogeneously hypodense, lacking calcification and displaying mild to moderate contrast enhancement [
64
,
142
,
143
] (Fig.
11
). Areas of necrosis and haemorrhage are rare despite the frequent large dimensions of lesions. On MRI lesions demonstrate homogeneously low T1 and intermediate to high T2 signal intensity, which is typically lower than ovarian carcinoma [
142
,
143
]. Another reported feature is preservation of ovarian shape and presence of T2-hyperintense septa with marked contrast enhancement [
144
]. Concomitant imaging findings, such as widespread lymphadenopathy, hepatosplenomegaly and bone marrow involvement, may aid towards the diagnosis of a haematological malignancy.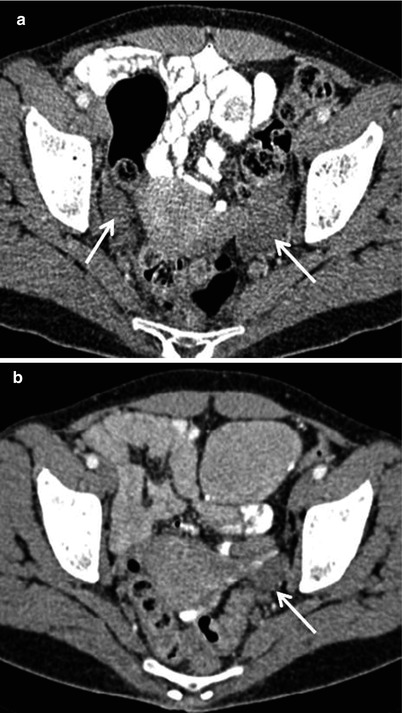 Fig. 11
Adnexal metastases in a 63-year-old patient with a history of diffuse large B cell non-Hodgkin lymphoma. Axial contrast-enhanced CT image (
a
) demonstrates bilateral, homogeneously hypodense, minimally enhancing ovarian lesions with smooth margins and preserved ovarian contour (
arrows
). A post-treatment contrast-enhanced CT image (
b
) demonstrates resolution of the right-sided tumour and a significant reduction in size of the left (
arrow
)
Malignant Melanoma
Most ovarian melanomas arise from a cutaneous or rarely choroidal tumour, although primary melanomas have been reported associated with teratomas [
145
,
146
]. A definite history of prior melanoma is available in over 60 % of cases, but the interval between primary diagnosis and ovarian metastasis may be long, ranging from 15 to 228 months (mean 77.7 months) [
146
]. Extensive extra-ovarian metastatic disease is present in approximately 50–90 % at the time of presentation. Macroscopic melanin pigmentation, indicating the diagnosis, is present in only 22–35 % of tumours and often only focally [
145
–
147
]. Moreover, a similar brown colourisation may be produced by the lipochrome pigment of a steroid cell tumour, whereas amelanotic melanoma may be mistaken for a lipid-poor steroid cell tumour [
8
]. Average tumour size is approximately 10 cm (range 4.5–23 cm) and unilaterality is reported in 60–82 % [
146
,
148
]. A minor or dominant cystic component is found in approximately 80–90 % of tumours [
146
] (Fig.
12
). Imaging features are non-specific but when adequately present, melanin can be detected by its increased T1 signal intensity; differentiation from teratomas and endometriomas may be aided by the peripheral location of melanin-induced T1-hyperintensity in contrast to centrally located sebaceous/fatty and hemorrhagic components, respectively [
149
].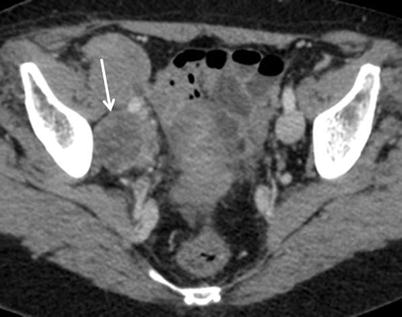 Fig. 12
Biopsy-proven adnexal metastasis in a 39-year-old patient with a history of cutaneous malignant melanoma excised 16 months previously. Axial contrast-enhanced CT image shows non-specific features of a unilateral, predominantly cystic right ovarian lesion (
arrow
), with sparse solid enhancing components
Conclusion
The ovaries are metastatic hosts to a multitude of primary tumours. The extensive overlap of imaging properties between primary and secondary ovarian tumours precludes a reliable distinction on the basis of CT/MRI-derived criteria. However, in conjunction with the clinical history, recognition of certain typical patterns of ovarian metastases depending on primary disease may facilitate the diagnosis. The principal imaging features and diagnostic considerations according to main metastatic tumour types are summarised in Table
1
. A high suspicion index for secondary ovarian involvement is warranted in the setting of a known primary malignancy, especially of gastrointestinal, haematologic and melanoma origin. In approximately 40–50 % of cases, mainly of gastric and colorectal cancer, in which the discovery of adnexal disease precedes the primary diagnosis, features such as bilaterality, a predominantly solid appearance and lack of multilocularity may alert the radiologist to the possibility of a Krukenberg tumour, so that further diagnostic work-up be pursued. A prevalent cystic appearance, combined with bilateral involvement and relatively small tumour size, may be indicative of metastatic mucinous tumour, particularly of gastrointestinal source. Bilaterality and small tumour size in a patient with a history of advanced breast cancer raise suspicion for metastases. In synchronous endometrial and ovarian tumours distinction on imaging is increasingly challenging, although bilaterality and solid composition may suggest a metastatic relationship.
Table 1
Imaging features and diagnostic considerations according to metastatic tumour types














Metastatic tumour type






Imaging feature






Diagnostic considerations







Laterality






Size






Composition






MR signal intensity








Krukenberg


















T2-hypointensity in solid components due to collagen/fibrosis






Needs to be distinguished from other T2-hypointense tumours (fibroma, fibrothecoma), usually unilateral







Mucinous (non-Krukenberg)








Premium Wordpress Themes by UFO Themes

WordPress theme by UFO themes