Case presentation
A 13-year-old male is referred to the Emergency Department by his primary care provider. The patient has had left hip pain for the past week, which has progressively interfered with his daily activities, such as sports, and now has made ambulation difficult. He has had subjective fever but no recent illness and denies any trauma. There has been no back pain, abdominal pain, incontinence, weakness, or numbness. The pain radiates from his left hip to the superior aspect of his left knee.
On examination, the patient is a pleasant teenager in no distress. He has a temperature of 100.2 degrees Fahrenheit, a heart rate of 112 beats per minute, a respiratory rate of 20 breaths per minute, and a blood pressure of 120/76 mm Hg. His physical examination reveals no obvious abnormalities, as he is sitting up on the hospital bed. His leg lengths are equal. He is able to ambulate but when doing so states that this produces left lateral hip pain, pointing to the anterior-lateral aspect of the superior iliac crest. When his left leg is examined, he has good range of motion of the leg at the hip joint; he is able to flex and extend the leg without difficulty, but when the knee is flexed and the leg (at the hip joint) is either abducted or adducted, pain is produced at the superior aspect of the left hip. There is no erythema, swelling, warmth, or signs of trauma. He has no abdominal pain or back pain and has a normal genital examination.
Imaging findings
Plain radiography of the pelvis (two views: anterior-posterior and frog lateral) was obtained and no radiographic abnormality was noted ( Figs. 74.1 and 74.2 ). Laboratory studies were obtained, and given these results, MRI of the hips and femurs was performed. Selected images from this study are provided. There is abnormal bone marrow signal intensity and abnormal enhancement in the left femur, greatest proximally but extending into the diaphysis. Within the proximal femoral diaphysis a focal fluid collection with surrounding enhancement suggests a bone abscess. Surrounding edema in the soft tissues is greatest proximally, with edema and enhancement in adjacent musculature, also consistent with myositis ( Figs. 74.3–74.8 ).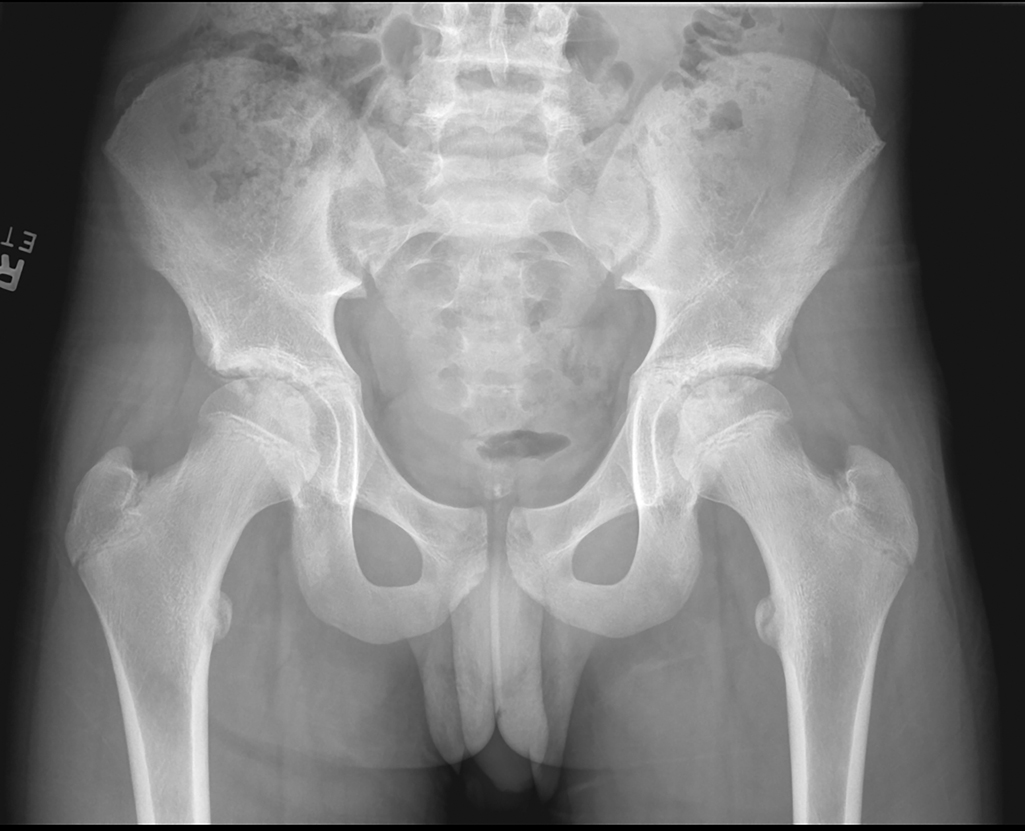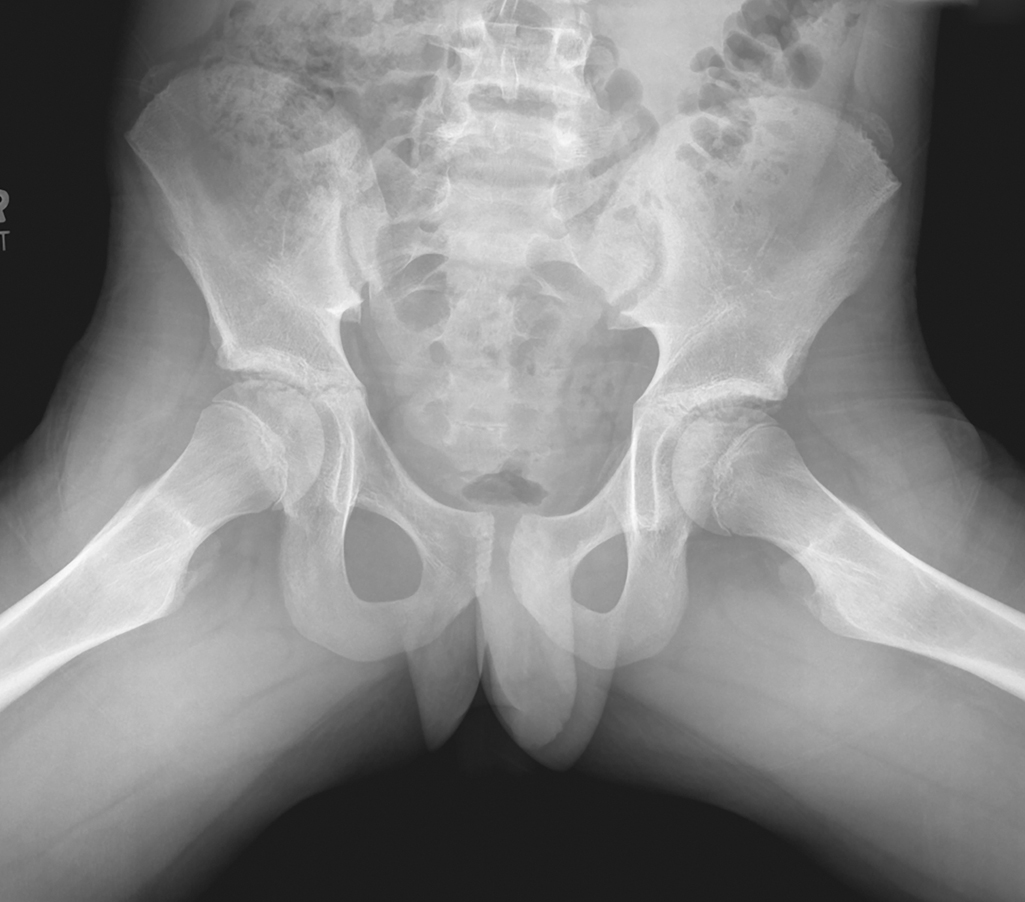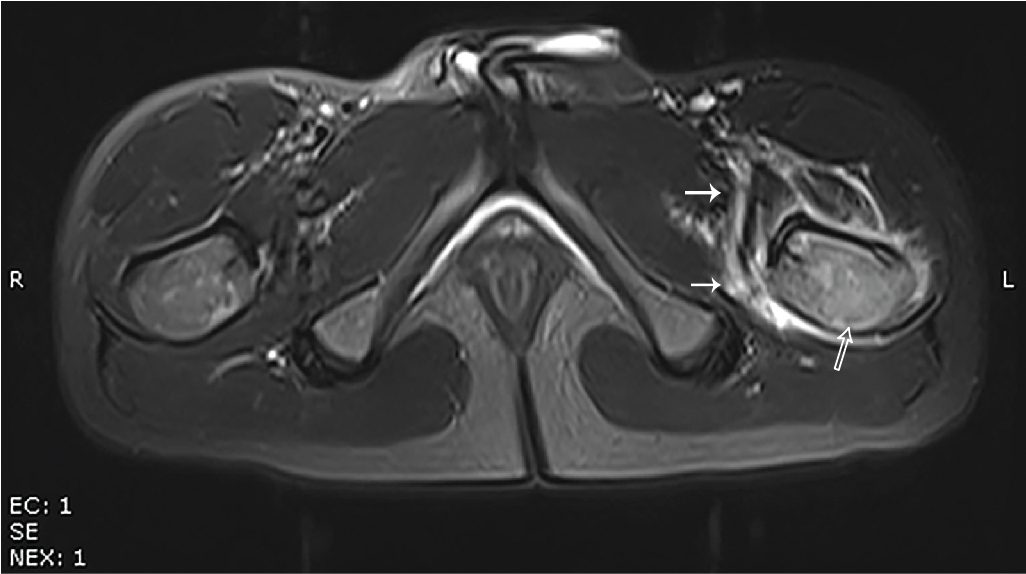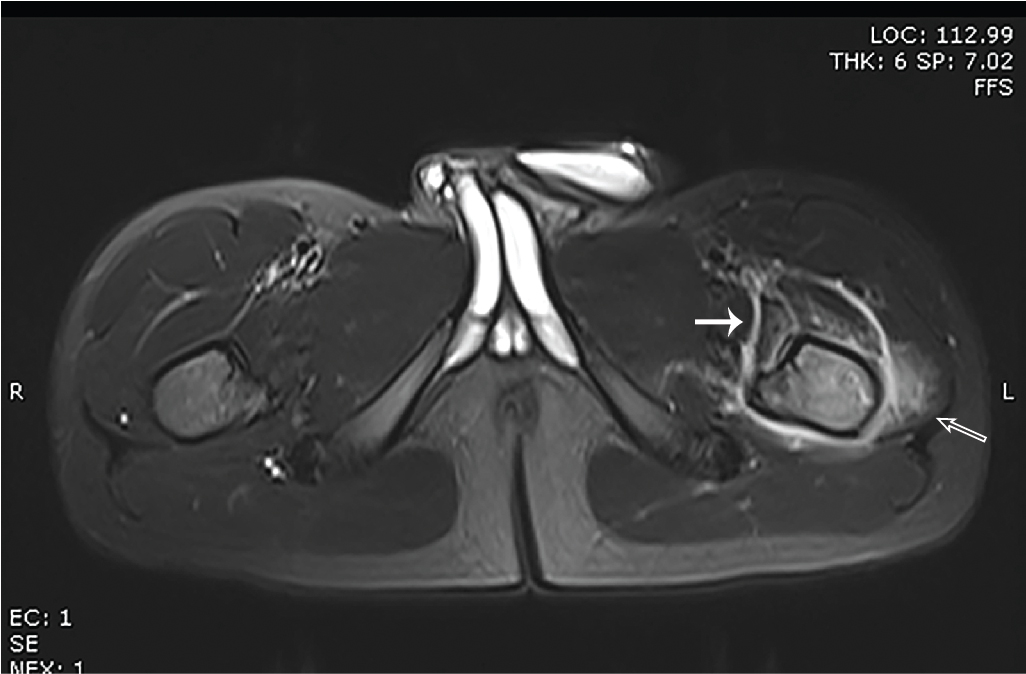 Premium Wordpress Themes by UFO Themes
WordPress theme by UFO themes