Fig. 37.1
T2 MRI (
a
), slice segmentation (
b
) and resulting three-dimensional reconstruction of left frontal glioma (
c
)
Therefore, exact segmentation of tumor boundaries is practically not possible with current imaging technology [
43
]. Consequently, the purpose of segmentation should be to define a reasonable plan for resection, which maximizes tumor cytoreduction while minimizing risk to normal adjacent brain. In addition, the value of segmentation extends beyond visualization to potential diagnostic applications. Recent work has applied semiautomatic segmentation to track changes in tumor volume over time [
44
].
Functional MRI
As described above, functional MRI provides a noninvasive mapping of active brain areas during prescribed tasks. Task-specific fMRI data can be thresholded by the clinician or an fMRI expert, and then activations of interest can be converted into volumes of interest and segmented as described above. fMRI maps can be coregistered and overlaid against structural images to approximate the geometry of functional areas adjacent to a lesion. The spatial orientation of fMRI regions is a key factor in determining a safe corridor for approaching a lesion. In addition, in the case of tumors, fMRI-based 3D models can identify resection margins that are at highest risk for causing neurologic deficit. At present, fMRI studies require coordination between the surgeon, radiologist, and fMRI analyst to select appropriate tasks, analyses, and threshold levels in light of patient-specific considerations.
Tractography (Tractogram)
In the context of neurosurgical planning, tractography has the potential to delineate larger white matter tracts preoperatively in order to inform both the resection approach and boundaries. Tractography is most useful for visualizing the displacement of the motor, somatosensory, and visual and language-related pathways by mass lesions [
45
,
46
]. For lesions involving subcortical white matter, conventional imaging cannot clearly demonstrate the direction of deflection of fibers by a mass lesion. DTI tractography can often predict the location of fibers that may have crucial functional roles. The utility of tractography may be limited by pathology-induced changes within or near a tumor: neoplastic or necrotic disruption of the cytoarchitecture may alter or eliminate axonal organization, while edema can sufficiently reduce the apparent directionality of diffusion such that tractography algorithms will stop due to insufficient anisotropy. Therefore, DTI tractography is most useful as a positive test, as a negative result does not definitively rule out the possible presence of tracts. Tractography is typically selected by seeding from manually drawn regions of interest [
45
] (ROI) or from functional activation areas including fMRI [
46
] or MEG [
47
]. For neurosurgical review, a promising approach is to select tractography interactively (Fig.
37.2
) in a three-dimensional visualization [
48
]. Eventually, automated tractography identification may significantly reduce the necessity of manual selection using methods such as fiber clustering [
49
] and fiber atlas analysis [
50
,
51
].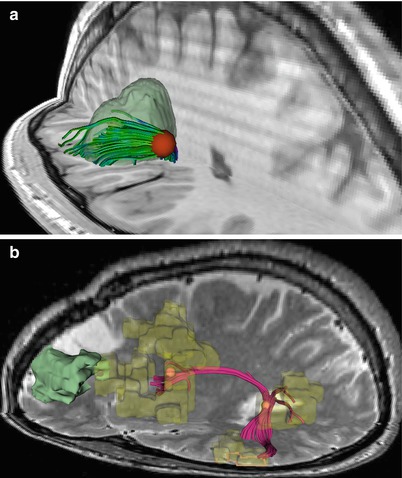 Fig. 37.2
View of interactive tractography visualization. (
a
) Tracts are continuously updated as the seeding sphere is moved. (
b
) Interactive seeding to select tract from frontal to temporal lobe in vicinity of tumor, connecting respective fMRI activations from a noun categorization task
Clinical Considerations
Conclusion
In conclusion, a variety of cross-sectional images can be used to formulate an operative approach. MRI, with contrast when appropriate, provides the backbone for the integration of further structural and functional image modalities. For mass lesions, fMRI and DTI, as well as some emerging techniques, can provide key information to enable surgeons to minimize damage to functional regions, while maximizing extent of resections. Both surgeons and patients should be aware of the risks and limitations of current techniques for image-based planning of neurosurgical operations.