Fig. 10.1
Normal hamstrings tendon origin on MRI and ultrasound. (
a
) Axial T1-weighted MRI demonstrates the normal hamstrings tendon origin. The semimembranosus origin (
arrowhead
) originates laterally from the ischial tuberosity whereas the conjoined tendon of the semitendinosus and biceps femoris originates medially (
arrow
). (
b
) Short-axis gray-scale ultrasound of the hamstrings tendon origin (
arrows
); image (
right
) is medial. (
c
) Photograph depicting transducer orientation for short-axis image of the hamstrings tendon origin; image (right) is medial. (
d
) Long-axis gray-scale ultrasound of the hamstrings tendon origin (
arrows
) from the ischial tuberosity (
IT
); image (left) is proximal. (
e
) Photograph depicting transducer orientation for long-axis image of the hamstrings tendon origin
Grade II muscle strains, also known as partial tears, are characterized by partial fiber disruption. Some fibers remain intact from the origin or insertion, but, particularly on the fluid-sensitive sequences, fiber waviness or partial-thickness retraction is apparent (Fig.
10.11
). Fluid may track along the fascial interface with the injured muscle or myotendon, and this fluid may demonstrate variable degrees of heterogeneity depending on the presence of associated blood products and debris. An intramuscular hematoma is often seen at the myotendinous junction in grade II injuries (Peetrons
2002
). The appearance on longitudinal plane ultrasound is particularly complementary to the blunted fibers seen on MRI, as one sees blunting of the typically linear fibrillar architecture of the muscular unit along its long axis (Fig.
10.12
).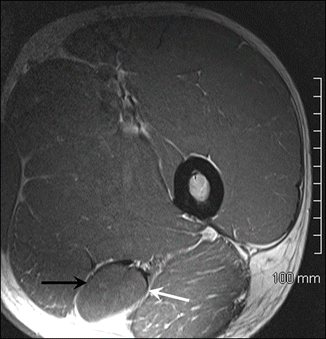 Fig. 10.2
Normal proximal hamstrings musculature on MRI. Axial T1-weighted MRI of normal proximal hamstrings musculotendinous junction region. The biceps femoris (
white arrow
) is now lateral; the semimembranosus is now medial (
black arrow
)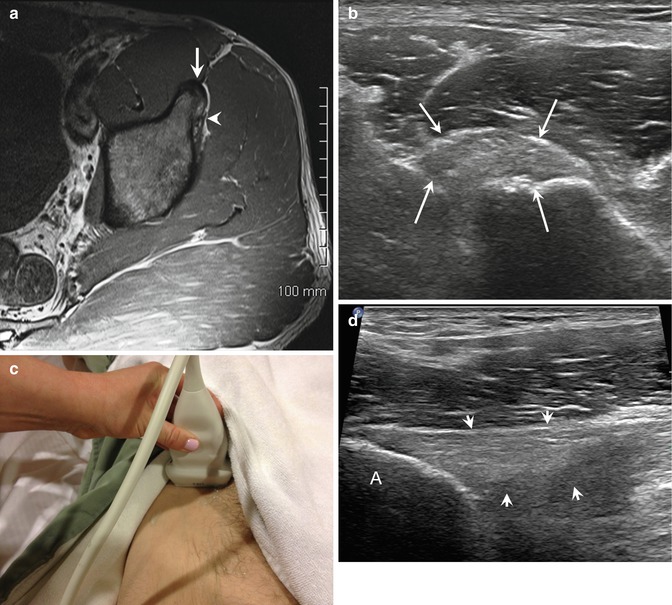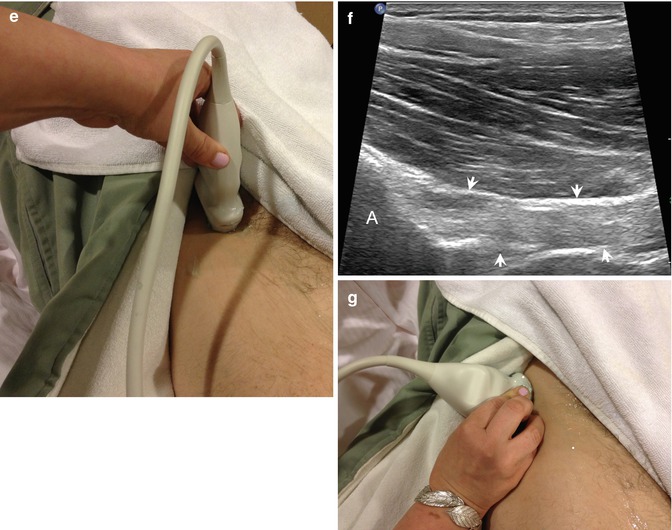 Fig. 10.3
Normal rectus femoris origin on MRI. (
a
) Axial T1-weighted MRI of normal rectus femoris origin, direct head (
arrow
) and indirect head (
arrowhead
). Normal rectus femoris direct head origin on ultrasound. (
b
) Short-axis image of the direct head origin (oval) and (
c
) corresponding photograph showing transducer orientation. (
d
) Long-axis image of the direct head origin (
arrowheads
) from the anterior inferior iliac spine (
A
) and (
e
) corresponding photograph. Normal rectus femoris indirect head origin on ultrasound. (
f
) Ultrasound of normal rectus femoris indirect head origin (
arrowheads
) from supra-acetabular ridge of ilium (
A
) and (
g
) corresponding transducer position nearly in the coronal imaging plane
The most striking feature of grade III injuries is the "fluid gap." However, depending on the timing of the injury in relation to imaging, it may or may not be obvious. Grade III injuries are complete disruptions and are often surgical cases. As with grade II injuries, MRI and ultrasound findings are intuitively interchangeable for grade III injuries. Whereas on MRI the fluid gap may be homogeneously T2/PD hyperintense or demonstrate heterogeneity, on ultrasound, the fluid gap may be anechoic or, more commonly, of heterogeneous echogenicity due to a mixture of hemorrhage products (Fig.
10.13
). For all grades of injury, the radiologist should remember that architectural distortion depicted as blunting of fibers, feathery fat, relative volume loss, and gross muscle or myotendinous retraction may be present in remote injury.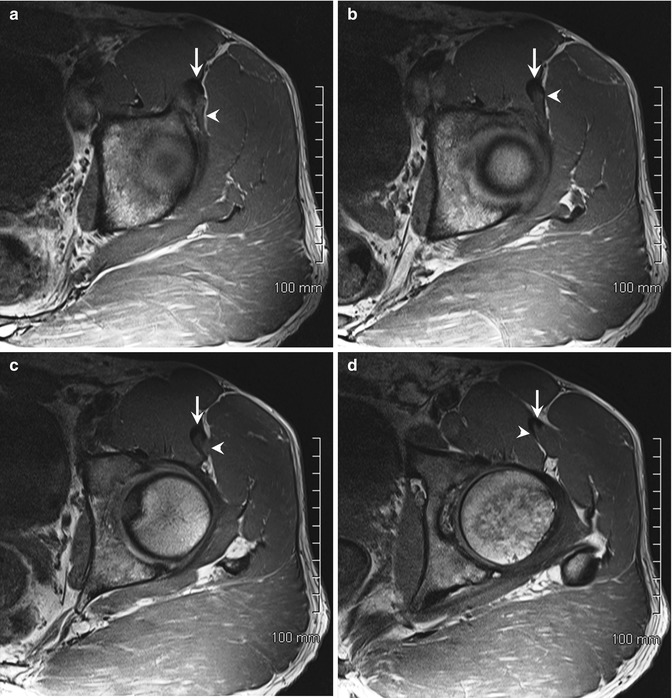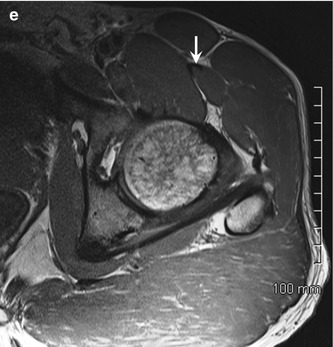 Fig. 10.4
Normal proximal rectus femoris on MRI. (
a
–
e
) Axial T1-weighted MRI of normal confluence of direct (
arrow
) and indirect (
arrowhead
) heads of rectus femoris, proximal to distal
10.2.5.2

Hamstring Injuries

Location within a body part is as critical to the radiologist as location within a town is to a real estate agent. Likewise, the location of injury within the hamstring muscle group is a key discriminating feature in soccer, as it can provide some degree of prognostic information as well as correlate with the type of injury. Recall from the earlier discussion the differentiation between "sprinting-type" and "stretching-type" injuries. These different mechanisms of injury usually result in different locations and gradations of strain in the hamstrings.
10.2.5.3

Quadriceps Injuries

The rectus femoris is the most frequently injured of the 4 individual muscles comprising the quadriceps muscle group. Injuries can be subcategorized based on location and can be thought of in a proximal-to-distal approach: direct head origin, indirect head origin, peripheral proximal myotendinous junction, deep myotendinous junction of the indirect head, and the distal myotendinous junction closer to the knee joint. Injuries to the vastus musculature do occur but are much less common than those affecting the rectus femoris.