Case presentation
A 9-year-old male presents with a 4-month history of right upper arm pain. Over the past 2 months, he and his parents have noted the development of swelling to the arm as well. The patient is active in sports, particularly baseball, and the pain started after he pitched a game. He was given ibuprofen with some relief of the pain, but over the past several weeks, this has not been helping. He has not had fever, numbness, weakness, rash, or other symptoms.
Physical examination reveals a well-appearing pleasant patient in no acute distress. His vital signs are unremarkable. He has a normal physical examination with the exception of his right upper arm, where there is swelling, and tenderness of the midshaft of the right humerus. While he has normal gross range of motion, he does complain of pain with movement of the arm. There is no erythema, warmth, or fluctuance. He is neurologically intact.
Imaging findings
The patient's history and physical examination findings warrant further investigation. Plain radiography of the right humerus was obtained. These images were somewhat difficult to obtain, since the patient had pain with movement of the arm despite pain medication. These images revealed a destructive lesion in the midshaft of the right humerus, with a permeative lytic pattern in the cortex. The periosteal reaction surrounding the lesion was indicative of an aggressive lesion, with a Codman triangle and spiculated periosteal new bone (see Chapter 78 [Osteosarcoma], for further discussion of the Codman triangle). These patterns occur as an aggressive tumor lesion that expands beyond the bone, elevates the periosteum, and lesion growth outpaces the growth of newly-formed subperiosteal bone ( Fig. 79.1 ).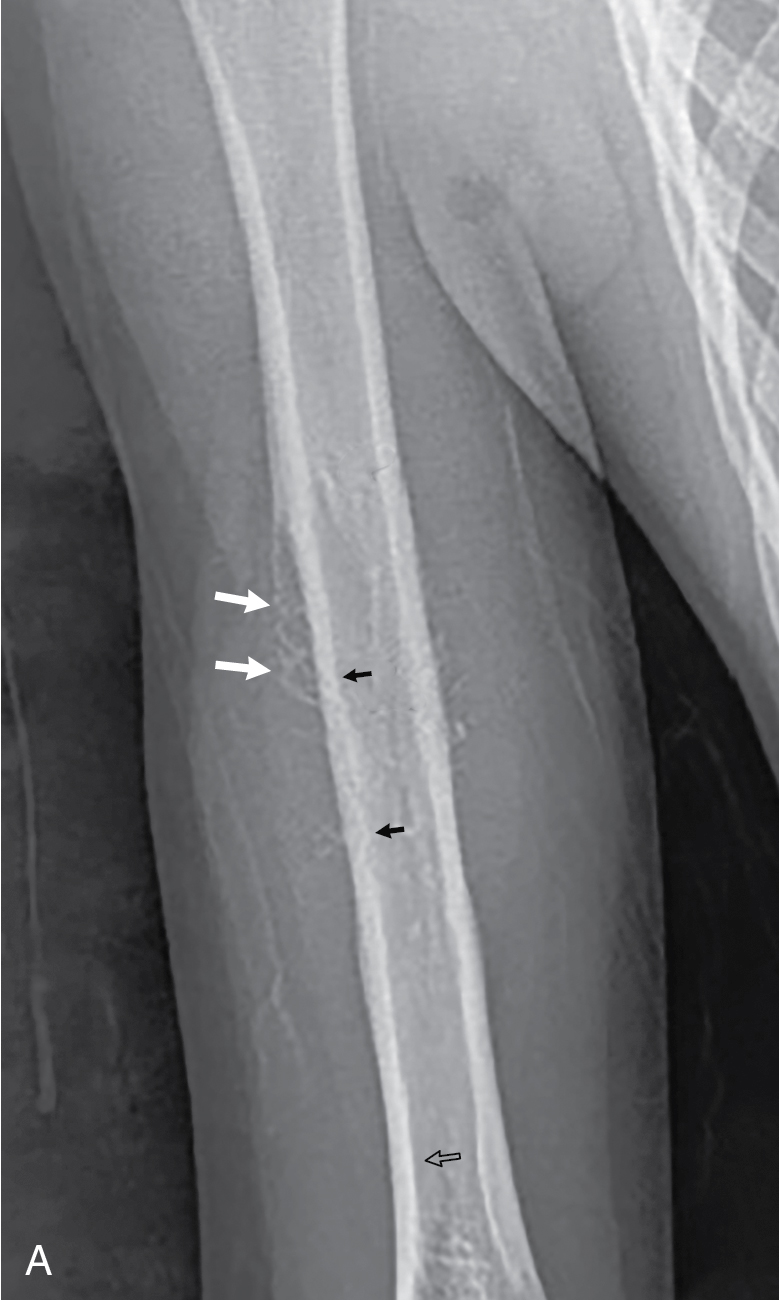 Premium Wordpress Themes by UFO Themes
WordPress theme by UFO themes