Fig. 21.1
Accessory palmaris longus muscle in a 15-year-old boy. Axial T1-weighted MR image after gadolinium contrast injection. The MR image reveals an additional mass, located superficially of the flexor digitorum tendons, with similar MR characteristics as normal skeletal muscle
In the lower extremities, anatomic variants occur almost exclusively in the soleus muscle [
52
]. Though present from birth, an accessory soleus muscle usually manifests in the late adolescent age because of muscle hypertrophy secondary to increased physical activity, especially in athletes [
139
]. It arises either from the anterior surface of the soleus muscle or from the soleal line of the tibia and fibula and appears as a soft tissue mass between the medial malleolus and the Achilles tendon [
52
,
139
]. Up to 25 % of patients may present with an asymptomatic soft tissue swelling medial to the os calcaneus [
139
] (Fig.
21.2
). Symptoms, when present, have been attributed to closed compartment ischemia and are accentuated by exercise [
52
].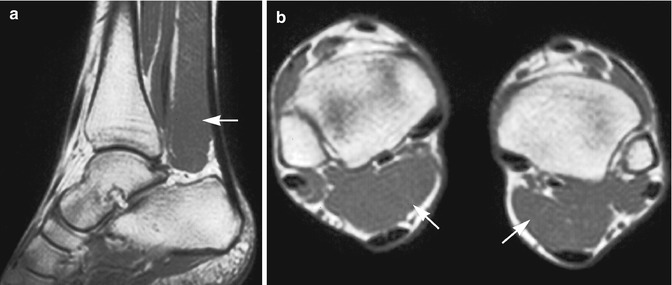 Fig. 21.2
Accessory soleus muscle in an adult man: (
a
) sagittal spin echo T1-weighted MR image; (
b
) axial spin echo T1-weighted MR image. There is a muscle belly within Kager's fat triangle, anterior to the Achilles tendon (
arrows
). Signal intensity and bilateral presentation of abnormality are in favor of accessory soleus muscle
Herniation of muscle through fascial planes can also mimic a tumor. It can be found in athletes, soldiers, or other professions requiring great strains on the legs. Most of the herniations have a constitutional origin, where muscle strain or hypertrophy leads to rupture of fascia on specific constitutional weaker locations [
118
]. The anterior tibial compartment is a common location for muscle herniations, where the herniation is palpable as a soft tissue mass [
85
]. Herniation of the m. extensor digitorum longus, m. peroneus longus and brevis, and m. gastrocnemius is also possible [
118
]. This can be asymptomatic, but also more prominent after exercise [
81
,
118
]. Herniations can be multiple and bilateral [
27
] (Fig.
21.3
).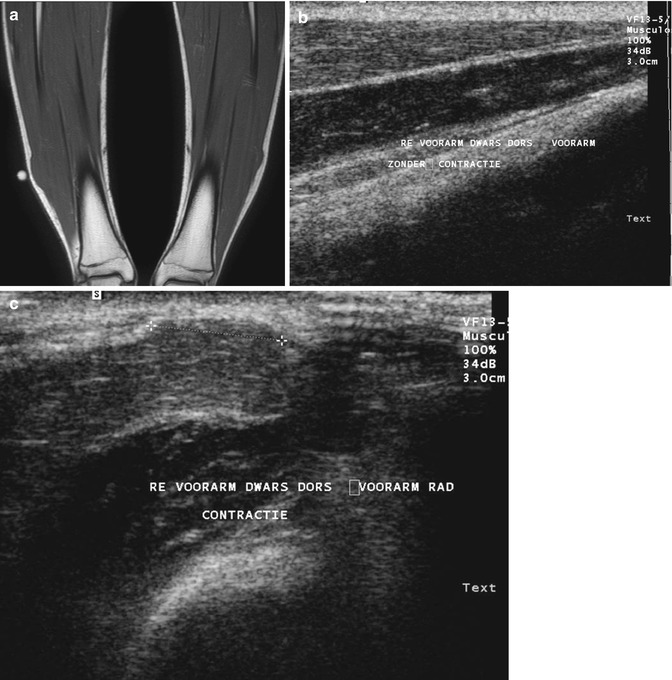 Fig. 21.3
Muscle herniation in two different patients. (
a
) Long-standing bilateral muscle herniation in a 15-year-old male: a coronal spin echo T1-weighted MR image. A focal bulging of the peroneus muscle compartment is seen, more pronounced on the right side. As expected, this protruding mass has the same signal characteristics of normal muscle tissue (
b
,
c
). Ultrasound of the forearm without (
b
) and with muscle contraction (
c
) in another patient. Note the presence of a mushroom-shaped lesion bulging through a focal defect in the superficial fascia. The lesion is only visible with muscle contraction (
c
)
The diagnosis of a muscular anomaly is mainly based on knowledge of the most common locations and the aspect of the lesion on imaging. Both anatomy variations and muscle herniations can be depicted with ultrasound, where the suspicious mass is identified as having the same ultrasound appearance as normal muscular tissue. The ability of dynamic evaluation further increases the diagnostic accuracy. As expected, the signal characteristics on MR imaging of these lesions are identical to skeletal muscle on all pulse sequences, as long as there is no adjacent edema or contusion. When in doubt, a dynamic MR examination with forced dorsiflexion and plantar flexion of the ankle allows a better evaluation of the changes in shape and size of a muscle herniation [
27
,
118
]. MR imaging of the fascial defect is possible but difficult.
Other anomalies such as an accessory breast or nipple may mimic a soft tissue tumor (Fig.
21.4
). It is usually present along the primitive milk line above or below the normal breast location and is the most frequently encountered congenital anomaly of the breast [
103
]. Other more rare locations include the axilla, scapula, thigh, and vulva [
102
], since the primitive milk line extends from the axilla to the groin. Patients with accessory breast tissue may be asymptomatic or may present with swelling and pain. As accessory breast tissue is subject to the same spectrum of physiological changes and pathological processes as proper breast tissue it may therefore come to attention during menarche, pregnancy, lactation, or in case of benign and malignant breast disease [
46
,
67
].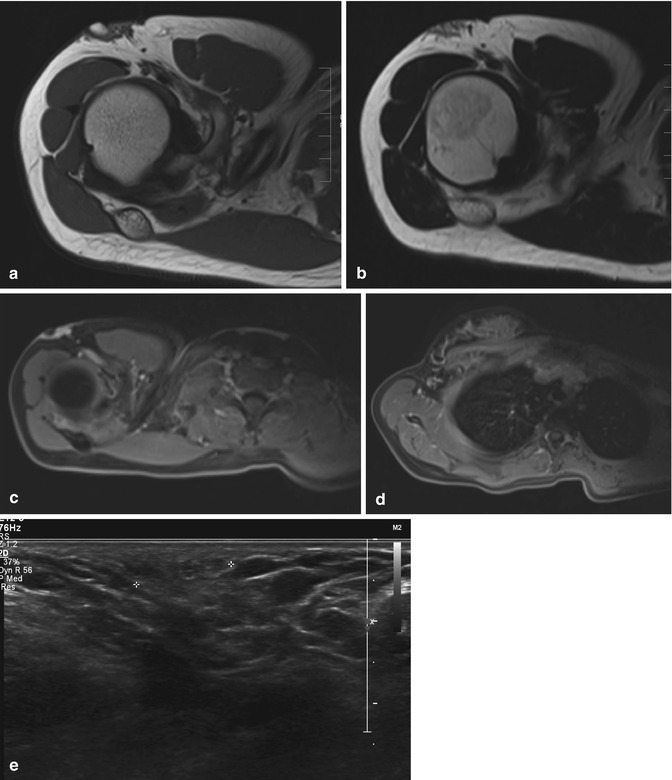 Fig. 21.4
Accessory breast in a 21-year-old female with a palpable swelling in the right axilla. The lesions enlarge and are slightly painful in the second half of the menstrual cycle: (
a
) axial T1-weighted MR image; (
b
) axial T2-weighted MR image. (
c
,
d
) Axial FS T1-WI MR image before (
c
) and after intravenous injection of gadolinium contrast (
d
). Presence of a small soft tissue "mass" ventrolateral in the right axilla on both pulse sequences, with signal intensities comparable to the signal intensity of normal adjacent breast. The lesion enhances similarly as breast tissue (
d
) Ultrasound (
e
) shows an echotexture similar as breast tissue
21.2.2

Inflammatory and Infectious Lesions
21.2.3

Traumatic Nerve Lesions Presenting as a Soft Tissue Mass
21.2.3.1

Morton's Fibroma
21.2.3.2

Traumatic Neuroma

Traumatic neuroma is a nonneoplastic reactive hyperplasia of nerve tissue and usually occurs at the proximal end of a nerve trunk that has been severed, partially transected, or injured as a result of trauma. Traumatic neuromas are classified into neuroma-in-continuity (NIC) after partial nerve transection or end-bulb neuromas (EBN) after complete disruption. EBNs lack distal continuity with the parent nerve, while NICs are contiguous both proximally and distally [

2

].

The most common location for traumatic neuromas is the lower extremity after amputation, followed by the head and neck, where they have been reported to occur after the extraction of teeth.

After limb amputation, neuromas may be asymptomatic when not compressed, but can cause unexplained pain and discomfort particularly when a prosthesis is worn. Physical examination may reveal a painful nodule at the site of the transected nerve, local tenderness over the injured nerve with distally radiating tingling (Tinel sign), denervation atrophy of the muscles, and sensory or trophic changes [

38

].

On imaging, traumatic neuroma may mimic a peripheral nerve sheath tumor (PNST). The history of a previous trauma is the key finding to the correct diagnosis.

Ultrasound reveals a hypoechoic mass at the distal end of site of the amputated nerve in case of an EBN [

76

]. In a transected nerve, ultrasound may reveal a focal gap due to nerve discontinuity and scar tissue at the level of transection and EBN formation at the proximal and distal stump margin [

206

]. An NIC is seen as a spindle-shaped mass on the course of the involved nerve and may mimic a PNST. Ultrasound-guided steroid or alcohol injection in painful stump neuroma has been reported as a successful method for pain relief [

37

,

104

].

On MRI (Fig.

21.24

), an EBN is seen as a T2 hyperintense nerve terminating in a baseball-shaped mass resembling a balloon on a string or a green onion appearance [

2

,

38

]. To differentiate an NIC from a PNST, administration of gadolinium contrast is not useful as both lesions may demonstrate contrast enhancement. The lack of a target sign on T2-WI in a traumatic neuroma in conjunction with the clinical history of a previous trauma is the most useful clue to the correct diagnosis of a traumatic neuroma [

2

].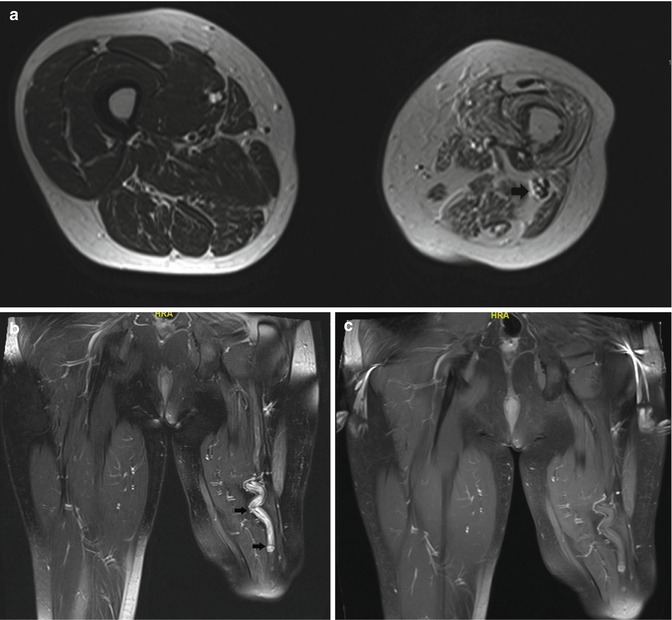 Fig. 21.24
Amputation neuroma of the left sciatic nerve in 46-year-old male: (
a
) axial T2-weighted MR image; (
b
) coronal FS T2-weighted MR image. (
c
) Coronal FS T1-WI following administration of gadolinium contrast. T2-WI. There is enlargement of the left sciatic nerve proximal to the site of amputation (
arrows
in
a
,
b
). Absence of significant enhancement of the sciatic nerve (
c
). Note muscle atrophy and fatty infiltration at the amputation stump
Distal denervation muscle atrophy serves as a useful secondary sign of nerve injury on MR imaging [
38
].
21.2.4

Other Posttraumatic Lesions
21.2.4.1

Hematoma and Contusion

A contusion is caused by a capillary rupture that provokes bleeding between the tissue muscle fibers, resulting in edema and inflammatory reaction. Contusions are not always painful, may present as a mass, and thereby cause clinical confusion. A soft tissue contusion appears on MR images as a diffuse interstitial infiltration due to edema. It is hyperintense on T2-weighted images but without architectural muscle distortion. However, the muscle may increase in volume, owing to inflammation. The history of a previous trauma is required to differentiate muscle contusion from focal myositis, which may have a similar imaging appearance.

The ultrasound appearance of hematomas is variable in time. Acute hematomas are hyperechoic and they become more hypoechoic with aging. They may have well-defined or irregular margins (Fig.

21.25a

). Dynamic evaluation with muscle contraction is valuable for assessing disruption of muscle architecture. On CT, acute hematoma appears as a hyperdense area; MR imaging has replaced CT in the imaging of hematomas.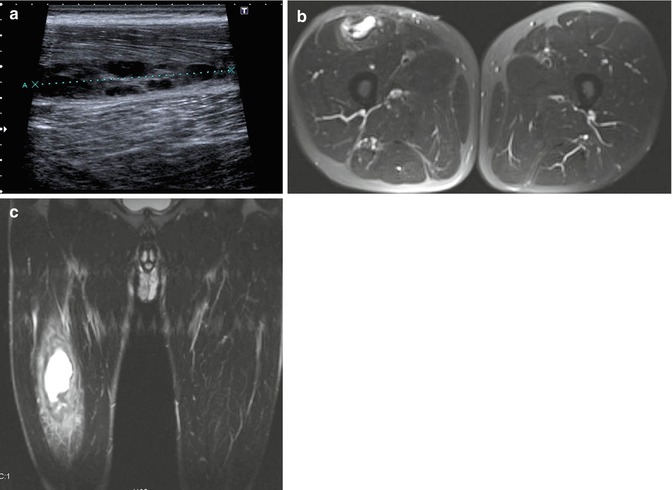 Fig. 21.25
Muscle hematoma in the right rectus femoris muscle. (
a
) Sagittal ultrasound shows focal disruption of the muscle fibers (hematoma); (
b
) axial FS T2-WI; (
c
) coronal FS T2-WI FS T2-WI. MRI confirms discontinuity of the right rectus femoris and the presence of a hyperintense hematoma with surrounding muscle edema
The MR imaging appearance of muscular hematomas (Figs.
21.25
and
21.26
) reflects the pathophysiology of forming hemoglobin breakdown products, which are the main constituents of a hemorrhagic collection. Further discussion of the pathophysiology of hemoglobin degradation is beyond the scope of this chapter.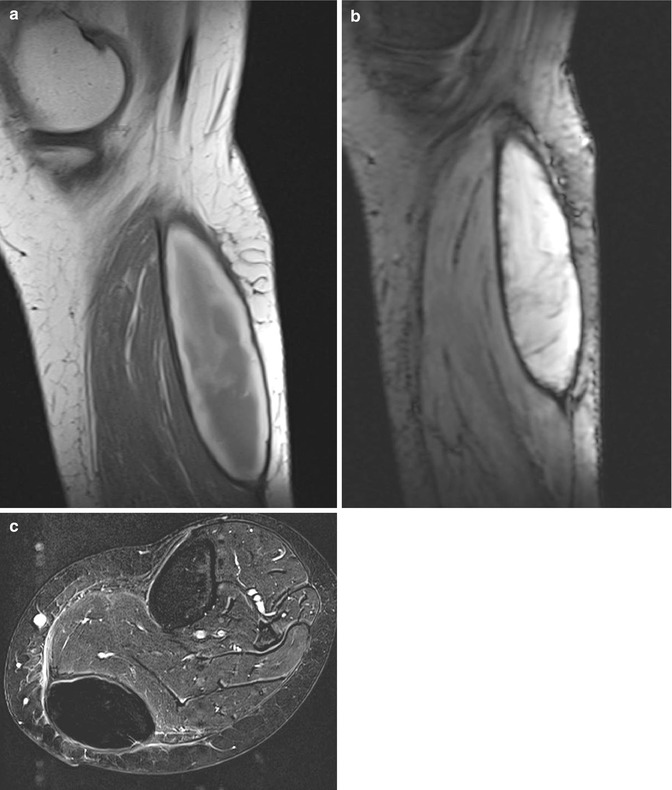 Fig. 21.26
Subacute hematoma of the calf: (
a
) sagittal spin echo T1-weighted MR image, (
b
) sagittal gradient MR image. There is a fusiform mass of intermediate signal intensity of the center, high signal intensity of the periphery, and adjacent subtle dark peripheral rim on T1-weighted images. The different layers are due to the presence of, respectively, intra- and extracellular methemoglobin and hemosiderin (
a
). On gradient images, overall signal intensity is very high, exception made for a low signal intensity peripheral rim caused by hemosiderin (
b
). Signal intensities are characteristic for a subacute hematoma. (
c
) Axial substraction image after injection of intravenous gadolinium contrast shows the absence of nodular enhancement which argues against the presence of underlying tumoral mass lesion
In an acute hematoma, the signal characteristics are dominated by intracellular deoxyhemoglobin. The lesion is iso- or slightly hypointense on T1-weighted images compared with muscle. Susceptibility effects also lead to low signal on T2-weighted images [
28
].
A hematoma in the early subacute stage is characterized by the presence of intracellular methemoglobin. This produces a high signal intensity on T1-weighted images, often visualized as a high-intensity peripheral rim. This high-intensity rim is a useful sign, as it may be the only clue that the mass is a hematoma. Susceptibility effects persist on T2-weighted images.
When loss of cell compartmentalization occurs in late subacute hematomas, extracellular methemoglobin results in Tl shortening. On T2-weighted images, the hematoma may be outlined by an area of high signal intensity (Fig.
21.25b-c
). Diffuse edema is also present within the muscle in acute and subacute hematomas.
Finally, hemosiderin in a chronic hematoma also produces susceptibility effects on T2-weighted images. This results in low signal intensity on T1-weighted images and particularly on T2-weighted images. Blooming artifact is seen when using gradient echo imaging. Furthermore, this phenomenon is accelerated at the periphery of the collection, resulting in a peripheral hypointense rim, whereas the central portion of the hematoma may remain hyperintense [
28
].
It is important to differentiate hematoma from hemorrhagic tumor, because hemorrhage may obscure tumor tissue. T1-weighted images with fat suppression can aid in the differentiation, further discrimination methemoglobin from fatty tissue [
39
]. The best features suggesting hematoma are the progressive decrease in size of the lesion, the presence of fluid-fluid levels, and the time-dependent signal intensity changes. Conversely, the presence of enhancing nodules after contrast medium administration may suggest the presence of tumor [
85
]. Nevertheless, organized hematomas can show some enhancement.
When in doubt a biopsy should be performed to establish a confident diagnosis, especially if there is an increase in size of the hemorrhagic mass.
A chronic expanding hematoma is an entity characterized by its persistence and increasing size for more than 1 month after the initial hemorrhage [
108
]. MR reveals a heterogeneous signal intensity on both T1- and T2-weighted images, with a peripheral rim of low signal intensity [
6
]. Although the absence or presence of contrast enhancement is often used to distinguish a hematoma or a hemorrhagic neoplasm, intralesional nodular enhancement pattern may be seen in chronic expanding hematoma [
108
].
21.2.4.2

Foreign Body Reactions
Full access? Get Clinical Tree