Fig. 5.1
Three-dimensional visualization used by neurosurgeons to examine the relationship of pathology to familiar landmarks. These visualizations are used for preoperative surgical planning as well as intraoperative guidance and verification [
1
]
The focus of this chapter is on segmentation and registration in image-guided therapy. In practice, the tasks of registration and segmentation are complementary and are inextricably linked. Registration is facilitated by segmented images and is not possible without basic segmentation in the form of pixel labeling or image intensities. Likewise, segmentation is facilitated by registration to other images, e.g., an atlas with expert segmentation labels [
2
], in which complementary information can be used to drive segmentation. This chapter aims to provide an overview of segmentation and registration individually, in the context of image-guided therapy, including fundamental methods and validation techniques. Joint investigations of segmentation and registration are not explicitly discussed; however, the interested reader is referred to the literature [
3
].
Registration
Image-guided therapy involves acquiring images of a patient using different modalities at different points in time, from pre-procedural diagnosis and planning, to intra-procedural guidance and visualization, and finally to post-procedural assessment. The goal of registration is to align different images of the same underlying tissue or patient into a common reference frame, for the purpose of visualization and navigational guidance over the course of therapy.
Registration can be accomplished by a variety of means. Manual registration can be performed, where a human manipulates images via a software interface. Registration can be performed visually; for instance, in the context of neurosurgery, the surgeon can mentally fuse intraoperatively acquired ultrasound (US) with a magnetic resonance (MR) volume acquired preoperatively and used in surgical planning, in order to carry out the procedure. Tracking devices external to the image can be used, again in the context of neurosurgery; the 3D position and orientation of the US probe can be determined by a stereo camera system in the context of a neuronavigation system and related to the preoperative MR via a 3D rigid transform for display.
Automatic image registration involves the use of computational algorithms to establish image alignment based on image intensity data. A large body of research literature has been dedicated to the study of automatic image registration. This section aims to highlight general considerations and techniques that apply to the context of image-guided therapy and to describe several concrete examples.
Segmentation
Segmentation of digital medical imagery is a labeling problem in which the goal is to assign to each voxel in an input gray-level image, a unique label that represents an anatomical structure. This labeled image is referred to as the "segmentation" of the input image or the "segmented" image. An example input grayscale image is a magnetic resonance imaging (MRI) scan of a human head in Fig.
5.4
. A labeling or segmentation for one such cross-sectional image into skin, brain tissue, ventricles, and tumor, and three-dimensional visualizations created from such segmentations of a complete scan are shown in Fig.
5.5
.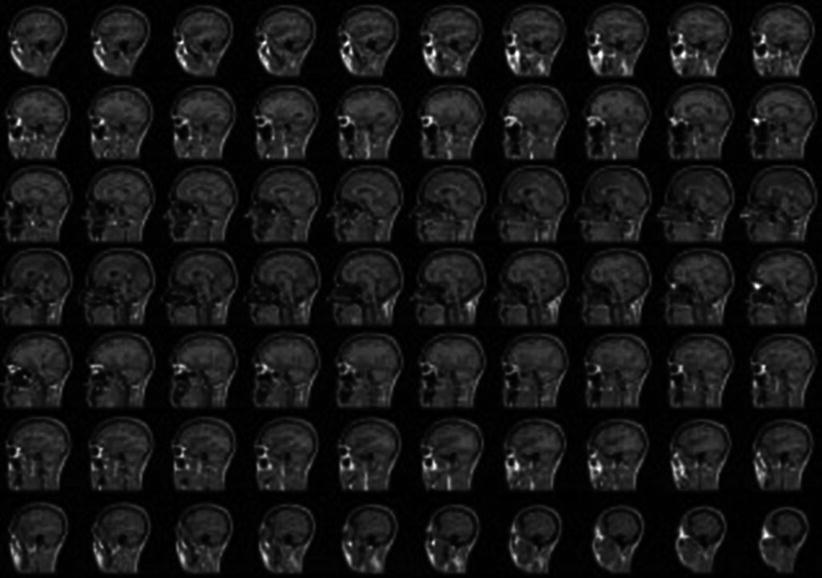 Fig. 5.4
A set of two-dimensional sagittal cross-sectional slices comprising a 3D brain MRI scan. This is the view of an MRI scan that is printed on film and mounted on a light-box and is traditionally available to clinicians to aid them in making diagnosis and in planning therapy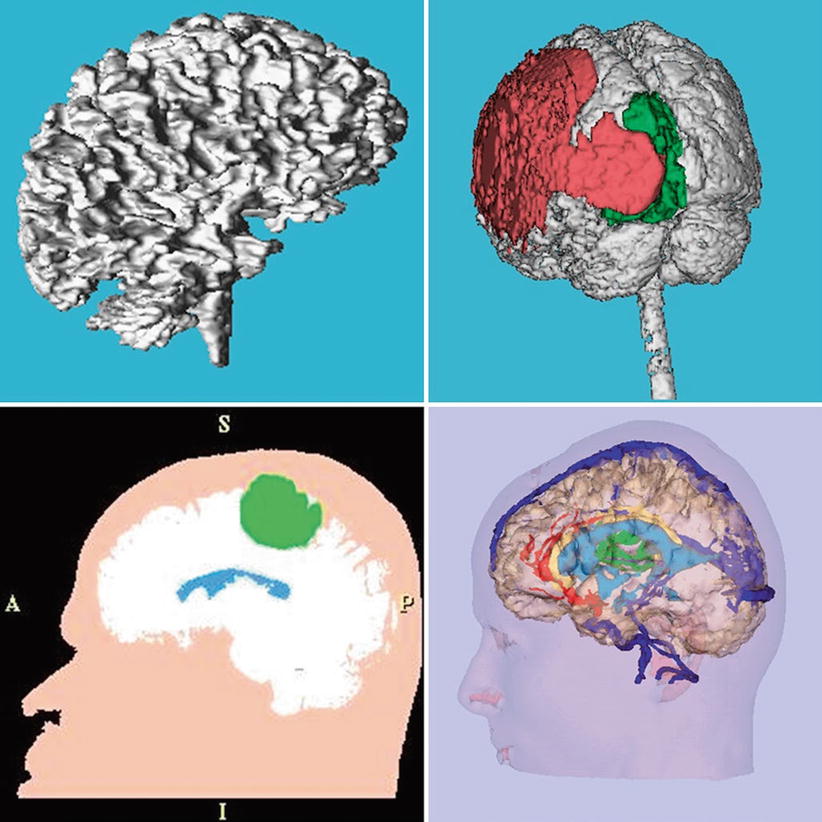 Fig. 5.5
Top row left
: a 3D rendering for visualization of the white matter from an MRI scan of a normal subject.
Right
: a three-dimensional rendering of the brain surface of a patient, overlaid with pathology which is shown in
green
and
red
.
Bottom left
: a segmented MRI slice showing skin in
pink
, brain tissue in
white
, ventricles in
blue
, and tumor in
green
.
Right
: a three-dimensional rendering of segmented skin surface, brain tissue, major blood vessels, and tumor from a diagnostic MRI scan
Segmentation Nomenclature
Based on the nature of the inputs required and outputs generated by a segmentation method, it may be categorized into one or more of the following classes.
Binary or Multilabel
: If the number of output labels in segmented images is 2 or greater than 2.
Supervised vs
.
Unsupervised
: If a set of labeled images or "training data" is available to the segmentation method to "learn" the differences between the underlying classes, the method is considered supervised, vs an unsupervised method which deduces the characteristics of the classes without training data.
Hard vs
.
Soft Segmentation
: A hard segmentation method is one in which the output of the segmentation is a unique label at each location in the image. A soft segmentation method is one in which the output is the probability of each class at each location in the image.
Intensity
–
Based vs
.
Model
–
Based Segmentation
: Purely intensity-based segmentation methods, also referred to as classification methods, assign labels based solely on gray-level values in the image. Model-based methods combine the image gray levels with explicit or implicit models of the underlying structures that are to be segmented.
In sections "
Graph Based Segmentation
,
Particle Filters
, and
Interactive Segmentation
" we summarize approaches to segmentation that have gained momentum in the last decade and that we believe will continue to be applied to image-guided therapy (As mentioned earlier in this chapter, joint investigations of segmentation and registration are a very interesting development of the last decade as well, and we refer the interested reader to our other recent publications on that topic [
3
]). And in sections "
Braintumor: Glioma Segmentation
and
Segmentation for Prostate Interventions
" we then describe how image segmentation has been used specifically to guide neurosurgery and prostate interventions.
Graph-Based Segmentation
The formulation of image segmentation as a graph-partitioning problem was introduced in [
37
] and in our view has been an influential approach that has led to several successful developments in the last decade [
38
–
40
].
In a graph representation, each pixel in the image is a node in the graph, and a subset of neighboring pixels is connected by edges. Weights on the edges measure how dissimilar the nodes are. Graph-based segmentation methods partition an image by selecting a subset of these edges from the graph. While graph-based segmentation methods were developed successfully in the last decade, the underlying theory traces back to Markov Random Fields which had previously been used as a basis for image representation and segmentation. Solving MRFs is an NP-hard problem and is typically accomplished via iterative algorithms. However, using a graph representation, globally optimal segmentations can be obtained in polynomial time by solving the maxcut/minflow problem using the Ford-Fulkerson algorithm [
41
]. Notable extensions in the last decade include solving the graph cut in N-dimensions [
42
], an iterative and interactive approach where the edges are re-weighted according user input [
43
], and a formulation that restricts the graph cut by using additional user-defined seed points to set up fixed nodes in the graph [
44
,
45
].
Particle Filters
Another category of image segmentation in the field of computer vision is tracking moving and deforming objects. A typical current example is the automatic tracking of persons in a security camera video stream. In medical image processing, the lung is a moving and deforming organ that makes automatic delineation over time a challenging task. Tracking the lung is especially relevant in image-guided radiation therapy, where modeling complex tumor motion is important in order to achieve optimal dose delivery and to avoid or minimize radiation of the surrounding healthy tissue. In contrast to static images for segmentation and registration problems, tracking involves estimating the global motion of the object and its local deformations as a function of time. Particle filters – also known as sequential Monte Carlo methods – use swarms of points (so-called particles) to approximate posterior densities. This approximation is realized by assigning a weight to each particle and uses a discrete distribution of the particles which results in particle probabilities that are proportional to the particle weights [
46
]. Particle filters were introduced by Gordon et al. in 1993 in order to implement recursive Bayesian filters [
47
]. Since then, several algorithms based on this original approach have been developed that differ primarily in the way particle swarms evolve and adapt to input data [
48
]. For example, Rathi et al. [
49
] formulate a particle filtering algorithm in the geometric active contour framework that can be used for tracking moving and deforming objects. They propose a scheme which combines the advantages of particle filtering and geometric active contours realized via level set models for dynamic tracking. A probabilistic algorithm for simultaneously estimating the pose of a mobile robot and the positions of nearby people in a previously mapped environment called the conditional particle filter was introduced by Montemerlo [
50
]. The method tracks a large distribution of people locations conditioned upon a smaller distribution of robot poses over time.