Case presentation
A 10-day-old infant presents to the emergency department with 1 day of fussiness, decreased oral intake, decreased urine output, and three grossly bloody stools. There has been no fever, cough, congestion, vomiting, or rash. The child is breastfed exclusively and the mother denies she has had cracked nipples or bleeding from the breast. She has noted the child is feeding less vigorously today.
The child was born vaginally at 34 weeks and spent 4 days in the hospital to observe feeding and required blow by oxygenation for 24 hours. The mother had excellent prenatal care. Prior to hospital discharge, the patient had normal feeding and stooling.
The child is afebrile with a heart rate of 170 beats per minute, a respiratory rate of 30 breaths per minute, and a pulse oxygenation saturation of 98% on room air. While not in obvious distress, the child is fussy during the examination but otherwise remains quiet, which the parents state is not typical. The physical examination is unremarkable, except for mild abdominal distention without obvious tenderness; rectal examination shows a patent anus and is guaiac positive. Right after the rectal examination, she passes a loose, grossly bloody stool.
Imaging considerations
Pneumatosis discovered on radiography is a sign, rather than a specific diagnosis, which can be associated with either benign or potentially life-threatening conditions.
Plain radiography
Plain radiography is the first-line imaging modality employed in many instances when bowel pathology is a concern. Pneumatosis, portal venous gas and free intraperitoneal air can be detected on abdominal radiographs. Initial imaging should include a supine and cross-table, horizontal view. Although a left lateral decubitus view is preferred, the cross-table view is often obtained in the supine position in ill-appearing infants to minimize movement. Attention should be paid to intraluminal, intramural, portal venous, and free intraperitoneal gas visualized with abdominal radiography. In infants with a clinical history and examination compatible with necrotizing enterocolitis (NEC), the finding of pneumatosis intestinalis with or without portal venous gas should prompt concern for this entity. Pneumoperitoneum can be demonstrated by plain radiography, appearing as an unusual and at times oblong central lucency on the anteroposterior view and can often be more easily seen on a left lateral decubitus view. While abdominal radiography may not be sensitive enough to detect pneumatosis early in its course, , it does remain the initial imaging modality of choice. ,
Computed tomography (CT)
CT is not a first-line imaging study but has been shown to be more sensitive at detecting pneumatosis intestinalis and portal venous gas compared to plain radiography. , , CT may also demonstrate bowel wall thickening, free fluid, and peri-intestinal soft-tissue stranding, which are associated with a serious underlying process. This imaging test may be useful if the diagnosis is uncertain or there is suspicion for complex disease or deteriorating clinical status. ,
Both plain abdominal radiography and CT are useful to help distinguish so-called pseudo-pneumatosis intestinalis (which is gas trapped in feces or against the mucosal surface) from true pneumatosis based on the location, pattern, and distribution of the observed gas. Features suggestive of true pneumatosis include portal or mesenteric venous gas, intramural gas superior to a gas-fluid level, continuous gas outlining the bowel wall, and dissecting gas in the bowel wall edge.
Ultrasound (US)
US has become an imaging modality of interest for use in patients with pneumatosis and suspected NEC. Among infants with NEC, US is a useful adjunct to plain radiography of the abdomen. , , In addition to identifying free air, pneumatosis, and portal venous gas, US can detect ascites and bowel wall thickening, and Doppler examination can detect bowel wall ischemia, helping assess for bowel viability. , , Highly concerning sonographic findings in infants with NEC include free air, absent bowel peristalsis, absent bowel wall perfusion, and complex ascites. US of the bowel in infants is personnel dependent, requiring experienced sonographers and experienced pediatric imagers to obtain and interpret these studies.
Imaging findings
An abdominal radiograph was obtained and demonstrates a nonobstructive bowel gas pattern, with a mottled appearance of gas over the lateral left lower quadrant suggestive of pneumatosis, and a small lucency over the right upper abdomen concerning for possible free air ( Fig. 10.1 ). A lateral decubitus film was then obtained, demonstrating an irregular lucency over the nondependent abdomen adjacent to the distended bowel suggesting free air ( Fig. 10.2 ).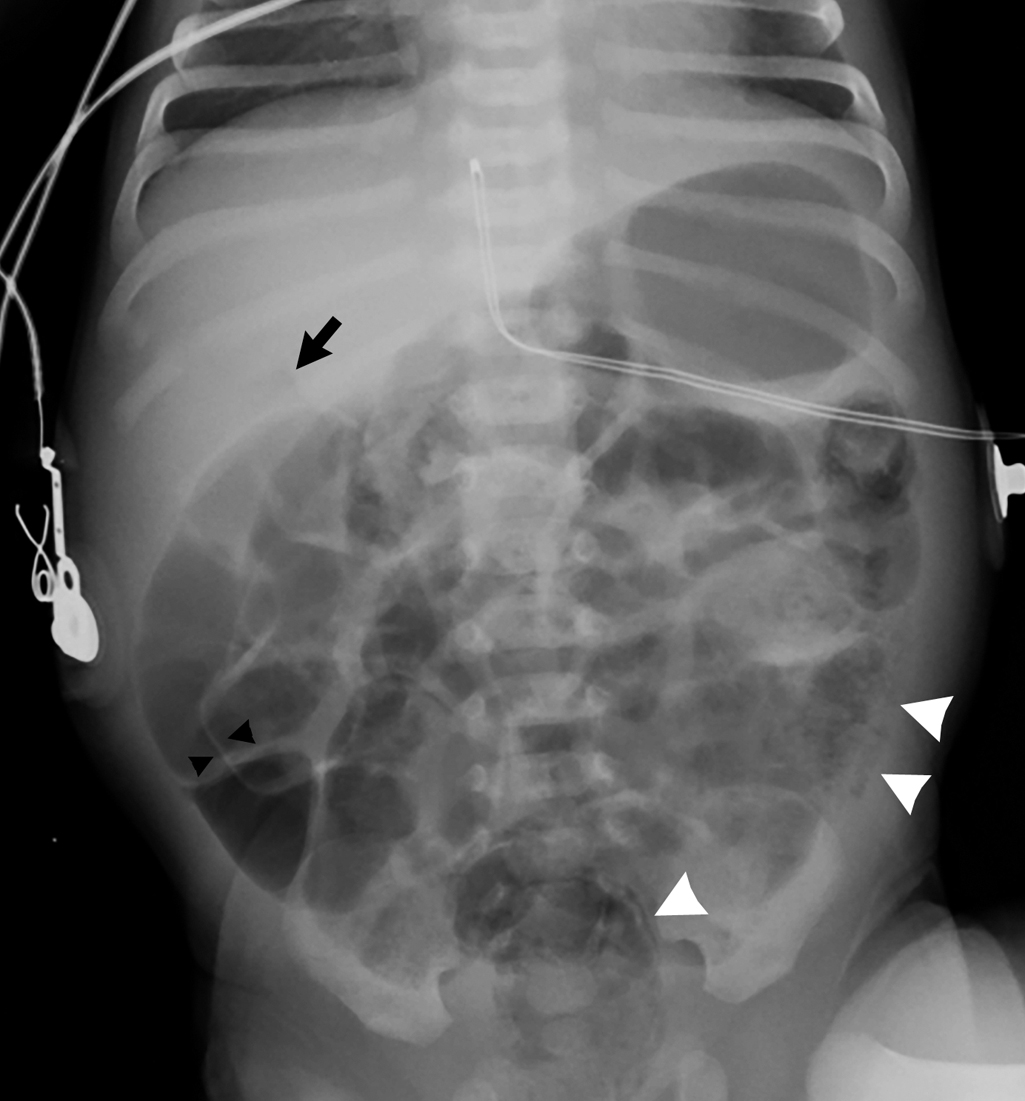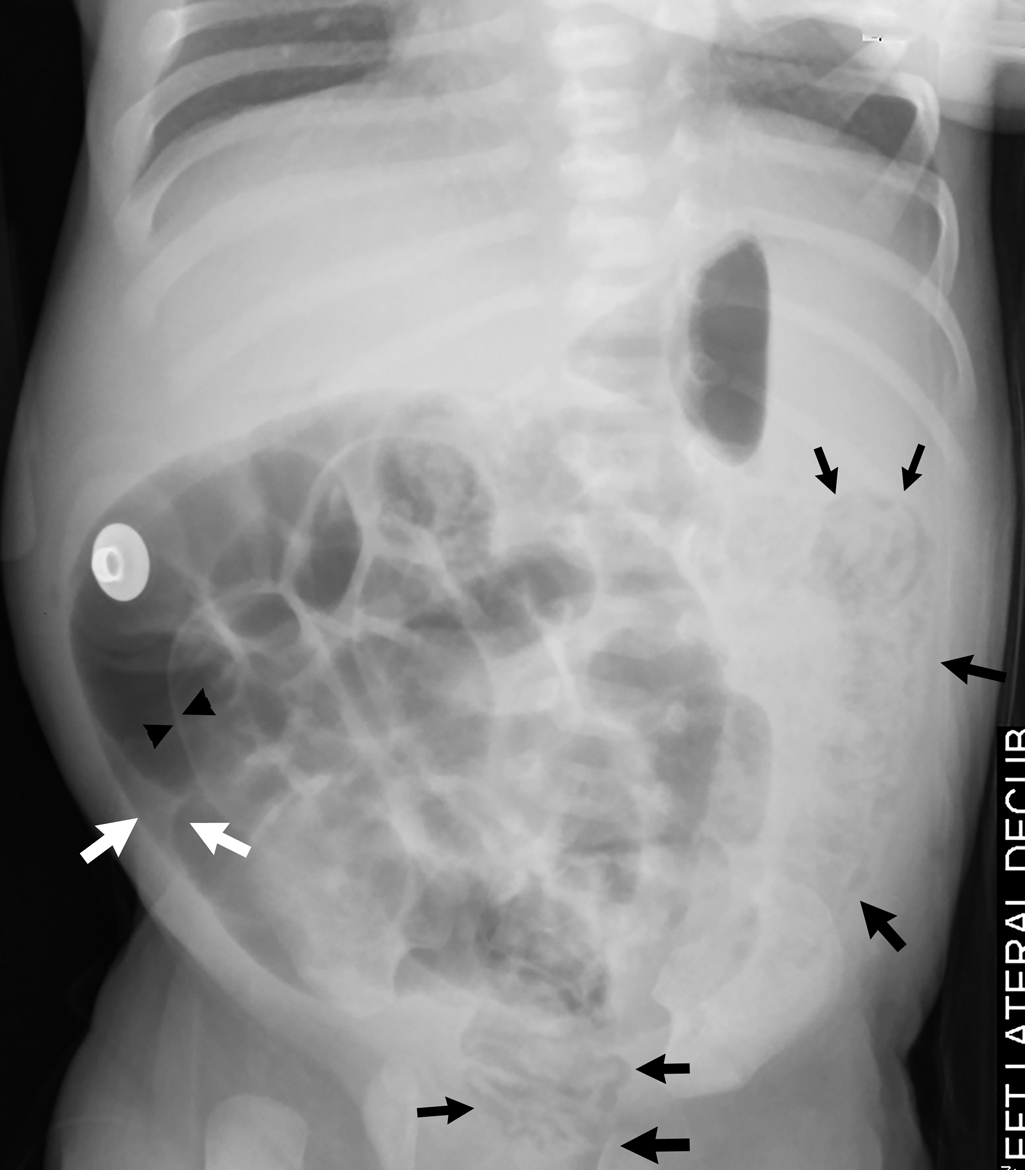 Premium Wordpress Themes by UFO Themes
WordPress theme by UFO themes