Numerous studies and clinical experience have convincingly shown the superiority of high-resolution computed tomography (HRCT) over chest radiography in terms of improved detection of diffuse lung disease, the provision of a histospecific diagnosis, and the assessment of disease reversibility. The development of HRCT has provided many insights about interstitial lung disease,1.2.3.4.5. and 6. large and small airways,7.8.9.10. and 11. and obstructive lung diseases.12. and 13. The technique is now mature but there are continuing minor modifications, such as volumetric rather than interspaced acquisition, 14 and these technical details are considered in Chapter 1.

NORMAL LUNG ANATOMY ON HRCT
Before considering the individual HRCT patterns that reflect parenchymal and airways disease, an understanding of normal lung anatomy, with particular reference to the pulmonary lobule, is needed. The smallest objects that can be resolved on HRCT range from 100 µm to 400 µm and depend on the density, geometry, and orientation of the object in relation to the voxel. Accurate interpretation of HRCT of the diseased lung requires an appreciation of the appearances of normal structures, namely the bronchi, blood vessels, and the pulmonary lobule. The limits of spatial resolution determine the anatomy that can be identified on HRCT (
Table 4.1
).
| Normal lung structures visible on HRCT | Normal lung structures not visible on HRCT |
| --- | --- |
| Bronchi (down to eighth generation) | Lymphatic vessels |
| Pulmonary arteries | Alveoli and acini |
| Pulmonary veins | Capillary vessels |
| Interlobular septa (peripheral and occasional only) | Visceral pleura (nonfissural surface) |
| Visceral pleura (double layer as lobar fissures) | |
| Intrapulmonary lymph node (infrequent small nodule) | |
Throughout the lung the bronchi and pulmonary arteries run and branch together. Both the bronchi and pulmonary arteries taper slightly as they travel radially; this is most obvious in bronchi running parallel and within the plane of section. At any given level, the external diameter of the bronchus is almost exactly the same diameter as its accompanying pulmonary artery – the mean ratio of the external diameter of the pulmonary artery to the bronchus on HRCT has been reported to be 0.98 (standard deviation [SD] 0.14) but the range is wide (0.53–1.39).
15
The mean (SD) ratio of the
internal
luminal diameter of a bronchus to the diameter of its adjacent pulmonary artery for healthy individuals has been estimated to be 0.62 ± 0.13.
16
The bronchovascular bundle is surrounded by a connective tissue sheath from its origin at the hilum to the respiratory bronchioles in the lung periphery. The concept of separate, but connected, components making up the lung interstitium, propounded by Weibel,
17
is important to the understanding of HRCT findings in interstitial lung disease (the equivalent terms applicable to HRCT are given in parenthesis): the
peripheral
interstitium (subpleural interstitium) surrounds the surface of the lung beneath the visceral pleura and penetrates the lung to surround the pulmonary lobules (paraseptal interstitium). Within the lobules, a finer network of
septal
connective tissue fibers (intralobular interstitium) support the alveoli. The
axial
fibers form a sheath around the bronchovascular bundles (peribronchovascular interstitium) which extends from the pulmonary hilum to the lung periphery, as far out as the alveolar ducts and sacs. The connective tissue stroma of these separate components is in continuity and thus forms a fibrous skeleton for the lungs and a potential scaffold for diffuse infiltrative disease.
The interface between the bronchovascular bundle and surrounding lung on HRCT is clear-cut in the healthy state. Any thickening of the connective tissue interstitium will result in apparent bronchial wall thickening and some blurring of this interface. The size of the smallest subsegmental bronchi visible on HRCT is determined by the thickness of the bronchial wall rather than their diameter. In general, bronchi with a diameter of less than 3 mm with walls less than 300 µm thick are not identifiable on HRCT.
18.
and 19.
Airways reach this critical size approximately 3 cm from the pleural surface.
The pulmonary lobule is the smallest anatomic unit of the lung surrounded by a connective tissue septum, and in some ways the lobule resembles a lung in miniature
20
(
Fig. 4.1
). Within the interlobular septa lie lymphatic channels and venules (
Fig. 4.2
). Abnormal thickening of the septa between the lobules is responsible for the short subpleural horizontal (Kerley B) lines seen on a chest radiograph. The lobule contains approximately 12 acini (but the range is wide, there may be between 3 and 25), each of which measures approximately 6–10 mm in diameter. Each lobule is about 2 cm in diameter and is polyhedral, sometimes resembling a truncated cone.
21.
22.
and 23.
A defining feature of the pulmonary lobule is the core structure – comprising the supplying bronchiole and the homologous pulmonary artery and lymphatics – which enters through the apex of the lobule. In the normal state the core structures, effectively the centrilobular artery (0.5–1 mm diameter) alone, are visible as dots 1 cm from the pleural surface. It is only when bronchioles become considerably thickened and surrounded by exudate that they become visible as V- or Y-shaped opacities (tree-in-bud pattern) (
Fig. 4.3
). The lung parenchyma between the core structures and
interlobular septa is usually of homogeneous low attenuation, marginally greater than air.

Fig. 4.1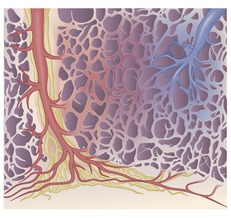 Fig. 4.2
(Illustration by Aletta Ann Frazier, MD, Department of Radiologic Pathology, Armed Forces Institute of Pathology; redrawn with permission from Frazier AA et al. Pulmonary venoocclusive disease and pulmonary capillary hemangiomatosis. RadioGraphics 2007;27:877.)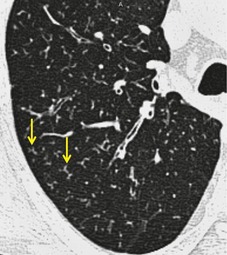 Fig. 4.3
The connective tissue interlobular septa are well developed in the subpleural regions, particularly on the diaphragmatic surfaces and anterolateral regions of the lungs, where the bases of the cone-shaped lobules lie on the visceral pleural surface. In normal individuals, these interlobular septa measure approximately 100 µm in thickness. Because the lower limit of effective resolution of HRCT in vivo is approximately 200 µm they are rarely seen on HRCT. The few interlobular septa that are visible in healthy individuals are inconspicuous and are seen as straight lines 1–2 cm in length terminating at a visceral pleural surface. Sometimes several septa joining end to end are seen as a nonbranching linear structure measuring up to 4 cm;
18
these are most frequent at the lung bases overlying the diaphragmatic surface. Deep within the lung where the septa are less well developed, the interlobular septa are visible only when pathologically thickened.
By comparison with the epic work of Felson,
24
who documented the range of chest radiographic findings of healthy individuals (n=30
000), no similar HRCT study has been undertaken to establish the full spectrum of appearances of healthy individuals. As a consequence there may be difficulty in deciding whether subtle parenchymal perturbations on HRCT represent early (and significant) disease or are within the normal range.
25
An abnormality is usually regarded as synonymous with the presence of disease. However, HRCT findings considered abnormal in one group may not be of any clinical significance in another; for example, ill-defined centrilobular nodules and patchy ground-glass opacity seen on HRCT in a 50-year-old cigarette smoker may be considered to be within the range of expected findings,
26
whereas in a 25-year-old nonsmoker these same findings would be regarded as likely to represent early, and important, diffuse lung disease. In older individuals, HRCT findings of subpleural reticulation (presbyteric lung) and scattered thin-walled cystic airspaces as well as bronchial dilatation and wall thickening are surprisingly frequent and likely represent aging phenomena rather than important disease.
27
The close correlation between HRCT findings and macroscopic appearances of the lungs
2.
20.
and 28.
often allows accurate anatomic terms to be used in describing patterns of diffuse lung disease. Inexact terms, often used for the description of radiographs, have mostly been replaced by precise morphologic terms derived from an understanding of normal HRCT anatomy. Over the years there has been convergence on the majority of terms used in HRCT.
29.
30.
and 31.
Some of the most frequently encountered terms in the HRCT lexicon are included in the recently revised glossary of terms for thoracic imaging by the Fleischner Society
32
and the illustrated glossary (which includes terms used for chest radiography) is provided here in its entirety for reference.
Fleischner Society:Glossary of Terms for Thoracic Imaging
Members of the Fleischner Society compiled a glossary of terms for thoracic imaging that replaces previous glossaries published in 1984 and 1996 for thoracic radiography and computed tomography (CT), respectively. The need to update the previous versions came from the recognition that new words have emerged, others have become obsolete, the meaning of some terms has become obsolete, and the meaning of some terms has changed.
HRCT PATTERNS OF DIFFUSE LUNG DISEASE
Diffuse abnormalities of the lung parenchyma on HRCT can be broadly categorized into one of the following four patterns: reticular and short linear opacities; nodular opacities; increased lung opacity (ground-glass opacity or consolidation); and cystic airspaces and areas of decreased lung density. Although these HRCT patterns mostly correspond to recognizable patterns on chest radiography, they are seen with much greater clarity on the cross-sectional images of HRCT and the precise distribution of disease is more readily appreciated.
Reticular pattern
A reticular pattern on HRCT almost invariably represents interstitial disease. The term is purely descriptive (
reticulum
= network) and there are several morphologic variations to this basic pattern, ranging from generalized thickening of the interlobular septa to honeycomb lung destruction (
Box 4.1
).
Box 4.1
• Thickened interlobular or intralobular septa
• Conspicuous 'remnant' septa (as in paraseptal or centrilobular emphysema)
• Miscellaneous causes of intersecting linear opacities and advanced cystic lung disease
• Honeycomb (fibrotic) destruction
A reticular pattern caused by thickening of interlobular septa is a frequent finding in many interstitial lung diseases.
94
Numerous thickened interlobular septa (which form polygonal outlines) indicate an extensive interstitial abnormality. Causes of interlobular septal thickening include infiltration with fibrosis, abnormal cells, and fluid (for example, interstitial fibrosis, lymphangitis carcinomatosa and pulmonary edema, respectively).
Thickened interlobular septa may appear smooth or irregular on HRCT
94.
and 159.
but this distinction is not always obvious: irregular septal thickening is a feature of lymphangitic spread of cancer (
Fig. 4.4
)
21.
52.
160.
and 161.
whereas pulmonary edema
162
(
Fig. 4.5
) and alveolar proteinosis (
Fig. 4.6
) cause smoother septal thickening.
72.
163.
and 164.
Sarcoidosis can cause nodular septal thickening (
Fig. 4.7
) although thickened septa may not be particularly profuse in this disease.
61
Of the common conditions that cause generalized thickening of the interlobular septa, lymphangitis carcinomatosa is the prototype. Conditions characterized by thickened interlobular septa are shown in
Box 4.2
.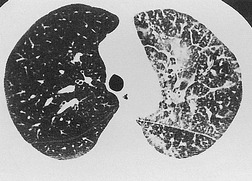 Fig. 4.4

Fig. 4.5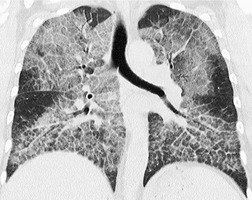 Fig. 4.6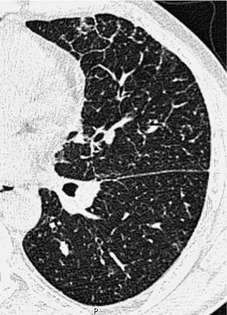 Fig. 4.7
As a consequence of the continuity of the various parts of the lung interstitium,
17
widespread interstitial disease, which causes thickening of the interlobular septa, also results in bronchovascular interstitial thickening (typified by lymphangitis carcinomatosa) (
Figs 4.4
and
4.8
). This HRCT finding may be obvious, particularly in regional or unilateral interstitial lung disease but is sometimes quite subtle when it is either minimal or diffuse. The HRCT finding of bronchovascular thickening in isolation needs to be interpreted with caution since it may be a manifestation of reversible inflammatory airways disease, for example a lower respiratory tract infection or asthma. Thickening of the subsegmental and segmental bronchovascular bundles, such as that caused by lymphangitis carcinomatosa, often gives the interface between the bronchial wall and surrounding lung an irregular and 'feathery' appearance.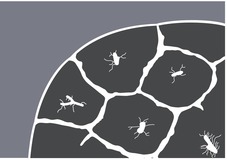 Fig. 4.8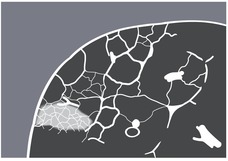 Fig. 4.9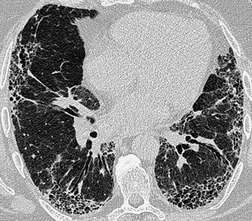 Fig. 4.10
Extensive and severe pulmonary fibrosis, which causes destruction of the architecture of the pulmonary lobules, results in a characteristic coarse reticular pattern made up of irregular linear opacities. The reticular pattern of end-stage fibrotic (honeycomb) lung mirrors the appearances on chest radiography and is characterized by cystic spaces, measuring a few millimeters to several centimeters across, surrounded by thick irregular walls
87.
192.
and 198.
(
Fig. 4.10
). The distortion of normal lung morphology by extensive fibrosis may result in irregular dilatation of the segmental and subsegmental bronchi; in the lung periphery the dilated bronchioles may be difficult to distinguish from the surrounding parenchymal cystic airspaces
199
(
Fig. 4.11
). The term 'traction bronchiectasis'
200
has been given to airways that are clearly dilated because of surrounding retractile pulmonary fibrosis. This phenomenon is not confined to the situation in which fibrosis is seen as a reticular or honeycomb pattern on HRCT; dilatation and distortion of airways within
ground-glass opacification (often with a faint granular texture) is an important sign of fine intralobular fibrosis.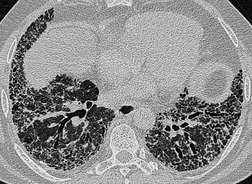 Fig. 4.11
The positive and definite identification of a honeycombing, as opposed to other forms of reticulation, is of particular relevance in patients with idiopathic pulmonary fibrosis.
87
The positive predictive value of a subpleural basal
honeycomb
pattern on HRCT for the diagnosis of idiopathic pulmonary fibrosis (usual interstitial pneumonia at a histopathologic level) is high.
201
Whereas a subpleural nonhoneycomb reticular pattern may be encountered in other diseases, for example nonspecific interstitial pneumonia,
118
rarely in sarcoidosis
177
or exceptionally in Wegener granulomatosis.
202
Because, by definition, a honeycomb pattern is made up of cystic airspaces, an attempt should be made to confirm air density within the cysts (by comparison with air within the large bronchi), before assigning the term honeycomb (
Fig. 4.10
).
In some diseases a perilobular distribution
124
may give the spurious impression of thickening of the interlobular septa. The disposition of the pathologic process, such that it is 'smeared' around the internal lobular surface, creates the appearance of a thickened lobular margin (
Fig. 4.12
). The perilobular sign is encountered in cases of organizing pneumonia
125
(
Fig. 4.13
). Although it was originally described in patients with, among other diseases, usual interstitial pneumonia,
124
it is not a common sign apart from in patients with organizing pneumonia (in whom a perilobular pattern is present, albeit usually limited to a few arcades, in approximately half of cases).
125
The crazy-paving pattern (a reticular pattern superimposed on a background or ground-glass opacity) may occasionally represent a similar perilobular distribution rather than actually thickened interlobular septa.
203
Another situation in which there may be apparent, rather than real, interlobular septal thickening occurs in patients with emphysema; the residual peripheral alveoli collapse against the lobule margins, and in so doing spuriously thicken the interlobular septa. Furthermore, in cigarette smokers there may also be accompanying interstitial fibrosis,
137
which is partly responsible for conspicuous thickening of the 'remnant' interlobular septa
204
(
Fig. 4.14
).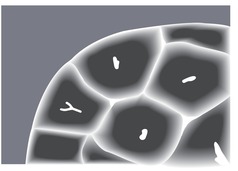 Fig. 4.12

Fig. 4.13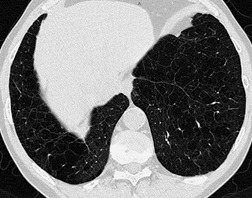 Fig. 4.14
An unusual HRCT finding is a fine peripheral curvilinear line lying within 1 cm from the visceral pleural surface. This dense line is extremely well defined and parallels the chest wall (
Fig. 4.15
). The subpleural curvilinear line caused confusion when it was first
described in patients with asbestosis
205
because it was suggested that such a line was virtually pathognomonic of asbestos-induced interstitial fibrosis. However, it is now recognized that this HRCT sign is seen in patients with interstitial disease of various causes
122
and some normal individuals,
206
and it should not be regarded as specific for asbestosis.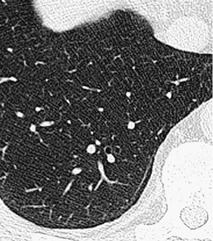 Fig. 4.15
Nodular pattern
A nodular pattern is a feature of both interstitial and airspace diseases. The localization of nodules as well as other characteristics such as their density, clarity of outline, and range or uniformity of size may indicate whether the nodules are lying predominantly within the interstitium or air spaces.
207
Since many diffuse lung diseases have both interstitial and airspace components, this distinction is not always helpful in refining a differential diagnosis. Nevertheless, a systematic approach to the distribution (perilymphatic versus centrilobular) and other characteristics of multinodular disease is recommended.
208
Whether pulmonary nodules can be detected on CT depends on their size, profusion, density, and CT technique. Narrow collimation is clearly superior to thick section acquisition for the detection of very small nodules because there is less partial volume effect which can average out the attenuation of tiny nodules.
209
A further refinement is the use of maximum intensity projection (MaxIP) reconstructions of contiguous thin sections acquired by volumetric CT; these images improve the depiction of minute nodules but tend not to be routinely performed
210.
and 211.
(
Fig. 4.16
).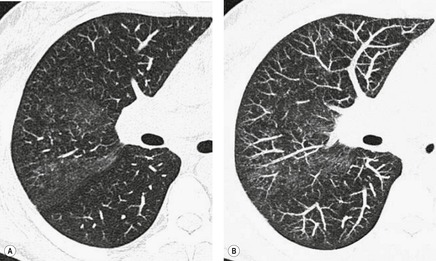 Fig. 4.16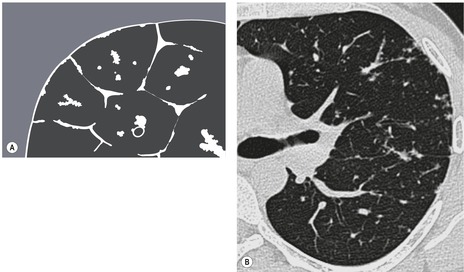 Fig. 4.17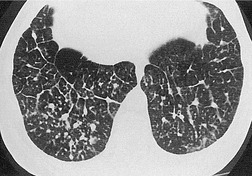 Fig. 4.18
A random distribution of small, well-defined (miliary) nodules is seen in patients with hematogenous spread of tuberculosis,
214.
and 215.
some forms of pulmonary metastases, pneumoconiosis, and rarely in pulmonary sarcoidosis (in which case there is usually some thickening of the septa and fissures). Subtle features of thickening of the interlobular and intralobular interstitium may be associated with a miliary or micronodular pattern.
216
The size and cephalocaudal distribution of miliary nodules are generally not useful characteristics for narrowing the differential diagnosis.
217
Micronodules of calcific density are a feature of alveolar microlithiasis
178
but unless they coalesce their high attenuation may not be evident. The curious appearance of dotlike and branching dense opacities, not related to any part of lobular anatomy, and usually on a background of pulmonary fibrosis, is pathognomonic of dendriform pulmonary ossification.
218
When the airspaces are filled, or partially filled, with the products of disease, individual acini may become visible on HRCT as poorly defined nodules approximately 8 mm in diameter (
Fig. 4.19
). Acinar nodules may merge with areas of ground-glass opacification and are often seen around the periphery of areas of dense parenchymal consolidation (e.g. in reactivation pulmonary tuberculosis). Smaller poorly defined, often centrilobular, nodules are encountered in many conditions;
208.
219.
220.
and 221.
their centrilobular location may not be obvious when the nodules are profuse but sparing of the immediate subpleural lung suggests that the nodules are predominantly centrilobular. Conditions in which centrilobular nodules of varying
quality and size
221
(ranging from the indistinct low-density nodules seen in subacute hypersensitivity pneumonitis [
Fig. 4.20
], through to the well-defined Y-shaped opacities of diffuse panbronchiolitis
222
[
Fig. 4.3
]) are listed in
Table 4.2
).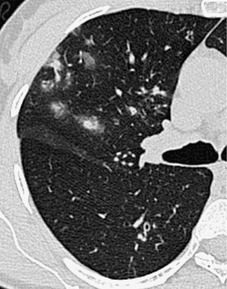 Fig. 4.19
Fig. 4.20
| | |
| --- | --- |
| Diffuse panbronchiolitis | Peripheral Y-shaped opacities, accompanied by156. and 197. features of widespread cylindrical bronchiectasis |
| Subacute hypersensitivity pneumonitis223 and hot tub lung224 | Low-density, poorly defined nodules, usually superimposed on background of ground-glass opacity |
| Endobronchial spread of TB157. and 225. or, less frequently, bacterial pneumonia226. and 227. | Some nodules from confluent consolidation. In the case of tuberculosis, larger cavitating nodules usually present |
| Atypical mycobacterial infection228.229. and 230. | Associated with bronchial abnormalities, 1 cm diameter nodules and architectural distortion |
| Human T lymphotropic virus type 1 carriers187 | Centrilobular nodules with thickening of bronchovascular bundles, caused by lymphocytic infiltration |
| Acute Mycoplasma pneumoniae infection231 | Poorly defined centrilobular nodules and tree-in-bud pattern |
| Various viral pneumonias232 especially postbone marrow transplant173.186. and 233. | Centrilobular nodules, tree-in-bud pattern, ground-glass opacities and consolidation |
| Cryptogenic organizing pneumonia119 | An unusual pattern (similar to the nodules seen in subacute hypersensitivity pneumonitis) |
| Respiratory bronchiolitis–interstitial lung disease234. and 235. | Poorly defined, low-density nodules associated with bronchial wall thickening, thickened interlobular septa and mosaic pattern |
| Churg–Strauss syndrome181 and eosinophilic pneumonia236 | Indistinct nodules, often with other parenchymal and airways abnormalities |
| Bronchioloalveolar cell carcinoma237. and 238. | Usually in association with areas of ground-glass opacity or consolidation |
| Lymphoid interstitial pneumonia182 (including follicular bronchiolitis) 239 (in adults) 105 or in children with HIV240 | Profuse micronodules with perilymphatic and subpleural distribution |
| Acute silicoproteinosis241 | Poorly defined centrilobular nodules with accompanying ground-glass opacity and consolidation |
| Various small vessel diseases242.243. and 244. | Intravascular filling, e.g. with foreign material or tumor emboli may result in a tree-in-bud pattern |
| Low-grade aspiration245. and 246. | Tree-in-bud pattern and poorly defined nodules representing bronchiolar filling |
| Primary pulmonary lymphoma or leukemia247. and 248. | Tree-in-bud pattern simulating diffuse panbronchiolitis but without cylindrical bronchiectasis |
| Fat embolism249 | Small nodules, some related to vessels, admixed with ground-glass opacity and consolidation. |
Parenchymal opacification
Ground-glass opacity
A hazy increase in the density of the lung parenchyma on HRCT is described as a 'ground-glass' opacification. Unlike the analogous abnormality on chest radiography, in which the pulmonary vessels are often indistinct, ground-glass opacity on HRCT does not obscure the pulmonary vasculature
83.
and 250.
(
Fig. 4.21
). In cases in which the presence of ground-glass opacity is equivocal, it may be helpful to compare the attenuation of the lung parenchyma with air in the bronchi: in normal individuals the difference in density is marginal, whereas ground-glass opacity makes the airways more obvious (the 'black bronchus' sign) (
Fig. 4.21
). Although this HRCT abnormality is usually easily recognizable, particularly when it is interspersed with areas of normal lung parenchyma (see next section on
mosaic attenuation pattern
), subtle degrees of increased parenchymal opacification may not be obvious
251
(
Fig. 4.22
) and the conspicuity of ground-glass opacity is particularly susceptible to alterations in window settings. Furthermore, a normal increase in lung density, indistinguishable from 'pathologic' ground-glass opacification, is seen in individuals breathholding at near-residual volume
251
(
Fig. 4.23
). There are several causes of spurious ground-glass opacification on HRCT including inappropriate (wide) window settings, contrast and brightness settings, drift on workstation monitors, and the appearance of the lung parenchyma on images obtained on an unfamiliar CT scanner.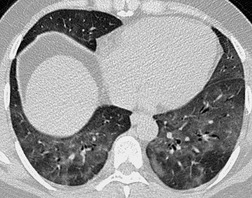 Fig. 4.21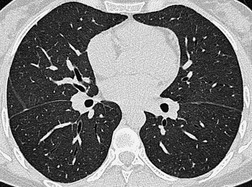 Fig. 4.22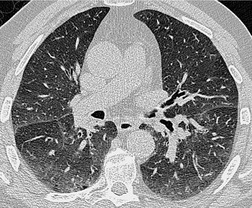 Fig. 4.23
At a microscopic level, the changes responsible for ground-glass opacity may be complex and include partial filling of the airspaces, considerable thickening of the interstitium, or a combination of the two
69.
and 83.
(
Fig. 4.24
). Nevertheless, the basic mechanism behind the generation of the HRCT pattern of ground-glass opacification of the lungs is nothing more or less than the displacement of air. Thickening of the intralobular interstitium by fluid or a cellular infiltrate is below the limits of resolution of HRCT and volume averaging results in an amorphous increase in lung density. Many conditions that are characterized by these pathologic changes result in the nonspecific pattern of ground-glass opacity.
252
Conditions that are characterized by ground-glass opacity as the dominant abnormality on HRCT are shown in
Box 4.3
.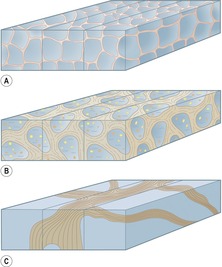 Fig. 4.24
Given the numerous conditions listed in
Box 4.3
, it is clearly a mistake to consider ground-glass opacity as simply representing 'active alveolitis', although this popular, if oversimplistic, interpretation has proved remarkably durable. Nevertheless, the pattern of ground-glass opacity may represent potentially reversible lung disease,
69
but there are important exceptions to this rule: widespread fine intralobular fibrosis may produce a ground-glass pattern (frequently the nonspecific interstitial pneumonitis subtype of the interstitial pneumonias), but in this situation there is distortion and dilatation of the bronchi
84
(
Fig. 4.25
Premium Wordpress Themes by UFO Themes
WordPress theme by UFO themes