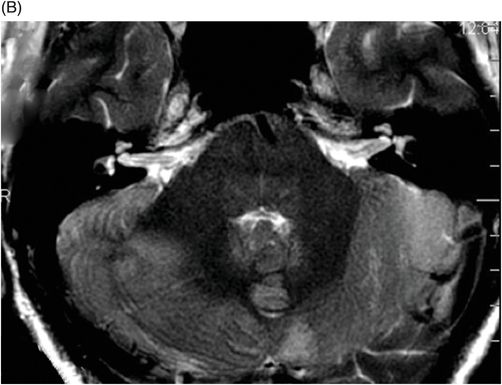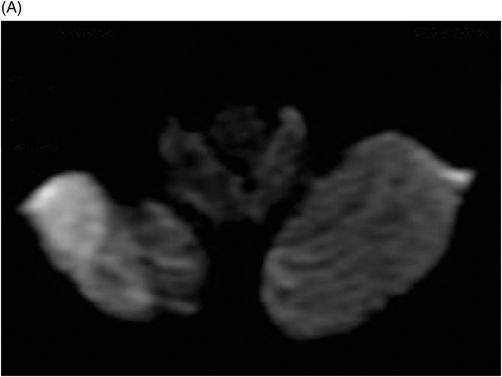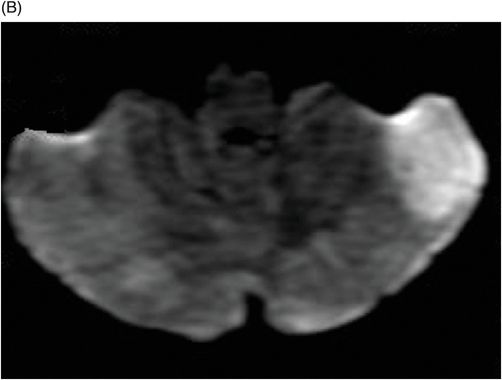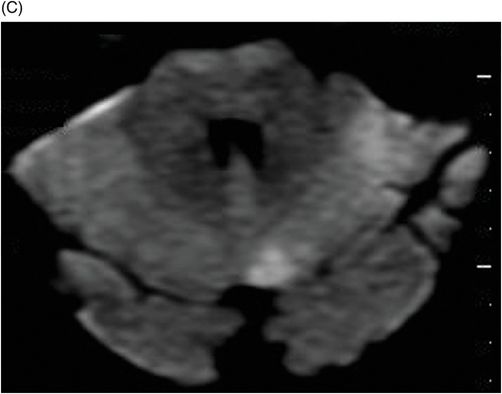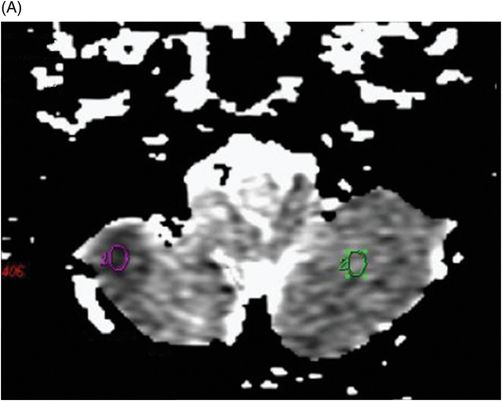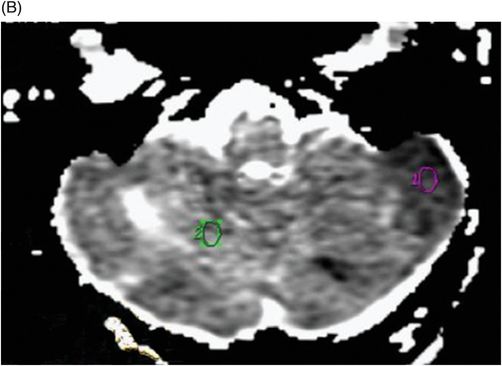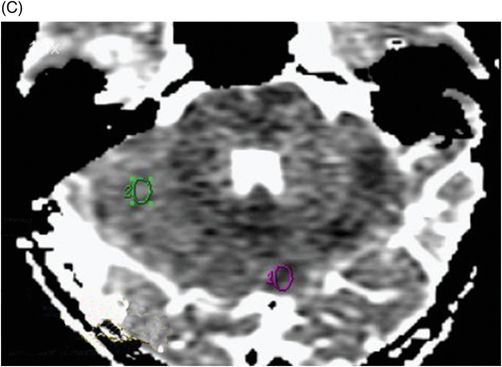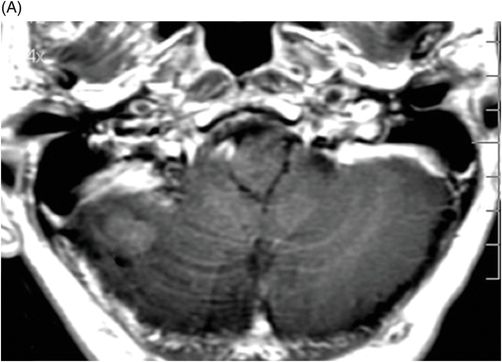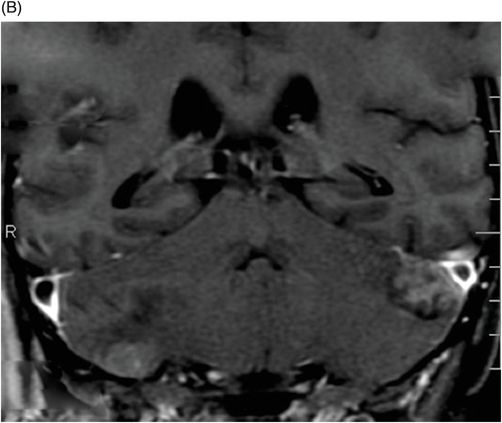 Multifocal Desmoplastic Medulloblastoma
Primary Diagnosis
Multifocal desmoplastic medulloblastoma
Differential Diagnoses
Other medulloblastoma variants
Atypical teratoid/rhabdoid tumor
Imaging Findings
Fig. 88.1: (A), and (B) Axial T2WI showed three hyperintense masses: one in the inferior aspect of the right cerebellar hemisphere, one in the left cerebellar hemisphere, and another small mass in the left aspect of the cerebellar vermis. Fig. 88.2: (A–C) Axial DW images of the brain demonstrated hyperintensity of each mass. Fig. 88.3: (A–C) Axial ADC maps with values confirming diffusion restriction in all three lesions. Fig. 88.4: (A) Axial T1W postgadolinium image of the brain and (B) Coronal T1W postgadolinium image with fat saturation demonstrated moderate enhancement in all three lesions.
Discussion
Medulloblastoma is one of the most common pediatric CNS tumors, second only to astrocytoma, the most common tumor of the posterior fossa and the most common CNS malignant neoplasm found in this age group. It is a malignant, invasive embryonal neoplasm with tendency for CSF dissemination; hence, it is classified as a WHO grade IV neoplasm. The patient's age at presentation, and the number and cerebellar location of the lesions and their distinctive signal and enhancement patterns demonstrated on imaging are suggestive of medulloblastoma.
Medulloblastoma may depict classic histologic features or features of one of its variants: desmoplastic medulloblastoma, medulloblastoma with extensive nodularity, or anaplastic medulloblastoma. Typically, the desmoplastic variant of medulloblastoma usually occurs in a slightly older population, namely adolescents or young adults. In addition, although the majority of medulloblastomas arise in the midline (about 75%), this variant tends to involve one of the cerebellar hemispheres and may show multiple peripheral small cysts.
Atypical teratoid/rhabdoid tumor of the posterior fossa can be indistinguishable from medulloblastoma on imaging studies alone, requiring additional diagnostic studies. The characteristic striated pattern of Lhermitte-Duclos disease can differentiate it from medulloblastoma. Ependymoma is typically calcified and plastic, and usually extends through the foramen of Luschka into the adjacent cerebellopontine cisterns, not seen in this patient. Lymphoma may demonstrate restriction on imaging as well, but it is usually supratentorial and may have more intense enhancement to gadolinium. Pilocytic astrocytoma should be considered in the differential diagnosis of pediatric patients, but it lacks the typical hyperdensity/diffusion restriction of medulloblastoma.
There are four molecular subgroups of medulloblastomas, each one arising from a different cytogenetic pathway: wingless (WNT), sonic hedgehog (SHH), Group 3, and Group 4 (see Table 87.1, Case 87). Desmoplastic medulloblastomas show a strong correlation with the SHH pathway, although there is no direct correlation between every molecular subgroup and each histologic variant.
Multifocal desmoplastic medulloblastomas are very rare, and usually occur in patients with Gorlin syndrome (nevoid basal cell carcinoma syndrome). In general, the onset of clinical symptoms in patients with medulloblastomas is rapid, reflecting the aggressive behavior of the tumor. Headache and vomiting due to intracranial hypertension, the last usually related to aqueduct stenosis resulting in hydrocephalus, are the most frequent symptoms. The desmoplastic variant can present with dysmetria related to cerebellar hemispheric involvement.
On CT imaging studies, medulloblastomas appear as a hyperattenuated mass, usually well circumscribed, in the posterior fossa. Cyst formations and calcifications are relatively common features of these tumors. On MR imaging studies, these tumors are hypointense on T1-weighted images and iso- to hyperintense on T2-weighted images. On diffusion images, they often restrict because of their dense cellularity, which also explains their hyperdensity on CT exams. Contrast enhancement is quite variable, ranging from small to marked, with varied demonstration of heterogeneous enhancement.
Surgical resection with adjuvant chemotherapy is the treatment of choice for patients with medulloblastoma. Recent studies show that the identification of the molecular subgroup of the tumor may play a role in patient prognosis and treatment decisions. For example, WNT tumors have a five-year survival of 95% in children and nearly 100% in adults.