, Gustav Andreisek2 and Erika J. Ulbrich2

(1)
Phoenix Diagnostic Clinic, Cluj-Napoca, Romania
(2)
Institute of Diagnostic and Interventional Radiology, University Hospital Zürich, Zürich, Switzerland
6.1

Anatomy and Normal MRI Appearance
6.2

MRI Pathological Findings

The pathological changes of the cartilage and the subchondral bone may be classified based on the etiology in nontraumatic or traumatic lesions. The traumatic lesions may involve only the articular cartilage, only the subchondral bone, or both the articular cartilage and the subchondral bone (Table

6.2

).

Table 6.2

Osteochondral lesions











Type of lesion






Articular cartilage involvement






Subchondral bone involvement








Degenerative






Thinning (due to dehydration and mechanical stress)/denudation






Attrition







Edema







Subchondral cyst







Inflammatory






Thinning (due to erosions from inflamed synovium)/denudation






Edema







Subchondral erosions







Osteonecrosis (idiopathic or secondary)






Often involved






Focal defect







Flattening of the surface












Cartilage fracture






Focal lesion with abrupt margins






No involvement or subchondral edema











Linear lesion at the base of the cartilage






No involvement







Osteochondritis dissecans (idiopathic or secondary)






Cartilage and bone involvement: subchondral fracture extending through the cartilage







Bone bruises






May be affected






Diffuse edema (no fracture line)







Subchondral fracture






With/without involvement






Subchondral linear fracture







Surrounding bone edema

Fig. 6.3
Cartilage delamination in a 31 year old volleyball player after acute knee distortion. Three consecutive axial proton-density (PD) FSE fat-suppressed images (
a
–
c
) show a typical linear high-signal-intensity change at the base of the patellar cartilage (
arrows
)
6.2.1

Nontraumatic Cartilage Changes and Subsequently Subchondral Lesions

The cartilage of the knee is involved in osteoarthritis of the joint as well as in inflammatory diseases and may be accompanied by subchondral changes (edema, cysts, erosions). The damaged cartilage is routinely assessed qualitatively based on the thickness changes and signal-intensity alteration. Although cartilage thinning and denudation of subchondral bone are changes that characterize both degenerative and inflammatory diseases, the pathogenesis of these changes is different. Deterioration of the articular cartilage in degenerative disease is the result of dehydration and repetitive microtrauma of the cartilage, while in inflammatory arthritis, the alteration of the cartilage thickness is the result of proliferation of the vascular connective tissue of the synovial membrane (pannus) and the effect of the inflammatory mediators (immunoglobulins, enzymes).
6.2.2

Osteonecrosis of the Subchondral Bone

Spontaneous idiopathic osteonecrosis

of the knee (SONK/Morbus Ahlback) affects middle-aged and elderly adults and is more frequently seen in women than in men with the medial side of the joint most commonly affected than the lateral side. The lesion usually results from circulatory impairment of the subchondral bone leading to ischemia. The etiology remains unclear, but the localized vascular insufficiency may explain subchondral osteonecrosis due to disruption of the nutrition supply to the cartilage above [

33

]. Spontaneous osteonecrosis of the knee has been also described as a complication after arthroscopic repair of the meniscal tears, and the lesion may be a late sequela of meniscal injury in association with cartilage defects and arthroscopic surgery [

34

].

Secondary osteonecrosis

is caused by a number of well-recognized predisposing factors for osteonecrosis (e.g., systemic lupus erythematosus, steroid use, pancreatitis, alcoholism, HIV infection and renal transplants) or may be secondary to an old trauma [

35

].

MR imaging is the most accurate imaging technique for detecting osteonecrosis. The most specific MR imaging sign is the double-line sign at the periphery of osteonecrosis. The sign represents a reactive interface between necrotic bone and normal bone marrow and consists by an outer hypointense rim representing sclerotic bone and an inner rim and hyperintense on T2-weighted images, representing hypervascular granulation tissue (Fig.

6.12

) [

36

]. This sign is more commonly seen in patients with secondary osteonecrosis compared to patients with idiopathic osteonecrosis in which the double-line sign can be absent (Fig.

6.13

) [

35

]. However, there might be exceptions to this rule of thumb, and knowledge of the patient's history is necessary in these cases. Thus, whenever osteonecrosis is present, the patient's charts should be reviewed for predisposing factors. There is also a subcortical focal area of low-signal on both T1- and T2-weighted images representing the necrotic bone with deformity and flattening of the articular surface (Fig.

6.12

). Lesions may be surrounded by bone marrow edema.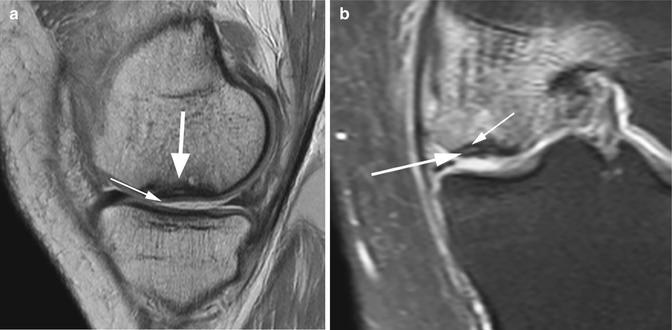 Fig. 6.12
Avascular osteonecrosis (SONK) of the medial femoral condyle in a 43 year old male (SONK). Sagittal proton-density (PD) FSE image (
a
) and coronal proton-density (PD) FSE fat-suppressed image (
b
) show a subcortical area of low signal intensity (
large arrow
in
a
) with depression of the subchondral bone. The cartilage thickness is almost normal (
small arrow
in
a
). The double-line sign at the periphery of osteonecrosis is demonstrated in the coronal plane (
b
): a hyperintense inner rim (
large arrow
in
b
) representing hypervascular granulation tissue and an outer hypointense rim representing sclerotic bone (
small arrow
in
b
)
Premium Wordpress Themes by UFO Themes
WordPress theme by UFO themes