Fig. 4.1
(
a
) Electron micrograph of myelinated axons and axons that have been remyelinated following ethidium bromide injection into the adult rat caudal cerebellar peduncle. The myelinated axons have clearly discernible myelin sheaths whose thickness is proportional to the axon diameters (compare M
1
with M
2
). The remyelinated axons are also clearly discernible on account of the relatively thin myelin sheaths, whose thinness is consistent and independent of the axon diameter (compare R
1
with R
2
). Thus, remyelination is easy to identify for larger diameter axons; however, for small diameter axons, the distinction between myelinated and remyelinated becomes difficult (note the small diameter axons in this image—are they myelinated or remyelinated?) (
b
) The relationship between the axon diameter (
x
) and the myelinated axon (
y
) is expressed as the
g
ratio: the thinner the myelin sheath, the higher the
g
ratio, and hence remyelinated axons, unless very small diameter, have
g
ratios that are higher than myelinated axons. (
c
) In developmental myelination, as the axon diameter increases, the myelin sheath thickness increases (see M
1
with M
2
in
a
), whereas in remyelination, the myelin sheath thickness remains the same regardless of the diameter (see R
1
with R
2
in
a
). Thus, remyelination in large diameter axons is easy to distinguish from myelination—but as the axon diameter decreases, this distinction becomes more difficult such that for the smallest diameter axons it can be all but impossible (see Stidworthy et al.
2003
)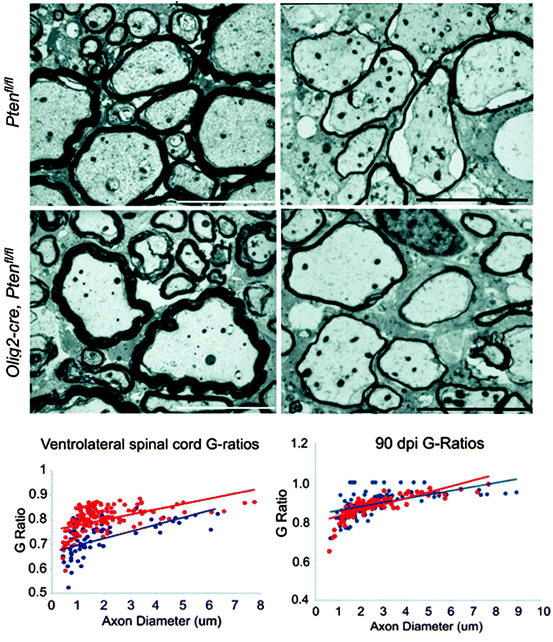 Fig. 4.2
When the Akt pathway is over-activated in mice where Pten has been conditionally deleted from oligodendrocyte lineage cells, the myelin sheath thickness is increased in relationship to axon diameter (i.e. the
g
ratio decreases). This is shown in the two electron micrographs on the
left
taken from the ventrolateral spinal cord white matter of adult control mice (Pten
fl/fl
) and mice in which Pten is deleted from the oligodendrocyte lineage (Olig2-Cre, Pten
fl/fl
). These images are confirmed below in the
g
-ratio plots (
blue dots
 =  Pten
fl/fl
,
red dots
 =  Olig2-Cre, Pten
fl/fl
). Following lysolecithin-induced demyelination on the ventrolateral white matter, the remyelinated axons in both experimental groups are the same (electron micrographs and
g
-ratio plots on
right
) (from Harrington et al.
2010
)
4.3

Remyelination Is the Normal Response to Demyelination

Remyelination can be viewed as a regenerative process sharing many common features with regenerative processes occurring in other tissues of the body and as being the default response to demyelination. This viewpoint is based on evidence from both experimentally-induced and clinical demyelination. When demyelination is induced by toxins injurious to oligodendrocytes and myelin (e.g. dietary cuprizone or direct delivery of lysolecithin or ethidium bromide), then remyelination usually proceeds to completion, albeit in an age-dependent manner (Blakemore and Franklin

2008

). Similarly, there is evidence that axons undergoing primary demyelination in experimental or clinical traumatic injury undergo complete remyelination and that the persistence of chronically demyelinated axons is unusual (Lasiene et al.

2008

). An exception is when demyelination is induced by or associated with the adaptive immune response, such occurs in the autoimmune-mediated condition multiple sclerosis (MS) and in its laboratory animal model experimental autoimmune encephalomyelitis (EAE). In this circumstance, remyelination is required to take place in an environment intrinsically hostile to the oligodendrocyte lineage. Thus, remyelination failure associated with MS (and EAE) can be seen not as a generic feature of remyelination biology but rather as a feature of specific disease states. However, even in MS, a disease normally associated with failed or inadequate remyelination, there is evidence that in some patients, complete remyelination occurs in a significant proportion of lesions (Patrikios et al.

2006

; Patani et al.

2007

; Goldschmidt et al.

2009

; Piaton et al.

2009

). Similarly, remyelination can be extensive in EAE, and models with significant persistent demyelination are unusual (Hampton et al.

2008

; Linington et al.

1992

). Remyelination appears to be especially efficient following demyelination of cerebral cortical grey matter in both experimental models (Merkler et al.

2006

) and clinical disease (Albert et al.

2007

), although the reason for this is unclear.
4.4

Remyelination Restores Function and Protects Axons

Remyelination restores saltatory conduction and reverses functional deficits (Liebetanz and Merkler

2006

; Jeffery et al.

1999

; Smith et al.

1979

). Compelling evidence in support of functional restoration by remyelination has recently been provided by an unusual demyelinating condition in cats where the reversal of clinical signs is associated with spontaneous remyelination (Duncan et al.

2009

).

A further and key function of remyelination is axon survival (Irvine and Blakemore

2008

). Axonal and neuronal loss is now recognised as the major cause of chronic progressive disease (Trapp and Nave

2008

), and it occurs as a secondary consequence of demyelination in addition to any primary effect of inflammation. Such a hypothesis explains why patients taking immunosuppressive therapies or with apparently quiescent disease still show increasing disability and progression, as these patients will have persistent demyelination as a result of failure of remyelination even in the absence of active disease. It should be noted that remyelination is not required for resolution of symptoms in an acute relapse: this likely results from resolution of inflammation and adaptive responses of the axon to restore conduction.

Evidence that myelin is required for axon survival is based on observations of genetic mouse models and studies of human pathology (Nave and Trapp

2008

). Transgenic mice lacking CNP or PLP show long-term axonal degeneration, even in the presence of myelin sheaths that are either ultrastructurally normal or show only minor abnormalities (Griffiths et al.

1998

; Lappe-Siefke et al.

2003

). Further analysis of the PLP mutant mice has revealed a disturbance in axoplasmic transport in the absence of PLP (Edgar et al.

2004

) and has led to the identification of myelin-associated sirtuin 2 as a potential mediator of long-term axonal stability (Werner et al.

2007

). Myelin is also important for axon survival in humans, as patients with Pelizaeus–Merzbacher disease (PMD) caused by mutations in PLP show axon loss (Garbern et al.

2002

), and studies of MS autopsy tissue show that axon preservation is seen in those areas where remyelination has occurred (Kornek et al.

2000

). Axon degeneration has recently been observed as a consequence of genetically induced oligodendrocyte-specific ablation, even in Rag 1-deficient mice that have no functional lymphocytes (Pohl et al.

2011

), thus providing compelling evidence that axon survival is dependent on intact oligodendrocytes and that axon degeneration in chronically demyelinated lesions can occur independently of inflammation. These observations imply that remyelination therapies will promote axon sparing in MS by the production of an oligodendrocyte-derived trophic factor signal to the axon.
4.5

The Mechanisms of Remyelination
4.5.1

Oligodendrocyte Precursor Cells Are the Main Source of New Myelin-Forming Oligodendrocytes

Remyelination involves the generation of new mature oligodendrocytes since (1) there is a greater number of oligodendrocytes within an area of remyelination compared to the equivalent area before myelination (Prayoonwiwat and Rodriguez

1993

) and (2) remyelination occurs within areas depleted of oligodendrocytes (Sim et al.

2002b

). In the vast majority of cases, the new oligodendrocytes that mediate remyelination are derived from a population of adult CNS stem/precursor cells, most often referred to as adult oligodendrocyte precursor (or progenitor) cells and sometimes called NG2 cells (in this chapter, OPC will generally refer to these cells). These multiprocessed proliferating cells are widespread throughout the CNS, occurring in both white matter and grey matter at a density similar to that of microglial cells (5–8 % of the cell population) (Horner et al.

2000

; Richardson et al.

2011

; Dawson et al.

2003

). Adult OPCs are derived from their developmental forebears, and the two cells share many similarities, although the adult cell has a longer basal cell cycle time and slower rate of migration (Wolswijk and Noble

1989

). Relevant to remyelination, the adult OPC can be induced to proliferate and migrate like perinatal cells in vitro by the growth factors PDGF and FGF (Wolswijk and Noble

1992

), both of which are significantly upregulated during remyelination (Hinks and Franklin

1999

).

Evidence obtained using Cre-lox fate mapping in transgenic mice following experimental demyelination has shown that OPCs produce the vast majority of remyelinating oligodendrocytes (Zawadzka et al.

2010

; Tripathi et al.

2010

) (Fig.

4.3

). Remyelinating oligodendrocytes can also come from the stem and precursor cells of the adult subventricular zone (SVZ), either from the precursor cells contributing to the rostral migratory stream (RMS) (Nait-Oumesmar et al.

1999

) or from the type B, GFAP-expressing stem cells of the SVZ per se (Menn et al.

2006

). However, the contribution that SVZ-derived cells make relative to that of local OPCs may be relatively small, and their contribution to repair away from white matter tracts that are not close to the SVZ is likely to be negligible.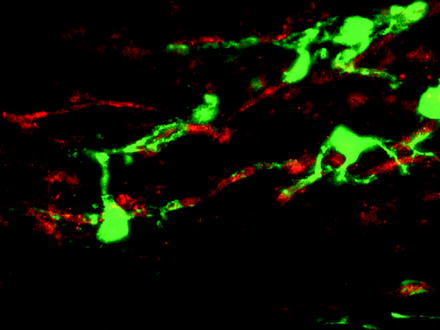 Fig. 4.3
OPCs can be labelled by a Cre-lox labelling strategy enabling the fate of these cells following lysolecithin-induced demyelination to be traced. In this confocal image, a YFP (
green
)-labelled cell is associated with a PLP+ (
red
) myelin sheath providing evidence that the labelled OPC has differentiated into a myelin sheath forming oligodendrocyte responsible for remyelination (see Zawadzka et al.
2010
)
4.5.2

Remyelination Requires the Activation, Recruitment and Differentiation of Adult Oligodendrocyte Precursor Cells
4.5.3

Inflammation and Remyelination

Several studies have provided compelling evidence for a key role of the inflammatory response to demyelination in creating an environment conducive to remyelination. The relationship between inflammation and regeneration is well recognised in many other tissues. However, its involvement in myelin regeneration has been obscured in a field dominated by the immune-mediated pathology of MS and its various animal models such as EAE, where it is unquestionably true that the adaptive immune response mediates tissue damage. Nevertheless, several descriptive studies using experimental models (Ludwin

1980

) and MS tissue (Wolswijk

2002

) have pointed to an association between inflammation and remyelination. The role of the innate immune response to demyelination in remyelination has become apparent in part through the use of non-immune-mediated, toxin-induced models of demyelination. Depletion or pharmacological inhibition of macrophages following toxin-induced demyelination leads to an impairment of remyelination (Kotter et al.

2005

; Li et al.

2005

), as does the absence of T cells (Bieber et al.

2003

). The pro-inflammatory cytokines Il-1β and TNF-α, lymphotoxin-β receptor or MHCII have also been implicated as mediators of remyelination following cuprizone-induced demyelination (Mason et al.

2001

; Plant et al.

2007

; Arnett et al.

2001

,

2003

). A critical role played by phagocytic macrophages is the removal of myelin debris generated during demyelination since CNS myelin contains proteins inhibitory to OPC differentiation both in vitro and during remyelination (Baer et al.

2009

; Kotter et al.

2006

). The observation that macrophage activation enhances myelination by transplanted OPCs in the myelin-free retinal nerve fibre layer points to additional and as yet undefined regenerative factors produced by these macrophages (Setzu et al.

2006

).
4.6

Demyelinated CNS Axons Can Also Be Remyelinated by Schwann Cells

CNS remyelination can also be mediated by Schwann cells, the myelin-forming cells of the peripheral nervous system; this occurs in several experimental animal models of demyelination as well as in human demyelinating disease (Snyder et al.

1975

; Itoyama et al.

1983

,

1985

; Dusart et al.

1992

; Felts et al.

2005

). Schwann cell remyelination occurs preferentially where astrocytes are absent—for example, where they have been killed along with oligodendrocytes by the demyelinating agent (Blakemore

1975

; Itoyama et al.

1985

). Remyelinating Schwann cells within the CNS were generally thought to migrate into the CNS from PNS sources such as spinal and cranial roots, meningeal fibres or autonomic nerves following a breach in the

glia limitans

(Franklin and Blakemore

1993

). In support of this idea, CNS Schwann cell remyelination typically occurs in proximity to spinal/cranial nerves or around blood vessels (Snyder et al.

1975

; Duncan and Hoffman

1997

; Sim et al.

2002a

). However, recent genetic fate-mapping studies have revealed that very few CNS remyelinating Schwann cells are derived from PNS Schwann cells but instead the majority derive from OPCs (Zawadzka et al.

2010

), revealing a remarkable capacity of these cells to differentiate into cells of neural crest lineage as well as all three neuroepithelial lineages (neurons, astrocytes and oligodendrocytes).

The implications of Schwann cell remyelination of CNS axons are unclear. While both Schwann cell and oligodendrocyte remyelination are associated with a return of saltatory conduction (Smith et al.

1979

), their relative abilities to promote axon survival, a major function of myelin (Nave and Trapp

2008

), have yet to be established. Thus, from a clinical perspective, we do not yet know whether OLP differentiation into Schwann cells has a beneficial or deleterious effect compared to oligodendrocyte remyelination.
4.7

Causes of Remyelination Failure

In addition to these generic factors, remyelination could also be incomplete or fail for disease-specific reasons. The strongest evidence for remyelination failure is provided by MS, and the subsequent discussion will specifically relate to this disease, although the issues discussed will be relevant to other diseases with a demyelinating component. Theoretically, remyelination could fail because of (1) a primary deficiency in precursor cells, (2) a failure of precursor cell recruitment or (3) a failure of precursor cell differentiation and maturation.
Full access? Get Clinical Tree