(1)
Department of Biomedical Imaging and Image-guided Therapy, Vienna General Hospital, Medical University of Vienna, Währingergürtel 18-22, 1090 Vienna, Austria
(2)
Department of Emergency Radiology, Cardarelli Hospital, Naples, Italy
(3)
Academic Health, Rietgrabenstrasse 76b, CH-8152 Opfikon, Switzerland
1

Community-Acquired Pneumonia
2

Atypical Infections
2.2

General Features

Infections with many, if not all, atypical organisms share some common features. Mycoplasma, chlamydia, and viruses have many similarities in their pathology, clinical, and radiological features. Grossly, these pathogens cause predominant histological changes in the respiratory epithelium and in the peribronchial interstitium (Müller et al.

2007

; Müller

2003

). The ensuing bronchiolitis and alveolitis are characterized by infiltration of the epithelium with mononuclear cells and presence of neutrophilic exudate in the lumen of the airways. These changes are predominantly seen in the terminal and respiratory bronchioles and manifest radiologically as peribronchial nodules (Müller et al.

2007

; Müller

2003

).

Bronchiolitis with exudate in the lumen of the airways is seen on radiographs as reticulonodular pattern and on CT as tree-in-bud nodules. As the nodules enlarge, they involve the entire secondary pulmonary lobule and are seen as "lobular" consolidation: these features are typical of bronchopneumonia pattern. Further extension into segmental and patchy lobar consolidation may be seen in advanced stages, and this may be difficult to distinguish from bacterial infection. Partial filling of the airways gives rise to ground-glass opacities (Müller et al.

2007

).

Some infections like influenza and hantavirus cardiopulmonary syndrome, on the other hand, cause rapidly progressive pneumonia with diffuse alveolar damage (Kim et al.

2002

).

The clinical course of atypical pneumonias is generally subacute, the WBC counts are generally normal, and the imaging features are heterogeneous and nonspecific.
2.3

Radiological Aspects

Diagnosis of pneumonia requires a combination of clinical, microbiological, and radiological features. Chest radiograph is usually sufficient to confirm the diagnosis. It also helps in follow-up of the patients and evaluation of the response to treatment. CT scans are not routinely recommended but are helpful in case of doubtful features on chest radiographs, when no adequate response to the treatment is noted and when complications or underlying pathology is suspected (Vilar et al.

2004b

). CT scan can be further helpful in suggesting an etiological diagnosis. In indeterminate cases, CT-guided procedures come in as problem-solving tools for the correct diagnosis.
2.4

Bacteria
2.4.1

Mycoplasma Pneumonia

An attempt to suggest the offending organisms on radiology can be worthwhile for two main reasons: firstly, infection with these cell wall-deficient bacteria calls for treatment with antibiotics other than the usual cell wall synthesis inhibitors like penicillin, which are otherwise suitable for typical infections with pneumococcus. Laboratory tests take time, pending, which a radiological diagnosis can prove helpful in clinical decision making. Secondly, in appropriate settings, radiological features, although not highly specific, can be suggestive of the diagnosis in many cases.
2.4.2
Chlamydia pneumoniae
Chlamydias are obligate intracellular bacteria that possess a cell wall. They exist in two forms: a smaller extracellular elementary body and a larger intracellular form called the reticulate body (Webb et al.
2011
). Three species of chlamydia area known:
Chlamydia trachomatis
typically causes ocular infection (trachoma) and sexually transmitted disease but may cause pneumonia in infants who are born to infected mothers.
Chlamydia psittaci
is a pathogen in birds (causing psittacosis) and may cause respiratory infections in humans. The mode of infection is through aerosols containing bacteria generated from infected birds (Knittler and Sachse
2015
).
Chlamydia pneumoniae
was the third species to be discovered, first isolated in 1968 during trachoma vaccine trail and accounts for an estimated 10 % of the CAP cases (Kuo et al.
1995
). It is a common cause of atypical pneumonia.
Transmission of infection occurs through respiratory secretions. Incubation period is several weeks.
Symptoms tend to be protracted and are subacute in onset. Prolonged cough and low-grade fever are typical features. Initial prodromal phase of upper respiratory tract symptoms like pharyngitis and hoarseness of voice are not uncommon.
The infection is typically mild, and extrapulmonary symptoms are less common in comparison to mycoplasma infection. It has also been implicated in coronary artery disease.
CT features consist of bronchopneumonia with consolidation, GGO, peribronchial thickening, and nodules, similar to mycoplasma infection. However, pleural effusions are more common in patients with
Chlamydia pneumoniae
, bronchial wall thickening and centrilobular nodules more common in mycoplasma infection (Okada et al.
2005
). Some studies described increased prevalence of emphysema and bronchial dilatation in
Chlamydia pneumoniae
pneumonia; COPD is an important risk factor for chlamydia (Hahn
1999
; Karnak et al.
2001
).
2.4.3
Legionella pneumophila
Radiological features are usually nonspecific and resemble bacterial lobar pneumonia.
2.5

Viruses

Lower respiratory tract infections can be caused by various viruses, and it is estimated that approximately 10 % of infections in CAP are due to viral etiology (ref). Along with the various radiological features, knowledge of the clinical history can be invaluable in narrowing the differential diagnosis. For example, in immunocompetent host, influenza virus is commonly implicated as an offender. In immunosuppressed individuals, however, the usual inciting organisms are herpes, cytomegalovirus, and adenovirus (Kim et al.

2002

).

Viruses can be divided into (a) RNA viruses, myxoviruses (influenza, RSV, measles), coronavirus, and hantavirus, and (b) DNA viruses, adenovirus and herpes group including CMV and varicella zoster.
2.5.1

Influenza Virus

Influenza virus belongs to the family

Orthomyxoviridae

and is a single-stranded RNA virus. It has three predominant serotypes: influenza A, B, and C. Influenza A is responsible for majority of the epidemics and pandemics. Influenza virus A and B may cause pneumonia, while C causes only sporadic mild infections (Webb et al.

2011

).

Infection with influenza virus is usually self-limiting. It favors secondary bacterial infection through various mechanisms like altering the respiratory epithelium. Diabetes mellitus, pregnancy, extremes of age, immunosuppression, and underlying pulmonary or cardiac conditions are some of the factors that predispose to a fulminant infection and pneumonia, and death within 24 h may be seen in extreme cases (Oikonomou et al.

2003

). Such an infection is characterized histologically by diffuse alveolar damage.

Radiological features are varied and consist of segmental areas of consolidation which may be unilateral or bilateral (Fig.

22

). Pleural effusions are rare. On CT, ground-glass opacities, centrilobular tree-in-bud nodules, and patchy consolidations may be seen (Oikonomou et al.

2003

).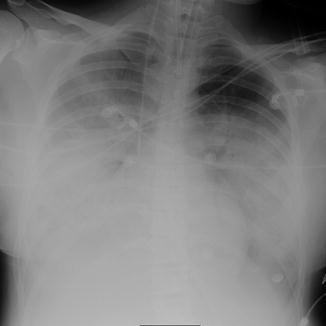 Fig. 22
A 29-year-old man with H1N1 pneumonia: chest radiograph showing extensive areas of consolidation in both lungs with only a relative sparing of the left upper lung field
2.5.2

Respiratory Syncytial Virus

It is an RNA virus belonging to

Paramyxoviridae

family. Almost all infants are infected with RSV by 2 years of age (Drysdale et al.

2016

). RSV typically causes upper respiratory tract infections, otitis media, bronchiolitis, asthma-/viral-induced wheezing, and pneumonia. Bronchiolitis may be seen in up to 80 % of the cases (Drysdale et al.

2016

). In immunocompromised individuals, it can cause severe pneumonia with high mortality (Mayer et al.

2014

).

In addition to bronchial wall thickening and peribronchial nodules, typical features of RSV infection on radiography are air-trapping and hyperinflation due to bronchiolitis (Müller et al.

2007

). CT reflects the features of bronchopneumonia and bronchiolitis. Multifocal consolidations/GGO with tree-in-bud nodules may be seen interspersed with areas of air-trapping (Mayer et al.

2014

).
2.5.3

Measles

It is a febrile illness with rash caused by an RNA virus belonging to

Paramyxoviridae

family. It spreads from one person to another through droplet spread. The clinical manifestations are more severe in adults and immunocompromised hosts.

Bronchial wall thickening, centrilobular nodules, GGO, and interlobular septal thickening are seen on CT, and the features are nonspecific (Franquet

2011

).
2.5.4

SARS-Coronavirus

Coronaviruses, commonly implicated in cold, are RNA viruses of

Coronaviridae

. In 2002, a new strain caused an outbreak in China which spread rapidly throughout the world (Peiris et al.

2003

). This was called SARS-coronavirus (severe acute respiratory syndrome). Transmission occurs through droplet spread; incubation period varies from 2 to 14 days (Peiris et al.

2003

).

Typical symptoms are fever with myalgia and cough. Characteristic early CT findings include focal ground-glass opacities and crazy-paving pattern which are scattered in distribution. Subsequent development of consolidations may be seen. Air leak syndromes with development of spontaneous mediastinum or pneumothorax have also been reported. Residual fibrosis and scarring may also be seen (Chan et al.

2004

).
2.5.5

Hantavirus

Pathologically both these infections are characterized by breakdown of the endothelial barrier in blood vessels and marked vasodilatation.

HFRS is characterized by fever followed by hypotension and petechial hemorrhages due to vascular leakage, oliguric phase, polyuric phase, and convalescence. Oliguric phase is the most critical phase characterized by renal failure and pulmonary edema, and most of the case fatalities occur in this stage.
2.5.6

Adenovirus

They are DNA viruses belonging to

Adenoviridae

family. Many serotypes exist.

Adenovirus is a common cause of upper respiratory tract infection in children. Severe infection is seen in immunocompromised patients. It causes sequelae such as bronchiectasis, obliterative bronchiolitis, and Swyer-James syndrome (unilateral hyperlucent lung).

Pathologically, severe adenovirus pneumonia is characterized by areas of hemorrhagic consolidation, interspersed with air-trapping, atelectasis, and diffuse alveolar damage (Becroft

1967

). In mild cases, inflammatory cell infiltrate in the alveoli and interstitium is seen (Chong et al.

2006

).

Radiographs show unilateral or bilateral parenchymal opacities. Especially in children, areas of overinflation and atelectasis may be seen (Kim et al.

2002

). On CT, extensive GGO with or without consolidations are noted. GGO correlates with areas of diffuse alveolar damage. In a study by Chong et al. in five adults with adenovirus pneumonia, one patient had shown crazy-paving appearance (Chong et al.

2006

).
2.5.7

Herpes Simplex Type 1

Herpes simplex type 1 is a DNA virus of the

Herpesviridae

, along with CMV and varicella zoster virus. Primary infection is usually asymptomatic, but can manifest as pharyngitis or gingivostomatitis. Following initial infection, it remains latent and can undergo reactivation at a later stage and manifest as esophagitis or tracheobronchitis.

Pneumonia due to HSV-1 occurs commonly due to contiguous spread from upper respiratory tract or aspiration and less commonly due to hematogenous spread (Graham and Snell

1983

; Ramsey et al.

1982

). HSV-1 pneumonia is almost exclusively seen in immunosuppressed individuals or in patients with squamous metaplasia of the airways due to intubation, burns, or chronic smoking (Ramsey et al.

1982

).

Fever, dyspnea, chest pain, and productive cough are usual clinical features. Herpes labialis and extensive oropharyngeal lesions may also be seen (Simoons-Smit et al.

2006

).

The epithelial lesions are characterized by ulceration and necrosis. Pneumonia shows alveolar necrosis and exudate with inflammation (Kim et al.

2002

).
2.5.8

Cytomegalovirus

Cytomegalovirus (CMV) is a member of herpes family and is a DNA virus. It is well known to cause opportunistic infections in immunosuppressed individuals especially in bone marrow or solid organ transplant recipients and AIDS patients.

Clinical features include fever, cough, and dyspnea.

The pathological features of CMV infection in transplant recipients are reported to be different from those seen in AIDS patients. In transplant recipients, predominant necrotizing pneumonia is seen due to immune-mediated mechanisms, and CMV pneumonia is seen in the first few months after transplantation. AIDS patients, on the other hand, have insufficient immune response and show effects primarily due to the cytopathic effect of the virus with diffuse alveolar damage (Kim et al.

2002

).

Radiographic manifestations are nonspecific and consist of reticulonodular pattern and/or airspace consolidations. CT features consist of diffuse or focal ground-glass opacities (GGO), multiple nodules, and lobar consolidation. Nodular lesions with surrounding GGO (halo sign) may be occasionally seen, GGO representing hemorrhage or inflammation (Franquet et al.

2003

). Dense consolidation or mass-like opacities may be seen in AIDS patients especially with Kaposi's sarcoma (McGuinness et al.

1994

).
2.5.9

Varicella Zoster

Varicella zoster is another virus belonging to

Herpesviridae

group. It causes two major manifestations: chickenpox (varicella) and herpes zoster. Pneumonia occurs most commonly in patients with chicken pox, although it may be seen in both forms (Müller et al.

2007

).

Chickenpox is usually seen in children 2–8 years old; however, in recent times, the incidence in adults is increasing due to various factors (Mohsen and McKendrick

2003

). While the common varicella infection in children is usually benign, infection in adults has a more fulminant course with a 25 times increased risk of pneumonia and consequent high mortality (Mohsen and McKendrick

2003

).

Predisposing factors for the development of varicella pneumonia are immunosuppression, chronic lung diseases, pregnancy, or underlying malignancy like leukemia or lymphoma (Müller et al.

2007

). Varicella pneumonia presents about 1–6 days after the onset of rash with cough, dyspnea, fever, and sometimes chest pain and hemoptysis (Mohsen and McKendrick

2003

).

The pulmonary lesions in varicella seem to be due to hematogenous spread rather than airborne entry. The lesions are characterized by endothelial damage in pulmonary vessels with focal hemorrhagic necrosis, mononuclear infiltrates in the alveolar walls, and exudates in the alveoli (Mohsen and McKendrick

2003

). Later small nodules are seen which are characterized by outer lamellated fibrous capsule and inner necrotic or hyalinized collagen with varying degrees of calcification (Kim et al.

1999

).

On radiographs multiple, fleeting 5–10 mm miliary nodules are seen with a tendency to coalesce (Fig.

24

). These resolve usually in a week after the regression of the skin lesions, but may also be persistent for months in some patients (Sargent et al.

1966

). On CT bilateral nodules of soft tissue density measuring 5–10 mm are seen (Fig.

25

). Some nodules show GGO around them, while some may coalesce with adjacent nodules (Kim et al.

1999

). Hilar lymph nodes and pleural effusions are less commonly seen. Dense, calcified random dense nodules measuring 2–3 mm in size may persist in some cases.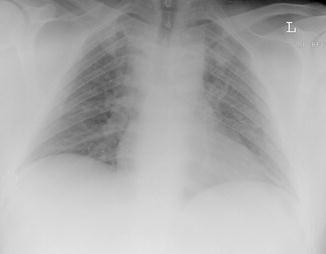 Fig. 24
A 35-year-old man with varicella virus infection: chest radiograph showing multiple fleeting 5–10 mm miliary nodules in both lungs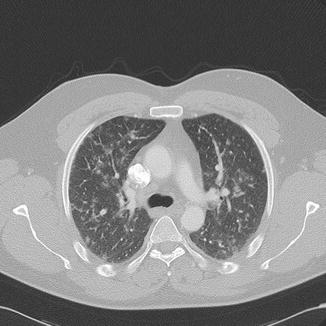 Fig. 25
Same patient as in Fig.
24
: CT showing bilateral 5–10 mm nodules of soft tissue density and a ground-glass halo
2.6

Conclusion

Although radiography and CT can be helpful in excluding a CAP, they may not be accurate in suggesting an etiological diagnosis. In every case, careful attention to the clinical history and radiological findings may help to narrow down the etiology and suggest the diagnosis.
3

Tuberculosis
3.1

Introduction

Tuberculosis is often a challenge to the clinicians and radiologists alike, particularly in areas where it is not endemic. As the clinical signs and symptoms are often nonspecific, extra attention and a high degree of suspicion are required to make the right diagnosis.

As the manifestations of tuberculosis are a result of the interaction between the offending bacteria and the host immune system, there is no definite radiological picture that defines or is typical for tuberculosis and a wide range of differential diagnoses exist. However, some features, particularly when seen in typical distributions and typical combinations, can be very helpful in suggesting the right diagnosis, as discussed below.
3.2

Background
Full access? Get Clinical Tree