Fig. 3.1
Normal spinal bone marrow, 2 months
.
Sagittal T1-weighted image (
left
) of the spine of a 2-month-old boy shows biconvex shape of vertebral bodies with large hyperintense cartilaginous endplates (
square
). Matching T2-weighted image (
right
) is shown for comparison. Also shown is tethered cord with spina bifida and lipocele (
asterisk
) (Courtesy of Ioannis Nikas, M.D., Children's Hospital "Aghia Sophia," Athens, Greece)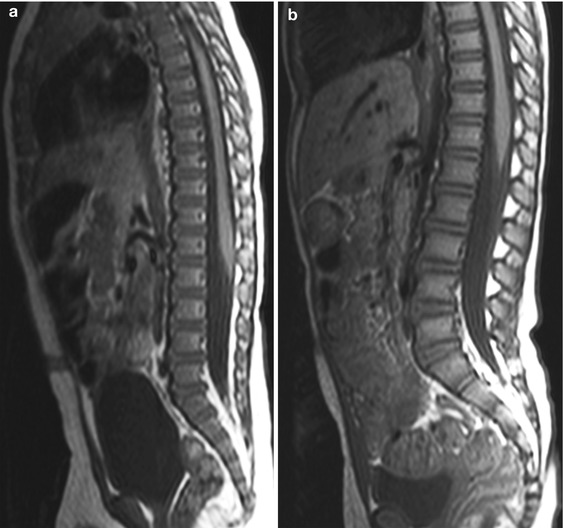 Fig. 3.2
Normal spinal bone marrow, 8 and 26 months
.
Sagittal T1-weighted images of the spine of an 8-month-old boy (
a
) and a 26-month-old girl (
b
) show that the vertebral bodies are at least isointense to the intervertebral discs. Note the more square-shaped appearance of the vertebrae in
b
(Courtesy of Ioannis Nikas, M.D., Children's Hospital "Aghia Sophia," Athens, Greece)
Key Point





Spinal bone marrow is hypointense to intervertebral discs in the first few months of life
The gradual increase in the signal intensity of spinal bone marrow reflects the increase in fat content, a process that continues throughout life. The distribution of yellow marrow in the spine may not, however, be homogeneous; four different patterns of yellow marrow deposition in the spine have been described based on MR images [
3
]:
Key Point





In the spine, four patterns of fatty marrow deposition are described: basivertebral, endplate, mosaic, and homogeneous
3.2

Pelvis

The pelvis, as part of the central skeleton, is a site of persistent red marrow in the adult. Ricci et al. described islands of fatty marrow first appearing at the superomedial aspect of the acetabulum and later in the iliac bones and around the sacroiliac joints [

3

]. Marrow heterogeneity of the acetabulum and anterior iliac bone with increased deposition of fatty marrow is common in adolescents [

4

]. In the sacrum, presence of fatty marrow is more pronounced in the periphery of the sacral wings, presumably because of the peripheral to central pattern of red to yellow marrow conversion in the skeleton [

5

] (Fig.

3.8

).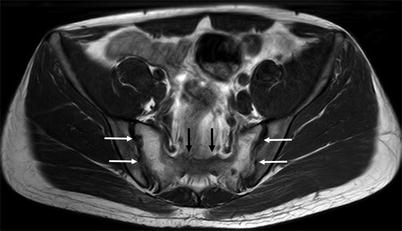 Fig. 3.8
Red to yellow marrow conversion, sacrum
.
Premium Wordpress Themes by UFO Themes
WordPress theme by UFO themes